It's Unanimous!
So the Hall of Fame is done, this blog can go back to regularly scheduled programming, but first, let's talk a little bit about what happened: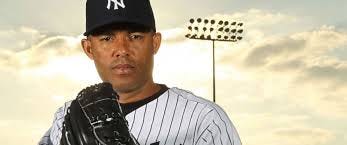 Mariano elected unanimously!
So, it finally happened. I don't know if my review of the sordid history of the Hall of Fame's history of non-unanimity had anything to do with it -- I doubt it -- but Mariano Rivera was on all 425 ballots this year, and that means that finally, finally, finally, we can put to bed that ridiculous "No player has ever been unanimous" thing.
And it's wonderful.
Sure, as expected, there are lots of people who will say that Rivera shouldn't have been the first unanimous pick. And that's right. Rivera, as great as he was, wasn't Henry Aaron or Ted Williams or Willie Mays or Stan Musial or Johnny Bench or Ken Griffey Jr. or Mike Schmidt or Cal Ripken Jr. or Tom Seaver or George Brett or Greg Maddux or a dozen or so other players who should have been elected unanimously but shamefully were not.
But this stupid thing had to end sometime, and what Rivera had -- an unquestioned spot* as the greatest ever at his position -- proved powerful enough to end the madness. As I wrote in the piece, it's nice that the greatest closer closed out that era.
*Goose Gossage excluded.
Now, look, people will ALWAYS find dumb reasons not to vote for somebody if that's what they want to do. But this silly reason is off the table. And that's worth celebrating.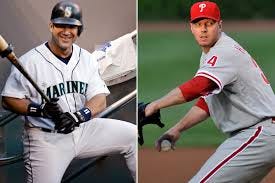 Roy and Edgar get the same vote total
They faced each other 19 times, and Edgar Martinez owned Roy Halladay in those meetings -- .444/.474/.722. But really, they were of slightly different times. Martinez got the bulk of those at-bats before Halladay had established his dominance.
Because of that, their Hall of Fame journeys were very different. Martinez was on the ballot for 10 years and, as recently as 2015, received barely a quarter of the vote. The understanding that he really was one of the most brilliant hitters of the last 50 years evolved very slowly (many still don't buy it) and then spread very quickly. He jumped from 27% to 43% to 59% to 70% to 85.4% and the Hall of Fame.
Halladay's tragic death at age 40 focused everyone's attention on his greatness. When he retired, there were substantial questions about his Hall of Fame case. Was his career long enough? Did he have enough great seasons? Would his somewhat slight overall numbers -- 203 wins, 2,117 strikeouts -- prevent people from seeing how great he was? I can remember these arguments flying on the Internet.
But after he died, everyone took a closer look -- the sort of closer look that usually takes several years for players (like Martinez). And so, on first ballot, he got 85.4% of the vote.
Each with exactly 363 votes.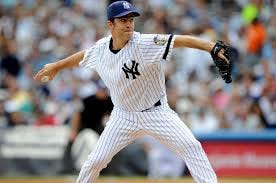 Mussina (whew) makes it by seven votes
The drama was always going to be Mussina; it was clear from Ryan Thibodaux's tracker that Mussina was either going to just make it or just miss it, depending on those unpredictable private ballots.
And as it turned out, Mussina did just well enough on the private ballots. He got 70.7% of the private vote, which would not have been good enough to get him elected, but when put together with strong public support (more than 83%), he made it by the aforementioned seven votes.
Mussina was a terrific pitcher. He really was. I think there are a substantial number of people who -- without saying it -- would prefer that the Hall of Fame be just a continuation of the story we tell ourselves. This, I believe, is where that whole gut-feeling, "I know a Hall of Famer when I see one" sentiment comes from.
-- Steve Garvey felt like a Hall of Famer while he was playing, so he should be in the Hall.
-- Mike Mussina didn't feel like a Hall of Famer when he was playing, so he shouldn't be in the Hall.
-- Jack Morris felt like a Hall of Famer when he was playing, so he should be in the Hall.
-- Scott Rolen didn't feel like a Hall of Famer when he was playing, so he shouldn't be in the Hall.
I like to think about it differently. The more we learn about baseball, the more history we see, the more we can judge what greatness looks like. If it really was a Hall of FAME, where Fame was the thing that mattered, it would be fine and easy to populate and, for me, not especially interesting. I write a lot about fame in this certain book that I will not mention (self-promotion is vile) that comes out on Oct 22 (and I will link it here), and what you find is that fame itself doesn't last. So many of the people who were most famous in the time of Houdini (oops, mentioned him) are not only forgotten, they're too obscure to even be trivia questions.
Mike Mussina was a great pitcher. A lot of people didn't see it or feel it when he played. A lot of it doesn't come through in the most obvious numbers, because he played in a time when numbers were skewed toward offense. But he was great. And that lasts.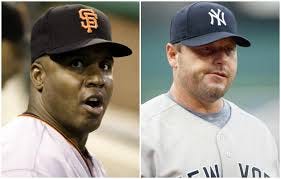 Bonds and Clemens ... nothing
I've been telling you for a while now that Barry Bonds and Roger Clemens will not get elected by the BBWAA. People argue with me about that -- and, like many arguments I get in, I actually hope THEY are right -- but I'm as convinced as ever. Both stayed about where they were last year -- Bonds at 59.1%, Clemens at 59.5% -- and I'm telling you I don't see how they get the sixty-some votes that they're missing.
This is a good time to go through the Thibodaux public ballots vs. private ballots for some of the outliers (and for "private" ballots, I'm referring to those that were not revealed BEFORE the Hall of Fame announcement. There have been quite a few ballots revealed since the announcement, and I don't think those are quite the same).
Bonds: Private minus-24.5% Clemens: Private minus-24.4% Walker: Private minus-25% Halladay: Private minus-16%
Vizquel: Private plus-20% Pettitte: Private plus-8%
These private votes, I believe, are the toughest ones to swing. While Larry Walker's case has gained huge momentum in the public sphere, only about 40% of the private voters are convinced. He cannot get into the Hall of Fame when 150-200 private voters are giving him only 40% support. That's why, as much progress as he made and as much I want to dream, I don't think Walker is going to get enough votes next year, his last year on the writers' ballot.
Well, Bonds and Clemens are getting about 45% of the private vote. That's about what they got in 2018, about what they got in 2017 and about what they got in 2016. That number is not moving. Those voters have made their decision. And with that being the case, Bonds and Clemens will not get elected by the BBWAA.
I've also made this point: If things begin to swing toward Bonds/Clemens, the Hall of Fame itself could step in. They've made it clear without saying it -- they do not want Bonds or Clemens. The Hall of Famers. in particular, do not want Bonds or Clemens. Things can always change, but I think those two are toast, and they have zero chance with the veterans committees as currently constructed.
I've believed all this since Joe Morgan sent out his "Don't vote them in" letter to the voters: They're not getting in. At least not for a very, very long time.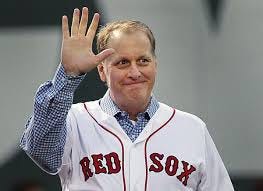 Schilling and the next three years
Curt Schilling actually had an OK year, all things considered. He got up into the 60s in the voting (60.9%), and his best comp on the ballot, Mussina, was elected.
Overall, Schilling has a very different and slightly similar problem to Bonds and Clemens.
The differences are vast: Nobody is claiming Schilling used PEDs, and also Schilling wasn't nearly as good a player as Bonds or Clemens (who was?).
But the key point is similar: Lots of people don't want to see the guy honored. I imagine that there are plenty of Hall of Famers and Hall board members who cringe at the idea of Curt Schilling Day in Cooperstown. I can't blame them.
Even with that, though, Schilling has a lot going for him in the years ahead. For one thing, as mentioned, Mussina is off the ballot now. With Halladay and Rivera elected, Schilling will be far and away the best non-Clemens pitcher on the ballot for his last three years. He will be impossible to ignore.
For another, his on-the-field accomplishments remain untouched by scandal or controversy.
But the biggest thing, I think: The ballot is about to take a very interesting turn.
For the last decade or so, the Hall of Fame ballot has been a crazy windstorm. There have been too many great players and too much controversy for anyone to keep up.
It began in 2011, when Jeff Bagwell, Larry Walker, Rafael Palmeiro, and Kevin Brown (not to mention the underrated John Olerud) all came on the ballot at once. All four of them had what, by historical standards, were Hall of Fame numbers, Hall of Fame achievements, but all four of them were problematic in one way or another. The BBWAA sort of panicked and ignored them all and just voted in Bert Blyleven. The next year, we still panicked, ignored them all, and just voted in Barry Larkin.
Then came an even crazier wave: Bonds, Clemens, Schilling, Craig Biggio, Mike Piazza, Sammy Sosa, Kenny Lofton, all in one year -- holy quagmire Batman, the ballot was a thundercloud of talk radio madness, and we in the BBWAA were so freaked out by it all that we didn't vote in anybody.
Then Greg Maddux, Tom Glavine, Frank Thomas, Mussina, and Jeff Kent were added to the ballot ... then Randy Johnson, Pedro Martinez, John Smoltz, Gary Sheffield, and Trevor Hoffman were added to the ballot ... then Ken Griffey Jr. and Jim Edmonds were added to the ballot ... then Manny Ramirez, Vladimir Guerrero (not to mention Jorge Posada) were added to the ballot ... then Chipper Jones, Jim Thome, Andruw Jones, Omar Vizquel and Johan Santana were added to the ballot.
This is year after year after year after year. It was pure madness.
Well, the madness is about to end, at least for a while. Next year, one Hall of Famer -- Derek Jeter -- will be added to the ballot. Oh, there will be some arguments about Bobby Abreu (I see Brian Kenny already pushing this one), but let me just say this up front: I appreciate Abreu*, appreciate his remarkable patience at the plate and his rare combination of power and speed, but I don't see his Hall of Fame case at all. If Jim Edmonds gets 11 votes, if Kenny Lofton gets 18 votes, if Lance Berkman gets five votes, if there's no place in the Hall for Dwight Evans, Reggie Smith, Minnie Minoso or (so far) Larry Walker, get out of here with your Bobby Abreu.
*I have on this blog called him the greatest boring player in baseball history.
Sorry, had to get that off my chest.
So Jeter will be the only Hall of Famer added to the ballot next year. With four getting elected this year, that clears the deck for Schilling (and maybe Walker). But if Schilling doesn't get in next year, that's OK, because there's not a single Hall of Famer coming on the ballot in 2021. The closest candidates are Tim Hudson, Mark Buehrle and Torii Hunter, fine players all, but I don't see any of them getting much Hall of Fame consideration.
A-Rod and David Ortiz come on the ballot in 2022, so things pick up a little bit then.
Point is, the next couple of years things will settle down significantly. And the voters will get a chance to take a good hard look at guys like Schilling, Clemens, Bonds, Vizquel, Manny, Rolen, Kent, Helton, Sheffield, Sosa ... maybe even Pettitte, Andruw and Billy Wagner. It will be very interesting to see who -- if anybody -- separates from the pack.
Prediction? I think Schilling will get elected. I think Walker will run out of time. I think Vizquel will continue to gain at a steady rate. And, as mentioned, I think none of the Steroid Seven will get elected by the BBWAA.