Houdini Is Alive
There are only a handful of crescendo moments when writing a book. As you either know or have guessed, the formula for writing a book is:
4 * (Isolation + Frustration + 2*(Time) + Thesaurus + Doubt) = Draft
666 * Draft = Rejection
∞ * Rejection = Book
Because of this, there are very few moments to do a touchdown dance. You want to do one when you complete a draft, but as mentioned, that only means you have 665 drafts to go, and that's only to get a draft that will be rejected — either by you or someone else. Even when the book is done, it's not really done. I still think of "The Soul of Baseball," as unfinished, and it was published 12 years ago.
But there is a singular moment — and that's the day the galleys arrive. Galleys are uncorrected proofs that the publishing house sends to reviewers and such, but more they're evidence for friends and family that you have not been lying to them all these months and years about writing a book. The galleys are just like the real books except:
They're paperbacks made with just a bit more haste.

They're filled with teeth-gnashing mistakes you can't believe you made.

They have 0000 in the table of contents where page numbers will be when the real book comes out.*
*This is no big deal but it's the ONLY thing my daughters talked about when the galleys arrived. "Why didn't they put the page numbers in here?" they asked repeatedly when "Oh my gosh, you wrote a whole book filled with actual words" seemed to me the more appropriate reaction.
I bring this up because, I don't know if I mentioned this before, I wrote a book about Harry Houdini. I know, that's crazy, right? And it isn't just a book about Harry Houdini. It's mostly a book about magic today. I mean, David Copperfield is in here. Joshua Jay is in here. Jen Kramer is in here. Lots of people are in here, great magicians, brilliant magical thinkers, people influenced by Houdini, people who love Houdini, people who loathe Houdini, people who call themselves Houdini. It's a rip roarin' tale.*
*Should read "it's a rip roarin' tale available for preorder."**
**Also available at Barnes & Noble.
Anyway, it was a great moment. Here is the box they came in!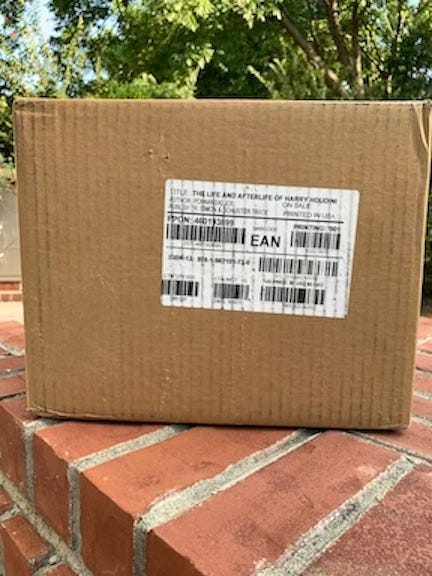 Isn't that just the best box? I was hoping a couple of Houdini books would escape from it.
And, soon, one did: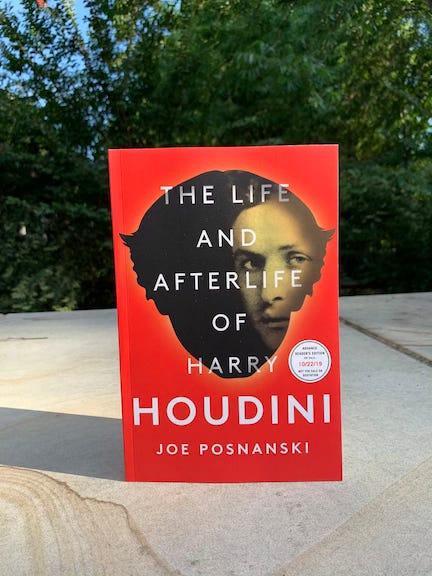 I don't want to overstate this and say that is the best cover in the history of all books. I mean, that would be ridiculous. Sure, it's Top 10. But best ever? That feels premature to me.
The book comes out Oct. 22, which means we are coming up on 100 days out. When that happens, I am planning on starting a weekly Houdini newsletter for those interested in knowing a bit more about Houdini, interested at all in the book, interested in hearing from some of the amazing people in the book or just interested in getting one more email per week. We'll have some giveaways too, include a book tour schedule, all that jazz. I'll give you details later if you want to sign up for that.
But for now I hope you will indulge this touchdown dance. These really are rare moments. This is my fifth book, and each of them has been an adventure — some, as you might be thinking, were more adventurous than others — but in so many ways this book feels like my first. I didn't know what I was doing. I didn't know anything about magic, didn't know anyone in magic, didn't know where to begin, didn't know where to go after beginning, etc. My life as a sportswriter got me nowhere. My connections as a sportswriter got me nowhere. It was like going back to the beginning, and I have to tell you I absolutely loved every minute of it.
And now here we are — an actual book!
Thanks for listening. I promise to wait at least 24 hours before mentioning it again.