Hondo
There was just something substantial about Hondo -- heck, even the nickname was substantial. John Havlicek was called "Hondo" by his childhood friends in Martins Ferry, Ohio, (like Phil Niekro) because even as a kid he reminded them of the John Wayne character in the movie.
He was just like that, solid, admirable. When people talked about him, they talked about his defensive intensity ("Get away from me!" one Celtics teammate screamed at him during practice his first year). They talked about his ability to always be in the right place. And mostly, they talked about his boundless energy. His hustle. Hondo always said of himself that he had outsized lungs -- "It would take two X-rays to get them all" -- and he worked out those lungs as a boy by running from mile marker to mile marker along Route 40.
You couldn't tire him out. Sometimes, when he was at Ohio State, the track coach would ask him and other athletes to serve as rabbits in track practice. The job was easy -- go out and run as fast as you can, daring the track athletes to keep up with the breakneck pace. Then, the rabbits were supposed to fade off, usually after a half a lap or a lap. But not Havlicek. He would go at full speed, and he would just keep going, lap after lap, pulling away, never looking back.
The coach finally stopped asking Havlicek to be a rabbit.
His talents and relentlessness were such that the sport itself did not matter He chose basketball at Ohio State, but he could have been a track star. He could have been a baseball star. Famed Buckeyes' football coach Woody Hayes would grumble to his staff that the best-damned quarterback in the Big Ten went to Ohio State, and he couldn't even use him. If Havlicek had wanted to swim, he probably could have gone to the Olympics that way too. Niekro used to say the only two things he could do better than Hondo were fish and throw a knuckleball.
When Havlicek graduated from Ohio State, four different major league teams tried to sign him. Two professional basketball teams tried to sign him -- we'll get to that in a minute. And, for kicks, the Cleveland Browns drafted him too, even though (to Woody Hayes' chagrin) he had not played a down of football since high school.
You would think, looking back, that Havlicek signing with the Boston Celtics was inevitable, but that wasn't how it seemed at all in the moment. Hondo was thoroughly unimpressed with the NBA and with the negotiating tactics of Celtics coach and GM Red Auerbach. He decided, what the heck, he would try out for the Browns. And in a special workout, Havlicek blew the mind of Browns Hall of Fame coach Paul Brown.
"The boy has great hands, fine speed and great coordination," Brown told reporters. "In addition, he's quick mentally, and there's little doubt in my mind that he has all the equipment to be a fine professional football player."
The Celtics, it should be said, were thoroughly unimpressed by Havlicek's gambit. They'd been through it before -- just four years earlier, K.C. Jones (before starting what would turn out to be a legendary career as a player and coach with Boston) had talked about playing professional football. He tried out for the Rams.
"K.C. thought he might have a better chance in pro football ... he didn't make it, didn't care for it, and then came back to us," Celtics owner Walter A. Brown said. "Havlicek may make the same discovery. I'm not going to worry one way or another, although we'd like to have him."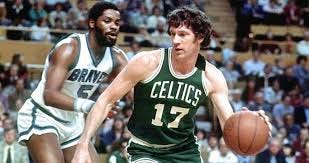 Havlicek won eight NBA titles in 16 seasons with the Celtics.
The Browns signed Havlicek for training camp. By all accounts, he was impressive -- Hondo caught everything -- but he was also painfully raw, as you might expect from someone who hadn't played football since high school. Hall of Famer Lou Groza, another Martins Ferry star* said that when everyone zigged, Havlicek zagged. Havlicek was the last receiver cut by Paul Brown.
*One small town gave us Havlicek, Lou and Alex Groza, Phil and Joe Niekro and Pulitzer Prize-winning poet James Wright.
Even after the Browns thing ended, it still wasn't entirely certain that Havlicek would go to the Celtics. You have to remember, the NBA wasn't the NBA we now know. It was a fledgling league in 1962. There was only one team -- the Los Angeles Lakers -- west of the Mississippi. Teams were drowning in debt. Auerbach had turned the whole league into his own personal play-thing; the Celtics won the title every year.
And players were largely uninterested in 1962. Dave DeBusschere would go on to a Hall of Fame NBA career, but that year he signed with the White Sox instead. Havlicek, as mentioned, tried out for the Browns.
Meanwhile, Havlicek's friend and Ohio State teammate, Jerry Lucas, was the most sought-after player, the Zion Williamson of 1962. He went with the first pick to the Cincinnati Royals, because they had secured his rights a "territorial selection" out of high school.*
*Could you imagine how awesome it would be if the NBA still had that territorial selection option? The Charlotte Hornets could have taken Zion out of high school as a territorial pick. How freaked out do you think Knicks fans would have been if THAT happened?
Anyway, Lucas had no interest whatsoever in playing for the Royals or any other NBA team. Too many games. Not enough money. It seemed to him a brutal life. Instead, he signed with a team called the Cleveland Pipers of the American Basketball League.
The owner and president of the Cleveland Pipers was a son of a Cleveland shipbuilder named George S. Steinbrenner.
Don't you love rabbit holes?
Steinbrenner wanted Havlicek too. He had the team draft Hondo; Even then, the Boss had a hunger for stars, and he was willing to spend the money to get them.
Unfortunately, he did not HAVE any money. The Pipers were broke, and they were an absurdity. They didn't even have a home arena; they played wherever they could rent a gym, from Sandusky to Columbus. Still, Steinbrenner went hard after Havlicek, and -- this is where the story gets confusing. Suddenly, the NBA offered to allow the Pipers into the league. Nobody was sure why or how it would work, but the Pipers reportedly accepted, which reverted all rights to Havlicek to the Boston Celtics (or at least that's the way the Celtics spun things).
And within days, it all fell apart for the Pipers. Steinbrenner stepped down, the American Basketball League began to fold up, and the Pipers obviously never did actually join the NBA.
Havlicek signed with the Celtics.
"My God," Auerbach said the first time he watched Havlicek in practice, "Havlicek does everything."
He did everything. That was his thing. The guy with the lungs too big to capture in one X-Ray would go on to score more points than any Celtics player ever, even though he would be the first to say that he wasn't a great shooter. He's fifth in team history in rebounds (squeezed between Larry Bird and Kevin McHale) even though he was four-to-seven inches shorter than everyone else on that list. He's second in team history in assists (behind Bob Cousy), even though he never played point guard.
He undoubtedly had more steals than anyone in team history; they just didn't count steals his first 12 seasons.
Anyway, as every Celtics fan knows, Havlicek stole the ball.
Bill Russell called him the greatest all-around player he ever saw, and really nothing beyond that needs to be said about Havlicek's basketball. As for the rest, Havlicek represented a humbleness and drive and sense of self that makes the heart ache a little bit. He was a particular kind of player from a particular kind of time. This isn't to romanticize the past, it's precarious to get tangled up in nostalgia, to spend too much time and energy thinking about what used to be great and not spend enough appreciating what's great about the here and now. It is, Admiral Ackbar reminds us, a trap.
But if you can't feel nostalgic about John Havlicek, then what's the point of anything?