HOF Candidates: The Top 5
Continuing with your votes for the 100 best Hall of Fame candidates.
And, finally, we get to the Top 5. We actually finished one of these projects!
No. 5: Alex Rodriguez
Score: 86.86
My friend Muzzy Jackson tells a fun story. He was a college baseball player who went into baseball management for a while. He worked for the Cincinnati Reds first, then went to Kansas City, where he ended up being assistant general manager. He had come up through the business offices and had not spent as much time as he liked on the baseball side of things.
So, Muzzy asked the Royals brass if he could come along on a scouting trip. He wanted to learn a bit more about scouting so that he could better understand that side of the game. And Allard Baird and Brian Murphy took him to see this hot high school prospect in Miami. Muzzy watched the kid play and began to fill out his report. He knew that you were supposed to rank a player's tools from 20-80.
He watched the kid hit two long home runs. Well, clearly, his power was 80.
He watched the kid run the bases at breakneck speed. Speed: 80.
He saw the kid field ground balls like a big leaguer. Wow. Fielding was, like, an 80.
He saw the kid throw the ball across the diamond, and Muzzy had not seen a shortstop since Cal Ripken throw like that. That arm was crazy. That's an 80.
He saw the kid go 3 for 3 with two or three intentional walks: Hitting: 80.
"OK," Muzzy said when it was over, "this scouting stuff was easy."
Yes, scouting Alex Rodriguez was easy.
A-Rod has done a marvelous job of rehabilitating his image. There haven't been many players who were as despised as A-Rod after he signed that deal with Texas, after the whole Red Sox-Yankees thing, after his disastrous 60 Minutes appearance and after his war with baseball.
But you have to say that once he came back from his one-year suspension for PED use, he kept quiet, accepted his own responsibility, retired quietly and with dignity (rather than stick around to get four more homers and reach 700) and he has since won over many fans with his broadcasting.
Will this make the difference for him come Hall of Fame time? I don't know. I was surprised to see that in this poll, A-Rod finished BEHIND Bonds/Clemens. And, to be honest, I can see a logical argument why Bonds/Clemens should be elected and A-Rod should not. After all, whatever Bonds and Clemens might have done, they did it before drug testing, when the baseball powers that be mostly just held their noses and cashed the checks. That was years before steroid use was widely believed to be destructive to the game.
A-Rod, meanwhile, repeatedly used steroids after they was labeled baseball's No. 1 problem, and he lied incessantly and badly. I'm not saying A-Rod should or shouldn't be elected -- we'll write plenty about that as the time grows near. I'm saying that his case is, for me, more problematic than Bonds and Clemens.
Oh, and just in case you've forgotten, through age 32, A-Rod had 553 home runs -- 53 more than anybody else in baseball history at that age:
(1) Alex Rodriguez, 553
(2) Jimmie Foxx, 500
(3) Albert Pujols, 475
(4) Ken Griffey, 468
(5) Mickey Mantle, 454
(8) Henry Aaron, 442
(10) Babe Ruth, 416
(21) Barry Bonds, 374
No. 4 (tie): Barry Bonds/Roger Clemens
Score: 88.43
Purely by on-the-field achievements, you could make a compelling argument that Barry Bonds is the greatest player in baseball history and Roger Clemens is the greatest pitcher in baseball history.
I only bring this up to make that point that this fact probably hurts both of them more than it helps them.
By this I mean: I sometimes wonder if Bonds had walked away from the game with, say, 658 homers (after age 38) or if Clemens had left before winning the Cy Young at age 41 (and leading the league in ERA and FIP at age 42), if people would have had a bit more sympathy for them. I wonder if either or both would be in the Hall of Fame right now if they hadn't piled on at the end.
With Bonds, I feel this is particularly true. Yes, he was unpopular his whole career for various reasons. But it was his chase of Henry Aaron's home run record where I think he lost most people. I think many thought, look, it's one thing to do what apparently all the big sluggers were doing. I think many would even have forgiven him for hitting 73 home runs.
But when he went after the legends -- when he passed Mays, Ruth and eventually Aaron on the career homer chart -- I imagine many thought he was just flaunting his lawlessness. I think people could (and some have) forgive some of those who used PEDs to extend their career or recover from injury. But we have a harder time forgiving anyone who rubbed our faces in it.
If you believe the prevailing narratives, Bonds and Clemens both began using PEDs in response to a lack of respect. Bonds was far and away the best player in baseball for a decade before 1998, before he supposedly started using PEDs, but he wasn't generally SEEN as the best player. Ken Griffey Jr. was almost always ranked ahead of Bonds on the charts. So were others.
This was so true that when Bill James wrote his Historical Abstract, he called Bonds, "Certainly the most un-appreciated superstar of my lifetime."
It's commonly told that when America celebrated Mark McGwire and Sammy Sosa for their home run exploits in 1998, Bonds lost his mind and basically said, "OK, fine, if you want to see what someone can do on PEDs, I'll SHOW you what someone can do on PEDs."
Clemens, meanwhile, was the best pitcher in baseball -- from 1990 to '92, he was just about as good as anybody ever (57-27, 2.34 ERA, 180 ERA+, a 1.067 WHIP, 27/24 Combo WAR), but was basically thrown into a bucket with a bunch of other terrific pitchers. Then he dealt with some injuries, some bad luck, he was written off, and well, you know the rest.
This is not meant to make excuses: Both players did what they did, and people have every right to make judgments based on what we know and what we believe about the game and the Hall of Fame. I'm just saying it's interesting that the two most famous PED cases in baseball history were probably at least partially inspired because people refused to fully recognize their greatness.
No. 3: Adrian Beltre
Score: 91.01
Adrian Beltre seemed to come out of nowhere in 2004, when he was 25 years old. He was, up to that point, almost invisible in baseball terms. He had played 810 games and had a 97 OPS+. Nobody had yet recognized his great defense (he should have won the Gold Glove in 2003).
Then, in 2004, explosions, detonations. He hit .334/.388/.629 with a league-leading 48 home runs, 200 hits, 100 runs, 120 RBIs and brilliant third base defense. It was astonishing stuff. He didn't win the MVP because that was the year Bonds broke baseball (120 intentional walks). He would have won it almost any other year.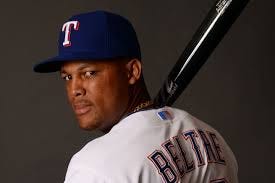 Even on this ballot, Beltre got a raw deal.
Immediately, Beltre was labeled by many as a PED user, because that's what the Selig Era had wrought. There wasn't any proof, but the big problem with the whole PED scandal is that there was almost NEVER any proof, because baseball wasn't testing. Beltre had apparently shown up to camp with 20 pounds of extra muscle and he had a dramatic jump in performance.
Biggest leaps in performance from age 24 to 25 (by bWAR).
Aaron Judge, +8.5 bWAR

Marcus Giles, +7.5

Beltre, +6.0

Sal Bando, +5.0

Keith Hernandez, +5.0

Matt Chapman, +4.6

Mookie Betts, +4.5

Roger Maris, +4.2

Kevin Keirmeier, +4.0

Wade Boggs, +3.9
After that great year, Beltre signed a big deal with Seattle and, in the minds of most, disappeared. Many just thought that was one fluky year.
But Beltre was, in fact a good player in Seattle, where he won his first two Gold Gloves. Then, at 31, he had a terrific season for Boston, and he went to Texas, where he was a 6 WAR player for each of the next six seasons.
And over time, Beltre won over everyone with his joy for the game, his incredible defense and his ever-growing counting numbers. In many ways, you look at his career totals and you can't help but wonder why he's third on this list. He has 3,000 hits, a 116 OPS+ as one of the greatest third basemen ever, a 95.6/84.4 career WAR (right between Cal Ripken, Roberto Clemente and Joe DiMaggio), and 477 career home runs. I mean, I adore the top two guys on this list, but, realistically, Adrian Beltre should be No. 1 on this list.
No. 2: Derek Jeter
Score: 92.04
Jeter is one of those players who's rarely rated EXACTLY where he should be rated. The people who love him -- who Jeterate him* -- will always rank him too high. The people who loathe him and the Yankees will always rank him too low. Because Jeter was such an extreme player, it's hard to see him in sharp focus.
*Pullout essay! I'm going to reprint my original "Jeterate" column from 2008.
His career WAR is 72.4/73.1, which ranks him as a solid Hall of Famer, in the class with Reggie Jackson, Rod Carew, Paul Waner, etc. There are, admittedly, other players in this WAR zone who are not in the Hall of Fame yet (Larry Walker, Bobby Grich, Lou Whitaker, etc.), but Jeter is fundamentally different from them.
Why? It's because Jeter's offensive WAR is 96.3, which puts him in a whole other class. That ranks 20th all-time, and suddenly his comps are not solid Hall of Famers but legends like Mike Schmidt, Jimmie Foxx, Mel Ott and Joe Morgan. Now, controversially, offensive WAR does take into account defensive position -- Jeter ranks that high in large part because he was a shortstop -- but he was still an amazing offensive player. He never won an MVP, but his bat was good enough to win two or three.
His overall WAR drops dramatically because, by the numbers, Jeter was the worst defensive shortstop in baseball history, and it's not even close.
Shorstops by Baseball Reference fielding runs:
Jeter, -243 runs

Ricky Gutierrerz, -119 runs

Chris Gomez, -113 runs

Hanley Ramirez, -112 runs

Shawon Dunston, -91 runs
This has been discussed and debated for years -- Jeter never LOOKED like he was that terrible a shortstop. He did not commit many errors. He made that cool-looking jump throw from deep in the hole. He made the famous flip to get Jeremy Giambi at the plate in the playoffs*. He was constantly praised for being a heads-up player -- that's where the whole Jeterate thing came from in the first place.
*Mike Schur and I are convinced Giambi was safe.
His defensive flaws were somewhat invisible to the eye. His range was shockingly limited, particularly on balls hit to his left (leading to the famous "Pasta Diving Jeter" name used by someone on Baseball Primer). He didn't turn the double play well. Using the simple Range Factor Calculation, Jeter made an almost-impossible-to-believe 1,212 fewer plays than you would expect from an average defensive shortstop.
But could that be true? Could Jeter really have contributed 1,212 hits to opposing teams over the years? I mean, the Yankees were kind of good with Jeter at shortstop. They seemed to win a few games, a few series, a few pennants, a few World Series.
Anyway, this is the ever-raging discussion ... and why it's all but impossible to see Jeter clearly.
One thing people often say about Jeter is that if he had played in Minnesota or Kansas City or Milwaukee, that he would have been just another guy. I'll tell you what, there's no way that a .310/.377/.440 shortstop with 3,465 hits would ever be "just another guy," but, yes, I do buy part of this in that I think Jeter's career would have been different if he had played for a team other than the Yankees.
He might have been moved off shortstop at some point.
He might have won the 1998 and 1999 MVP awards (especially if he played for Texas) -- it's kind of hard looking back to see how he didn't.
He might have spent his career playing for several different teams, kind of like a Carlos Beltran.
He might have showed up continuously on "all-underrated teams."
He might have helped a couple of those teams win pennants.
But, tell you what: He still would have been a Hall of Famer. He was too consistent, too driven, too focused, too good to be anything else.
No. 1: Ichiro Suzuki
Score: 95.61
The gift of Ichiro! The Genius of Ichiro! Never been a player like Ichiro!
Also a pullout essay to come!