HOF Candidates: 55-51
Continuing with your votes for the 100 best Hall of Fame candidates.
No. 55: Darrell Evans
Score: 41.62
One of my favorite Bill James' essays involves Darrell Evans ... it builds around the notion that Evans is the most underrated player in baseball history. But because it's Bill, he doesn't just write that. He shows his work, as always. He breaks down his idea into the classic list of the 10 characteristics of underratedness.
These are:
Specialists over overrated. Generalists are underrated.

Batting average is overrated. Secondary average is underrated.

RBIs are overrated. Runs scored are underrated.

Players on championships teams are often overrated; players on lousy teams are often underrated.

Players in big markets can be overrated and players in small markets underrated, but Bill warns this characterization itself is often overrated.

Players who are good with the press can be overrated and vice versa, but, as with No. 5, this isn't as true as many want to believe.

Players in favorable ballparks are overrated, players in ballparks that don't fit their games are underrated.*

Hitters from big-hitting eras and pitchers from deadball/1960s are overrated and the reverse is at least as true.

Undocumented skills such as leadership, defense and smart play tend to be forgotten through the years, leaving only the numbers, which do not tell the full story.

A player who has his career broken up by a trade, a position change or some dramatic event can be underrated.
*I actually have a caveat for this one: It's true that players who are helped by their ballparks are overrated and those hurt by their ballparks are underrated ... UNLESS the ballpark is so insane (think Coors Field in the 1990s and early 2000s) that people simply write off a players' entire career. Larry Walker has become underrated because many people discount his career too much. Todd Helton may face the same difficulties.
I think about Bill's list all the time. Darrell Evans does fit many of the characteristics. He did a lot of things well. He had a low batting average, but he walked a ton and hit with power. He mostly played for mediocre-to-bad teams in Atlanta and San Francisco before finally being part of a championship team in Detroit at 37. He was neither loved nor disliked by the press. He was hampered by Candlestick Park during his 7 1/2-year prime. And he played for three different teams and at two different positions, which messes with the shape and rhythm of his career.
"Hidden behind all of these screens," Bill wrote, "Evans completely failed to convince the American public that he was anything special as a player -- yet he was."
No. 54: Dave Stieb
Score: 43.29
There is an absolutely MASSIVE Stieb-inspired post coming. Just a warning. In the meantime ...
Cleveland Municipal Stadium used to be famous for its terrible infield. Players complained about it ALL THE TIME, it was one of the reasons they hated coming to my hometown, one of the reasons they morbidly joked that if you were going to have a plane crash, you wanted it going into Cleveland.
That infield always seemed to have stuff buried in it -- elephants, cars, dinosaurs -- but it was especially bad after football season began, because the Browns played on the same field.
On a Saturday night, Sept. 24, 1988 -- five days after the Browns beat the Colts 23-17 at Municipal Stadium -- Dave Stieb had a no-hitter with two outs in the ninth inning. This was going to be his first no-hitter, and everybody saw it as a fitting moment for one of the great pitchers of the 1980s. Well "everybody" in this case was 8,157 paid ... probably fewer than 5,000 in actuality. It was 55 degrees. With the wind coming off the lake, it felt like 40.
Julio Franco came to the plate for the pivotal at-bat, and the two battled for a bit. Franco fouled off several pitches -- nobody counted such things then, but it was probably five or six, at least. And then, Franco chopped a routine ground ball to second base. The no-hitter was secured. Stieb began to celebrate as Blue Jays' second baseman Manny Lee prepared to field the ball.
And then, like something out of a cartoon, the ball hit something and trampolined straight up into the air, catapulting itself over Lee's surprised expression and outstretched glove.
Everyone on the Blue Jays stared in shock and wonder.
The official scorer, in shock like everyone else, dutifully declared the no-hitter over.
"Ever see that before?" Blue Jays manager Jimy Williams asked reporters afterward. "I'll tell you this, you'll never see it again."
"My stomach dropped," Blue Jays catcher Ernie Whitt said.
"I just had to laugh," Stieb said.
Even Julio Franco himself was embarrassed by the whole thing. "It probably wouldn't be good for me to see him now because he's probably too upset," he said. "But tomorrow, I will go and shake his hand."
Weird. But such things happen in baseball.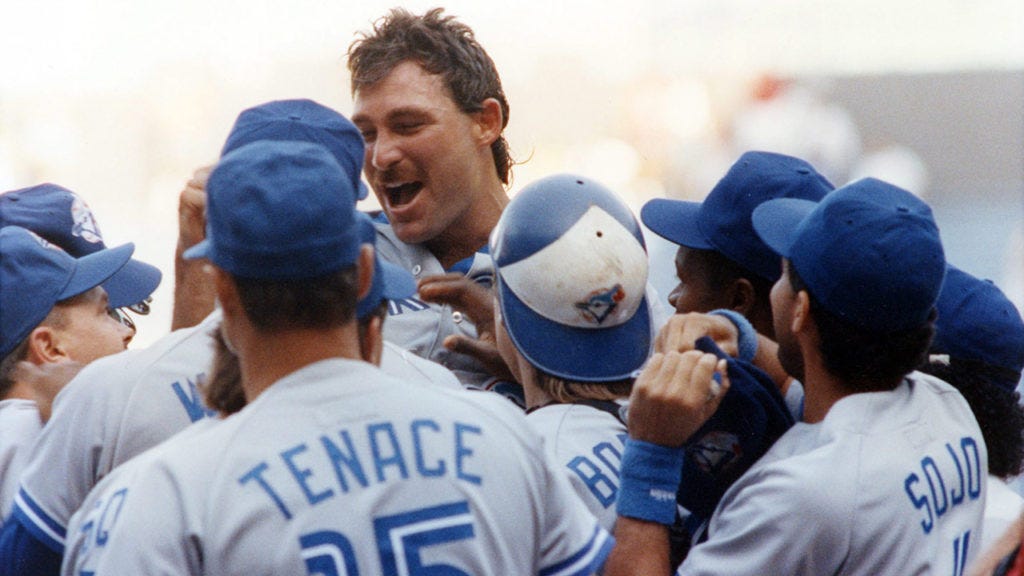 Stieb finally got his no-hitter--the first in Blue Jays history--in 1990.
Six days later, Stieb faced the Orioles in Toronto. And this time, he didn't just have a no-hitter going into the ninth inning ... he had faced the minimum 24 batters. (It wasn't a perfect game. Stieb had walked Pete Stanicek in the seventh, but quickly erased him on a double play. Cal Ripken hit a soft liner up the middle, Stieb snared it and doubled up Stanicek.)
"I thought about the no-hitter after the first inning," Stieb would say. "I felt my stuff was that good. When I got through the seventh, I said, 'I've got to take this into the ninth inning.'"
He got Brady Anderson to ground out to first for out No. 1.
He got the speedy Jeff Stone to bounce one right back to him for out No. 2.
He was, for the second time in a week, one out away from a no-hitter. And then he faced Jim Traber.
The two battled -- and on a 2-2 count, Stieb jammed Traber with his fantastic slider, a slider that Bill James and Rob Neyer judged to be the seventh-best in baseball history in their Neyer/James Guide to Pitchers. Traber hit a little bloop toward right field.
"I thought I had a chance to catch it," Blue Jays first baseman Fred McGriff would say.
But, alas, Tom Emanski training or not -- McGriff could not quite get there. The ball floated agonizingly over his head like a comic-strip thought bubble and plopped softly to the ground for a single.
Dave Stieb looked up to the sky.
"What were you thinking in that moment?" reporters asked him.
"How can this happen to me again?" Stieb said.
Those were his last two starts of 1988. In his second start of 1989, at Yankee Stadium, Stieb threw ANOTHER one-hitter, though this time he gave up the hit in the fifth inning to Jamie Quirk.
In August of 1989, Stieb threw ANOTHER one-hitter, this time against the Brewers. Robin Yount was the no-hit breaker, with a ground ball single in the sixth inning -- the ball actually deflected off third baseman Kelly Gruber's glove. The official scorer, Joe Sawchuck, emphatically called it a hit and defended his choice when questioned.
"It is a hit, it was a hit and will always remain a hit," Sawchuck said.
The AP led its story like so: "It takes more than a one-hitter to get Dave Stieb excited."
The story ends happily: Stieb finally threw his no-hitter on Sept. 2, 1990. And where do you think he threw it? Right: Cleveland Municipal Stadium, in front of a decent crowd of 23,000 or so. The final out was a line drive from Jerry Browne, right into the glove of rightfielder Junior Felix.
"I didn't want to see a ground ball this time," Manny Lee said.
No. 53: Dan Quisenberry
Score: 44.00
We'll run a special pullout essay I wrote a few years ago on Quiz, one of my favorite-ever pitchers and people.
No. 52: Bobby Abreu
Score: 44.17
I have over the years called Abreu the greatest boring player in baseball history ... or the most boring great player, I'm not sure which is the better construction.
But the point is that Abreu's boringness was never a bug, it was a feature. His greatness built out of his extraordinary ability to bring a game to its knees. He would foul off pitch after pitch, turn his nose up at any pitch that was even a millimeter off the plate, work the body like Rocky in the first movie.
This should not detract from the fact that as a Phillies player -- that is before age 32 -- Abreu was a truly great player. He was a Phillie for eight and a half seasons, and he hit .305/.415/.519. He played every day, always hit between 20 and 31 homers, always scored 100 runs, mostly drove in 100 runs, always stole between 30 and 40 bases, plus he walked 100 times every single season. He was also a well-above-average fielder (though he had a much-spread reputation of shying away from the wall).
Nobody cared much about him, at least outside of Philadelphia. There were enormous, charismatic, thrilling stars who dominated the game during his time. You had to feel SOMETHING about Bonds, McGwire, Sosa, Bagwell, etc. Abreu did not inspire such strong feelings.
Look at 2004. That year, Abreu hit .301/.428/.544 with 30 homers, 40 stolen bases, 118 runs and 105 RBIs, I mean that's an MVP-type season in any year. He finished 23rd in the voting (and 10th in WAR), behind Bonds, Beltre, Pujols, Rolen, Edmonds, Drew, Berkman, Clemens, Kent, Helton, Thome, Miggy, etc. He was baseball's forgotten one, and I suspect that it was at least in part because his game was less than pleasing to the eye.
Bill James and Brian Kenny have already started paving the way for a serious Hall of Fame conversation about Abreu. We'll see.
No. 51: Bernie Williams
Score: 44.38
Bernie Williams was a plus centerfielder until 1995, when he was 26 years old. He was worthy of Gold Glove consideration that year, based on the best defensive numbers available from the time. John Dewan had him saving 14 runs with his defense, he led the league in range factor per game and putouts, and other defensive stats seem to line up with the notion that he really was a superior centerfielder.
As you know, defensive greatness is rarely appreciated in real time. It tends to be viewed on tape delay -- the kudos start coming two years AFTER a player has become a defensive star, and it continues two years AFTER the player has lost some of his defensive stuff.
This was very true in the case of Bernie Williams. He was great in 1995. He began winning Gold Gloves two years later, in 1997. He won Gold Gloves four years in a row. Unfortunately, by 1997, Williams was not only shy of Gold Glove quality, he was well below average as a centerfielder. He shouldn't even have been PLAYING centerfield.
Look at Williams' range factor per nine between 1995 and 1997:
1995: 3.03
1996: 2.51
1997: 2.17
Yikes. Do you know who was one of the first people to realize that Williams' centerfield defense had fallen off the table? Hal Richman, the man who invented Strat-O-Matic. I'm not exactly sure what year he began knocking Williams down (I have a 1997 Strat-O set, and Williams was still rated a 1 centerfielder then) but I know it was much earlier than anyone else.
Anyway, then Williams stayed in centerfield MUCH too long -- he clocked 28 games out there in 2006, when he was 36 years old and couldn't move -- and this gave the impression that he was a huge defensive liability. But he wasn't when he was in his prime. He was really good out there in those days.
By bWAR, Williams lost 100 runs of value on defense from 2002 to 2006. That doesn't seem right at all. It shorts his career, I think. As a hitter, Bernie Williams rates with many Hall of Famers.