HOF Candidates: 50-46
Continuing with your votes for the 100 best Hall of Fame candidates.
No. 50: Fred Lynn
Score: 46.24
Lynn was the inspiration (or whatever word you want to use) for this series ... I woke up one day with this thought: How CLOSE was Fred Lynn to being a Hall of Famer? That led to the poll. That led to the series.
From 1975 to '80, Lynn hit .307/.381/.517, he won Rookie of the Year and MVP (same year), he won a batting title and four Gold Gloves, and based on what we know now, it's hard to see how he lost the MVP in 1979 (pullout essay!). He was an enormous star, one of the biggest in American sports, the starting centerfielder in the All-Star Game almost every year, heck, he played himself on Fantasy Island, for crying out loud.
At that point -- Lynn was 28 -- he was about as much of a Hall of Fame lock as a player could be at that age.
Looking back, though, we can see some areas of concern. So much of his value was tied up in his ballpark. Lynn played in Boston, at Fenway Park, when that was a hitter's paradise. We love to think of baseball as timeless, and Fenway Park even more so, but Fenway is a different kind of ballpark now. It was crazy in the 1970s.
Lynn's Home/Road Splits in Boston
1975
Home: .368/.451/.609
Road: .294/.347/.523
1976
Home: .360/.401/.548
Road: .272/.338/.396
1977
Home: .313/.368/.559
Road: .215/.292/.352
1978
Home: .312/.389/.514
Road: .283/.371/.468
1979
Home: .386/.470/.798
Road: .276/.371/.461
1980
Home: .345/.453/.586
Road: .270/.326/.402
I mean -- you can't miss that. Only, yes, you could miss it, just about ALL OF US did miss it. One of the few exceptions (the only exception?) was Bill James, who wrote when Lynn was traded to California: "In the long run he was a .285 hitter in Anaheim with 18-24 home runs a year."
Fred Lynn in his three full seasons with the Angels: .281 average, 22 homers per year. So that was a pretty good prediction.
Lynn then went to Baltimore and his average dropped off slightly, but the rest stayed the same.
He couldn't stay healthy. This wasn't a fluke; it had everything to do with the way he played. Lynn crashed into walls, into teammates, into opponents, he was basically Evel Knievel with an outfielders' glove. After he turned 28, he averaged 114 games per season.
So, how close was he to the Hall of Fame? Close, but not as close as I originally thought. I think if he had played in Boston for three-to-five more healthy seasons, that might have done the trick.
No. 49: Tony Oliva
Score: 46.26
My Dad has always had a special awe for Oliva, and therefore I have too. I can remember trying to go through a bunch of baseball cards with Dad, and he was bored and entirely uninterested, until I came upon Oliva.
"Oh, I remember Oliva," Dad said. "That was a hitter."
Oliva's numbers don't hold up all that well, because his career was so short and he rarely walked. It's hard to see the awe in the numbers, and that's because the numbers cannot relay the sound of Oliva hitting a baseball. Nobody, perhaps ever, hit the ball harder than he did. It's something to listen to someone who saw Oliva play all the time ... they will talk about the sheer force of Oliva's FOUL BALLS.
He played in agony; Oliva was like Mantle that way. His knees were shot for most of his career. Rod Carew recalled hearing Oliva crying in the hotel rooms after games; that's how intense the pain was. Still, he won three batting titles through the worst offensive period since Deadball and, like newly elected Edgar Martinez, Oliva was on every pitchers' "toughest hitter to face" list.
No. 48: Graig Nettles
Score: 46.86
There's an impression out there (one that Mike Schur and I are happy to promote) that playing for the Yankees is a HUGE advantage for getting into the Hall of Fame. You know the story. The Yankees get everything. Their players are overrated because of the exposure, the World Series appearances, the halo effect that comes for being on championships teams, etc.
But there's something strange and counterintuitive that comes up when you actually look at it more closely.
Being a borderline Hall of Famer as a Yankee actually HURTS your chances.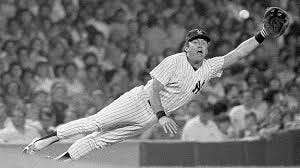 Nettles was as good as it gets with the glove in the '70s.
There are many different ways to show this. But here's one: There are 111 everyday players with 40 WAR since World War II who are eligible for the Hall of Fame but are not in it. I would call these most of the best Hall of Fame contenders, though you will find some excellent contenders with less than 40 WAR, such as Elston Howard (a Yankee).
In any case, if you rank them by team, who has the most Hall of Fame near-misses?
You already know the answer. It's the Yankees.
Most 40-plus WAR players NOT in the Hall of Fame (since WWII):
1. Yankees, 10
2. Cardinals, 8
3. Red Sox, 7
(tie) Orioles, 7
(tie) Cleveland, 7
(tie) Braves, 7
(tie) Dodgers, 7*
4. Giants, 6
(tie) Athletics, 6
5. Tigers, 5
(tie) Pirates, 5
(tie) Angels, 5
*I added Steve Garvey to their list even though he doesn't quite have 40 WAR, because he's such a popular Hall of Fame candidate.
The Yankees don't just have the most spurned candidates, they have some of the most celebrated ones -- Mattingly, Munson, Posada, Bernie, Randolph, etc.
Nettles is probably the best Yankees Hall of Fame candidate not in the Hall of Fame (depending on if you consider Gary Sheffield a Yankee). But nobody sees it that way. There is much more love for Mattingly and Munson in particular.
The reason is that Nettles' greatness is hidden behind a 248 batting average (and .329 on-base percentage).
He wasn't a consistent hitter. And he was a third baseman, not a shortstop.
If you can put those two things away, you realize that defensively he was amazing -- every bit as valuable as many of the greatest shortstops ever -- and that while he didn't hit for average, he was a dangerous slugger, hitting 390 homers in his career when homers were hard to come by.
No. 47: Omar Vizquel
Score: 47.43
People love or loathe Omar's Hall of Fame case. He was an amazing defensive shortstop and he finished with 2,877 hits. That's his case.
He was a terrific shortstop, but not quite there with Ozzie Smith and Luis Aparicio, who are in the Hall mostly for their defense, and despite all those hits, he was a substantially below-average hitter. That's the knock.
It will rage on for some time, but I suspect Vizquel finishes the fight in Cooperstown.
No. 46: Don Mattingly
Score: 48.43
I'm almost never jealous of other writers -- I cherish and love what they write rather than feel sad that I didn't write it -- but I will admit that I wish I had written Bill James' one-line summation of Don Mattingly:
"100% ballplayer. 0% bullshit."