HOF Candidates: 45-41
Continuing with your votes for the 100 best Hall of Fame candidates.
No. 45: Keith Hernandez
Score: 49.90
Here's a good hint when looking at great players (like Keith Hernandez) who are not in the Hall of Fame: Check out the age of their last good season.
For Hernandez, that was 1987. That year, he hit .290/.337/.436, won another Gold Glove and hit a career-high 18 homers*, etc.
*EVERYBODY had their career high in homers in 1987. A partial list of the good-to-great players who had their career high that year (with their next highest total in parentheses):
Andre Dawson, 49 (32)
George Bell, 47 (31)
Dale Murphy, 44 (37)
Eric Davis, 37 (34)
Jack Clark, 35 (28)
Will Clark, 35 (29)
Dwight Evans, 34 (32)
Wally Joyner, 34 (22)
Alan Trammell, 28 (21)
Wade Boggs, 24 (11)
So how old was Hernandez when he had that season? Right: He was 33. And that's the story, time after time. These Foyer of Fame players who can't quite get to the Hall, they ALMOST ALWAYS had their last good season from age 29 to 33.
Hernandez is a wonderful test study. Through age 33, his value (59 WAR) was comparable to those of Frank Thomas, Eddie Murray, Willie McCovey and Jim Thome. Like Thomas and McCovey, he had won an MVP award. He was, in his own time, viewed as the greatest defensive first baseman ever.
Why did they get into the Hall of Fame when he didn't?
After age 33:
Thomas put up 15 WAR over 7 uneven seasons -- he hit 165 homers to push himself over 500.
Murray put up 10 WAR over 8 seasons, including one excellent season -- he got 1,050 hits to push himself well over 3,000.
McCovey put up 8 WAR over 9 part-time and full-time seasons -- he hit 151 homers to push himself over 500.
Thome put up 18 WAR over 8 seasons, including three or four very good ones -- he hit 189 homers to push himself over 600.
And Hernandez? He put up 1.3 WAR over three part-time seasons, added almost nothing to his career totals (he finished with 2,182 hits) and ended his career in such an unmemorable way that you could win most trivia contests by saying, "Name the last team Keith Hernandez played for.*"
*Cleveland.
Was Hernandez as good a player as those other guys? I think yes. Tom Tango and I have long had a philosophical discussion (it's not really a debate, since we come down more or less on the same side) about how much value average and below-average seasons should add to the Hall of Fame discussion. Keith Hernandez finished his career with a higher wins above average total than Thome or Murray and is virtually identical to McCovey (only slightly behind Thomas). Shouldn't THAT be what matters?
We can all have different answers to that question. What we know is that Hernandez never even reached 11% of the Hall of Fame vote, he fell off the ballot before his time was up, and he rarely gets discussed as a Hall of Fame snub (Don Mattingly seems to have a more vocal support group). It's a shame. He is, after all, Keith Hernandez.
No. 44: Jorge Posada
Score: 50.0
Whenever I think of Jorge Posada, I think about a lefty reliever named Tony Cogan. The two aren't EXACTLY related, but, what the heck, here's that column as I wrote it live.
April 2, 2001. The Kansas City Star.
NEW YORK - Don't think. Thinking is the worst thing you can do. Don't think about how this is the first time you've ever pitched in a major-league game, Tony Cogan, and you're about to face the New York Yankees, and this is Yankee Stadium, this is opening day, 55,814 are screaming, your Royals are down 3-2, there are two on, and nobody's out.
Don't think about Babe Ruth or Lou Gehrig or Mickey Mantle.
Don't think about how these Yankees have won three straight World Series.
Don't think about how your parents and friends are in the stands.
Don't think about the New York crowd, a crowd unlike any in sports, a crowd that screams "NOOOOOOOO!" when some poor schlep asks some poor schleppette "Will you marry me?" on the video board.
No, don't think about anything at all.
Sure, it's hard not to think. Your leg is quivering. Your heart is pounding through your uniform. There's Yogi Berra. There's Dave Winfield. There's the "Yankees World Champion" flag, fluttering in the breeze, and you remember what the announcer -- the legendary Bob Sheppard -- said as that flag was raised? Well, he said it stood for three things:
1. Courage.
2. Conviction.
3. Everlasting truth.
Whoa. That's what the Yankees World Champion flag represents? Come on now. Courage? Maybe the Vietnam Memorial. Conviction? Maybe the Pyramids. Not a stupid baseball flag. But, that's how seriously they take baseball in the Bronx. This isn't a baseball stadium, it's a bleepin' cathedral. You've got statues. You've got pennants. You've got signs all over the walls -- smug little signs -- like this one:
"I want to thank the Good Lord for making me a Yankee."-- Joe DiMaggio
Don't think about that, Tony. Don't think about how you couldn't sleep last night, how you've dreamed about this all your life, how loud it is, how proud your folks are to see you jog to the mound in your Royals uniform. You shocked everybody by making the team -- never pitched a single game above Class AA. Heck, you only pitched two games in AA. But you pitched your heart out during spring training, impressed everybody and made the club.
"I like his makeup," your manager, Tony Muser, said, and that's why he calls you out to pitch Monday. Wait. Why DID he call you out to pitch? The Yankees lead 4-1. Two runners are on. Someone could argue this is an awfully lousy spot to put a 24-year-old rookie pitching his first big-league game, you know, with the crowd and the pressure and the fact that Jorge Posada is at the plate.
Tony Muser brought you in to turn around the switch-hitting Posada.
Posada has always hit lefties better than righties.
Unfortunately, Tony Cogan, you are a lefty.
Don't think about it. No, don't think about anything at all, because you can't pitch when you're thinking. You have to be loose. You have to be relaxed. Let's face it: You have to be stupid. The great ones can turn their minds on and off, like Joe Montana, who just seconds before he engineered the greatest drive in Super Bowl history, looked into the stands and said to his teammates in the huddle: "Hey, look, it's John Candy."
That's how you have to be, Tony. Don't think about anything. "Hey, look it's John Candy!" Of course, it's tough for you to turn your mind off. You're a bright guy. Stanford man. Economics. Not thinking doesn't come naturally.
But this is the life you have chosen. Don't think. Don't think about that first pitch, a ball, or that second pitch, another ball. Don't think. Throw your pitch. And you throw a strike (your first major-league strike! Can you have the baseball? No! Don't think about it!).
So it's 2-1, and you throw another pitch, and it looks good, but the umpire calls it a ball. A ball? Is he insane? Doesn't he know that this if your first game? Doesn't he care? The crowd turns up the noise, the runners are dancing, Posada is looking fastball, the championship flag is flapping in the wind, Yankee Stadium seems gigantic, your teammates are giving you encouraging looks and ... a ball? Is the umpire insane?
Don't think about it.
Really, don't think about it.
Just throw a fastball, Tony. Let it go.
And Jorge Posada mashes it over the left-field wall. Three-run homer. You knew it was gone the instant the bat hit the ball. You knew. Everybody knew. Your first batter hit a three-run homer at Yankee Stadium on opening day. Great.
Posada trots around the bases. Music pumps. The scoreboard flickers. Cheers blare. The Yankees will win. Again.
"How did you feel after that?" someone asks Tony Cogan.
"You know, it's funny," he says. "I actually felt kind of relaxed. I thought 'Whoa, that couldn't have gone any worse. But you know, it's over. There's nothing I can do about that. Let's go on.' "
He smiles just a little bit.
"I feel terrible for letting my teammates down," he says. "And my family was in the stands. And a lot of friends. And, it was kind of, well, I don't want to say embarrassing, but something like that. But, you know, that's baseball. Things like this happen. You have to move on or you won't make it."
On the other side of the clubhouse, Tony Muser shrugs when asked about Tony Cogan's first major-league game.
"He got his feet wet," Muser says.
No. 43: Bret Saberhagen
Score: 50.10
Pullout essay to come: The time I got a hit off Saberhagen.
When Sabes was good, nobody was better. He was a gorgeously efficient pitcher who pitched fast and worked the corners and mixed several pitches and somehow rarely walked anybody. We talk often about how much the game has changed; I suspect that Saberhagen would have thrived in today's world, where pitchers top out at 200 to 220 innings a year, batters swing for the fences and pitch-framing is a thing. I've often thought that Zack Greinke and Bret Saberhagen are very much alike.
But their careers are very different. Saberhagen completed 15 games in 1987. Greinke has completed 16 games in his 15-year career.
From 1987 to '89, Saberhagen pitched 780 innings, completed 36 games, threw 8 shutouts, won a Cy Young and should have been in the mix one other year. He was never really healthy after that.
No. 43: Albert Belle
Score: 51.64
When the Chicago White Sox signed Albert Belle to a historic contract in 1998 (5 years, $55 million -- he became baseball's first $10 million player), I couldn't help but wonder: Is Albert Belle really worth it?
Don't get me wrong, I adored Belle, despite my profession and better instincts. How could I not? He came along when Cleveland baseball seemed beyond saving, and he unapologetically battered baseballs, and he was the driving force behind the team going to the World Series in 1995.
Still, when the White Sox signed him, I couldn't help but wonder: Will that really make them better in any way? He was a problematic character, to say the least. He was not an especially committed defender. He would not help the team draw -- he was dismissive of fans, abusive to management and a nightmare for the press. He would undoubtedly create insane tension in the clubhouse*. He would probably embarrass the organization at some point.
*They used to call Belle, "Mr. Freeze," because he insisted on keeping the clubhouse bizarrely cold. I cannot imagine a more horrifying teammate than someone who (A) Insists on a 60-degree clubhouse; (B) Has the power within the organization to actually do it and (C) Is so scary that you're afraid to challenge or reason with him.
He was also 30 years old, all but guaranteeing that he would be half the player by the end of the contract.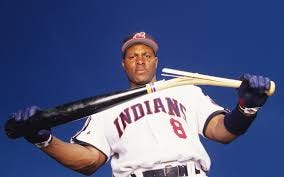 Belle was not a man to be trifled with.
As it turns out the White Sox got out of the contract after only two years; the contract gave Belle an opt-out if he wasn't one of the three highest-paid players in the game, and so he left for Baltimore, who gave him an even worse 5-year, $65 million deal. Belle only played two of those five years before his body gave out.
So how did the White Sox contract work out?
In 1996, the year before Belle joined the White Sox, they went 85-77 and finished a distant second to the Tribe in the AL Central. The hope for Chicago certainly was that if they could both add Belle AND subtract Belle from Cleveland's lineup, that might make up a substantial part of that 14 1/2-game gap. The White Sox drew 1.67 million fans.
Belle had a so-so year in 1997 ... he hit .274/.332/.491 but did have 30 homers and 116 RBIs. The White Sox went 80-81, which was worse than the year before but, to be fair, they did close the gap on Cleveland, finishing six games back (though Cleveland ended up going to the World Series). The Sox also drew about 200,000 more people. So, maybe they told themselves that it worked.
In 1998, Belle had an absolutely fantastic season, his last fantastic season. He hit .328/.399/.655, almost pulled off his second 50-double, 50-homer season (48 doubles, 49 homers) and drove in 152 runs, which is the White Sox record.
And what did it all mean? Nothing. The White Sox' record stayed the same, 80-82, they finished nine games behind Cleveland and they drew a half million fewer people. Then he left. Nobody could have called it a success, despite Belle's historic season.
This is not to BLAME Albert Belle -- one player can only do so much, and he could not have done more than he did in 1998. I'm just saying that Albert was Albert, you'd want the guy in your lineup because he was a ridiculously good hitter, but he didn't bring out the best in his teammates, he alienated everybody, and he didn't add value beyond the numbers on the back of his baseball card.
No. 41: Rafael Palmeiro
Score: 52.45
It's a near-unanimous opinion, I imagine, that if Rafael Palmeiro had not tested positive, he would be in the Hall of Fame. In fact, let me do a quick Twitter poll -- I'll give you the results at the end.
But we know Palmeiro would be a Hall of Famer because he finished his career with 3,000 hits and 500 homers. And EVERYONE with 3,000 hits who is not tarnished by some scandal is in the Hall of Fame. Everyone with 500 homers who is not tarnished by some scandal is in the Hall of Fame.
But here's the question: Was Rafael Palmeiro a great player?
Like all such questions, it depends upon your definition of great. Palmeiro was a Top 10 player in WAR four times, never higher than fourth. He never finished higher than fifth in the MVP balloting and made only four All-Star teams. He rarely led the league in anything -- he led in hits once, runs once and doubles once.
Among first basemen and DHs of his era, on a year-in, year-out basis, he generally ranked behind some combination of Jeff Bagwell, Frank Thomas, John Olerud, Mark McGwire, Todd Helton, Albert Pujols, Jason Giambi, Jim Thome, Edgar Martinez and, often enough, Fred McGriff.
His greatness was in his consistency and longevity. In 1993, he was second among first basemen/DHs in WAR. In 1994, he was fourth. In 1995, he was second again. In 1998, after an off-year, he was third. In 1999, he was sixth. Etc. He was rarely, if ever, even the best first baseman/DH in the game. But he was always in the picture.
You could divide the players in the Hall of Fame into a Venn diagram where one circle would represent the CAREER Hall of Famers and the other would represent the PEAK Hall of Famers. There would be substantial crossover, certainly, Mays and Aaron and Mantle and the like. But there are players in the Hall of Fame who were brilliant flashes of light, like Sandy Koufax. And there are players who may never have been the best in the business but were so good for so long that they won their way into the Hall of Fame through their career values. Maybe they're Don Sutton Hall of Famers.
And it seems to me that the second of those, the Suttons, have a distinct advantage over the Koufaxes because there are career milestones (3,000 hits, 500 homers, 300 wins) that all-but-guarantee the Hall of Fame. There's no such thing for the Koufaxes. Multiple Cy Youngs or MVPs, a five-to-seven year stretch as the acknowledged best player in the league, these things do not guarantee Hall of Fame. At all.
In the end, 84 percent of Twitter pollsters say Palmeiro would have been a Hall of Famer if not for the positive test. And I'm sure that if Palmeiro had not tested positive, I would have voted for him for the Hall of Fame.
And yet, I did not vote for John Olerud.
And yet, I think John Olerud was probably a better player than Rafael Palmeiro.
It's all very confusing.