HOF Candidates: 35-31
Continuing with your votes for the 100 best Hall of Fame candidates.
No. 35: Thurman Munson
Score: 54.3
By bWAR, Thurman Munson was the second-best catcher of the 1970s after Johnny Bench. You can build a pretty convincing Hall of Fame argument around that.
Munson won the MVP award in 1976 ... in retrospect, that award could have gone to his teammate Graig Nettles, who led the American League with 32 home runs and played impossible defense at third. By simple range factor, Nettles made 53 more plays than the average third baseman would be expected to make.
Nettles' BF WAR was 8.0/8.1.*
Munson's BF WAR was 5.3/.4.6
*I'm going to start trying to list WAR more like this -- the first number is Baseball-Reference WAR and the second is FanGraphs WAR. I'll try to explain this each time for a little while so that we can get used to it.
But there wasn't a chance on earth that anyone in 1976 would have seen Nettles being worth as much at Munson. Look: Munson hit .302; Nettles hit .254. Munson drove in 100 runs; Nettles did not. Munson was the catcher, so he obviously offered more defensively than a third baseman ever could. These truths were self-evident in 1976, and Munson won the MVP award running away, while Nettles (who actually led AL position players in WAR) finished a distant 16th, getting a few token down-ballot votes.
There's a point that Bill James often makes -- no matter what time we happen to live in, we're tempted to believe that we have it right. In 1976, it was clear that Thurman Munson was more valuable than Nettles. Forty-three years later, in 2019, it's probably just as clear that Nettles was more valuable than Munson. There's no telling what people will know in the year 2063.
No. 34: David Cone
Score: 55.05
The 1989 Kansas City Royals went 92-70 and finished second in the AL West to Tony LaRussa's juggernaut Oakland A's. That was a fascinating team. Bret Saberhagen won the Cy Young Award that year. Bo Jackson had his biggest statistical year with 32 homers, 26 steals and 105 RBIs. Core players of the fantastic early 1980s Royals -- George Brett, Frank White and Willie Wilson -- were still around, but fading fast (though Brett would win yet another batting title). Jeff Montgomery was almost unhittable in the bullpen.
How much of a difference would David Cone have made on that team?
The Royals had traded Cone two years earlier for Ed Hearn, in one of those trades that really didn't make any sense at all looking back. Cone grew up in Kansas City. He was a big-time prospect having a great spring. The Royals had been desperately trying to deal for him for months, and finally, John Schuerholz pulled the trigger.
"From all our reports, Ed Hearn is not just a backup catcher," Schuerholz said. "Some felt that the Mets' pitching was actually better with him behind the plate instead of Gary Carter."
Hearn got hurt shortly after arriving in Kansas City and didn't get a chance to prove himself as a starting catcher. He's a great guy who has spent his post-career life trying to help people. I know it hurts him that he couldn't have stayed healthy and proven himself worthy of the deal. We rarely think about this, but there's pain in being the wrong guy in an infamously lopsided deal.
In any case, even had Hearn stayed healthy, it's hard to understand why the Royals would trade a hometown kid with superior talent who just seemed to be coming into his own. Cone had battled control problems in the minors (114 walks in 178 innings in Class AA Memphis). But as mentioned he had been really good that spring.
"David Cone is a fine prospect, and we didn't want to trade him," Schuerholz said. "But we felt catching was an area we needed to strengthen."
Cone finished third in the Cy Young voting the very next year for the Mets, and was a good-to-great pitcher for the next five years, until the Royals got him back as a free agent. He won the Cy Young for them before going to the Yankees and pitching well for great teams.
How much of a difference could he have made in those five years in Kansas City? I think 1989 is the key year -- that year the Royals were already good. A Saberhagen-Cone-Mark Gubicza-Tom Gordon pitching staff, with Monty closing things out, might just have been good enough to take down the Bash Brothers in Oakland.
No. 32 (tie): Billy Wagner
Score: 55.86
I never have figured out how I feel about relievers in the Hall of Fame. I've written about that plenty.
But one thing I do feel pretty secure about: I think Billy Wagner was every bit as good as Trevor Hoffman, and probably better at their peaks. I could see an argument for neither in the Hall of Fame, and I could see an argument for both. I could even see an argument for Hoffman just barely, barely squeaking into the Hall and Wagner just barely, barely missing.
What doesn't make sense to me is Hoffman breezing into the Hall of Fame on third ballot (he just about made it on second) while Wagner's percentage hovers between 10 and 17%. The only real separator between them is the save number (601 to 422), and the bulk of that difference came after age 38. Wagner retired (after a typically sensational year), while Hoffman just kept piling up saves even when not pitching all that effectively.
Is that really the Hall of Fame difference -- a bunch of ordinary saves? Would the same people who think Hoffman is a Hall of Famer have put in Wagner had he been willing to pitch until his arm fell off and picked up those last 150 or so saves? That doesn't seem like great policy.
No. 32 (tie): Bobby Grich
Score: 55.86
Grich's 71.1/69.1 Combo WAR still jumps out at me every time I see it. That's a Hall of Famer. It shouldn't even be close. You look at his Jay Jaffe JAWS number of 58.7 (JAWS measures career and peak value), and you see it's eighth all-time among second basemen, and his comps are Robinson Cano, Ryne Sandberg, Frankie Frisch, etc.
But you look at his Baseball Reference comps and it's -- Toby Harrah, Brandon Phillips, Jay Bell, Bret Boone, etc.
That last part is his .266 career batting average talking.
Grich really could have won the 1979 MVP award. I'm not saying he SHOULD have won it (I've already written about how Fred Lynn would win it running away now) but given the standards of the time, he could have won it. And in 1981, had there not been a strike, he might have competed for the MVP too (as it was he led the league in homers and slugging). Borderline Hall of Fame candidates always have these near misses in their careers, these almost achievements that might have changed their story. Grich was viewed as a good-but-not-great player, a minor star, because of the way baseball was judged in his time.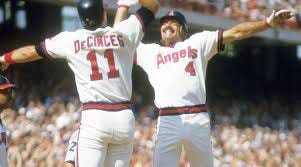 Grich > Utley? Yeah, and it's not really that close.
As you will see soon, Chase Utley ranks higher on this list than Grich. I put up a Twitter poll, and Utley was swamping Grich 60%-40% as the more deserving Hall of Fame candidate. I'm an Utley fan. But you know what? I think Grich was better than Utley, and I'm not sure it's even that close.
Look: Grich and Utley played about the same number of games -- Utley played 1,937 games, Grich played 2,008.
-- Grich was a better hitter. Grich's OPS+ was 125 to Utley's 117. Grich was better at getting on base in a tougher hitting environment. Look at their neutralized numbers:
Utley: .269/.352/.455 with 1,831 hits, 249 homers about 1,000 runs and RBIs.
Grich: .276/.382/.439 with 1,986 hits, 245 homers about 1,150 runs and RBIs.
That's not especially close.
-- Grich and Utley rank about even as great fielders in the advanced stats, with maybe a slight edge in defensive WAR to Utley, but I'm not sure how well those numbers hold up. While Grich was celebrated in his own time as a brilliant defender (winning four Gold Gloves), Utley was not. He never won a Gold Glove.
I'm not saying that's a decisive fact -- we all know the Gold Gloves have been a mess. But Utley was widely viewed as an average to below average second baseman; I heard numerous scouts say he was below average and he was sort of seen as an offensive second baseman. Don't get me wrong on this: His range factor and John Dewan plus/minus numbers suggest he really was terrific, and I tend to fall on that side of the argument. But I'm not sure. I watched him play a lot and I sympathize with those who saw nothing special in his defense -- he didn't SEEM to be all that great out there.
Anyway, I don't think you can give him a defensive edge over Grich.
-- As far as stories go -- Grich was a fantastic athlete, a brilliant amateur boxer and a football star who was recruited by UCLA. He had a great mustache, his body was wrecked by injuries, he was able to play shortstop or second base and he was generally beloved by teammates and reporters.
Utley had one of the most beautiful swings I ever saw, a left-cross of a swing. He seemed to be beloved by teammates and he had no use for reporters. He too had his body wrecked by injuries. He was involved in a couple of nasty collisions that separated fans into two groups -- those who thought he was dirty and those who thought he was tough.
Total it up, Grich's WAR Combo, as mentioned, is 71/69 and Utley's is 65/63, and I'm just not sure how you can make the case that Utley is more deserving of the Hall of Fame.*
*Several people put Utley as their choice and referred to his postseason success as the tiebreaker. I'm not sure I get that, either. Yes, Utley had that 2009 World Series where every ball he hit seemed to leave the park (he hit five homers). And he had a couple of superb Division Series performances.
But the guy hit .224 in the postseason and .200 in the World Series. He was great in the World Series the Phillies lost, but he was an out in the World Series they won. And yes, I realize he was 0 for his last 27 in the postseason, entirely crushing his career numbers -- and maybe it's better to just ignore those outs. Even then I'm not sure you can give him a huge postseason boost, it's not like he ever won a big postseason award. Grich, meanwhile, didn't hit in the postseason at all and he never played in a World Series. Judge as ye will.
No. 31: Gil Hodges
Score: 56.14
We're in the process of looking at colleges with our oldest daughter Elizabeth, and as such we're hearing the word "holistic" an awful lot. Every college promises to look at Elizabeth holistically, which I guess is good, I don't really know.
Gil Hodges' has a holistic Hall of Fame argument. There's no one part of his resume that shouts "Hall of Famer!" He was never the best player in the league -- he never once finished Top 5 in the MVP voting. But even more amazing (and this really is amazing) he was never by WAR the best position player on his own team:
1949, 6th behind Jackie Robinson, Pee Wee Reese, Duke Snider, Roy Campanella and Carl Furillo.
1950: 5th behind Jackie, Snider, Campy and Pee Wee.
1951: 3rd behind Jackie and Campy.
1952: 2nd behind Jackie.
1953 : 6th behind Snider, Campy, Jackie, Pee Wee and Furillo.
1954: 2nd behind Snider.
1955: 4th behind Snider, Campy and Furillo.
1956: 4th behind Snider, Junior Gilliam and Jackie.
1957: 2nd behind Snider.
1958: 4th behind Charlie Neal, Gilliam and John Roseboro.
1959: 3rd behind Wally Moon and Neal.
Now, this is in part because the Dodgers were so great -- it's no shame to finish behind Hall of Famers like Jackie Robinson, Pee Wee Reese and Duke Snider. Still, facts are facts: His peak wasn't out of this world (he never led the league in anything) and his career ended up being pretty short (just a bit more than 2,000 games).
The Gil Hodges holistic argument is that he was very good for a great team, that he was a beloved figure, that he was a superb first baseman and a good power hitter, that he managed the 1969 Mets to their miracle championship and that he represents a time and place when baseball felt more like a neighborhood game and guys like Gil Hodges felt like next-door heroes.
I should add that I'm good with holistic arguments.