HOF Candidates: 30-26
Continuing with your votes for the 100 best Hall of Fame candidates.
No. 30: Jim Kaat
Score: 56.79
On June 26, 1977, Jim Kaat won his 250th game. He won it by pitching eight hard-earned innings of shutout baseball. He gave up nine singles in those innings and, though he didn't walk anybody, it's a fair guess that he threw 150 or 175 pitches. Pitchers did that in those days. Anyway, we know that Kitty was toast when his manager called for Gene Garber to take the ball in the ninth inning.
"To be honest," he told reporters, "I was already one or two innings into overtime by then."
It was a major achievement, winning 250 games. He was only the 17th pitcher in modern baseball to do it. If you counted only pitchers after Deadball, he was the ninth, and the other eight were all either in the Hall of Fame (Grove, Hubbell, Lyons, Ruffing, Wynn, Roberts, Feller and Spahn) or in the on-deck circle (Gibson). The Hall of Fame line was not 300 wins then. It was 250.
The 300-game winners would come later, and they would come in a giant wave and they would have a huge effect on Jim Kaat. But we'll get to that.
Back to that moment: Kaat was 250-206 with a 3.34 ERA. He had won 15 Gold Gloves and was about to win his 16th. He would have won the 1966 Cy Young had they given it out in both leagues (it was the last year of the single Cy Young), and he had outdueled Sandy Koufax in a World Series game.
And it looked for all the world like his career was coming to an end. He was still chugging along, still figuring out new ways to get people out -- he had adopted a no-windup delivery to try and throw off hitters' timing -- but he was also turning 39 that November, and everybody (including Jim) understood that he was pitching on fumes. He had been in the big leagues since he was 20 years old. Kaat did start messing around with a screwball and a knuckle curve in order to push off the inevitable. But he knew that his career was just about over.
"I feel I can continue," he told a reporter. "But I'm prepared. When you throw like me, you don't get too many chances to fail."
The Hall of Fame is a funny business. As it turned out, Kitty pitched another six years after 1977, starting some, relieving some, doing the lefty specialist thing some. He picked up 30 more wins (and 12 more saves) to finish with 283. I have no doubt that he wouldn't trade in those years -- he finally got to play on a World Series winner, the 1982 Cardinals, and he played a key role, pitching four times in that Series.
But purely from a Hall of Fame standpoint, I wonder what would have happened had Kaat retired at the end of the 1977 season. On the one hand, you would think that those 30 extra wins -- Kaat's 283 wins ranks third among modern-day pitchers not in the Hall of Fame, behind Roger Clemens and Tommy John -- would help his cause.
But as we talk about here all the time, one of the most underestimated part of the Hall of Fame story is timing.
If Kitty had retired after 1977, he would have had 253 wins, which would have tied him with Hall of Famer Carl Hubbell. And he would have come on the ballot in 1983. This is important because he would have been by far the best pitcher to come on the ballot in 1983.
And, even more importantly, he would have had the most wins of ANY pitcher on the ballot. Wins were everything in those days, and that year, 1983, Juan Marichal was elected into the Hall of Fame. Juan Marichal was a fantastic pitcher, but it took him three years to get elected. Why? Marichal won 243 games in his career, 10 fewer than Kaat had after '77.
So how would Kaat have done that year? I suspect he would have done pretty well, but the story is just beginning. In 1984, Don Drysdale was elected to the Hall of Fame. Drysdale was a fantastic pitcher too, but that was his 10th year on the ballot. He had only 209 wins. Again, Kaat would have stood out from every pitcher on the ballot.
And the story continues. In 1985, the three pitchers receiving the highest vote totals were Jim Bunning, Catfish Hunter and Mickey Lolich, with 224, 224 and 217 wins, respectively. Kaat had won a lot more than any of them.
The same was true in 1986. In 1987, Hunter was elected. In 1988, Luis Tiant came on the ballot, and he received a substantial number of votes. He had 229 career wins. That's six full Hall of Fame ballots where Jim Kaat would have been the wins leader. I'd say there's an 80-90% chance that if he had been on the ballot those six years (or even three of those six years), he would be in the Hall of Fame right now.
But Kaat didn't make the ballot until 1989 ... and his timing could not have been worse. He came on the ballot with Gaylord Perry (314 wins) and Ferguson Jenkins (283). He came on as the third-best pitcher, by wins and by just about every other stat. The next year it was Jim Palmer (268 wins), two years later Tom Seaver (311), then Phil Niekro (318) and Don Sutton (324), Steve Carlton (329), John would all follow, and Kaat's hopes were dashed.
Timing. Look, all of this is just idle chatter -- Kitty would take his World Series championship over a Hall of Fame plaque every day, I'm sure. But it's weird, right? It's weird that continuing to play after your prime could HURT your Hall of Fame shot. But it happens more than you would think.
No. 29: Dick Allen
Score: 57.93
I found a fun 1977 column by Gannett's Bob Matthews where he summed up the Hall of Fame chances of then-active players. He put them in different lists -- can't miss, good chance, slim chance, no chance, future bets. Then he picked out one special player who you can probably guess from the name above.
Ten who can't miss: Pete Rose, Jim Palmer, Brooks Robinson, Lou Brock, Tom Seaver, Rod Carew, Carl Yastrzemski, Catfish Hunter, Willie McCovey and Johnny Bench.
Verdict: Nine out of 10 right is pretty darn solid. It's easy to forget just how much everybody loved Catfish Hunter. Oh, and there was no way to get Pete Rose right in '77.
Ten with a good chance: Willie Stargell, Joe Morgan, Gaylord Perry, Nolan Ryan, Tony Perez, Ferguson Jenkins, Reggie Jackson, Jim Kaat, Luis Tiant and Don Sutton.
Verdict: Eight out of 10 made it. Only Tiant and Kaat haven't made it so far, and there's a pretty strong argument for both.
Ten with a slim chance: Boog Powell, Sal Bando, Bert Campaneris, Rollie Fingers, Joe Torre, Rusty Staub, Thurman Munson, Al Oliver, Joe Rudi and Bobby Grich.
Verdict: Fingers made it as a player. Torre is in as a manager.
Ten with no chance: Willie Horton, Rico Carty, Graig Nettles, Bob Watson, Lee May, Steve Carlton, Bobby Murcer, Ken Holtzman, Phil Niekro and Mike Cuellar.
Verdict: Our guy had HUGE misses on Carlton and Niekro, particularly Carlton. It's weird -- he was so solid in the other categories, I can't for the life of me figure out why he felt so sure about Lefty, especially when you consider that Carlton won his second Cy Young that very year.
Ten best future bets: Mike Schmidt, Dave Parker, Frank Tanana, Cesar Cedeno, George Brett, Fred Lynn, Jim Rice, Steve Garvey, Vida Blue and Don Gullett.
Verdict: Any fan who grew up in the 1970s will see this list and sigh. Only three of the 10 made it -- Schmidt, Brett and Rice. Oh, those days when Cedeno, Blue and Gullett were seen as future Hall of Famers.
One unfortunate case: "In 1997, a national sports magazine might include a story on Dick Allen, asking why a man with a .295 career and 400 homers isn't in the Hall of Fame."
Matthews didn't write anything more ... I can only assume that in 1977 these words spoke for themselves. Allen was 35 years old and sort-of still active (he had just been suspended by the Athletics). It's interesting that Matthews thought Allen still had enough game left to reach 400 homers (Allen finished with 351).
But the writer's larger point seems to be that Allen was no Hall of Famer, no matter what his numbers said, and -- even more telling -- he thought this was so universal an opinion that he didn't even bother to expound on it.
A long (long) Dick Allen breakout essay to follow.
No. 28: Tommy John
Score: 58.03
Let's talk about double plays for a minute. Tommy John deliberately pitched to contact. This meant that he gave up a lot of hits, the third most singles in baseball history. He overcame those hits with a four-pronged plan.
He didn't give up home runs. Period. He also gave up fewer doubles and triples than most.

After a few early control issues, he basically stopped walking people.

He held on baserunners well.

He induced by far the most double plays in baseball history.
Let me show you that most-career-double-plays chart, just so you have a good feel for this:
Tommy John, 604

Jim Kaat, 462

Gaylord Perry, 451

Phil Niekro, 431

Greg Maddux, 422
Nobody is even close.
But I show you that list because I want to make a different point -- the top four pitchers were mostly underrated. John and Kaat are famously not in the Hall of Fame despite their huge win totals. Perry and Niekro were viewed as something like freak pitchers because they relied on spitters and knucklers. As you go down the double-play list you see a lot of pitchers -- Claude Osteen, Bert Blyleven, Jerry Reuss, Mark Buerhle, Andy Pettitte, etc. -- who you would probably call underrated.
John turned the double play into a weapon. He had 13 seasons in which he forced 25 or more double plays, by far the record (Whitey Ford is second with nine).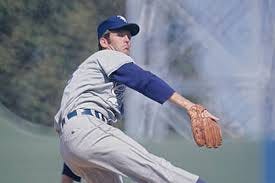 Besides his medical contribution, John won 288 games.
Many of us have a real problem fitting the double play into our baseball analysis. What do you do with them? Is it a batter's fault if he hits into more than his share of double plays? Should the credit go to the pitcher or the fielders or both or neither?
With John, the double play -- or more specifically making batters hit the ball on the ground -- was his superpower. That's not as exciting a superpower as flight or invisibility or throwing 100 mph fastballs by a flailing batter. But it got him outs for 26 years, even with his career being interrupted by the surgery that now bears his name.
His Hall of Fame voting track was odd because there's nothing at all odd about it -- he always got between one quarter and one-third of voters' votes. There was no peak when he caught a wave of momentum, and there was no moment when he almost fell off the ballot. He just kept going along, much like his career. Tommy John wasn't the most exciting pitcher in the world. He was just really good and occasionally great, even as the times and the game evolved, before and after he had the surgery that changed everything..
No. 27: Jim Edmonds
Score: 58.76
It's astonishing how many borderline Hall of Fame candidates have right around 8,000 plate appearances. That seems to be the magic number for players with NOT QUITE enough. Take a look at this list of highest bWAR for players between 7,500 and 8,500 plate appearances:
Joe DiMaggio, 78.1

Arky Vaughan, 72.9

Larry Walker, 72.7

Bobby Grich, 71.1

Duke Snider, 66.3

Chase Utley, 65.4

Reggie Smith, 64.6

Ken Boyer, 62.8

Mark McGwire, 62.2

Sal Bando, 61.5

Jim Edmonds, 60.4
What you see there are a bunch of great players, and not one of them made the Hall of Fame on first ballot, not even DiMaggio (though he was an odd case). Arky Vaughan did not make it in through the BBWAA, Snider went in on his 11th try. The rest have not made it, most of them have not even come close.
Shortness of career -- that's the biggest issue for most borderline players. That's the biggest issue for Jim Edmonds (7,980 plate appearances). But he is a bit weirder than many of the others in that I can't quite figure out why he only ended up with 8,000 plate appearances.
Often, when you see a great player with 8,000 plate appearances, it's because they got a late start and didn't make it to the big leagues until they were in their late 20s. But Edmonds made it up at 23 and was a full-time player by 25.
Even more often, a great player ends up short in plate appearances because their career ended too soon, say early 30s. But that's not true for Edmonds, either. He had his best season at 34, his second-best season at 32. He pretty much played every day until age 38 and returned for a half season at age 40.
Then, it could be because a great player simply couldn't stay healthy enough to have full seasons -- Walker, for instance, only played 150 games one time in his career.
Edmonds dealt with injuries, yes, but he played 150 games four times in his career and had three other seasons where he played 140-plus.
It's like a math problem -- I honestly have no idea how Edmonds could play 17 years and not get more than 8,000 plate appearances.
Anyway, because did have fewer than 8,000 plate appearances, his counting number do not impress -- not quite 2,000 hits, not quite 400 homers, etc. -- and as such he got almost no Hall of Fame support despite being an eight-time Gold Glove winner and a superb hitter.
No. 26: Jeff Kent
Score: 58.79