HOF Candidates 25-21
Continuing with your votes for the 100 best Hall of Fame candidates.
No. 25: Orel Hershiser
Score: 58.79
Hershiser entered his last start of 1989 with a win-loss record of 14-15; he had not won a game in almost two months. Win-loss records were everything in those days, especially to pitchers, and Hershiser came into the game hungry to win; he was determined not to finish the year with a losing record. He had never had a losing record.
The Dodgers were facing the Braves, two lousy teams playing out the string, and Hershiser gave up a run in the second -- he walked Dale Murphy and gave up a double to David Justice. He was furious with himself -- in that year with the Dodgers, giving up just one run often meant defeat. Hershiser lost four 1-0 games that year, one shy of the record.
But on this day the Dodgers tied the game in the sixth when Darrin Fletcher singled in Mike Sharperson.
And, after that, Hershiser wouldn't come out until the Dodgers had scored the winning run.
He really wouldn't. Tommy Lasorda tried to get him out, but Bulldog wouldn't go. He pitched 11 innings, threw 169 pitches, gave up 10 hits but no more runs. He handcuffed himself to the mound until the Dodgers finally scored in the top of the 12th when Mike Davis walked and Jose Vizcaino's sacrifice bunt was thrown away, allowing what would become the winning run to score.
It was a different time, a time when the best pitcher in the league would demand to throw 169 pitches in a meaningless game just for the visual impact of a .500 record instead of losing record.
Hershiser missed most of the next two seasons with a torn labrum that he suffered early the next year. He has always refused to blame that last game, has said that his arm was already spaghetti. But still ... could you imagine what a scandal that would be today?
From ages 25 to 30, Hershiser completed 58 games and led the league in innings pitched three times. He was 98-64 with a 2.69 ERA, 23 shutouts, a Cy Young Award, and both an NLCS and World Series MVP. That's Hall of Fame stuff.
Then after the torn labrum, he was determined but he was never the same. He won 106 more games but with a 4.17 ERA (exactly a 100 ERA+) and two shutouts for four different teams.
No. 24: Sammy Sosa
Score: 58.88
This was the column I wrote for the Kansas City Star on Sept. 24, 1998, from Section 22 at old Milwaukee County Stadium. I was at this amazing game because I was following around Sammy Sosa on the home run chase. We'll never again be able to feel how fun it was because we know too much now ... but it WAS fun.
A little Director's Cut bonus information: The woman who was asking for hot chocolate at the Section 22 concession stand was Margo, my wife.
MILWAUKEE - County Stadium is one of those creaky, gummy, sweaty old ballparks where people come only to see baseball. There's nothing much else to see. No beer garden. No movable roof. No giant video screen playing highlights in the outfield. The gift shop is two folding tables and a guy selling hats. Shoes cling to the floor. Beer lines collide. Music cracks and hisses, as if picked up from a faraway AM radio station.
"Sammy, oh baby, Sammy. ''
"If he hits a home run, I'm gonna throw my beer in the air, I swear. ''
"If he hits another home run, I'm gonna take off my pants. ''
"Oh Lord, he dropped the ball. ''
"The Cubs are cursed. ''
These are the sounds in Section 22 Wednesday, during one of the wildest, strangest, most amazing baseball game of the year. Section 22 is where the real fans sit, way down the left-field line, in the shade of the upper deck. It is dark. It is cold. A squirrel scampers along the metal beams and catwalks. A frosty wind blows.
"Hot chocolate,'' a woman says at the Section 22 concession stand, and she points at the words "HOT CHOCOLATE,'' on the sign.
"Honey,'' the employee says, "we've never had hot chocolate. ''
And here, people look in the eyes of Chicago Cubs left fielder Brant Brown as he circles under the last fly ball of the game. He looks shaky. Ninth inning, the Cubs lead by two, the bases are loaded, there are two outs, and oh what a game it has been. Sammy Sosa hit his 64th home run, a poke over the right-field wall back in the fifth, directly to the old, beat-up glove of a 33-year-old guy named Vern Kuhlmeier, a KellyTires employee from Dakota, Ill.
Oh, they went crazy in Section 22 over that one. They are from all over the place -- Chicago, Milwaukee, all the funny-named towns between -- and they put down their brats, and they lifted their waxy-paper beer cups, a toast to Sammy, and a woman rubbed her blue rabbit foot that connected to a mini-Cubs bat, and a little boy pounded into the pocket of his black baseball glove, and everyone felt alive.
The scene was wilder an inning later when Sosa hit No. 65, a screamer to center field that clinked and clanked off the metal bleachers and bounced back on the field. Everything stopped. Even construction workers, building the new Miller Park, stopped hammering and jumped around. Oh, how they love Sammy. He had not gotten a hit in 21 at-bats, he had looked downright foolish for a week, but Wednesday, suddenly, he was Sammy again, smashing long home runs, hopping around the bases, blowing kisses to his Dominican Republic so wrecked by Hurricane Georges.
"It is bad,'' Sosa would say of his homeland. "I play for them."
And you know what? He did it all for these people too. That's what they believe out here in Section 22. He did it for them, for this woman in the black swimsuit bikini top screaming non-stop inning after inning, for that father explaining the game to his daughter, for the guy who calls for beer so often that by the end you expect him to ask the beer man to be best man at his wedding.
Yes, they are loud Chicago Cubs fans and quiet Milwaukee Brewers fans, and they watch the Cubs take the 7-0 lead, and they watch the Brewers fight back, and they watch a few drunken fools run on the field, and now they see the ball flying to Brant Brown in left field.
This will end the game.
Cubs fans raise their arms. Brewers fans look around their seats to pack up their stuff.
And then ...
suddenly ...
ridiculously ...
Brown drops the ball.
The Cubs lose the game.
No one knows how to react. In the Cubs radio booth, Chip Caray finds he has no words. In the parking lot, cars come to a screeching stop. Along the bases, the Brewers run like mad. Faraway, in New York, the Mets, who scramble with the Cubs for the last playoff spot, lift their arms.
"That's neat,'' Mets manager Bobby Valentine says.
And here, in Section 22, everyone is exhausted. Cubs fans, none of whom was alive when the Cubs won their last World Series in 1908, think, "This is just like the Cubs.'' Brewers fans, so overwhelmed most of the game, think, "This is just like the Cubs.'' There is overwhelming sadness and powerful laughter, it is devastating and it is hilarious, and everybody looks at Brant as he runs in, head down, glove tucked under his arm, eyes squarely looking at nothing.
"Did the sun bother you?'' Brant would be asked when the game ended. It is an offer for an excuse, a life raft, an escape. Brant, class act and stand-up guy, does not bite.
"No sun,'' he says. "No sun, no wind, just clank.''
Teammates would rush to pat him on the back, whisper in his ear, say that teams win and lose together. Brant does not buy any of it. He takes the blame. He takes the blame hard.
Outside, in the concourse, a kid throws a baseball in the air and drops it on purpose. "You could just cry,'' an older woman in a Cubs shirt says as she shuffles through the crowd.
"What a game,'' a man says and he slaps his friend on the back.
"We won, didn't we? '' a little girl asks her sister.
"No stupid, they lost,'' her sister tells her.
And all of them quietly march to the exits from Section 22, a million different thoughts buzzing in their minds. Too much had happened. Sosa. Home-run history. A dropped ball. In the parking lot, some Brewers fans taunt people with Illinois license plates, while Cubs fans sit on their cars with their hands in the faces, and seagulls swoop about the parking lot scavenging for scraps of bratwurst and bits of hot-dog buns. Brewers announcer Bob Uecker tells fans to drive home safely.
"What can I tell you? '' Cubs second baseman Mickey Morandini would say. "That's baseball. That's what makes it a great game. ''
No. 23: Chase Utley
Score: 60.81
From 2006 to 2010, Chase Utley got hit by many more pitches than any hitter in baseball. He also accumulated the most fielding runs above average. He was the third best baserunner in the National League behind his teammates Jimmy Rollins and Michael Bourn, and only Stephen Drew hit into fewer double plays per plate appearance.
In other words, so much of the good that Chase Utley did in his prime went completely unnoticed. He CONSTANTLY underperformed his WAR in the MVP voting:
2005: 3rd in WAR, 13th in MVP
2006: 3rd in WAR, 7th in MVP
2007: 3rd in WAR, 8th in MVP
2008: 2nd in WAR, 14th in MVP
2009: 2nd in WAR, 8th in MVP
2010: 8th in WAR, no MVP votes
The Hall of Fame argument surrounding Utley will revolve around just how good his peak was ... and just how much it means that his career ended short (he's another member of the 8,000 plate appearance, HOF borderline club). I imagine he will have some vehement supporters and some equally vehement critics.
No. 22: Ted Simmons
Score: 61.57
Ted Simmons is not in the Hall of Fame, I believe, because Johnny Bench, Carlton Fisk and Gary Carter are. It's that simple.
A thought experiment: Here are the best catchers by WAR from 1960 to 2010, a nice 50-year stretch:
Johnny Bench, 75 WAR

Gary Carter, 70

Carlton Fisk, 69

Ivan Rodriguez 68

Mike Piazza, 60

Ted Simmons 50
Simmons is a fairly distant sixth in that group ... but you could imagine a pretty good Hall of Fame argument for six catchers over 50 years. That's barely more than one per decade, and Simmons' career WAR is a little bit deceiving because he lost quite a bit of value in his later years when he was just hanging around. It's a close Hall call, but I could see it going either way.
Now look at the WAR from 1970 to 1985, just 15 years:
Johnny Bench, 65

Gary Carter, 63

Carlton Fisk 55

Ted Simmons, 51
Now it's different -- how can you argue that FOUR CATCHERS should make it in a 15-year period? The writers had such a hard time with this that they didn't elect Fisk until his second year on the ballot, and remarkably didn't elect Carter until his sixth. Simmons never had a chance; the writers gave him just 17 votes his one year on the ballot and that was that.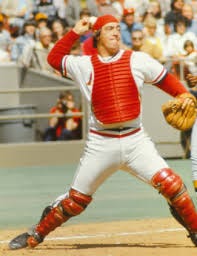 Simmons never generated any momentum for the Hall.
Simmons in his prime was a very good hitter, an under-appreciated fielder and an interesting guy. I remember many years ago reading a story about how he spent virtually every waking moment away from baseball studying antiques. The main thing I recall about the story was that he didn't really want to talk about that; it was nobody's business. I remember being so impressed by that -- both by the fact that this was a ballplayer who was an expert about something as dense and involved as antiquing and that he didn't want anybody to know.
No. 21: Luis Tiant
Score: 62.00
This is the 100th season Post Deadball. As you probably know, Deadball -- an unofficial term for those early years of the late 19th and early 20th century -- ended in 1919. Several things happened around 1920 to fundamentally change the game:
In 1920, the spitball was outlawed.

In 1920, Babe Ruth hit 54 home runs, an outrageous number (the record was 29, and he had set it a year earlier)

Around that time, the quality of baseballs (and the rotation of baseball in and out of games) improved fairly dramatically.
When you look up stats — particularly pitching stats like wins and ERA and innings pitched — those Deadball pitchers are all at the top of the list. So if you've done many baseball searches on Baseball Reference, I imagine you've started plenty of them in 1920.
Well, the lowest ERA in American League post-deadball history is Luis Tiant's 1.60 ERA in 1968.
Did you know that? I'd say there's a pretty good chance you did not know that, because I did not know that, not for sure, and I have spent roughly 23 percent of my life writing about Luis Tiant. You no doubt know right off the top of your head that Bob Gibson had a 1.12 ERA that same year, the National League record.
But you probably didn't know about Tiant's record.
I have long said that Tiant isn't in the Hall of Fame because he's a victim of bad timing, and that's true, but there's something else: He just didn't get enough credit for that crazy 1968 season. Why?
First, it was 1968. EVERYBODY had a great ERA in 1968. Only 19 American League pitchers since Deadball have had a sub-2.00 ERA, and five of them did it in 1968 -- Tiant, Sam McDowell, Dave McNally, Denny McLain and Tommy John. So Tiant's ERA sort of fades into the background.
Second, as mentioned, everything about 1968 was overshadowed by Gibson's 1.12 ... and also Denny McLain's 31 wins. Tiant's remarkable 1.60 ERA didn't get him a single Cy Young vote (McLain won it unanimously).
No. 3: Tiant was so impossibly good in the first half -- pre Independence Day -- that his merely good second half was seen as a disappointment.
Look at this: On July 4 ...
Bob Gibson: 10-5, 1.13 ERA, 151 innings, 109 Ks, 31 walks, .180 batting average against.
Tiant: 13-5, 1.11 ERA, 146 innings, 150 Ks, 43 walks, .161 batting average against.
Amazing, right? For a half a season, Tiant matched Gibson's legendary season pitch for pitch.
In the second half, though, Gibson stayed the same (while adding some strikeouts) while Tiant fell off a bit and missed more than two weeks in September with an injury.
After July 4:
Gibson: 12-4, 1.12 ERA, 153 innings, 159 Ks, 31 walks, .188 batting average against.
Tiant: 8-4, 2.25 ERA, 112 innings, 114 Ks, 30 walks, .177 batting average against.
And last, I think Luis Tiant became such a big, bold, wonderful personality in later years, that people have simply forgotten he was once young and could throw a fastball by anybody. Instead, they think of the cigar-smoking. roly-poly maestro who got people out with gyrations and arm angles and changes of pace. That's cool, too — he was SO cool — but Tiant was once young and unhittable.