HOF Candidates 20-16
Continuing with your votes for the 100 best Hall of Fame candidates.
No. 20: Kenny Lofton
Score: 64.10
Batting average might not mean what it used to mean .... but all things considered, you would still rather hit .300, right? I mean, if given the choice at the end of a long career, no matter how little you think about batting average, you would probably rather have that big .300 on the back of your baseball card rather than that close-but-not-enough .299.
Kenny Lofton hit .299.
He went 2,428 for 8,120 — that almost exactly .299 (.29901478, according to my calculator). It takes replacing just four outs with hits to get him where he wants to go.
With one more hit, the average is at .2991
With two more, it's .2993
With three more, it's .2994.
And with four more hits, as mentioned, the average goes to .2995, which in the official records would be rounded up to .300.
1 hit -- .2991
2 hits -- .2992
3 hits -- .2993
4 hits -- .2994
5 hits -- .29945
You could also look at it another way -- if Lofton CAME BACK and went six-for-six in a game (or multiple games) and retired again, his batting average would round up to .300.
And you can look at it yet another way -- look at his career averages each season after age 35:
Through age 35: .298
Age 36: .298
Age 37: .297
Age 38: .299
Age 39: .299
Age 40: .299
So close ... but he couldn't quite get there. It's a shame because the early knock on Lofton -- you might remember that he came out of East Chicago and the University of Arizona mostly as a basketball player -- was that he would never hit at all in the big leagues. He had everything else. He could absolutely fly (he led the league in stolen bases each of his first four seasons), He played defense like a dream. But the bat. The Houston Astros got him in the 17th round and just never believed in the bat.
That, in the end, was why they traded him for Ed Taubensee. They just weren't sure.
But give Cleveland GM John Hart credit: He WAS sure.
"There are certain players," Hart said, "you walk away from the ballpark excited after seeing them. I never walked away from the ballpark without being excited for what Kenny Lofton gave me."
Lofton was terrific right way for Cleveland. He should have won the Rookie of the Year award ... but didn't. The writers for some odd reason gave it to Milwaukee's Pat Listach. It's fun to look back at their seasons because they had almost the exact same number of plate appearances:
Listach: .290/.352/.349 in 649 PAs, 54 walks, 124 Ks, 93 runs, 54 stolen bases.
Lofton: .285/.362/.365 in 651 PAs, 68 walks, 54 Ks, 96 runs, 66 stolen bases.
Listach was a roughly average to slightly below average shortstop. Lofton was an absurdly wonderful centerfielder.
Pat Listach won the Rookie of the Year going away, I can only imagine, because of the five-point edge in batting average and because Lofton just never could get his due. It's ludicrous now -- Lofton was two wins better than Listach.
By combo WAR, Lofton was the best player in the American League in 1994 -- but again, nobody saw him that way in the moment That was the year that Frank Thomas hit .353/.487/.729, it was a truly insane offensive year, and it would be hard even now (and impossible then) to believe that Lofton did enough other things to have been more valuable.
But let's point them out. Thomas was a below average baserunner. Lofton was one of the best, perhaps THE best, baserunner in the game.
Lofton was a sensational defensive player. Thomas was a well-below-average first baseman.
And it's not like Lofton was a slouch at the plate. He did hit .349/.412/.536. He stole 60 bases. He scored 105 runs. He was fourth in the league in total bases. Anyway, nobody saw it then.
And it was always like that for Kenny Lofton. He started a little late because of basketball (first full season at age 25), and he spent his last few years going dizzy with travel -- from the White Sox to the Giants to the Pirates to the Cubs to the Yankees to the Phillies to the Dodgers to the Rangers -- and he couldn't QUITE hit .300. And so he was placed in the very good but not quite great bucket ... it's a shame because he was great.
Best players (by bWAR) to be on the HOF ballot for just one year:
Lou Whitaker, 75 bWAR, 15 votes

Bobby Grich, 71 bWAR, 11 votes

Kenny Lofton, 68 bWAR, 18 votes

Kevin Brown, 68 bWAR, 12 votes

Rick Reuschel, 68 bWAR, 2 votes
There's a good argument that Lofton, in particular, deserves a do-over because he happened to come onto the strangest ballot in the Hall of Fame's history. He came on in 2013, when his first-ballot classmates included: Barry Bonds, Roger Clemens, Sammy Sosa, Mike Piazza, Craig Biggio and Curt Schilling, not to mention other interesting players like Shawn Green, Steve Finley, David Wells, Reggie Sanders. It was system overload, there was no way to compute all of it (and that's why NOBODY was elected that year).
I don't know that Lofton would do MUCH better on the ballot now, but I do believe he'd at least get the 5% necessary to keep the conversation going.
No. 19: Dwight Evans
Score: 64.21
The 1981 strike hurt the legacy of several players, but you could argue that it hurt Dwight Evans more than anyone else. In 1981, Evans hit .296/.415/.937 with a league-leading 22 homers and 85 walks. He finished third in the MVP voting, his highest finish.
But what if they had played a full season? What if he had finished it off, put up terrific numbers, won the MVP award? What then?
I think he'd be in the Hall of Fame.
Yes, I do offer that kind of possibility a lot -- I like the idea of alternate histories -- but I'm rarely sure about it. In Dewey's case, I'm pretty sure. Dewey has so many of the markings of a Hall of Famer.
He played (almost) his entire career in Boston.* He was viewed (in his time and now) as the prototypical ballplayer -- the guy could hit, he hit with power, he ran the bases, he could field and man oh man could he throw. He had a couple of big World Series moments. He was pretty famous (though some of that fame was for being underrated).
*There was that lamentable final half-season in Baltimore.
But the Boston faithful focused their Hall of Fame thoughts and prayers and energies on his teammate Jim Rice. I'm pretty sure that all-in-all, Evans was a better player than Rice. That's certainly the story that WAR tells.
Rice combo WAR: 48/51
Evans combo WAR: 67/65
But Rice was more obvious in his greatness -- he did big, bright, obvious things like leading the league in homers three times, in RBIs twice, his batting average is much higher, etc. And, Rice had his year, 1978, when he was king of the world, when he hit .315 and led the league in hits, triples, homers, RBIs, slugging, OPS and total bases. He breezed to the MVP award.
Evans never had THAT year, the MVP season that so vividly sticks in the memory that you don't ever see the player in quite the same way. Evans might have had that year in 1981 had it not been for the strike.
Without it, the Evans Hall of Fame story has just never quite taken hold.
No. 18: Dale Murphy
Score: 65.96
I want Dale Murphy in the Hall of Fame because I want Dale Murphy in the Hall of Fame. There. I said it. I can give you 10,000 arguments why Dale belongs in Cooperstown, and they will be good-faith arguments, things I honestly believe in, such as my belief that every player who over a sizable stretch of time (say, five years) was regarded by a substantial number of people as the best player should be in the Hall of Fame.
From 1982 to 1987 -- six seasons, actually -- if you asked baseball fans to name the best player in each league, I would bet most of them would have said Dale Murphy and Don Mattingly. That's certainly what I would have said.*
*Looking back at it, Wade Boggs/Rickey Henderson and Mike Schmidt were probably the best players in each league. But that's looking at the game through a more modern lens.
But I also appreciate that's not a reason to put anyone in the Hall of Fame -- it's my VERY SPECIFIC reason to put Dale Murphy in the Hall of Fame. I came up with the whole idea for Dale Murphy. There are those who would surely argue that for five or six years in the 1970s that Steve Garvey was regarded by many as the best player in the National League, and while I would happily put Garvey in the Hall of Fame in order to get Dale in, I'm certainly not in love with Garvey's Hall of Fame case.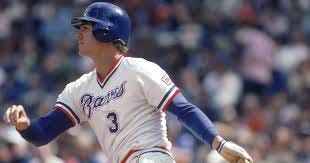 Hey, we all have our causes.

In the end, we have our favorites, and Dale is my favorite. As you can see by his standing on the list, he's the favorite of a lot of people. He was at different points in his career a great hitter, a great fielder, a great slugger, a great base runner and, always, a great guy. He was one of the first Major League Baseball heroes of the South. He made the game better.
And, yes, he declined rapidly ...
Through age 31: .279/.362/.500 with 310 homers, 928 runs, 927 RBIs, two MVPs, five Gold Gloves, started five All-Star Games, 132 OPS+, 42 bWAR. That's a pretty decent Hall of Fame resume if you can just stick the landing.
In his last six seasons, Murph knocked off 15 points of BA, 16 points of OBP, 31 points of SLG, never made another All-Star Game or won another Gold Glove. He didn't quite get to 400 homers. He only added 7 bWAR and he lost 4 wins above average. He was a Hall of Famer through age 31, no one doubts this, but did he cross the finish line? So far, the voters have decisively voted no.
And it hurts me because I love the guy, loved him since I was young and asked for his autograph and love him even more now that I've gotten to know him. I can (and will on request) make as many Hall of Fame arguments as you could ever want for Dale Murphy, but that's because I do what you shouldn't do with arguments: I start with the conclusion. I think Dale Murphy's a Hall of Famer. I always have.
No. 17: Fred McGriff
Score: 66.19
I have a friend who often begins phone calls like so:
Me: Hello.
Friend: When are you going to get Fred McGriff into the Hall of Fame?
I never did vote for McGriff, but as the years went on I must admit that I began looking at his case differently. I'm a big Hall person. That's my default position. I certainly have lines and standards, there are a few dozen players in the Hall of Fame right now that I don't see as Hall of Famers.
But if I had to pick a philosophy, I'd say that I think the Hall of Fame should be both rigid and generous. Sometimes I fear that many of us -- myself utterly included -- are too rigid and not generous enough. I mean, let's take a step back: There isn't a BAD player in the Hall of Fame. There isn't even an average player in the Hall of Fame. The worst thing you could say about any Hall of Fame player* is that they were good and perhaps not great.
*This is NOT true of some Hall of Fame executives, which is why my real outrage tends to go toward Tom Yawkey and Bowie Kuhn and the like, men who were terrible at their jobs and terrible for baseball. Sure, High Pockets Kelly was not a great ballplayer, but he was still pretty good, led the league in homers once, in RBIs twice, he was by reputation a slick-fielding first baseman, it's silly that he's in the Hall of Fame, but it's no outrage. But Yawkey? That's a travesty.
With Fred McGriff -- particularly at the beginning of his time on the Hall of Fame ballot -- I wasn't generous when looking at him. I mean, sure, you can pick at his record all day, like you could pick at most players' records. But McGriff was a masher, a guy who got on base, hit almost 500 home runs, posted a 134 career OPS+, I mean, yeah, that's a pretty sensational career.
But with the Crime Dog, I focused too much on the negatives, the defensive liabilities, the fact he wasn't great on the bases, the fact he never finished top 3 in the MVP balloting, etc. I think I did that because the ballot was such a free for all with so many great players and so few slots available that you can't help but think about players who you feel OK about eliminating.
As the years went along, though, I softened my view. In the later years, I would have voted for McGriff except there were more than 10 players on the ballot I thought deserved the vote more. And now I'm rooting for him to get in via the veterans committee. Fred McGriff is a borderline case (as is, by definition, every player not elected quickly). But he was a terrific and fun hitter for a very long time.
No. 16: Mark McGwire
Score: 66.98
He was the greatest home run hitter I ever saw ... and that includes Bonds. From his ridiculous rookie season (record 49 home runs) through his Dave Kingman years (low averages, lots of power, though McGwire always walked a lot) through two seasons almost entirely lost to injury through his absurd and unprecedented run from 1995 to 1999, the guy had the home run down.
And there has never been anything in baseball quite like the McGwire pregame batting practice show of 1998.
Now, how much of it was real and how much of it was PEDs? You can discuss that amongst yourselves.
I'd forgotten about this: In 1999, McGwire hit .278 with 65 home runs, 118 runs scored and 147 RBIs ... and he finished FIFTH in the MVP voting. That's how insane things had become. Heck, Sammy Sosa hit 63 home runs and drove in 141 RBIs and finished NINTH in the MVP voting.
Chipper Jones won the MVP with an excellent .319/.441/.633 season, he hit 45 homers, stole 25 bases, scored 116, drove in 110, an excellent season.
But as excellent as that season is -- I mean, that ain't 65 home runs. The fact McGwire (and Sosa) finished entirely out of the running tells me that people grew sick of the home run madness more quickly than I remembered. I thought the backlash and exhaustion didn't really hit until Bonds went on his insane thing in 2001, but it was obviously sooner than that.
Before 1998, it would have been unimaginable for a player to hit 65 (or 63) home runs in a season, but it would have been equally unimaginable for a player to hit 65 home runs and lead the league in RBIs and not even get a single first-place MVP vote. I truly believe McGwire didn't intend to change the game or become the greatest home run hitter ever. I think he just wanted to be healthy and strong and a successful major leaguer. It worked too well ... and many people still haven't forgiven him.