HOF Candidates: 10-6
Continuing with your votes for the 100 best Hall of Fame candidates.
No. 10: Joe Mauer
Score: 77.40

Some of you might remember that I was pretty vocal (OK, crazy vocal) about my belief that Joe Mauer should have won the 2006 MVP award, that year when he became the first American League catcher ever (and the first catcher in either league in 60-plus years) to win a batting title. I wrote about him every other day (remember the Mauer Power Hour!). I PLEADED with people to see how special Mauer was and constantly made the argument that he was doing things that were extraordinary and rare and spectacular. For me he was the clear MVP.
As it turns out, almost nobody agreed with me. Mauer finished sixth in the voting. His teammate Justin Morneau won the award in a close vote over Derek Jeter.
Morneau: .321/.375/.559, slow baserunner, average first baseman.
Mauer: .347/.427/.507, good baserunner, good catcher.
I'm not saying I'm right: Even people who watched Mauer and Morneau every day -- people much closer to the situation than I was -- believed Morneau to be the clear choice over Mauer. Sure, some of that was the usual moonshine about Morneau being a more productive player (RBIs!), but they deeply believed that Morneau did more for the team by being a leader and fantastic teammate while Mauer was aloof and shy.
Ah well. I didn't get it then. And I'll admit: I don't get it now, either.
Mauer was more-or-less a full-time catcher from 2004 to 2013. Ten (injury-plagued) seasons. Over that time, he hit .323/.405/.468 (135 OPS+), won an MVP award, (and, as I have written, should have won another), and also three Gold Gloves and three batting titles.
That's his entire Hall of Fame case, those 10 seasons. Yes, he played on for another five years, and he did a few good things. But he didn't really add to his case. I think Mauer could be viewed the same way that another Minnesota great was viewed -- Kirby Puckett. Vision problems ended Puckett's career prematurely. Concussions ended Mauer's career (and his time as a catcher) prematurely.
Puckett's career WAR was 51/45. Mauer's is 55/51.
Then again, if you start down that road, there are numerous other players -- Munson, Nomah, Donnie Baseball, among many -- who were on a Hall of Fame track before injuries (or just the wearing down of the body) ended things too soon. I suspect Mauer's case will be contentious.
One thing we can all agree on, I'm sure: We wish his brilliance could have lasted much longer.
No. 9: Pete Rose
Score: 77.74
There's a project I'm working on that builds around a question: When does a Hall of Famer BECOME a Hall of Famer? That is to say, at what age does the player more or less secure his place in Cooperstown? '
At some point, I'll share a list. For now, I can tell you: It's not always clear.
It's clear with Pete Rose, though. Rose unquestionably became a Hall of Fame player in 1978. He might have been a Hall of Famer before that, and everyone knows he did a lot after that. But he secured his place in 1978, when he reached 3,000 hits. At the end of the 1978 season, Rose had played his whole career in Cincinnati, he had a .310 lifetime batting average, he was a 13-time All-Star, an MVP, a Rookie of the Year and the most famous baseball player in America. And he had just had the longest hitting streak in National League history. He was a Hall of Fame lock.
The interesting thing about this is that, when it comes to the Hall of Fame, once you're in, you're in. There's no exalted place in the Hall of Fame for those who qualify at the highest level. Bill James has written that you could split Rickey Henderson's career in two and he would be a double Hall of Famer -- and I agree. But it doesn't work that way. You can't become a DOUBLE Hall of Famer.
In this way, qualifying for the Hall of Fame is a bit like becoming a thousand-yard rusher. No matter how many more yards you rush for, you are still a thousand-yard rusher.
But it's also possible, after you have rushed for 1,000 yards, to get thrown for a loss and end up NOT being a thousand-yard rusher. That can happen in Hall of Fame terms, too. After a player becomes a Hall of Famer, it's possible that some combination of bad luck, bad play and bad decisions can knock the player OUT of Cooperstown. Clemens and Bonds are most famous for that. I think it might have happened to Jim Kaat, too; it might have happened to Luis Tiant.
It definitely happened to Pete Rose.
No. 8: Carlos Beltran
Score: 79.36
In 1999, I began to write a book about the Kansas City Royals called "Moneyball." I really did. I'm not saying that Michael Lewis stole my thunder by writing one of the best sports books ever; my book would have been nothing at all like his book.
And my title, "Moneyball," meant something different.
My "Moneyball," referred to a baseball drill the Kansas City Royals did in those days. Understand, the situation. The team had no owner. Ewing Kauffman, the much-beloved owner of the Royals, had died a few years earlier, and he had left behind a complicated and benevolent succession plan that basically guaranteed the team would stay in Kansas City. Eventually. In the meantime, the search for a local owner moved slowly and painfully, and the Royals were run by a trust.
That meant there was no money to be spent on niceties like scouting or development or good players. And so the team routinely tried all kinds of crazy (but fun) other things. They took a look at a professional softball pitcher. They tried to hire an artist to sketch the players in action. They bought some of the young players houses in Kansas City to convince them to stay. And so on.
In the Moneyball drill, players took batting practice with no fielders. And then the players were run out to collect the baseballs -- and one of the baseballs was marked with an X or $ or something like that. That was the Moneyball. Whichever player found the Moneyball got a C-note. The players chased after the Moneyball like lions going after slabs of meat. One of my fondest memories is seeing George Brett running out with the kids to try and collect that 100 bucks.
In 1999, the Royals tried something else: They decided to rush up their two big prospects, Carlos Febles and Carlos Beltran. Febles was a 23-year-old second baseman from the Dominican Republic who had a superb year in Class AA Wichita. Beltran was a 22-year-old outfielder from Puerto Rico who had started the year in Class A, performed fine, and then was fantastic in 47 games in Wichita. Everybody, including the Royals themselves, knew they weren't quite ready for the big leagues. But the team had to do SOMETHING.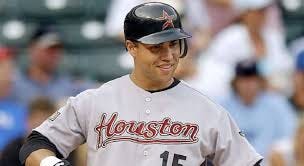 Beltran's stint with the Astros may well be the icing on his HOF cake.
The Royals' manager Tony Muser tried to take off some of the pressure by telling Dos Carlos, "Look, I just want you to play the best defense you can play and play hard every day -- if you do that, I'm going to stick with you no matter what you hit. Anything you give us with the bat will be a bonus."
Both players took the challenge to heart. For a month and a half, they played great defense and played hard. And as a bonus, they were both spectacular with the bat. On May 18, the Royals had a winning record and Dos Carlos was tearing up the league:
Febles: .326/.403/.556, 10 doubles, 3 triples, 5 homers, 7 stolen bases in 37 games.
Beltran: .331/.355/.528, 12 doubles, 1 triple, 6 homers, 8 stolen bases in 36 games.
If you had to bet that very moment on which player was likely to become a star, it would have been a very, very close call. Beltran was the more talented player, but it was Febles who seemed to have it all together. He was more energetic, more full of life. He picked up English with ease and was very popular with teammates, fans and the media. He played the game with a joy that just burst through. He was in the middle of everything. You couldn't help but love the guy.
Beltran, meanwhile, was different. He was painfully shy and came across (unfairly, it turns out) as someone who seemed to resent his own talent. He seemed entirely ill-at-ease with the world. For his first few years in the big leagues, there were constant whispers about his love -- or lack of love -- for baseball.
Both players fell off somewhat from their hot starts, but it was Febles who really dropped out of sight. He hit .226/.307/.349 the rest of the way, and he never came back around. When the Royals let him go, general manager Allard Baird cried. That's how much everyone loved the guy. Febles has been the Red Sox third-base coach for the last two years and most people seem to believe he's a future big league manager.
And Beltran ... well, he still had enough left to win Rookie of the Year. But then he had a rough sophomore season filled with slumps and injuries and a bit of controversy (he refused to go to the Royals' rehab facility). There were concerns that the promise of Dos Carlos would never be fulfilled. People wondered if Beltran had the strength, conviction and work ethic to live up to his talent.
They shouldn't have wondered. In 2001, Beltran hit .306/.362/.514, scored 100 runs, drove in 100 runs, stole 31 of 32 bases and played a superb centerfield. And he was off on a Hall of Fame career.
That year, Allard Baird said of Beltran, "He can be as good as he wants to be." Allard meant that as the ultimate compliment, as a way of saying that the guy was limitless, but many people took it to mean that maybe Beltran didn't want to be that good. That reputation followed him around for a while, too. Later, he put up one of the greatest seasons in Mets history, though many Mets fans would only remember him for not swinging at strike three in the playoffs.
Beltran is one of those guys whose late career unquestionably helped his Hall of Fame chances -- not just because he added numbers to his great career totals (yes, he pushed his home run total over 400, his doubles over 500, he moved into the top 50 or so in runs, RBIs, total bases and runs created), but because people began to see him in a different way. By sticking around and having some good years in his late 30s, he began to inspire real love. He was the emotional inspiration for the Astros who finally won their first World Series (and Beltran's first).
I think that locked up his Hall of Fame election.
No. 7: Lou Whitaker
Score: 80.12
There is a narrative out there (I think) that NOBODY considered Lou Whitaker a future Hall of Famer during his playing days. That's not entirely true. I went back to look. Some people did think he was a Hall of Famer even while he played and after he retired.
Tom Gage column, May 31 1992: "I heard on the radio this week that Lou Whitaker is a future Hall of Famer. Maybe he is. This opinion was presented as fact ..."
Al Arend column, Sept. 16, 1995: "Speaking of Whitaker, I wonder when he is going to get the national recognition he deserves ... When you're talking future Hall of Fame second basemen, (Whitaker and Ryne Sandberg) should be mentioned in the same breath."
Jerry Green, Jan. 14, 2001: "I'm going to wait a year to vote for him so that Alan Trammell and Whitaker can go in together."
Sparky Anderson: "His statistics are Hall of Fame statistics -- his credentials will wake people up when they look at them closely."
Well, we know what happened: Whitaker failed to get 5 percent of the vote in his one year on the ballot, and he has not been considered for the Hall of Fame since. Maybe this year.
What happened in Whitaker's one Hall of Fame ballot? Well when you look back at players who unexpectedly fell off the ballot quickly, you usually find that they had terrible timing. This was certainly the case with Whitaker. Not only did he come on the ballot with several really good players with bigger reputations, he also came on the ballot with a couple of good FORMER TEAMMATES. And I can't help but wonder if he was simply overlooked because of that.
The really good players who came on the ballot -- Dave Winfield, Kirby Puckett and Don Mattingly. Winfield and Puckett were elected first-ballot. Mattingly got 28 percent of the vote. By WAR and JAWS, Whitaker was markedly better than all three of them:
Winfield: 64/60 WAR, 51.1 JAWS
Puckett: 51/45 WAR, 44.4 JAWS
Mattingly: 42/41 WAR, 49.1 JAWS
Whitaker: 75/68 WAR, 56.5 JAWS
But if you had told anyone in 2001 -- and really, if you tell most people now -- that Lou Whitaker had a better career than Dave Winfield, Kirby Puckett or Don Mattingly, they would scream. This is where reputation hurt him.
But, as big an impact as Winfield, Puckett and Mattingly made, I think Whitaker was hurt more by coming on the ballot with fellow Tigers' heroes Kirk Gibson and Lance Parrish. Both were good but probably not great players, and I think the voters simply put Whitaker in that same category. Whitaker got 15 Hall of Fame votes. Gibson got 13. Parrish got 9.
They were viewed as the same.
By WAR, Whitaker was worth about as much as Gibson and Parrish COMBINED.
The tide might be turning for Whitaker; he will undoubtedly get on a veterans ballot very soon, and with the recent election of teammates Trammell and Jack Morris (who both talked him up), I suspect he will soon get into Cooperstown.
No. 6: Larry Walker
Score: 86.07
As we get closer to No. 1, we're obviously getting to many players I've written about again and again. There's nothing really left for me to say about Larry Walker's Hall of Fame case. There are only a handful of baseball players who have hit, fielded and run the bases at an elite level over the length of their careers. In fact, as I wrote in one of those articles, there are only three who rank in the Top 100 in all three of those categories by WAR Runs Above Average.
One is Willie Mays.
One is Barry Bonds.
One is Larry Walker.
I don't know what else you need to say. The three big knocks are that he (1) missed a lot of games (he only played 145 games in a season once, though to be fair he might have done it in both strike-affected seasons), and (2) that he had a reputation for wanting to sit out against great lefty pitchers (maybe he did, but he hit .393 against Randy Johnson in 33 plate appearances).
The third knock, the big one, is that he wasn't THAT good, that his numbers were wildly inflated by Coors Field. The numbers undoubtedly were inflated by Coors Field, but I think it's too easy to exaggerate that point. We all know that adjusted OPS+ takes into account ballpark, and Walker's 141 OPS+ was better than A-Rod, Sheffield, Reggie, Vlad, Griffey, etc.
Walker has a shot at getting elected in 2020, his last year on the BBWAA ballot. It's a longshot. He needs a LOT to go right -- he has to add 20 percentage points to his total, a huge ask. But even if he doesn't get in next year, I think he will in time. People are finally beginning to appreciate that he was a great player.