HMMY: Dale Murphy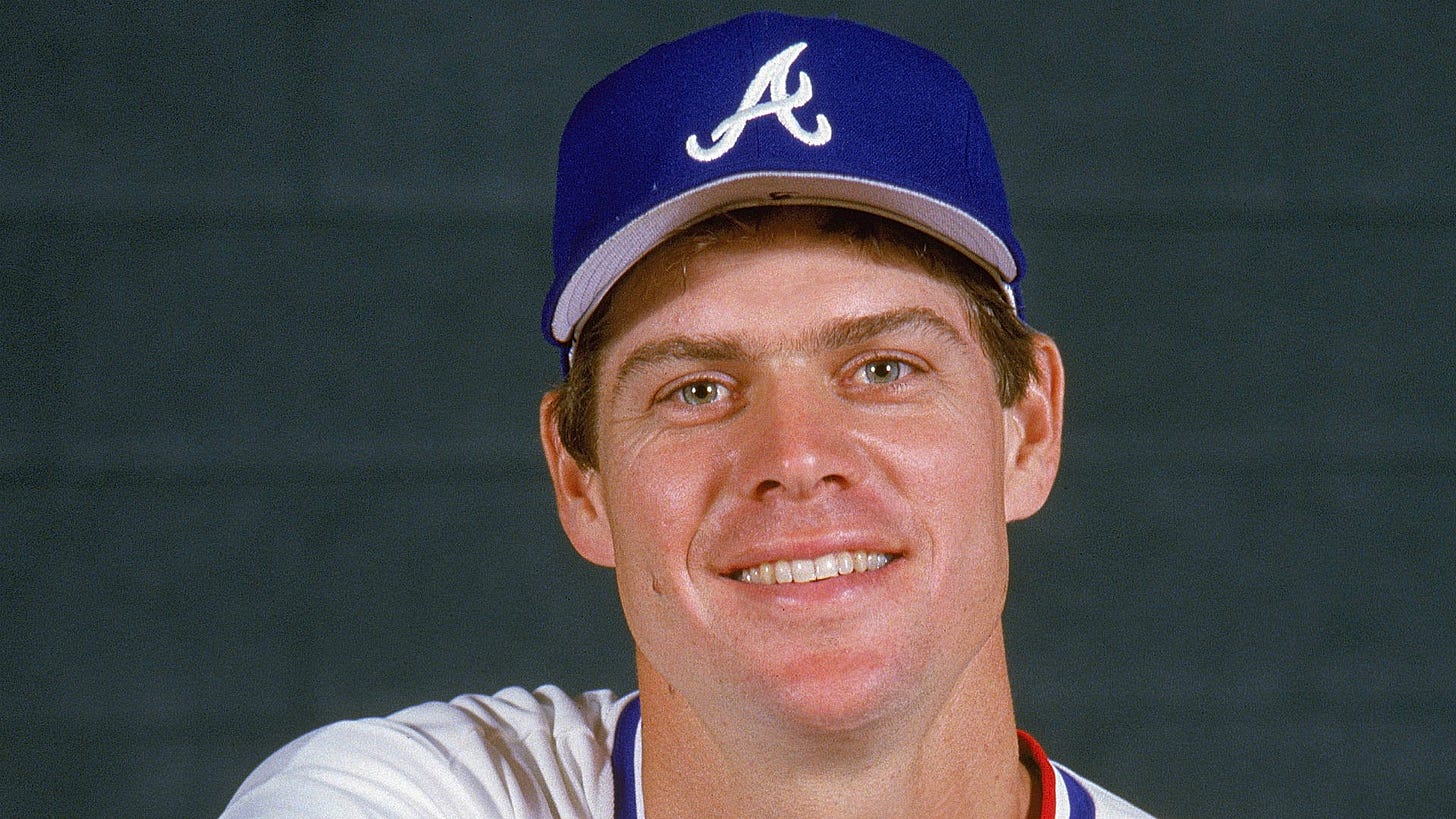 Last week, we started a new feature here at the Joe Peppy Tone Baseball Roundup, a little something we call "How Many More Years." We began with Nomar Garciaparra … the idea is to look at players who are near Hall of Famers and ask the question: How many more years would he have needed to cross the line and be inducted in Cooperstown?

Today's player: Dale Murphy.

Murph was one of the iconic players of his time — my time as a young baseball fan. There were several reasons for this. One, he played in Atlanta when that was really the only team in the South. There was no baseball in Florida then, no baseball in Washington either, and so the Braves were the team for the Carolinas, Georgia, Florida, Alabama, Mississippi and probably Tennessee too. That was something like 25 million people in the 1980s, and if they were baseball fans they were probably Braves fans.

And if they were Braves fans, they were DEFINITELY Dale Murphy fans. He was really the only option, though I know there were some Rick Mahler fans wandering about.

The second reason, of course, was Ted Turner. His Superstation WTBS broadcast Braves games nightly in the Wild West days of cable, and that meant everyone across the country was bludgeoned with Atlanta baseball whether they wanted to be or not. Ted Turner broadcast with his own particular flair and arrogance; he had the gall to call the Braves "America's Team," even though they were basically dreadful and had been for years.

But that America's Team thing stuck because Turner knew the first rule of publicity: "If you say anything enough times, you won't get everyone to believe you but you will get enough people to make you a few bucks." When the Braves were pretty good in 1982, Sports Illustrated even called them America's Team on the cover.

Anyway, while the Braves were surely not America's team, Dale Murphy kind of was America's player. He was a power-hitting outfielder who stole bases won Gold Gloves and signed every autograph. I'm not sure he ever was on the cover of a Wheaties Box, but every picture he ever took LOOKED like it was the cover of a Wheaties box.

And that leads to the third reason Murphy was an icon — he was widely regarded as the nicest guy in baseball. Everyone knew that. He won on Sports Illustrated covers in back-to-back summers, first in 1982: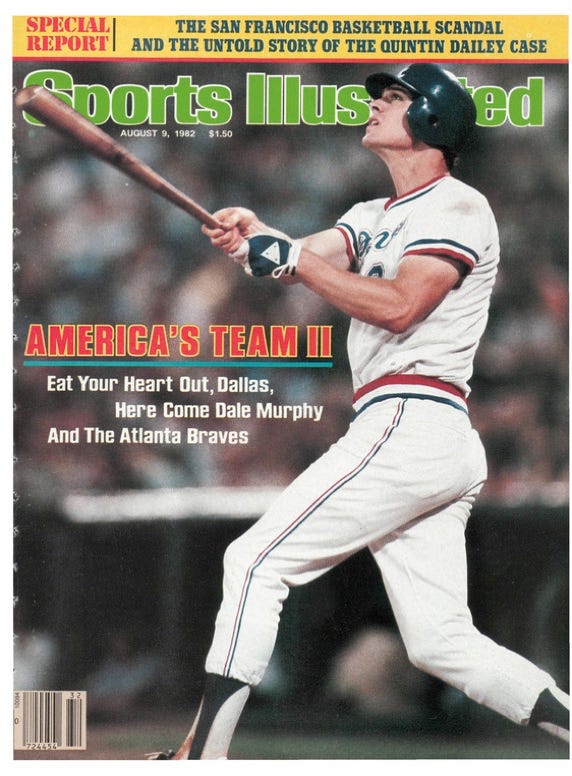 Then on Independence Day in 1983: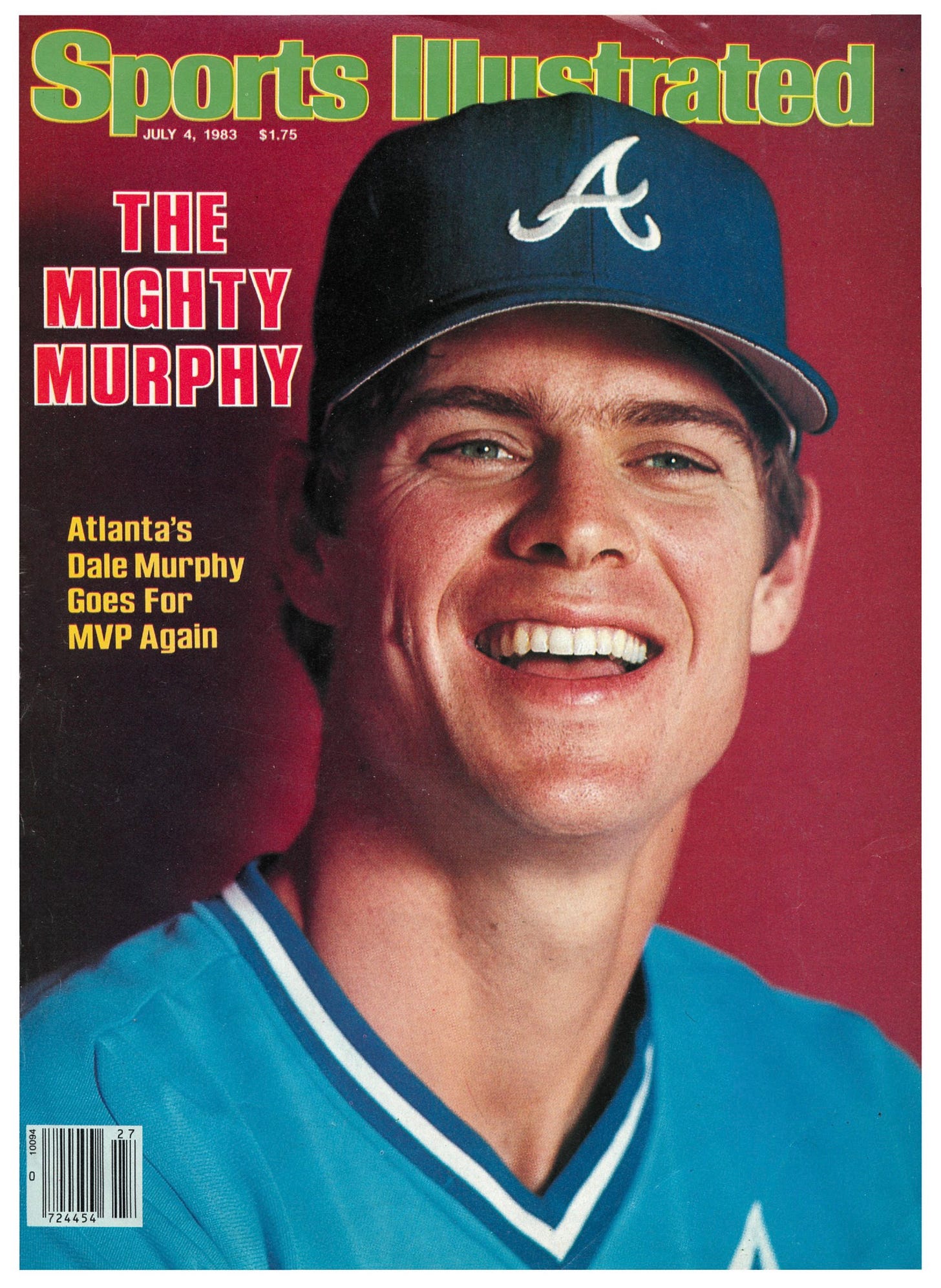 Steve Wulf wrote the story in the second of those magazines and led with these four words: "Nice guys finish first." He wrote how Murphy doesn't drink, smoke, chew, cuss and how his favorite movie was "It's a Wonderful Life." He wrote that Murphy's one public screw-up was getting caught doing 35 mph in a 25-mph zone … because he was late for a speech to a Church group.

Of course, Murph was embarrassed by all that stuff, kept insisting that he had plenty of real flaws, kept begging people not to hold him up as some sort of paragon of virtue. But when people want to believe in a hero, they want to believe all the way. Murph was celebrated like few players have ever been. He did his best to hold up his end.

From 1980 to 1987 — eight seasons — Murphy hit .284/.374/.517 with 264 homers. He won two MVP Award and five Gold Gloves, and while he was probably not the best player in baseball (Rickey Henderson and Mike Schmidt were pretty far and away the best) he was just a notch below and right there with Gary Carter and Robin Yount and George Brett and Andre Dawson and Tim Raines and other Hall of Famers. He posted 42 wins above replacement in those eight seasons; had he found another 18 or so WAR in the rest of his career, he would have likely been a slam dunk Hall of Famer.*

*I am NOT using WAR here as a Hall of Fame gauge but as a reference point. What I mean is that had Dale Murphy had 18 more WAR, that would have meant enough home runs, RBIs, runs, hits, stolen bases and other things to push him over the top. There's a subtle difference there I hope gets across. I'm not saying that 60 WAR should be a benchmark for the Hall of Fame. I am not saying that "This guy had 60 WAR, he should be a Hall of Famer," is a good argument. I am saying that someone with 60 WAR is worth looking at pretty closely because he surely had a fantastic career with enough accomplishments to be a very serious Hall of Fame candidate.

Those eight years were more or less all that Murphy had, though. He did hit 20-plus homers in five other seasons, but his batting average was so low in those years, he struck out so much, that he didn't really add all that much overall value. Murph was a big man, and he played more than 1,000 games in centerfield after coming up as a catcher. His body just wore down too quickly. He became a terrific player at 24, stopped being a terrific player at 32, and Hall of Fame standards are unforgiving.

You could make the fair argument that Murphy had as good a career as his contemporary Jim Rice, who was elected to the Hall of Fame. They had roughly the same number of terrific years. Their career numbers are similar enough. But it really isn't a compelling argument — there are probably a dozen outfielders who were roughly as good or better than Jim Rice, including his teammate Dwight Evans. Rice was elected because his story, his strengths, his impact on the game compelled 75% of the voters to vote for him.

Dale Murphy, despite his own marvelous story, could not do the same.

So how many more good years would Dale Murphy have needed to convince those voters that he was a Hall of Famer? Well, one more good year would have pushed him well over 400 home runs; that is something that might have pushed a few more votes in his corner. But I think, if we're being honest, I think Murphy's best bet would have been FIVE hundred home runs. With 500 homers he would have been a first ballot, slam dunk Hall of Famer.

In 1990, when Murphy was traded from the Braves to Philadelphia, he was 34 years old. At the end of that season, he needed 122 homers. How likely was he to get that? Well, it would have been hard but not impossible; 38 players have done it. Dave Parker did it. Harold Baines did it. Dave Winfield, Fred McGriff, Graig Nettles, Eddie Murray, Carlton Fisk, and Brian Downing all did it. Murphy in his prime was as good as any of them.

And Murphy probably wouldn't have needed 500 homers to be elected over time — 450 homers would have probably gotten the job done. If he could have put together just one more 30-plus homer season and then found a way to scrap and claw his way for another 25 or 30 homers in the rest of his career — well, it didn't happen. Murphy only had 20 home runs left in his bat. He tried in 1993 to play a bit for Colorado, maybe hit a few balls in the high altitude air there and just get to 400 homers. But he couldn't do it.

I voted for Dale Murphy to the Hall of Fame a few times because I believe that while he was a borderline candidate, hey, if we're going to consider character when NOT voting for Hall of Famers, we should certainly consider the good character of guys like Murph, who represented baseball with class and style. But I think to get to 75 percent, he needed one more great season and then a couple more hang-around seasons.