Hitless
Mike Epstein was, I think, the first of a certain genre, one that's quite popular right now but was just about non-existent in 1966. That was the year Epstein showed up. He was a 6-foot-3, 230-or-so pound first baseman who came for one reason: To hit the ball out. Epstein was born in the Bronx and raised in Los Angeles and he was supposed to be a lawyer. His father was so disappointed by Mike's choice to play baseball that he refused to let him sign with the local Dodgers (even though the irrepressible Tommy Lasorda himself made the offer). Mike Epstein took his rips and unapologetically missed often and whacked long home runs when he connected just so. They called him "SuperJew."
He surely did not know that he was creating a whole brand of ballplayer.
OK, let's be clear, there have always been left-handed hitters who swung for the fences, going back to Babe Ruth. But there's something different about the Mike Epstein Players; they live on a certain edge. There isn't a whole lot they can offer BESIDES hitting the ball over the fence. They're big and lumbering and they play first base (if they play defense at all) and they know exactly why they're there: to hit baseballs hard.
That means swinging hard.
That means striking out a lot.
Willie Mays Aikens was one of the Mike Epstein Players; he came along about 10 years later. Aikens was about the same size as Epstein and swung the bat with the same purpose. He was born in a small town in South Carolina two weeks after the Giants had stunned the powerful Cleveland Indians in the World Series; the doctor suggested that the baby might be blessed if he were named after the centerfielder who made the catch for the ages, "Willie Mays." Twenty-six years later, the younger Willie Mays homered twice in his first World Series game.
Next on the list, maybe, Sam Horn, 6-foot-5, listed at 215, never quite stuck around in the majors but clobbered more than 300 home runs around the world, from Elmira to Nashua to Mexico City to Cleveland.
Or how about Ty Van Burkleo, a 6-foot-5, 230-pound masher who tried to blast enough home runs to get someone to notice him?. He was released at 24 and went to Japan, where he hit 38 home runs in a season for the Seibu Lions. In time, he came back home, but he could manage only 17 big league games and one big-league homer, a solo blast down the line off of an aging Bill Gullickson. He's now Cleveland's hitting instructor.
And as time went on, these rare players -- these hulking first basemen who swung left-handed and aimed for the fences at all costs — began to show up ever year, multiple times every year: Jason Giambi. Desi Wilson. David Ortiz. Calvin Pickering. Eurubiel Durazo. Travis Hafner. Graham Koonce. Walter Young. Kila Ka'aihue. Mike Jacobs. Justin Moreau. Brandon Belt. Joe Mahoney. Jack Cust. Justin Bour. On and on and on.
The thing that fascinates me so much about the Mike Epstein Players is that, because they're playing baseball's version of roulette, you're never quite sure how it will turn out. Will a player become Sam Horn? Or will a player become David Ortiz? It's easy (for non-Twins fans) to forget that he was basically just let go by Minnesota after six meh seasons. It's easy (for non-Red Sox fans) to forget that when Ortiz showed up in Boston, management had to beg (or order) a dubious manager, Grady Little, to even keep him.
Chris Davis has lived both lives.
Yes, I'm writing about Chris Davis because of something sad that's happening to him right now ... but he has long been an interesting player. He was (eventually) a fifth-round pick out of Navarro College in 2006. It was the third time he had been drafted. Davis, like Epstein, is 6-foot-3, 230 pounds, and he does not get cheated. In his first minor league season, he set the rules of engagement. Davis hit 36 home runs, and he struck out 150 times. You would get him or he would get you.
The first time I saw Davis, it was 2008, he was a rookie, and he clobbered a long home run off Kansas City reliever Joel Peralta. In my memory, the home run had an eye-catching trajectory, an opposite-field crusher that just kept sailing and sailing like a balloon in the wind. Maybe I'm confusing it with another Davis shot. Either way, Davis hit .285/.441/.549 with 17 homers in 80 games as a rookie, and the Rangers believed.
The next year, though, he whiffed 150 times in 419 plate appearances; that was a big deal a decade ago. The only previous players who had ever struck out that often (with more than 400 plate appearances) had been Bo Jackson in 1987 and Melvin Nieves in 1996. Davis' problem then, it seems, is that he would not embrace his role. That is to say he tried NOT to strike out. And the best way to strike out when you're a guy like Chris Davis is to try to avoid it.
A year later, he got into only 45 games and hit just .192 with one home run and was twice sent to the minor leagues. His career was suddenly on the brink. A year after that the Rangers traded him to Baltimore for Koji Uehara. The Baltimore Sun welcomed him by pointing out his "alarmingly high strikeout rate." Davis finished the year striking out 39 times 31 games.
In 2012, though, it all changed. Chris Davis suddenly found his rhythm. He has talked about how Robinson Cano unlocked the mystery for him when he was playing winter ball in the Dominican Republic. "You're a power hitter," Cano told him, "not a contact hitter."
Those simple words freed Davis to be what he was meant to be: a Mike Epstein Player. I do wonder if joining a team with Mark Reynolds helped too. Reynolds is not one of the Epstein Players because he bats right-handed, but he otherwise fits the bill — big, power guy who swings with malice and lets the chips fall. Reynolds had just set the Baltimore record for strikeouts in a season (196 — one shy of Jack Cust's American League record) after setting all sorts of strikeout records in Arizona. I think Reynolds opened the door for guys like Chris Davis to be their true selves, to give in to the understanding that it doesn't REALLY matter how many strikeouts you have. It only matters what you do with the rest of your chances.
In 2012, Davis struck out 169 times, but when he hit the ball, he hit .402 and slugged .746 and he clubbed 33 home runs and he had arrived.
In 2013, he became a star. He struck out 199 times, but again, when he hit the ball, he was unimaginably good. He hit .434 and slugged .961 on connected balls. He hit 53 homers, 42 doubles, led the league in RBIs (138) and total bases (370) and finished third in the MVP voting behind the insane seasons of Miguel Cabrera and Mike Trout.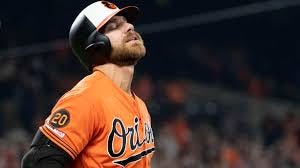 When will the end come for Davis' infamous 0-fer?
Everything about the Chris Davis story felt good then. He was a blue-collar ballplayer, he tinkered and tinkered with his swing until he got it just so and then he let loose, a reminder of old-time legends like the Rabbi of Swat and Joltin' Joe Bauman, who traveled to whatever town was next on the schedule and tried to hit the ball over the horizon.
A year later, the strikeout beat Davis — and he was suspended for 25 games for using amphetamines — he hit just .196/.300/.404.
But a year after that, he was back, and sure, he struck out 208 times (first time breaking 200) but he also hit a league-leading 47 home runs and got a couple of down-ballot MVP votes.
And then came the moment that altered Chris Davis' baseball story. He was a free agent, and so he cashed in. He signed a seven-year, $161 million contract. In 2016, those kinds of contracts were crazy ... but they weren't CRAZY, if you know what I mean. It was the last offseason of old-fashioned free agency. In 2016, a 33-year-old Cabrera started his eight-year, $248 million deal, Jason Heyward got $184 million, David Price and Zack Greinke each got $200 million deals, Justin Upton and Johnny Cueto and Jordan Zimmermann all got $100 million deals.
Stuff like that is pretty unimaginable now.
Even in the 2016 context, Davis' deal was widely panned from the start. Nobody even understood how it had happened. Baltimore offered him $154 million, which seemed insane enough, but Davis and his agent, Scott Boras, demanded more. And the Orioles gave more. As far as anybody knew, the Orioles were the only team even interested in Davis.
The Orioles obviously hoped that Davis would maintain his 200-strikeout, 40-homer, lots of walks pace for a few years. It was, to say the least, a longshot. As it turned out, though, they didn't even get one good season. Davis did hit 38 homers and strike out 219 times in his first year of the deal, but the rest of his numbers were way down (batting average down 50 points, slugging down 100) and that was as good as it would get.
In 2017, he struck out 195 times in 128 games and his power all but disappeared.
In 2018, Davis had one of the worst seasons in baseball history. He hit an almost unbelievable .168/.243/.296 — he was three wins below a replacement level player. In only his third season in a seven-year deal, Chris Davis was no longer a major league hitter.
And, as you now know, the season ended in a particularly horrific way. He doubled off James Shields in the second inning of a game against the White Sox on Sept. 14. And that was the last hit he got.
He finished out the season by going 0 for 21 with 14 strikeouts.
Then Davis had a dismal spring. He unquestionably would not have made the team except for two things. One is that enormous contract. And the other is that the Orioles are atrocious. What else were they going to do? They put Davis into their Opening Day lineup.
And he has started this season by going 0 for 28 with 15 strikeouts.
All in all, that's 49 consecutive at-bats without a hit, the longest hitless streak in baseball history.*
*It actually could have been worse — he was 0 for 15 coming into that double against Shields.
Davis has struck out 29 times, 20 of them swinging, nine looking.
His 20 non-strikeout outs so far have included:
-- Seven infield groundouts, six of them to the right side.
-- Two infield lineouts, one to the second baseman, one to first.
-- Eleven flyouts, eight of which were deep enough to be called deep in the Baseball Reference play-by-play recap.
He also attempted to foul out once, but the ball was dropped.
It's an extraordinary record of failure, unprecedented … and honestly, it breaks my heart. I think about it all the time and it makes me so sad. It's like watching a once-terrific putter miss two-footers, like watching a once-talented pitcher unable to throw strikes, like watching a three-point shooter unable to put the ball in the basket. I hate seeing that stuff. It makes life feel so tenuous.
Yes, there's the money. And I suppose Davis has long understood the deal he made — when you're a Mike Epstein Player, you spin the wheel and you take your chances. Chris Davis never would have hit 53 homers in a season if he wasn't willing to put himself out there, swing freely and miss a lot.
Still, who wants to watch human failure? You can see Davis breaking a little bit. In that 53-homer year, he watched strikes go by only 18.6% percent of the time. Now it's double that. He already has six strikeouts looking this year. He's lost.
On Monday, just 6,585 people showed up at Camden Yards, the smallest real crowd ever at the place, despite it being a warm evening, and Davis went 0 for 5, and you wonder: How much longer can this go on? We don't watch sports to see Greek tragedies. But sometimes that's what sports gives us. I hope he gets a hit tonight.