HHOF: The 1964 Cardinals Team Photo
And we have our first photo entry into the Happiness Hall of Fame. The picture below is the official team photograph of the 1964 St. Louis Cardinals. It's available on eBay for $65, I suppose, because that's a famous team, the '64 Cardinals. That's the team that trailed the Philadelphia Phillies by 11 games on Aug. 23, by 6 1/2 games with 13 left to play, but ended up winning the pennant and then beating the Yankees in the World Series behind the pitching of Bob Gibson.
Gibby plays a prominent role in that photograph. You can see him in the middle row, a little bit left of center, a big smile on his face. And then if you look above his right shoulder (to the viewer's left) you'll see his partner in crime, Bob Uecker.
This is not the photo that's being inducted into the HHOF.
See, this was not the first team photograph for the Cardinals. The first photo was taken early in the season, developed, approved and sent to the printer. It was ready to go.
And then, the printer called, in something of a panic. He noticed something about the first photo.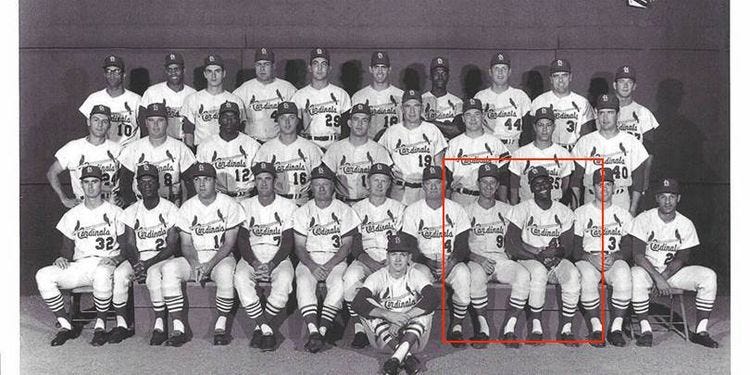 A closer look: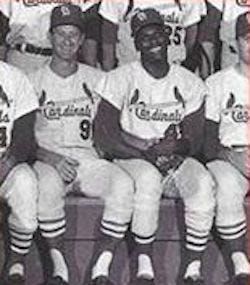 See, seconds before the photo was taken, Uecker had whispered to Gibson, "We should hold hands." Gibson happily did, and they held hands, and they smiled big, and this was 1964, and the Cardinals about lost their minds. They threatened to fine Uecker (but, tellingly, not Gibson), but in the end just had the photo retaken, this time very purposely putting Uecker and Gibson in separate rows.
You will notice in the official team photo, though, they both still have huge smiles on their faces. They knew.
Here's another wonderful part of this happy thing: There's another version of this photo that's available on Ron Taylor's IMDB page. Gibson isn't smiling in this one.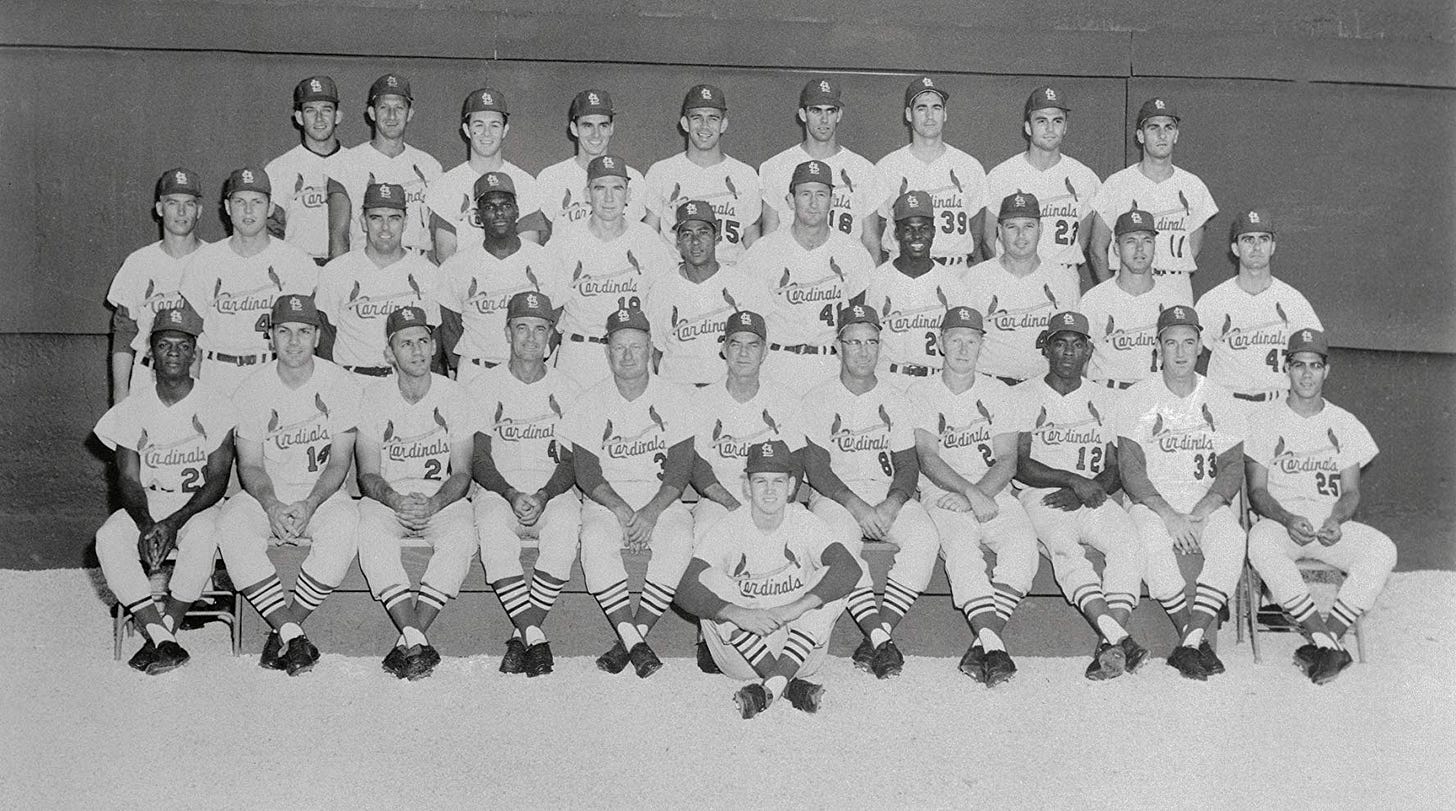 What's so funny about this? Ron Taylor was a Tony-nominated actor who voiced Bleeding Gums Murphy on The Simpsons, was a gifted musician, and had more than 50 credited television and film roles, though my favorite is when he played in Trading Places, as -- and I quote -- "Big Black Guy."
Ron Taylor also pitched for the 1964 Cardinals. Unfortunately for everyone, it isn't the same Ron Taylor. The actor Ron Taylor was 12 years old in 1964. And the pitcher Ron Taylor was white. The pitching Ron Taylor, who grew up in Toronto, went to medical school after pitching (he was inspired to do so after going on a USO Tour in Vietnam), and he eventually came back to be the Blue Jays' team doctor.
The pitching Ron Taylor also lost two toes. This has nothing to do with anything, but it's the last line of his Wikipedia entry and it seems a shame to just leave it out.