HHOF: Priest Holmes
In 2002, Priest Holmes broke football. Nobody, outside of Kansas City and the fantasy football owners he enriched, remembers that season. But it was so incredible, ridiculous, impossible, that I try to think about it every so often just to remind myself of what it feels like to be that close to perfection.
As some of you might know, I was given a backstage pass to that season. It's one of the great privileges of my life. I'll get back to that in a bit.
First, let me remind you of the season. Holmes had come to the Kansas City Chiefs in 2001 after being the "veteran presence" on the 2000 Super Bowl champion Ravens. The Chiefs were dismal, and had been ever since they lost a heartbreaking playoff game at home to the Broncos in 1997. Something about the team snapped in that Denver loss. Marty Schottenheimer was the coach, and after the game, in his end-of-season-press conference, he asked us all to turn off our microphones and put down our pens, and then he asked us what the heck he was doing wrong.
Schottenheimer was gone after the next season. His defensive coordinator, Gunther Cunningham, took over, and, man, I loved Gunther. Love him still. He was a self-made football coach, one of those lifers who grew up with nothing and just kept clawing, just kept working, just kept fighting until he developed a defense good enough to get him a head coaching spot.
I'll tell you a funny Gunther story. When he was head coach, he used to make a habit of calling then (and current) Raiders coach Jon Gruden's office at 3 a.m. And when he would get the answering machine, he would growl in that wonderful voice of his, "Hey Gruden, I keep reading how you're the hardest working man in football. Well, where the hell are you?"
Anyway, Gunther couldn't quite get the team started again. He was not a bad coach -- his team went .500 in his two seasons -- but he never quite commanded the job. He was a details guy, a get-in-the-players'-faces type of coach, the sort who would get out on the field and damn well SHOW YOU how to fight off a block and get in on the tackle. It was harder for him to think globally, and he got fired right around Christmas, and the Chiefs brought Dick Vermeil out of his second retirement.
I heard about the Priest Holmes signing in a funny way. I had written a column for The Kansas City Star about the Chiefs' running back woes. In 2000, the Chiefs leading rusher had been a fullback, Tony Richardson, with 697 yards. The previous two years, it was another fullback sort, Donnell Bennett, with 627 and 527 yards respectively. The Chiefs had not had a thousand-yard rusher in a decade, not since Christian Okoye crashed those enormous shoulder pads into defenders' chests.
So I wrote that the Chiefs badly needed a running back. And one day, if I'm remembering this right, we were up in the K.C. press box -- maybe this was before the draft -- and beat writer Adam Teicher was on the phone. When he hung up, he turned to me he said: "That was Vermeil. He said to shut up already, he's getting that running back for you."
That running back was Priest Holmes.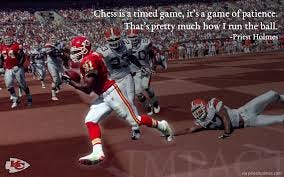 Bless Dick Vermeil -- I love that guy too -- but he didn't know what he was getting. The Chiefs had acquired Holmes to be a part-time, third-down kind of back and, yes, a veteran presence. Holmes went undrafted out of Texas. He did have a 1,000-yard rushing season on his resume, but it was an odd year, and anyway everyone thought he was too small, too slow, and he had a history of injury. He got just 15 carries total his first two weeks in Kansas City, both losses, and then more or less out of desperation, they fed him the ball more in Week 3 against Washington.
That game he had 23 carries for 147 yards, caught five passes for 78 yards and scored three touchdowns.
Dick Vermeil didn't need to be told twice. He had his man. Holmes led the league in rushing in 2001 with 1,555 yards, and he scored 10 touchdowns.
And then came 2002, that insane season. The numbers tell part of the story. Holmes rushed for 1,615 yards, caught 70 passes and scored 24 touchdowns, still sixth on the all-time list. His 2,287 yards from scrimmage that season is 11th all-time.
But here's the kicker. He only played 13 3/4 games that year.
That's right. He was hurt in Week 14 against Denver -- he was yanked down with a horse-collar tackle back when that was still a legal play. That tackle came toward the end of what had become a typical, insane Priest Holmes game. He had carried the ball 18 times for 164 yards. He caught two passes for 22 more. He had, almost singlehandedly, put the Chiefs in position to win the game.
Then came the injury, and he missed the last two games, and the Chiefs missed the playoffs, and few people cared about what had just happened. No running back has ever been better than Priest Holmes was in 2002. Could he have rushed for 2,000 yards that year? Absolutely. Could he have scored 30 touchdowns? Absolutely. Could he have set the yards-from-scrimmage record where NOBODY could touch it? It's almost certain that he would have done just that. Even now, that 2002 Priest season trails Chris Johnson's record by only 222 yards. Holmes AVERAGED about 166 yards per game from scrimmage that season.
It was remarkable stuff. And it was all the more remarkable because, as mentioned, Holmes wasn't big, he wasn't especially fast, he wasn't particularly powerful. He wasn't a breakaway back. He had one run all year longer than 30 yards, and it was the run against the Broncos that ended his season.
How did he do it, then? As weird as this sounds, he became a master or grandmaster or whatever is the highest level of running-backdom a player can achieve. He had simply progressed to a higher level of play. He did everything so well, so precisely, that it didn't even feel like football. It felt like Yo Yo Ma playing cello or Adele singing or something closer to art than sport.
The Chiefs had an absurdly dominant offensive line then, and Priest would work in perfect harmony with them. The instant that line opened up a slight crack, Holmes was through it. I remember Will Shields, the Chiefs' Hall of Fame guard, telling me that Holmes was like a mind reader, the way he would anticipate exactly what every offensive lineman would do.
He did all the little things well, obviously. He always fell forward to gain an extra yard. He always snuck an extra yard or two in when going out of bounds. He always pointed downfield; you weren't going to tackle Priest Holmes going sideways.
And he was ALWAYS slowing himself down That's the thing I remember most about his preparation. I once saw a documentary on Ray Charles, and there was a segment with his backup singers and band members complaining that he was always shouting out, "Slower! The beat has to be slower!" They could not go slow enough for Ray Charles.
That was Priest too. Before games, he often would practice a two-step sequence, and these were the steps he would take BEFORE he got the ball. Those steps had to be absolutely perfect, because those were the steps that would make sure he didn't get to the line too quickly. The big mistake running backs made, he would say, was that they lacked patience, they charged forward much too fast, that they didn't allow the offensive line to do their work, that they didn't give the defenders enough time to commit past that no-return point, that they didn't give the play time to develop. He was a master of time, Priest Holmes. You'll often hear coaches and players talk about "slowing the game down."
For Priest Holmes, football was played underwater.
Most of you probably know my own bizarre role in this, but in case you don't, you have to understand that Priest Holmes was a mysterious figure. In many ways, he still is. As reporters, we tried to get to know him so that we could explain him to the fans, but he didn't really want to be known. He was never rude about it. He would just be unavailable. Even when he did talk, he was still mostly unavailable. In Kansas City, people still talk about the time Holmes was surrounded by reporters and he was talking about a game (a victory, no less) and then, in the middle, he just suddenly walked away. He wasn't angry. He wasn't even annoyed. He just was done talking.
Obviously, all this made him an irresistible subject for us reporter types. We all looked for a hook. I heard that he loved to play chess. He loved it so much that he helped start a chess club for inner-city kids in Kansas City. As it turns out, I also played chess, not well but with some enthusiasm. My father was a master-level player; he won the Cleveland Open one year. He taught me the game. I connect the game to him in my mind.
So, I went to write a column on Priest at the chess club, and we played a chess match. I'm pretty sure it was set up in advance. I'm pretty sure we both thought it was just sort of a gimmick for me to tell his story.
But here was the thing: We had a titanic match ... well, titanic for our level of play. I had him beat. On that we both agree. I'm a fairly creative attacker, again, for our level of play. What I cannot do is finish anyone off. I can get two strikes on the hitter, but I get no strikeouts.
And Priest Holmes, well, I discovered something fascinating about him that day: He's at his best when in danger. He played fairly sloppy in giving up positioning on the board — I would later find out that this is a pattern — but once he got into trouble, he locked in and went to another place. He would spend five, 10, 15, 20 minutes on a single move, whatever it took, and it was clear that he LOVED it, he loved that feeling of being in an impossible position and somehow, against all odds, turning it around. He came back and beat me. He broke my will, really.
"That was fun," I said.
"Yeah," he said. "We have to do that again."
When Priest said "We have to do that again," he wasn't saying it in some sort of casual, friendly, "Oh, we should get together for lunch sometime" sort of way. He meant "We HAVE to do that again." He called me before the first game. "Come to the stadium," he said. "Let's play some chess."
And that's when we started playing chess every week, the Friday before games. It might have been earlier in the week of road games.
It was the craziest thing. Most weeks, Priest would have a table set up in the hallway outside the Chiefs locker room. Reporters weren't allowed down there except during designated times, and at first players and coaches routinely stomped by and grimaced at me. But nobody ever said a word because, you know, Priest Holmes.
And after a while, people got used to me, and now and again they would even stop and watch us play.
This was EVERY week. I remember one week, early that season, he couldn't do it, and he had kind of a lousy game (maybe it was before Jacksonville?), and that convinced him that he couldn't skip a week. So we played all the time, each for our own reasons. For me, it was an amazing chance to get to know the greatest running back in the NFL. For him, it was undoubtedly more complicated. Something about our games centered his mind, I think.
Here's the funny part: I almost never won. The pattern of the first game repeated over and over and over again. I began to read some chess books. I began to think about strategies. And none of it mattered, the games would play out the same way again and again — I'd take a lead, he'd fight back, he'd win the match, we'd shake hands.
And I admit that I was a little uneasy that I wasn't challenging him, that he would one day just say: "OK, you're dismissed." But he never even hinted that was the case, and looking back, I can see why. I was good enough to push him to the brink. And for Priest the whole point was how he would come back from the brink.
Two quick addendums to this. One is that Priest was speaking at an event in Kansas City, and someone actually asked him if I was any good at chess. And he said those words that I hope to someday be remembered by: "Joe's a very good player," he said. "But he chokes."
The second addendum is that after that 2002 season, I went down to San Antonio to see how Holmes was rehabbing from his devastating injury. He was obviously rehabbing well enough because the next year, he set the then-NFL record with 27 rushing touchdowns.
Of course, he wanted to play chess. So we set it up ... at a San Antonio Hooters. You know those things you've done in your life that make you feel like, Wow, I actually did that, like, "Wow, I walked on the Great Wall of China," or "Wow, I made 43 free throws in a row," or "Wow, I got to see Prince play live."
I think: "Wow, I really did play chess against Priest Holmes in a Hooters."
And I won. You already know that's why I brought it up. Ralph Northam wants you to know he won that stupid moonwalking contest. And I want you to know that I did beat Priest Holmes (two games!) in that San Antonio Hooters.
Priest might tell you that I never beat him again, and that might even be true, but, this is not his blog.
I mentioned that 27-rushing-touchdown season in 2003, and there's no doubt he was still amazing after the horse-collar injury ... but true Priestologists will tell you: He wasn't quite the same. He was so skilled, such a craftsman, that he could still put up jaw-dropping numbers even after his body rebelled, but the hip injury altered him. He didn't have quite the same burst. He didn't have quite the same audacity as a runner.
The year after that, he scored 15 touchdowns in eight games, record pace again, but then came the injury that basically ended things. The game went on. Larry Johnson came in and, for a time, was entirely unstoppable behind that brilliant Chiefs offensive line.
Priest kept trying to come back, because that was Priest Holmes' way; he always was at his best when the odds were at their worst. But, in the end, there were no more comebacks. I went to see him again a couple of years ago, just to catch up, and of course he pulled out a chess board, and of course we played, and of course I had him beat 10 different ways, and of course he won anyway.