HHOF: Bo Jackson
In July 1988, Bo Jackson called timeout during an at-bat against Baltimore's Jeff Ballard. It took him an instant to realize that the home plate umpire did not actually grant him timeout, and Ballard was already mid-motion. So Bo swung the bat without even setting his feet. He homered.
In May 1989, writer Peter Gammons watched Bo Jackson take batting practice. He swears that he watched Jackson hit massive home run after home run. And then, just before the session ended, he watched Jackson leap across the plate, set up left-handed. First pitch, he mashed a 450-foot home run. "I've got work to do," Bo said, and he jogged to the outfield to shag fly balls.
In June of that year, Jackson fielded a ball just after it bounced off the wall in left field, turned, and threw it 320 feet, on the fly, directly to the catcher, who slapped the tag on Seattle's Harold Reynolds just in time. Harold, to this day, has no idea how this happened.
"I just caught the ball, turned and threw," Bo said when reporters surrounded him after the game. "End of story. It's nothing to brag about."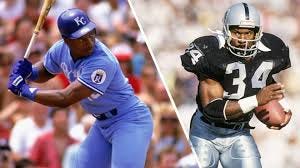 In July 1990, Bo ran up an outfield wall like he was Spider-Man.
He broke a bat over his knee. He broke a bat over his helmet. He beat out infield singles on routine ground balls ("Nothing that big should move that fast," first baseman John Mayberry said). He hit his first big-league homer 475 feet, and he hit his first professional homer while breaking his bat. In his only All-Star Game appearance, he hit a 448-foot homer and he stole a base. The only player to have homered and stolen a base in an All-Star Game before him: Willie Mays.
In his first professional batting practice, he hit the ball with such force that Buck O'Neil would say it made a sound he only had heard twice before, once when Babe Ruth hit the ball, the other when it was Josh Gibson.
And Bo Jackson was even better at football.
Tecmo Bowl. Say no more.
"Everything I do, people tend to exaggerate it," he complained, but there was no exaggerating Bo Jackson. He was everything.