Heyward and Fowler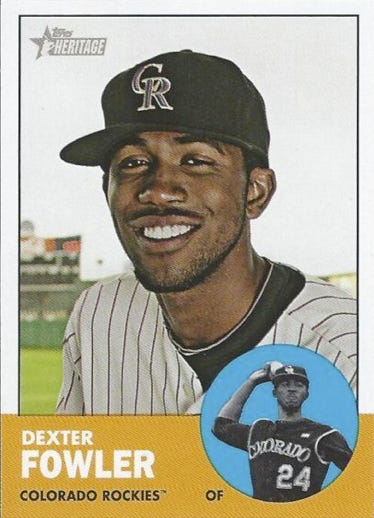 The similarities are pretty striking. Dexter Fowler and Jason Heyward are both 6-foot-5 outfielders. They went to high schools about 70 miles from each other; they met when Fowler was 18 and Heyward 15. They shared the same trainer then. "Dex," the trainer said to Fowler one day according to ESPN. "Wait around a little bit. I got your twin coming in." Heyward was that twin.
Fowler was taken in the 14th round. Heyward was taken with the 14th pick. Fowler played his first full Major League season in 2009; Heyward played his first full season in 2010. They have both played in one All-Star Game. They are both represented by Excel Sports Management.
Their career offensive splits so far are just about indistinguishable:
Player 1: .262/.346/.415, 108 OPS+.
Player 2: .268/.366/.422, 107 OPS+
Which one is which? What difference does it make? Fowler is actually player 2, and whatever edge he has in the raw numbers is because he played five of his seasons in Colorado.
Fowler has stolen as many as 27 bases; Heyward 23.
Fowler has hit 50 homers the last four years; Heyward 45.
Fowler has created about 100 more runs in his career, but Heyward has a sizable edge in career WAR -- 32.7 to 18.1 -- and this is all because of defense. Heyward ranks as a superior defender, one of the best in all of baseball. Fowler rates as an average to slightly below average defender.
Last year, Heyward left St. Louis and signed an 8-year, $184 million deal with the Cubs.
This year, Fowler leaves Chicago and signs what looks to be a five-year, $80-million deal. We should get firmer numbers as the day goes on.
And so here's the question: Who gets the better player?
I tried to ask this question on Twitter ...
https://twitter.com/JPosnanski/status/807053339435368450
... And got a whole lot of Cubs fans bragging about winning the World Series, which hey, I don't blame them for luxuriating in this but it sort of think misses the point.
So we'll try again: Who will be better over, say, the next five years?
A year ago, this would not have been an interesting question or much of a debate. In 2015, Heyward got MVP votes. He hit .293/.359/.439, which are not exactly MVP numbers, but he played such good defense that he finished ninth in the league in Baseball Reference WAR (and sixth in Fangraphs WAR). When the Cubs signed him to that monster deal -- one of the biggest money deals in baseball history -- the reviews were mostly good.
Then, of course, he had a disastrous offensive season -- he hit .230 and slugged .325 -- and he looked even worse in the postseason. He looked broken. The thing that's staggering about Heyward's 2016 season is how consistently awful he was. Take a look:
April: .224/.333/.271
May: .217/.301/.301
June: .257/.336/.386
July: .217/.291/.326
August: .250/.267/.345
September: .212/.299/.306
I mean, there's no sign of hope there. He didn't slug .400 for any month. His last three months, he couldn't even manage a .300 on-base percentage. There was a lot of talk throughout the season about him having a mechanical breakdown, something that maybe he could fix in the offseason. But ... whew. He was still good defensively, at least.
Meanwhile, at the end of 2015, Fowler seemed like an OK ballplayer -- he'd hit .250 with a bit of power and a bit of speed. He scored 100 runs. He always could draw a walk but always struck out a lot too; in 2015 he struck out 154 times. He was going to sign one of those OK ballplayer deals with Baltimore -- three years, $33 million -- when they got into some argument about opt-out clauses, and Fowler raced back to Chicago for a one-year deal. Fowler had decided to bet on himself.
And he won the bet -- Fowler had his best season in 2015. He posted a career-high .393 on-base percentage, had his best defensive year by the numbers and made his first All-Star team.
So ... who would you bet on? Heyward is three-plus years younger, so you have to take that into account. But he also is getting paid seven million bucks more per season, and he just had by far the worst offensive season of either of their careers.
On the other hand, Fowler is coming off a very good season -- he has been a better offensive player than Heyward over the last few years. But he's turning 31 in March; he's not likely to age well as a defender and as his speed diminishes you can expect his offensive output diminish with it.
It's a tough call ... I think the Cardinals did well getting Fowler, at least for the next two or three years. He gets on base, can hold his own in center and offers a bit of power in the bargain. An outfield of Fowler, Randal Grichuk and Stephen Piscotty is pretty good, and Matt Carpenter can drop to second or third in the lineup. The Cardinals just got better.
But if I had to choose one, I still go with Heyward. It's close, but in baseball the best bet is on youth. Heyward looked so bad at the plate in 2016 that it's hard to imagine him coming back from it, but it's also easy to get fooled by what you just saw.
I still think one of the cool parts of the Cubs championship is that it was Heyward who spoke out and inspired his teammates during the rain delay in Game 7. Baseball players tend to have no tolerance at all for leaders who are not contributing. I remember years ago when the Kansas City Royals got a 37-year-old Terry Pendleton to provide some leadership ... I asked Pendleton how he could teach young players.
"Funny thing is, none of them ever asks," he said.
And he explained: If you ain't hitting, you ain't leading.
But the players respect Heyward so much that even though he wasn't hitting, they listened. No, of course that doesn't mean that Heyward will ever start hitting again. But he only just turned 27, and his teammates believe in him, they admire him, they respect his work ethic. It's a big bet that Heyward comes back strong. But I'd take it.