Hard Luck Losers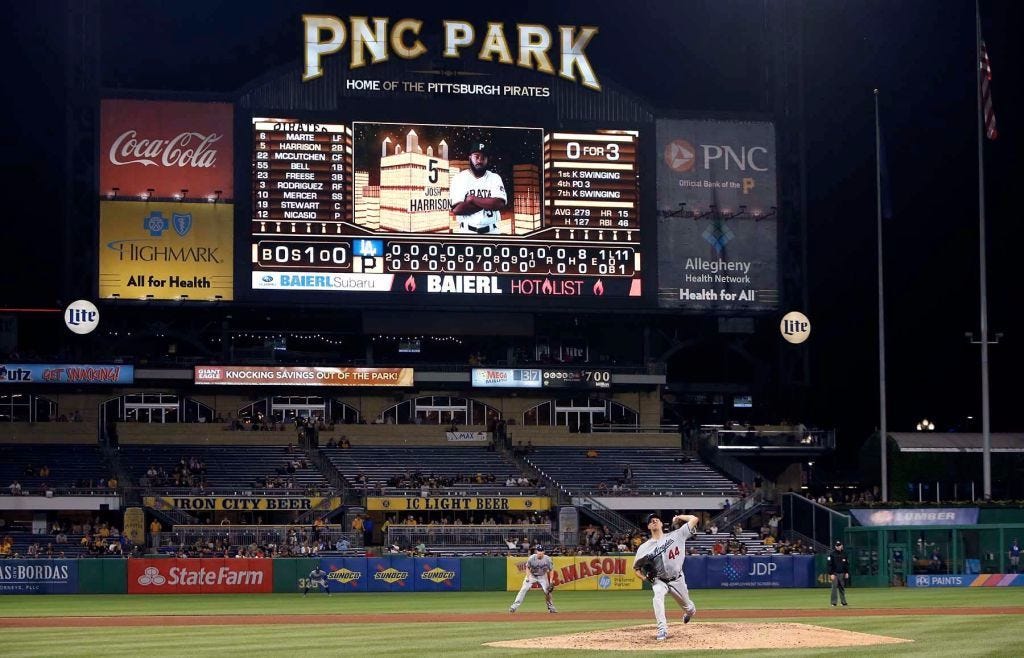 Rich Hill did something remarkable on Wednesday night. Well, he actually did a lot of remarkable things -- he threw nine no-hit innings and, was it not for Logan Forsyth misplaying a ground ball it would likely have been nine perfect innings.*
*We can not say FOR SURE that it would have been nine perfect innings because (1) Hill might have pitched differently with a perfect game on the line and (2) The next batter, Chris Stewart, would not have sacrifice bunted and so might have gotten a hit. Still, it probably would have been nine perfect innings.
He lost the game. He lost it because the Dodgers couldn't score (a stunning thing for this all-world lineup) and because Josh Harrison broke up the no-hitter, the shutout and the tension with a walk-off homer in the 10th. In the end, Hill ended up with a 91 game score.
In the end, Hill ended up with a 91 game score. Pitchers do not lose with 91 game scores.
Two thoughts: One, of course, instinctively is "Harvey Haddix." That's obvious. Nobody throws nine-no hit innings in a scoreless game without inspiring thoughts of Haddix's 12 innings of perfection in May of 1959 followed by a heartbreaking 13th inning where Felix Mantilla reached on an error, Eddie Matthews sacrificed him over, Henry Aaron was intentionally passed (the only acceptable intentional walk in baseball history) and Joe Adcock doubled to end the no-hitter, shutout, game and the Haddix magic.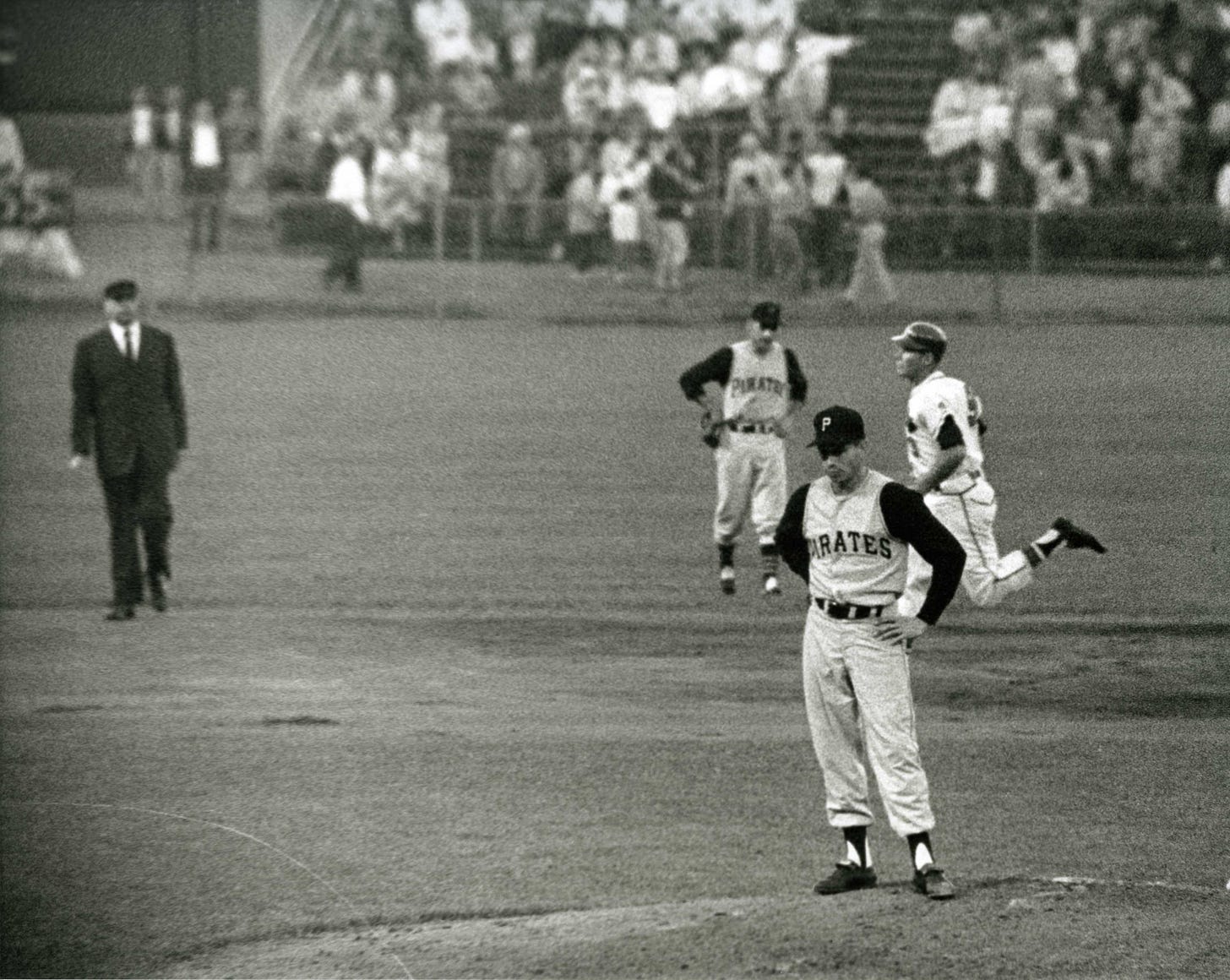 But Haddix's game is famous. Many of these heartbreakers, especially more recent ones, are not. So, how many players in the Expansion Era had 90-plus game scores and still lost the game?
Well, it just so happens that I looked it up for you. It has happened 10 times. Here's the story of those 10 games.
10. Bob Sebra, Montreal, July 1, 1987.
Game score: 90
The Expos and Cubs went at it on a Wednesday night at Stade Olympique, and there are a few things to say about the game. One is that the Cubs actually had a winning record at this point of the season -- they were 41-37. That's weird to me because the first thing I think of when anyone says "1987 Cubs" is that Andre Dawson won one of the strangest MVP awards ever. It was strange because the Cubs finished in last place. This was 30 years ago, and in those days the MVP NEVER came from a losing team, not ever, certainly not a last-place team but everyone sort of fell in love with Dawson's season -- there are very good reasons for this that we can talk about another time -- and he won the MVP even thought he Cubs were dreadful.
But apparently, the Cubs were NOT dreadful, at least not the first half of the season. They were eight games over .500 on July 17 and were sort of, kind of, if you squint maybe in the race. then they fell apart and went 27-44 the rest of the way. Anyway, I didn't remember it that way.
Back to the game: Bob Sebra was a big right-hander from New Jersey and the University of Nebraska (where he set strikeout records), and 1987 would turn out to be his only full season in the big leagues. And he utterly owned the Cubs that day, except for Jerry Mumphrey. In the first, Mumphrey singled off Sebra. Sebra did not give up another hit until there were two outs in the eighth. And he was overpowering. He struck out the side in the fifth, struck out two more in the sixth, struck out two more in the seventh and, despite the hit, struck out the side in the eighth. Ten strikeouts in four innings is good work.
But, alas, we know that his Expos did not score either. You know why? Because the Cubs pitcher that day was a 21-year-old kid (the youngest player in baseball) with a career ERA over 5 ... whose name happened to be Greg Maddux. This was the first moment when Maddux was Maddux. He threw hist first shoutout, allowed four hits, walked one, struck out two -- TWO -- had the Expos out there chasing shadows.*
*Down the rabbit hole we go ... it looks like Maddux's problem as a young pitcher was his temper. "He's just a kid, ya know?" his pitching coach Herm Starrette said after the game. "When he gives up a home run or something goes wrong behind him, he gets upset. Well, you can't do that. First, it gives you away. The other team hears that and says, 'We've got him.' ... "Second, and more important, you have to stay in control."
The fact that Greg Maddux was out of control at any point in his career is kind of shocking. It's a bit like learning that Roger Federer used to have a temper problem (he did).
Anyway, Sebra gave up the game-winning homer to Jerry Mumphrey. In the end, he pitched nine innings, struck out 14, and lost.
9. Ed Halicki, San Francisco, May 26, 1975
Game score 91.
I don't spend nearly enough time thinking about Ed Halicki these days. I used to think about him all the time because he was in every single baseball card pack I ever opened. I imagine that the Topps factory had a separate machine cutting Ed Halicki and Sixto Lezcano cards.
Halicki was huge (6-foot-7), also from New Jersey, and he was actually one of the National League's better pitchers in 1977 (he led the league in WHIP). On that May day, he had the shutout going against Philadelphia for 10 innings -- 10 strikeouts too -- and then had a devastating 11th inning. With one out, he allowed a single to Larry Bowa. He then had Bowa picked off but, instead, threw the ball away, moving Bowa to second. With two outs, Dick Allen grounded to third and the ball went through Ed Goodson's legs, Bowa came around to score the game winner.
Ed Goodson later joined Ebenezer Todman to create all sorts of hilarious game shows.*
*This is not true. Those were two different guys.
8. Rich Hill, Los Angeles, August 23, 2017
Game score 91.
7. Kevin Appier, Kansas City, July 27, 1993
Game score 91
This more or less defines Appier's preposterously underrated career. in 1992 and 1993 he might have been the best pitcher in the American League. Well, to be honest, there's no "might" about it. Look at the top five by combined WAR.
Kevin Appier, 17.3

Mark Langston, 12.0

Roger Clemens, 11.3

Frank Viola, 10.6

JImmy Key, 10.1
Nobody cared. Nobody ever really cared about Kevin Appier. It didn't help that he played for the Royals just as the team was descending into oblivion and then kicked around with a bunch of teams after injuries had reduced him to rubble. On this day against Texas in 1993, Appier had a perfect game going through five and a no-hitter into the seventh. The no-hitter was ended by Raffy Palmeiro, who blasted a home run to right field. And that was it: Appier allowed the one hit, he struck out 11, he lost the game because Kenny Rogers did his Kenny Rogers thing and scattered nine hits and somehow didn't allow a run
On this day against Texas in 1993, Appier had a perfect game going through five and a no-hitter into the seventh. The no-hitter was ended by Raffy Palmeiro, who blasted a home run to right field. And that was it: Appier allowed the one hit, he struck out 11, and he still lost one-hitter because Kenny Rogers did his Kenny Rogers thing and scattered nine hits and somehow didn't allow a run for 8 2/3 innings -- then Tom Henke came in to get Wally Joyner for the final out.
6. James Shields, Tampa Bay, October 2, 2012
Game score 94
On the penultimate game of the 2012 season, with nothing really on the line but pride (the Rays had just been knocked out of the playoff chase) Shields threw a beauty -- 9 innings, 2 hits, 1 run (a Chris Davis homer), zero walks, 15 strikeouts. It is, by game score, the best game James Shields pitched in the big leagues. And he lost as four Orioles pitchers shut down the Rays lineup.
5. Steve McCatty, Oakland, August 10, 1980
Game score 96
We're now getting a little bit away from the theme -- because game score is a counting stat (giving points for strikeouts, for example, and taking points away for hits), the longer a pitcher goes, the higher game score can be. Steve McCatty wasn't necessarily brilliant on that August day in Seattle. He gave up two runs. But he pitched FOURTEEN innings because that was the year that A's manager Billy Martin decided to basically never use his bullpen. The A's five starters pitched 1,261 of the team's 1,471 innings that year.
McCatty lost on a Dan Meyer homer in the 14th. The A's put runners on first and second with nobody out in the bottom of the inning but the Mariners DID believe in using relievers so they brought in Shane Rawley who induced two ground balls back to the pitcher, the second ending the game with a double play.
4. Bill Singer, California Angels, August 3, 1973
Game score 97
The SInger Throwing Machine was fantastic that day, blitzing the World Champion A's lineup for 10 innings without allowing an earned run. He struck out 13 and gave up just one hit for those 10 innings. He would have been in position to win the game except for back-to-back errors by Angels infielders in the second (the Angels made a THIRD error that inning but it did not affect scoring).
Unfortunately, VIda Blue was pitching for the A's, and he was about as good (though his one run was earned). In the 11th, Singer ran out of juice, gave up two doubles and lost.
3. Dick Drago, Kansas City, May 24, 1972
Game score 98
Here is an underrated pitchers duel -- Dick Drago and Jim Kaat locked up for 11 innings without allowing a single run. Drago probably earned more fame as a relief pitcher for Boston, but he began his career as a starter and actually finished fifth in the Cy Young voting in 1971. He was decidedly NOT a strikeout pitcher -- he only struck out 98 hitters all year in 1973 -- but on this day he was baffling and he punched out 13 Twins (even getting Rod Carew once).
But Kaat was about as good, and so the game went into the 12th inning scoreless. Drago allowed a double to Danny Thompson and the game-losing single to Rod Carew, who was probably ticked off about the strikeout. Wayne Granger closed it out for the Twins and that was that.
2. Nolan Ryan, California Angels, August 20, 1974
Game score 99
"Hard luck is as common to Nolan Ryan as his fastball is unhittable to the rest of the American League."
That was the lede by UPI sportswriter Fred McMane after this game, and while it is inscrutable -- wait, hard luck is as common to him as his fastball is, what? -- it does get the point that Ryan had a lot of these crazy losses in his life. In this one, he pitched 11 innings and struck out 19. It wasn't even the first time he struck out 19 (he had done less than two months earlier in a 13-inning game against Boston). But Detroit's Mickey Lolich shut out the Angels for 11, which was a pretty easy thing to do in those days.*
But Detroit's Mickey Lolich matched him by shutting out the Angels for 11, a pretty easy thing to do in those days.*
*Trivia time! Who led the 1974 Angels in home runs? I'll give you a hint: He hit 20. I'll give you another hint: This player had SEVENTEEN seasons where he hit more than 20 home runs.
"Losses of that kind are always hard to take," Ryan said. "It's not easy to sleep after something like that. I try to forget about the losses. THere's only one thing on my mind and that's 20 wins. I try to block everything else out."
Ryan ended up winning 22 that year -- his highest ever win total. He also lost 16. He also threw 332 innings and struck out 367 batters. He also walked TWO HUNDRED AND TWO hitters. There never was and never will be another Nolan Ryan.
1. Juan Marichal, San Francisco Giants, August 19, 1969
Game score 104
Marichal is, of course, famous for WINNING these kinds of crazy games. The most famous: In 1963 he threw 16 shutout innings to outduel Warren Spahn. In 1966, he threw 14 shutout innings to outlast Jim Bunning (who could only make it for 10 shutout innings before getting pulled). In 1963, he threw a no-hitter to beat Dick Drott and Houston 1-0, and less than a month after this game in '69 he threw a one-hit shutout to beat the Reds 1-0.
In this one, though, Marichal took the hard loss. He threw 13 shutout innings against the Mets -- striking out 13 along the way -- but the Mets pitching with Gary Gentry and Tug McGraw matched him. The Mets had a chance to win the game in the 12th when Cleon Jones tried to score on a Marichal error; he crashed into Giants catcher Jack Hiatt, but Hiatt held on to the ball.
One more interesting moment before we get to the finish: Willie McCovey in 1969 was one of the most feared hitters in baseball history. He had become so absurdly good that managers kind of went crazy trying to slow him down. They intentionally walked McCovey 45 times that year; it was, best anyone could tell, unprecedented. As far as we know, the record for intentional walks up to that point was Ted Williams 33 in 1957. This was a whole different thing.
In addition, the Mets had a special way of attacking McCovey, something they called "The Hodges Shift," after manager Gil Hodges. He put three infielders on the right side of the infield, which is now common. But the third baseman, instead of moving over to where the shortstop usually stands, was instead used as a fourth outfielder. He played deep left-center.
The Mets put the Hodges shift on in the 13th, and McCovey blasted a long fly ball to left-center -- directly behind where Mets third baseman Bobby Pfiel was standing. "You take it!" Pfiel shouted out immediately ("I know I can catch a fly ball, but not like that," Pfiel said). Mets centerfielder Cleon Jones, who was playing more toward right raced over and made a leaping, insane catch at the wall.
"I'll think of something," Tommie Agee told Jones and teammates in the dugout before he went to the plate into the 14th inning. He was 0-for-5 with three strikeouts up to that point. But he did think of something -- he hit the walk-off homer that finally ended the game and, this time, broke Marichal's heart.*
*The trivia answer is Frank Robinson. I expect you got that one.