Gordon and Zimmerman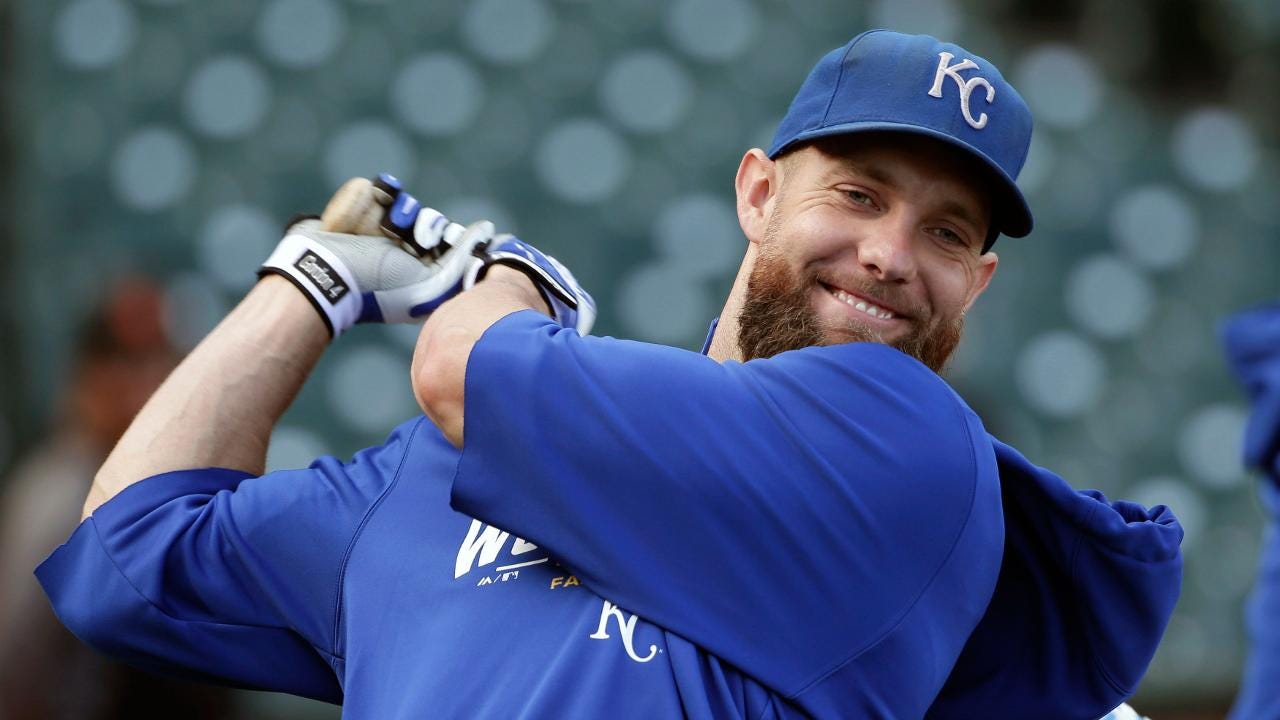 In June of 2005 -- with the Kansas City Royals in the midst of yet another doomed and hopeless season -- Royals general manager Allard Baird had a heavy decision to make. The Royals had the second pick in the draft. It was pretty clear to everybody that Arizona was going to take high school phenom Justin Upton with the first pick.
That left Baird with what he (and, perhaps, he alone) saw as a difficult call:
He could take Alex Gordon, the clearcut choice, the college baseball player of the year, from nearby Nebraska. Gordon was widely considered the best prospect in college baseball and, in addition, he had a swing that looked like Kansas City great George Brett's. This was no accident. Gordon's father was such a big fan that he had named Alex's brother Brett AFTER George Brett.
Or Baird could take Ryan Zimmerman, a brilliant shortstop out of the University of Virginia. The thing about Zimmerman was that, unlike Gordon, he was a defensive star; Baird could imagine him winning Gold Gloves for years to come at third base ("He could probably even stay at shortstop!" Baird said). Baird wasn't as sure about Zim's offense -- Gordon clearly had the greater power potential -- but Baird liked the swing and thought Zim would hit in time.
Baird was tortured over the decision. He knew that the Royals could not afford to miss on this pick — it was, up to that point, the highest draft pick in Royals history — and he sensed that the wrong decision could keep the team mired in awfulness for another decade. He did not know that he would be fired less than a year later (though he did know that time was running out). But Baird -- and there really aren't many people I can say this about -- didn't care about his own job. He really cared about the team first and last. The decision tormented him.
The thing is: This was a private torment because everybody -- and I mean EVERYBODY -- knew the Royals were going to take Gordon. He was the second player on pretty much every draft board (there were actually some who had him ranked first ahead of Upton) and he was a Midwestern guy, and he had that George Brett swing ...
... but Baird tossed and turned. The "George Brett" swing of Alex Gordon, in his mind, was too big; Baird wondered if Gordon would strike out too much to be a good offensive player. And Baird also wondered if Gordon had the dexterity to play third base in the big leagues. Don't misunderstand: He liked Gordon a lot. He kept telling me that throughout the process: "Oh, I like Gordon a lot. I like the power."
But the scout in him kept veering back to Zimmerman.
"I think he will hit," Baird would say of Zimmerman, and his voice would have a different beat of excitement about it. He would go on again about what an extraordinary defensive player Zim already was ("He's a shortstop playing third base!"). I remember telling people then, "All things being equal, I think Allard Baird would take Zimmerman over Gordon, I really do."
But things were not equal. If the Royals had taken Zimmerman, the criticism locally and nationally would have been overwhelming. The Royals were already a laughingstock across baseball, they were already being mocked for basically every decision they made -- and now passing on Alex Gordon? No. Gordon was basically BORN to play for the Kansas City Royals. Baseball America named him their amateur player of the year. People were calling Gordon the next George Brett before he was even drafted.
In the end, Baird bent to the overwhelming momentum and drafted Alex Gordon with the second pick of 2005.
I thought about all of this again as the Royals have decided to bench Gordon. He is hitting an astonishing .197/.288/.294 with a 55 OPS+. He is coming off a year when he hit .220/.312/.380. These are just the first two years of Gordon's disastrous four-year, $72 million contract. It will probably only get worse from here.
Meanwhile, Zimmerman is having a renaissance season. He has slowed down considerably (he's hitting just .208/259/.340 since June 14). But he got off to such a crazy hot start that for the season he's still hitting .300 with 24 homers, he's slugging .561, he might just win comeback player of the year.
Anyway, you look at the two careeers and ... they turned out very differently than Allard Baird expected in 2005. Well, Baird was right about Gordon's big swing and his inability to stay at third base. Gordon came up in 2007 and was basically the unanimous preseason choice for Rookie of the Year; instead he floundered below .200 for the first three months of his big league career. He struck out like crazy. His play at third base was shaky; he just didn't look comfortable over there.
In his second year, he had one of those solid years that nobody thinks is solid. He only hit .260, but he walked quite a bit, he hit with a little bit of power, he ran the bases well, he was solid enough, no star, but solid. Still, it was widely viewed as disappointing.
And by then Ryan Zimmerman was doing all those things that Baird expeceted he would. He was a maestro at third base. And he was hitting better than most people had thought. Yes, Baird had been fired as Royals GM (not for his Gordon pick -- he was gone before Gordon even made it to the big leagues) but it seemed like his instincts to pick Zimmerman were right.
In 2009, Zimmerman had an MVP type season, mashing 33 home runs, scoring 110 runs, driving in 106 and winning a Gold Glove at third base. Gordon was injured and played just 49 games.
In 2010, Zimmerman was fantastic again, hitting a career hit .307 with a career high .388 on-base percentage, and he was typically brilliant at third (no Gold Glove this time, but he was really good). Gordon was struggling so much he was sent to the minor leagues where the Royals hoped to (1) rebuild his confidence at the plate and (2) turn him from a lousy third baseman into a decent left fielder.
And, LIKE THAT, everything switched.
Gordon took to left field like he was born to play the position. When Gordon came up in 2011, he was a completely different player, confident, assured, and a defensive genius. His career batting average at that point was .244 -- he hit .303 his first year in left field. He slugged 100 points above his career average. He mashed 45 doubles, stole 17 bases, this was -- dare anyone say it -- a GEORGE BRETT kind of season. And he was so good right away as a left fielder that he won a Gold Glove (and deserved it).
Zimmerman, meanwhile, started going the other way. His brilliant defense at third began to fade, perhaps because of shoulder problems that would haunt the rest of his career. He missed 60 games because of injury. He was still pretty good, but the tide was turning o his career.
Gordon led the league in doubles in 2012 and won another Gold Glove. He made his first All-Star team in 2013 and won another Gold Glove. And then he settled into his new role as quiet team leader as the Royals began winning big. Gordon settled in as a .270-or-so hitter, a little power, smart base running, great defense, and a perfect represenation of this team whose whole was greater than its parts. Gordon's solid play, I think, spoke beautifully to Kansas City, a solid town. And the Royals won back-to-back pennants and a World Series title.
Zimmerman, meanwhile, had his body fall apart on him. He signed a $100 million extension in 2014, but he played just 61 games that year and 95 games in 2015. He had to be moved off third base because his once wonderful arm was gone; he couldn't even throw the ball across the infield. Last year, at age 31, he had a dreadful season, hitting just .218/.272/.370 while playing a subpar first base.
And then, as we've seen, this year Gordon has looked so bad you wonder if he can ever be an everyday player in the big leagues again while Zimmerman has had a nice comeback year.
It's hard, even now, to say whether Allard Baird made the right or wrong choice in 2005. WAR doesn't really offer much guidance -- Zimmerman's 35.6 WAR is slightly better than Gordon's 33.0 WAR ... but by WAR Gordon has three outstanding seasons (6-plus WAR) to Zim's two.
While Baird loved Zimmerman for his defense and Gordon for his power, it is Zim with the power edge (50 points of slugging percentage) and Gordon who has endured as a terrific defensive player. Even this year, with all the offensive problems, Gordon's defense has been sublime.
In the end, you would probably have to say it all worked out for the best. Neither Gordon nor Zimmerman has been a generational player, neither will get to the Hall of Fame, but they are both beloved in the cities where they play. Gordon survived years of dreadfulness to become part of a World Series champion. Zimmerman also survived years of dreadfulness and has been part of Washington's strange rise to excellence -- you would hope he could be part of a playoff series victory at some point.
It's one of those odd baseball things -- I don't think either team would trade the player they got.