Fire a Friend
There isn't a week that goes by that I don't think about my dear friend Ken Burger -- and today I was thinking about his classic invention, "Fire a Friend Day." That special sports holiday, which happens across the country every year, is commemorated by sports decision-makers who, in order to save their own jobs, fire their managers, coaches, assistants, coordinators, whoever is necessary.
I suspect that Mike Rizzo, general manager in Washington, will soon have yet another Fire a Friend Day when he inevitably cans manager Dave Martinez. Rizzo says he won't. He says that Martinez is doing a good job and the Nationals' horrific start isn't Martinez's fault.
They always say stuff like that leading up to Fire a Friend Day.
This isn't specifically about Martinez, though it should be said that in a one-week span back in October 2017, the Nationals and the Red Sox each decided to hire a manager. They were in remarkably similar positions. Both teams had won 90-plus games and had made the postseason. Both had crushing playoff losses. Both had managers with substantial histories of success -- John Farrell had won a World Series, Dusty Baker had been named manager of the year three times and had guided four different teams to division titles.
Both were interested in hiring a coach from a successful team.
The Red Sox hired Alex Cora, bench coach for the 2017 World Series champion Houston Astros. The Nationals hired Dave Martinez, bench coach for the 2016 World Series champion Chicago Cubs.
We're probably far enough into the process to pick the winner and loser of that exchange.
Would it all have been different if the Nationals had hired Cora and the Red Sox Martinez? People have been arguing about the impact of baseball managers for more than a century, and I don't think we're going to get any consensus on that. We do know how it turned out. With Cora as manager, the Red Sox had one of the dreamiest of dream seasons. With Martinez as manager, the Nationals underachieved at a level rarely seen before, and this year they're even worse.
But, again, the focus here is not on Dave Martinez.
The focus is on Mike Rizzo -- and how many Fire a Friend Days he's allotted as general manager of the Nationals.
Rizzo was born to be a baseball decision maker. His father, Phil, was a minor league player, and he then became a scout. Mike did the same thing; he played everywhere in the infield for Salem, Peoria and Redwood before becoming a scout for the Red Sox and White Sox. He moved up quickly in the baseball world; everyone was impressed with his skills as an evaluator. He was the director of scouting for Arizona when the Diamondbacks won the World Series. He was a finalist to become GM in Arizona and then went to Washington where he was an assistant for the mercurial Jim Bowden. When Bowden suddenly retired, Rizzo was thrust into the job of interim general manager.
Within three months, even though he was only acting GM, he was charged with firing his first manager, Manny Acta, and hiring disciplinarian Jim Riggleman. This was not a Fire a Friend move; Acta had been somebody else's mistake (he went 158-252 in Washington), and Rizzo was the one called in to clean up. The Acta firing was so overdue that the Philadelphia Inquirer headline simply said, "Nationals fire Acta, finally."
But things began to look up for Rizzo and the Nationals. In 2009, they had the first pick in the draft when one of those once-in-a-lifetime prospects, Stephen Strasburg, just happened to be available. It's nice to have the first pick in the right seasons. The very next year, Rizzo -- now a full-blooded general manager -- again had the first pick, and another astonishing talent, Bryce Harper, happened to be available.
That's not once in a lifetime luck -- that's once in several lifetimes luck.
And then, two things happened simultaneously. One, the Nationals got very good, very fast. And two, Rizzo found himself embroiled in world-class drama at every turn. In 2011, the Nationals began playing winning baseball for the first time in their history -- and Rizzo had to fire Riggleman mid-season because of a contract dispute. Riggleman was angry -- with some cause -- that the team wouldn't give him any security, and in the middle of an epic winning streak tried to force the Nationals to give him an extension.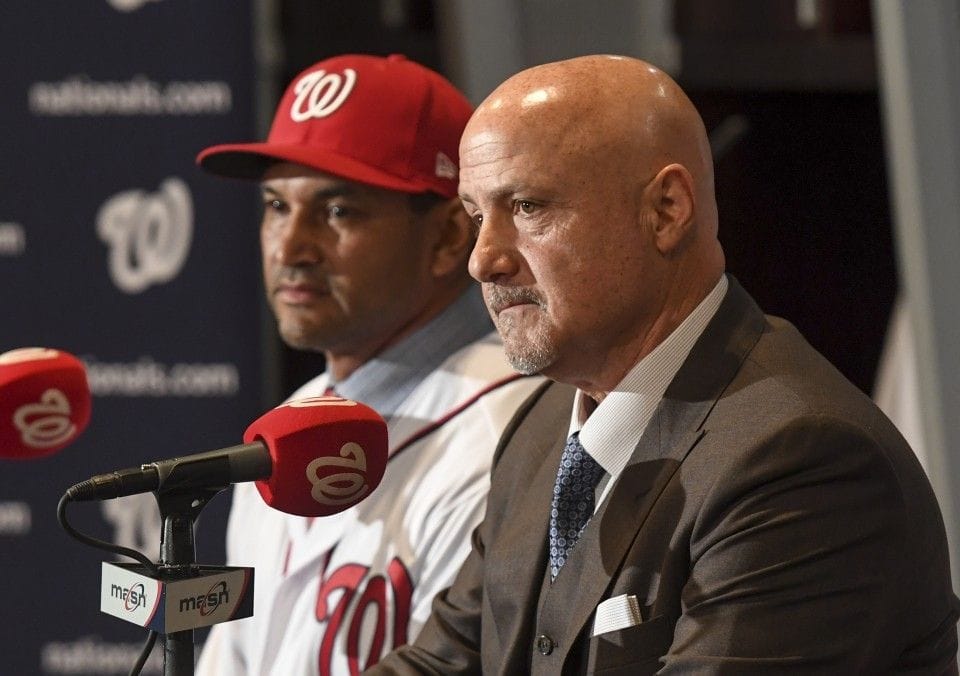 Rizzo is signed through the 2020 season.
Rizzo sent Riggleman packing. It's unclear what Rizzo's personal feelings were on the subject -- was this a case of ownership simply being cheap or was Rizzo himself eager to keep his manager a little bit uncomfortable? With Rizzo and the Nationals, that's a constant question: How much of it is him and how much of it is the odd-machinations of the Lerners?
It works the same either way. Jim Riggleman was gone.
Then Rizzo hired Davey Johnson, a hugely successful manager who had been fired multiple times and also had been named manager of the year -- once he was fired and named manager of the year on the same day.
In his first season, Johnson led the Nationals to one of the most spectacular and surprising seasons in recent memory. Washington won 98 games, led by a 19-year-old Bryce Harper and 23-year-old Stephen Strasburg. Johnson was named manager of the year again.
Then two things happened.
First, as you no doubt remember, Rizzo decided to shut down Strasburg for the playoffs. This was done for Strasburg's health, he was just a year off from Tommy John surgery. People came down on both sides of that argument, but it's fair to say that it didn't work out well for the Nationals. They lost a soul-crushing five-game series to St. Louis that unquestionably could have ended differently if Strasburg had pitched.
But, the thinking went, so what? The Nationals window had just opened. There would be so many more chances.
These are words that haunt the soul: There will be so many more chances.
Second, Rizzo pressed Davey Johnson to announce that 2013 would be his last season as a manager. Johnson did not WANT to announce this and also did not want to retire. But he agreed in order to keep the peace. Johnson had long ago learned to do whatever necessary to keep the peace. In Cincinnati, he had gotten sideways with owner Marge Schott and also agreed to leave after a successful season. It has been a strange life.
Under a lame duck Davey Johnson, the Nationals had a disappointing season -- 86-76, fell into second place on April 7 and stayed there every single day but one for the rest of the year -- and then Rizzo hired his personal discovery, Matt Williams, to be the new manager.
How would you describe Williams as a manager? Glum might be the word. You would watch him in the dugout and think, "Something bad is going to happen." The Nationals won 96 games his first year, which earned him manager of the year honors, but even so you just never thought there would be a happy ending. There wasn't: The Nationals were discarded in four games by San Francisco, one of those being an 18-inning Greek Tragedy where Washington blew a 1-0 lead in the bottom of the ninth and then, honestly, that game could have gone another 500 days and Washington never would have scored.
The next year was one long fiasco culminated when Rizzo made what I still believe to be the most ill-advised trade in recent baseball history. The Nationals were still very much in the race when Rizzo traded for closer and perpetual headache, Jonathan Papelbon. It was obvious to anyone with eyes that this trade could only lead to doom and destruction, but Rizzo did it anyway, the Nationals completely fell apart, and the crescendo of the season came when Papelbon tried to choke out Bryce Harper, who was in the middle of a Stan Musial season.
That's when Rizzo had his first Fire a Friend Day by axing Williams.
"It was not our best year," Rizzo said. "It wasn't Matt's best year. It wasn't my best year."
Yes, well, as these things go, Matt took the fall. Enter: Dusty Baker. This was very much like the Davey Johnson move -- hire a manager who has done a whole lot of winning and also has been fired multiple times. Johnson, as mentioned, once won Manager of the Year on the same day he was fired. Baker, meanwhile, was let go twice after winning 90-plus games and leading his team to the playoffs.
Under Baker, the Nationals won 95 games in 2016 -- led by Rizzo's inspired free-agent signing Max Scherzer -- and lost a heartbreaking five-game playoff series to the Dodgers. Then they won 97 games in 2017, and lost a heartbreaking five-game playoff series to the Cubs.
And then Rizzo fired Dusty Baker. Fire a Friend Day Number Two.
In Washington, it is more-or-less canon that Rizzo didn't WANT to fire Baker, that he was forced to do it by an owner who was sick of the playoff losses and/or didn't want to pay a real salary for a manager. You never know what happens behind the scenes in these situations. Still, as one general manager told me, there are always choices when ownership tells you to do something you don't agree with. Rizzo made his choice.
And he hired Dave Martinez.
And the team spectacularly underachieved and is now in freefall.
Dusty Baker's record in his final season: 97-65
Dave Martinez's record: 97-102
Another Fire a Friend Day is imminent. There's one thing that Ken used to say about Fire a Friend Day -- you should only get ONE. After that, you're supposed to be on your own.