Dusty Roads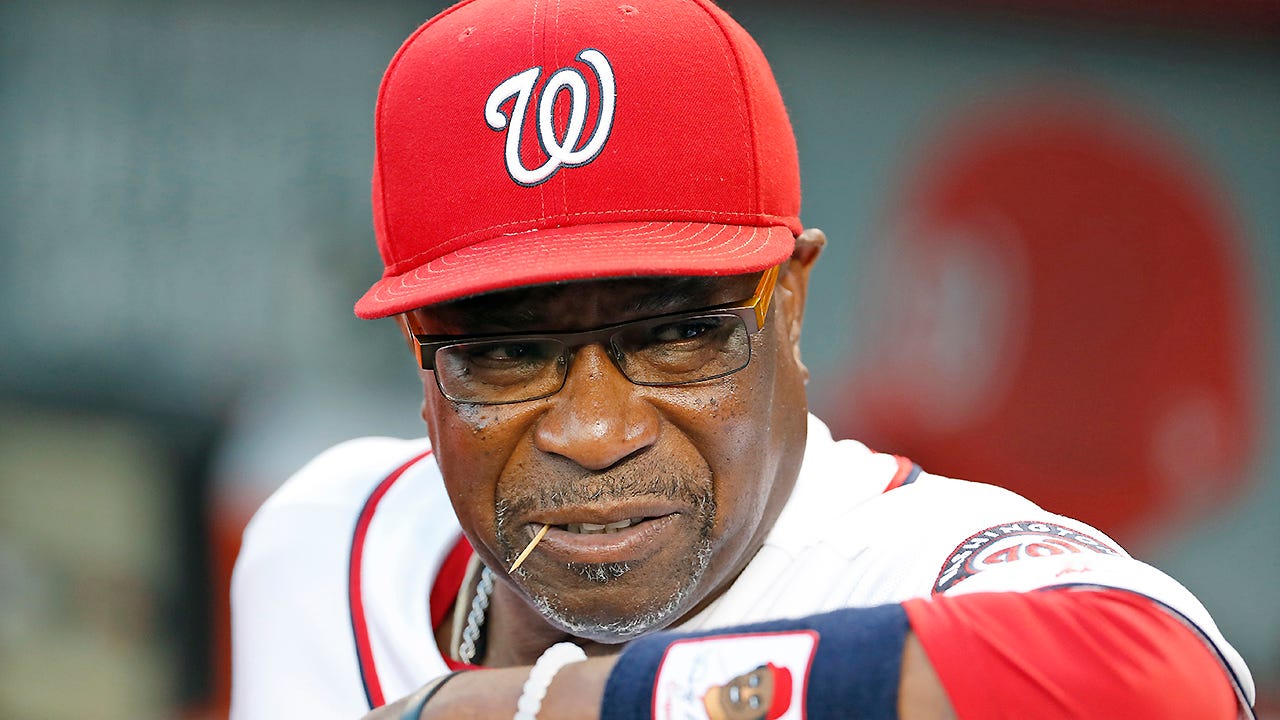 Bruce Bochy will be inducted in the Baseball Hall of Fame as a manager someday. I think just about everyone would agree with that.
Dusty Baker will not be inducted in the Baseball Hall of Fame as a manager. I think just about everyone would agree with that too.
In this ranking of managers, Baker was ranked 13th ... Bochy third.
In this one (from last year), Baker was 11th, Bochy 2nd.
Bruce Bochy has never been fired ... he was allowed to leave San Diego for San Francisco in 2006 when the Padres decided they didn't really like making the playoffs. He is just beginning a sweet three-year contract that goes through the 2019 season.
Dusty Baker has been fired once, twice not had his contract renewed (which is basically the same thing) and as of right now he has the Washington Nationals 13 games up in the National League East but he does not have a contrct for next year.
Yes, there have been complaints about Bruce Bochy as a manager -- every now and again someone will ask for his firing. But they pale in comparison to the mountains of criticism piled on Dusty Baker through the years. People have blamed Baker for everything from blowing a World Series to ruining Mark Prior to getting outmanaged in playoff series after playoff series.
Here's the thing, though. If Bruce Bochy retired tomorrow .. and Dusty Baker's Nationals lost the next 200 games in a row -- TWO HUNDRED GAMES IN A ROW -- Dusty Baker would STILL have a better regular season record than Bruce Bochy.
You could probably win a bar bet with that one. Bochy's Giants won on Tuesday so he now has 1,830 wins and 1,824 losses. Baker has 1,829 wins ... and 1,613 losses.
Yes, of course, I'm deliberately talking just regular season baseball and entirely leaving out Bochy's three World Series victories, which isn't right because THOSE are the reason that he will be going to the Hall of Fame and Baker's zero World Series victories are the reason he won't.
But it is still fascinating to me that there's such a wide perception gap between Bochy and Baker when Baker's regular season record is so much better. Baker's teams have won 95-plus games in a season five times and might do it again this year; Bochy's teams did it once (and it was with San Diego almost 20 years ago). Baker's teams have won more division titles (7-6 -- and that doesn't even include the 103 win Giants of 1993 that were berat out by the Braves), they have more winning seasons (13-12) and, heck, Baker has a better winning percentage WITH THE GIANTS (.540 for Baker; .509 for Bochy).
More than that, Baker's record is striking for it's timing. In 1993, he took over a Giants team that had back-to-back losing seasons and led them to that 103-win season. He managed the Giants for 10 years, had that .540 winning percentage, made the playoffs three times and won a National League pennant. And he was gone ...
... to the Cubs, who were coming off a 95-loss season. His Cubs promptly went to Game 7 of the LCS, we've all written plenty about that craziness, and then, absolutely, it went bad and he was gone ...
... to Cincinnati, where the Reds had not had a winning season in seven years. After a sluggish start, Baker's Reds won two division titles and a wild card spot in three years, at which point he was canned for not winning in the postseason. The Reds have not had anything close to a winning season since.
And he came to Washington, a talented team that had wildly underperformed in 2015 under manager Matt Williams. He promptly settled things down, the team won 95 games last year and they are rolling along this year.
All of that suggests that Dusty Baker is either one lucky son of a gun ... or he might have some ability to manage baseball teams to winning seasons. I am one of these people who believe that strategy is more or less the least important part of a manager's job. Oh, don't get me wrong, I LOVE talking about it, LOVE writing about it, LOVE pointing out when managers do illogical things. That's a big part of the baseball fun.
And, yes, Dusty Baker's strategies have been a wonderful inspiration to my writing career.
But the job is to guide a baseball team through a long season, to keep players focused on the work at hand, to minimize distractions and ease tensions and keep things consistent without letting it get monotonous. The job is to to let your stars be stars without letting that offend and irritate everybody else. The job is to keep it loose but not too loose, make it fun but not so players lose focus, to make everyone feel like you trust them without making them feel like there are no consequences for failure. The job is to make young players feel old, and old players feel young, to make pinch-hitters feel important and cleanup hitters to feel like they don't have the weight of the world on their backs, to make starters and relievers feel like they have your complete confidence without letting them blow too many games (something that has been REALLY had in Washington this year).
And, yes, the job is to endure moops like me telling you every day that you should never have intentionally walked that guy or bunted that guy or pulled that pitcher -- even though that was probably the 12th most important thing you did that day.
All of which is to say: I don't think Dusty Baker's a great strategic manager. I think many of the criticisms are perfectly fair. I think his strategic quirks and philosophies might hold his teams back in October; I don't know but it's possible.
I also think his teams do win an awful lot. When the Washington Nationals hired him, there were some eye-rolls but you look now and his team is winning. It's a pretty consistent trend.