Don Newcombe, Baseball Hero
In 1949, shortly after Don Newcombe finished his startling rookie season for the Brooklyn Dodgers, a comic book came out called "Don Newcombe: Baseball Hero."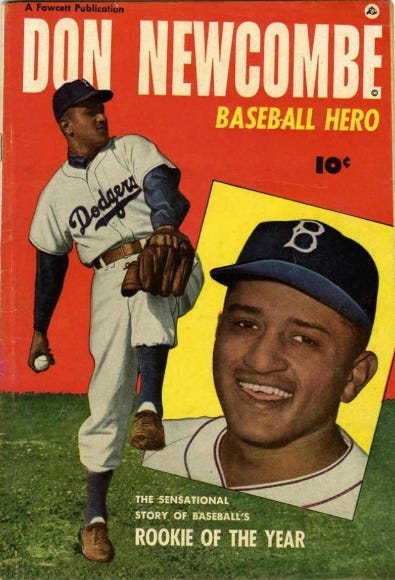 It begins with a personal message from Newcombe to kids:
"Control, hard work, courage, and sportsmanship are the fastest balls in the pitchers' repertory," he wrote. "They always make you a winner too."
And then we get into the comic book story!
"Don Newcombe, mighty fastball hurler, blasted his way through the National League ... the first Negro hurling star in the Majors, Don mowed down enemy batters with thunderbolt speed! His name will long live alongside such immortals as Bobby Feller and Walter Johnson!"
This is followed by a panel with a list of Don Newcombe's Sensational Rookie Achievements!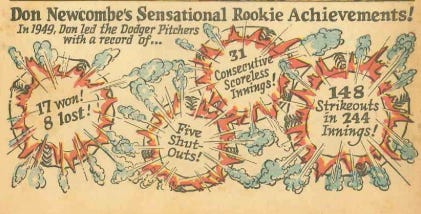 Look at those!
17 won! 8 lost!
Five Shutouts!
31 Consecutive Scoreless Innings!
148 Strikeouts in 244 Innings!
Dig those exclamation points. Particularly for 8 lost!
Now we get into life. A bouncing baby boy is born in Madison, N.J. ("Let's call him Donald, Sadie!" Newk's father, Roland, says.)
Donald Newcombe is the youngest of four brothers, but he still eats the most. ("I can't help it! I'm hungry!" Don says.)
From the start, he dazzles everyone with the power of his right arm.
"You throw awful hard for an eight-year-old, Don!" a brother says.
"I'll throw as hard as Satchel Paige when I'm fifteen like you!" Don shoots back.
"But fate interrupted Don's budding career!" (I'm quoting directly here). "He was stricken with a chill and soon ..."
"I'm afraid your son has pneumonia, Mrs. Newcombe!" the doctor says, being sure to use an exclamation point.
"Oh, my poor boy!" Sadie Newcombe says, as she watches over the scene.
On the day his temperature rises to 105, Sadie Newcombe prays. And, to quote again, "Mom Newcombe's prayer was answered! Don's life was spared!"
But even though he's nursed back to health, it's unclear that Don Newcombe will ever live up to his potential as a pitcher.("When can I play ball again, Doc?" "Not for a long time, Don!") And when he's finally healthy enough to pitch, he finds that he can no longer throw as hard. But he's resourceful.
"Instead," our narrator explains, "he mastered tricky curves, sliders and floaters, mystifying the sand lot batters!"
At age 12, he's hired to pitch for the Roselle Stars baseball team, and promptly throws a one-hit shutout. He's paid a buck and a half. Naturally, he offers it to his mother.
"You keep it, Don!" she tells him.
Now it's time for high school, but, alas, Don's high school has no baseball team. He reluctantly plays football ("but he never made a touchdown all season!") and runs track ("but always finished last!"). Then, fortunately, summer comes again, and he pitches brilliantly for the Roselle Stars.
Then one day, after hurting his arm again -- he often will hurt his arm -- he meets a local baseball legend named "Johnny Greer" (actually Grier), who offers to show him a few things about pitching.
"That's it, Don! Rear back, then come forward overhand with an easy motion, putting your body behind the ball!"
"I get you, Johnny!"*
*Later, Newk would remember meeting Grier when he was even younger -- he said that Grier saw him throwing rocks and said, "If you can throw stones that hard, you can throw a baseball that hard." I'm sure if the comic book writers had THAT detail, they would have gone with it.
Next, Don runs away from home and tries to enlist in the Army at 15, just after hearing about Pearl Harbor. He's finally able to enlist at 17, and he serves briefly at Great Lakes, but he's discharged in 1944 because of a kidney ailment (not mentioned in the comic book).
At this point, he has not pitched in more than a year. But his friend Buddy Holder introduces him to Newark Eagles owner Effa Manley, who invites Newk for a tryout. ("Mr. Newcombe, we'll be glad to try you out at the Eagles' Camp! "Oh, thank you, Mrs. Manley!")*
*Again, later, Newk would say that it was Grier who actually introduced him to Manley.
At the tryout, Newk has to win over the legendary Negro leagues hitter Mule Suttles. He struggles at first with his control and has the first of what will be a long series of crises in confidence. He writes home in despair:
March 26, 1944 Dear Folks, I'll never make good in this Negro National League. I just can't get the ball over the plate. The batters are tough, too. I may be home soon. Take care of yourselves and say hello to Buddy Holder for me. Love to all, Don
But Mule Suttles has faith. "Don't be discouraged, Don! You're only eighteen -- you've got everything a pitcher needs except experience!"
Newcombe works hard. I love this panel so much: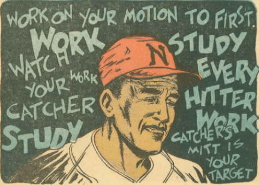 He does make the team, and not only that ... he actually gets to start against the Kansas City Monarchs. And before the game, a lanky Monarchs player wanders over and offers the words that Newk will never forget.
"You'll go far in this game, Don! Here's luck from old SATCHEL PAIGE!"
And he would go far -- the very next year, he becomes a Negro leagues star. "Don won ten games!" one fan says to another on July 4, 1945. "He's as good as Satchel Paige!"
"Maybe better!" another fan replies.
What this story needs is a little bit of romance. And on cue -- later that month, in Portsmouth, Va., Newk smacks a ground-rule double, nearly hitting a young woman. At the end of the inning, Newk goes out to make sure everyone is all right, and he meets Freddie and her family. That night, he goes to their home for dinner. It's love at first panel.
"Tell me how you got into baseball, Don, and how you learned to pitch so wonderfully," Freddie says.
"Let's not talk baseball, Freddie!" Don replies. "Look at the Big Yellow Moon!"
Just weeks later, on the day that Don finds out that he has made the East-West All-Star Team, Freddie shows up at his door to congratulate him.
"I heard the news, Don! I had to see you! I can't live without you a day longer!"
"Freddie ... I -- I feel the same way! Let's get married now!"
And so they get married. Happy news, followed by sad news, followed by happy news. Only a few panels later, Don Newcombe hurts his arm so badly that he tells Freddie, "My arm's dead! I may never pitch again!"
Two panels later, he's in the office of Dodgers general manager Branch Rickey.
"You have the ability to be a real major leaguer, Don!" Rickey says. "Don't worry about your sore arm! It will cure itself during the winter!"
And so it does. He becomes a star in Nashua!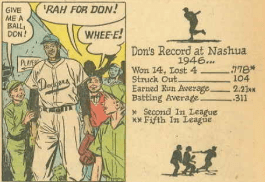 He becomes a star in Havana!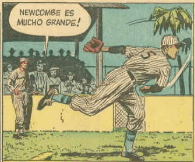 He becomes a star in Montreal!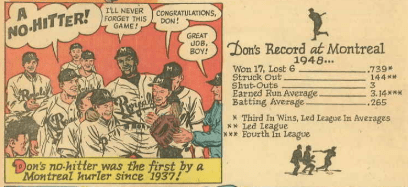 And then, well, yes, he hurts his arm again, but it's temporary, and soon he's in the big leagues, and his blazing fastball blows hitters away, and his curve is so babbling that batters question his ethics.
"Newcombe's throwing a SPITTER, ump!" one batter says.
"That's a lot of bunk!" Newk's loyal catcher, Roy Campanella, replies.
"I've never seen a curve like Newcombe's, Campy, but this ball's all right!" the ump says.
He is some kind of star. It's time for my favorite panel of all. It comes after the 1949 All-Star Game, where Newk throws 2 2/3 semi-effective innings. But apparently, numbers aside (he gives up two runs), he's amazing. At least the legends think so.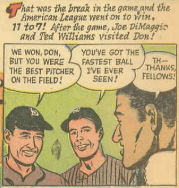 And so it goes ... Newk gets Musial out ("Got you this time, Stan!" "I g-guess you have, Don!") ... Newk gets a bonus for his great pitching ("Now we can buy a home, Don!") ... He has his own "Don Newcombe Night" in Brooklyn ("It's more than I deserve, sir!") ... He pitches brilliantly in his first World Series game (striking out 11 but losing 1-0 on Tommy Heinrich's solo homer) ... He struggles on two days' rest in Game 4 ("Don't feel bad, Don! You did all you could!" "But it wasn't enough!")
And ... big finish.
"And the Dodgers WILL be showing them in 1950, as Don Newcombe, the greatest young pitcher of his day, hurls blazing thunderbolts plateward with his steel-sinewed right arm! For as Don says, Character and Grim Determination always win -- in baseball as in life!"
After the comic book ended, Newk won 19 games in 1950 and made the All-Star team. He won 20 in 1951 and led the league in strikeouts. Then he was drafted into the army ("Uncle Sam comes first," Rickey told the press). He missed two and a half full years in what could have been the prime of his career.
He was an All-Star again in 1955, finishing seventh in the MVP race -- his Dodgers won the World Series that year. Then in 1956, he had his season for the ages, going 27-7 with a 0.989 WHIP ... and he also hit an astonishing .359/.395/.632 with nine doubles, a triple and seven homers in 125 plate appearances. He won the first-ever Cy Young award, and he also won the MVP award.
He's one of only two players in baseball history to win the Rookie of the Year, the Cy Young and the MVP -- the other is Justin Verlander.
Of course, this is the comic book view. None of this goes into the real-life struggles of being the first great black pitcher in baseball, the extreme challenges he had to endure (including the taunts that he couldn't win the big game because of his struggles in the 1955 and '56 World Series), his horrifying fight with alcoholism that, he readily admitted, ended his career much too soon, his lifelong effort to help others deal with alcoholism.
None of those things fit in a comic book.
Who knows what would have been had Don Newcombe started his career 10 years later? Who knows what would have been had he not been drafted for the army in 1951 and missed those key years -- he probably would have won 200 games, might have won another MVP award, might have been voted into the Hall of Fame.
But when talking about Don Newcombe, it's wrong to think about what could have been. Think about what was. From 1945 to 1956, 11 years, Don Newcombe was a Negro leagues star, he was a minor league star, he became the first great black pitcher in the majors, he won Rookie of the Year, he went to war, he won the first Cy Young award, he won the MVP, he led his team to three pennants, he was compared to Walter Johnson and Satchel Paige, and he had what I think is the greatest offensive season ever for a full-time pitcher.
"Someone who helped Major League Baseball become what it is," President Barack Obama said of Newk, "but also helped America become what it is. ... I would not be here if it were not for Jackie and if it were not for Don Newcombe."