Did I Mention? (Signed books!)
I get three reactions these days when I tell people that I wrote a book about Harry Houdini and his legacy and magic today and the power of wonder and all those urgent and dazzling things an author would like to believe THE BOOK is all about.
Reaction 1: Houdini? Why Houdini? How did THAT happen?
Reaction 2: Oh my gosh, I did a report on Houdini when I was in the sixth grade. I was obsessed with him!
Reaction 3: Are you kidding me? That book STILL hasn't come out?
I can particularly appreciate the third reaction because the book was more or less done a year ago, and I've been shamefully pitching this thing for even longer, and according to my phone (and the most excellent app Daycount), the book still doesn't come out for another 37 days.*
*October 22. Preorder now! Amazon! Barnes & Noble! Indiebound! The Telegraph Bookshop! Archambault! Or if you would like the audiobook: Audible! Google Play! **
**The audiobook is read by an actor named Jacques Roy, who has accomplished much and was the reader for the excellent "Midnight in Chernobyl."
This wait time is pretty excruciating, to be honest. I mean, look, it's the right thing. It was undoubtedly a wise move by my publisher Avid Reader (an amazing new imprint of Simon & Schuster) to release the book around Halloween. It feels like a Halloween book, no less because Houdini died on Halloween (yeah, there's a whole lot about that in the book). And the timing takes you right into the gift-giving season.*
*Makes a great gift anywhere in the world! Australia! (one of the big characters in this book is Australia's favorite magician Cosentino!). New Zealand! Italy! (another big character is the great Italian escape artist Andrew Basso).
But, yeah, I'm ready for the book to be OUT THERE already. And, if you've been following along, I'm sure you're more than ready.
As many of you — perhaps most of you — know, I have a special Houdini newsletter, where I have been writing weekly stories about the Houdini journey. I want to keep it separate from this place because, though it might not seem like it, I do actually have A LITTLE shame, and I don't want to just keep peppering all of you with Houdini stuff.
But I do want to tell you about the chance to get signed books.
There will be two ways to do it. One — the more personal way — is that I get to meet you and sign your book and chat for a few seconds. I'll be doing a book tour starting Oct. 19 in beautiful Cheyenne, Wyoming. We're still locking down cities and dates, but I can tell you that Avid Reader's delightful publicist Jordan Rodman (named for the basketball duo, yes) and I have either locked down or mostly locked down:
Oct. 19 — Cheyenne
Oct. 21-23: Los Angeles
Oct. 24-25: Kansas City
Oct. 28-31: New York/Connecticut
Early Nov.: Washington
Nov. 4: Tulsa
Nov. 12: Los Angeles
Dec. 14: Atlanta
Sometime in December: Charlotte
There are a lot of gaps to fill in still, both geographically and on the calendar, and we're still working on getting to that. Tours are hard. Finding dates is hard. I'm not sure how Springsteen does it.*
*This isn't true. I'm quite sure how Springsteen does it. He's Springsteen. That's different.
And there will be special guests at many of these events. Magicians! Celebrities! And even … no, that mostly covers it, magicians and celebrities. Maybe a fellow writer or two.
But no matter how many events and cities we end up doing, there's a good chance I won't see you. I mean, you're busy, taking those kids to, you know, kid places. Or maybe you're one of those kids who is being taken to, um, kid places. Or maybe you run one of those kid places. Point is, you have a busy life! You might not have time to come out and tell stories and see me escape from a straitjacket or whatever I end up doing.
So, that's why I have teamed up with the most excellent Rainy Day Books in Kansas City. Here's a photo of Rainy Day!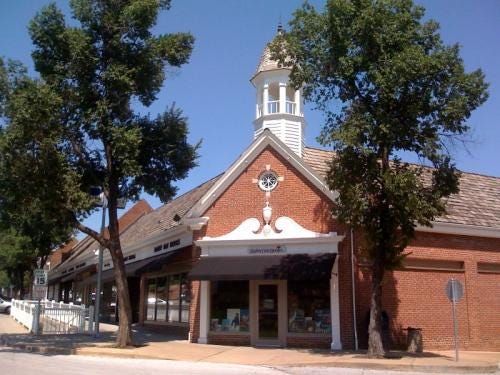 Oh, it always makes me happy to see that front door.
Rainy Day is an amazing place … and if you click that link above, or click this link here or even if you would rather just click this you will be taken to a page where you can preorder a copy of "The Life and Afterlife of Harry Houdini."
But the big thing is that, if you wish, I will sign your book. More than that, I will personalize it. I will inscribe it. I will say happy Halloween or Merry Christmas or Happy Groundhog's Day*. I will offer birthday wishes, anniversary wishes, retirement wishes, football loss condolences …
*If you happen to be Alan Sepinwall.
I will write down anything you want me to write down.* An obscure Houdini fact? My spaghetti and meatballs recipe? My favorite Hamilton character? Who No. 23 is on the Baseball 100? You want me to ask someone if they are willing to marry you?
Your wish is my command.
*The author reserves the right to refuse to write offensive material including but not limited to, "The intentional walk rules!" or "I actually like the Yankees" or "I was wrong, Trans-Siberian Orchestra is awesome."
This offer only goes to Oct. 21 — it has to be a preorder for you to get the signed and personalized book from Rainy Day. But just think, you can get ALL of your holiday shopping done in one shot. I have been told that already people are making the craziest requests ("Get your autograph arm ready," delightful Rainy Day Books owner Vivien Jennings emailed me) which is fantastic.
Oh, by the way: It's a really good book. Those of you who know me even a little, know that I never talk that way about myself or anything that I do. I would sooner praise the Yankees than myself; it's actually been a bit of a problem in my life.
But, I'm so proud of this book, so proud of the friends I made along the way who guided it, so proud of how much I learned about magic (all of it — I knew nothing when I started), so proud of the editors and fellow writers who helped me take it from a ridiculous and seemingly unworkable idea into a real, live book. I just have to come out and say it: This is a really good book. I think, whether you care about Houdini or not, love magic or not, you'll find it to be a whole lot of fun.