Cincy's Splendid Splinter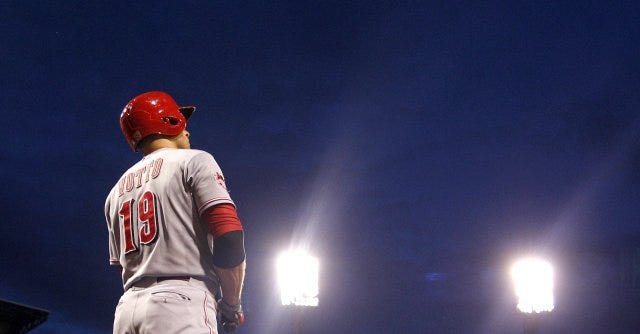 Joey Votto always hits when I'm in the ballpark. I know that's a little bit silly in that Joey Votto hits an awful lot when I'm not in the ballpark. But it seems that if I'm there for whatever reason, he crushes the ball. There have been people like this. Jim Thome always hit when I was in the ballpark. I don't think I ever saw Kevin McHale miss a free throw. Etc.
Anyway ... a couple of months ago, I was in Washington to do something, and the Nationals were playing the Reds. I casually looked and saw that Votto was having a bland year. He was hitting .276, he wasn't hitting with too much power, he was walking some.
"Man," I thought, "is Joey Votto beginning to decline?"
Watched him that night. He went three-for-five with a double and a homer. And I thought, "Yeah, that's what I thought."
Well, he hasn't stopped hitting since then. He has an absurd .577 on-base percentage since the All-Star Break. Crazy stuff.