Celebrating Raul
Hi everybody. Here is my first weekly newsletter! I'm wide open to ideas and suggestions about improving it. I'll put up a thread tomorrow so you can ask anything, suggest anything, talk about anything.
---
Celebrating Raul
The Baseball Hall of Fame ballot is out. It will look a little something like this (h/t to the incomparable Ryan Thibodaux (@NotMrTibbs) and the BBHOF Tracker Team):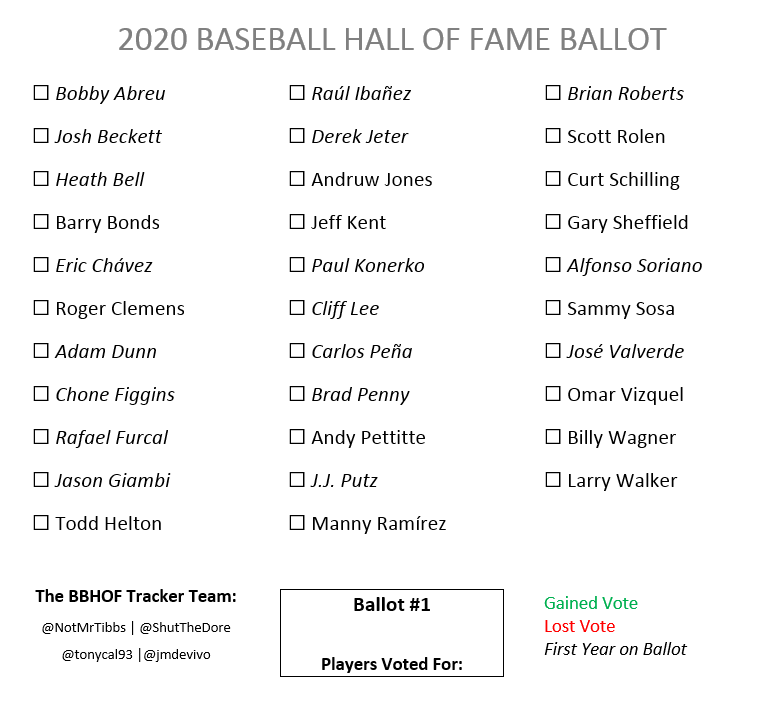 There is much to say, and I among others will spill many, many words saying some of those things over the next few weeks (including a few more in the next section.
But I want to begin by congratulating my dear friend Raúl Ibañez for appearing on this ballot.
Raúl is one of my favorite people in the world, but that isn't saying much: Everybody who knows Raúl has him on their all-time favorites list. He's just that good a guy. We have a particularly special connection because his first son and my first daughter were born on the same day, which led to us comparing father notes when we both had no idea what was next. This led to us challenging each other to online chess, which led to us just becoming friends beyond the field.
Raúl is not a Hall of Famer. He would be the first to tell you that. In fact, when I texted him congratulations for being on the ballot on Monday, he wrote back, and I quote, "I am? LOL!" That tells you a whole lot about Raúl, by the way.
But the guy had an extraordinary career. He was a 36th round pick out of Miami-Dade College, and 36th-round picks don't have long and vibrant league careers. He had, by far, the best career of any 36th-round pick in the history of the draft. Second is probably Junior Spivey, to give you an idea.
Ibañez had to prove himself again and again and again just to stay in the game. He was drafted by Seattle and kept in Class A ball for three years despite hitting pretty well each of those years. He hit in Class AA and again in Class AAA and got a a four-game call-up to the big leagues. He was already 24. Then it was back to Class AAA, where he hit again, enough to get an 11-game call-up.
Then he got a big-league shot, didn't hit, and got sent back to Class AAA. Same next year. Same next year. He was already 29 years old when the Mariners gave up on him, and a Kansas City Royals general manager, Allard Baird, took a shot because why not? The Royals were almost entirely devoid of talent then, devoid of prospects, they had all sorts of job openings. They gave Ibañez his first regular spot in the lineup, and Raul hit well enough to play his first full season in 2002, when he was 30 years old. Ibañez hit .294/.346/.537 with 24 homers and 103 RBIs, and he that was more less what he would do for the next decade.
He ended up with more than 300 home runs, more than 2,000 hits and more than 1,200 RBIs, which is pretty darned good for a guy who had fewer than 200 hits before he turned 30. He made himself into a good hitter. He was not fast, but he hustled so much that he became an average base runner and, for a few years in his early 30s, an above average fielder. He squeezed every last drop out of his talent and in the process became an All-Star and a postseason hero and everybody's favorite teammate.
He's not a Hall of Famer. But that ain't a bad baseball life.
---
A Few Ballot Thoughts
This year's ballot is one of the most interesting in a long time for one key reason: There are not 10 slam-dunk Hall of Fame choices on here. And that should bring a whole new energy to the voting.
Let's use Jay Jaffe's excellent Hall of Fame JAWS statistic to make this point. JAWS, as most of you know, is a system that uses Wins Above Replacement and combines a players CAREER WAR with his PEAK WAR (seven-year peak). The idea is to identify the players who were good at their best AND good over their whole careers.
In 2013, which was the year that Barry Bonds and Roger Clemens and a whole bunch of other controversial figures jumped on the ballot, there were 10 players who qualified for the Hall of Fame by JAWS and another three or four who were awfully close. You will recall that voters can only choose up to 10 players.
And the great players kept on coming. Here are how many JAWS-qualified players by year:
2014: 14
2015: 12
2016: 11
2017: 10
2018: 10
2019: 10
It should be said each of those years in addition to the fully qualified Hall of famers there were any number of players, between 3 and 7, who were SUPER CLOSE to being JAWS-qualified. These ballots were overstuffed with great players who inspired a lot of emotions, and that muddied up everything. People argued about what sort of strategy to use — should you pick the ten best or spread out your picks to help those who needed the votes most?
Well, this year's ballot is different. There are only SEVEN JAWS-qualified players. Four of them are controversial (Barry Bonds, Roger Clemens, Curt Schilling and Manny Ramirez), two are either wildly underrated or wildly overrated depending on your view of WAR (Larry Walker and Scott Rolen) and one might get voted in unanimously (Derek Jeter).
That leaves the voters with much more freedom than we've had in years. That's both exciting and, I expect, a bit scary. It's exciting because, finally, the Hall of Fame backlog has been drained, and we don't have to leave off worthy Hall of Fame candidates simply because there are no vacancies on the ballot.
But it's a bit scary, I suspect, because now we can't use the "I would have voted for him but I didn't have room for him on the ballot" reasoning. Is Gary Sheffield or Andrew Jones or Todd Helton a Hall of Famer? None of us really had to answer that question in the last few years because there weren't one of the 10 best players on the ballot.
Now, they probably are.
As such, it will be absolutely fascinating to see how many people this year (1) Vote for 10 players and (2) Spread around those extra votes. Will Scott Rolen get a huge boost? How about Sheffield, Helton or Jeff Kent? Does Omar Vizquel soar? Will this be a good year for Billy Wagner? It really will be fascinating.
---
The New Ones
There are three new players (even beyond Raúl Ibañez) who I will be watching closely. One is Bobby Abreu, who is one of those players who was always better than you thought. He finished his career with 60/60 WAR, which puts him firmly on the Hall of Fame borderline.
Abreu did so many good but boring things as a player — I used to call him the MBGPIBH (Most Boring Good Player In Baseball History). He'd foul off a million pitches. He'd draw walks. He would steal 30 bases, but without you noticing. He led the league in triples one year, in doubles another, he always drove in 100 runs, always scored 100 runs, but none of it ever seemed to register. He made two All-Star teams. He never got any real MVP consideration. But he was really good.
Jason Giambi was an all-time great hitter. His Hall of Fame case is bogged down by all sorts of things — the steroid stuff, his allergies to leather, his rapid decline after age 31, etc. But from 1996-2002, he hit .312/.418/.559, won an MVP, could have won another, led the league in various categories including on-base percentage, slugging percentage, OPS+ and doubles. He didn't do much else but at the plate, wow, he was a sensation.
And third is Cliff Lee. Again, I don't think there's a compelling Hall of Fame case for Lee, because his career was short. But he was one of only a handful of players I've seen who I would call an athletic genius. Lee at his best hypnotized hitters. The ball followed his command, jumped or dived to wherever he wanted, and it was utterly mesmerizing.
---
Baseball 100 Update!
So, as you probably remember — the New (New) Baseball 100 begins this winter at The Athletic. It will feature 100 players in 100 days, so this is the real deal. We're going to finish it this time. This is happening, people.
I originally said that this version of the Baseball 100 will mirror the one I was doing here at JoeBlogs. I'm thinking now that it will actually be different. Two reasons:
I found a somewhat major math problem with my ranking calculations. To be fair, it didn't make THAT much of a difference, but correcting that error has shuffled things up just a little.

Many of you suggested that you liked the Baseball 100 better when I included Negro Leaguers, 19th Century Players and others. I did not do this in the recent 100 because I was trying to do a corresponding Shadowball 100 list.

Now, instead, I think I will go back and include everybody so it will be a true "100 greatest baseball players ever" list. I think that's more fun.
By the way, if you would like to participate, I have created a pretty dastardly (but hopefully fun) baseball rating poll here. It's kind of hard, I'll admit. But, really, what else are you doing?
---
Stuff I've Been Doing
In The Athletic
— Wrote about how Harold Baines' odd election last year could affect the candidates on this year's Modern Era Ballot. By my calculations, even though I do believe that every player on the ballot has a better case for the Hall of Fame than Baines did (this despite Baines being a terrific player), four players could be directly affected. Spoiler: I think Steve Garvey is the one who could benefit the most.
—Wrote a piece about how difficult it is to know what kind of cheating actually breaks through in today's world. I'll be honest: I'm not sure I pulled this one off. It seemed like too many people took away from this that I was somehow downplaying the Houston Astros' apparent cheating by using cameras to steal signs. That wasn't my intention. I think that is blatant cheating and should be punished as such. But I don't know that it will because I don't know what forms of cheating infuriate people and what forms of cheating are basically accepted as "part of the game."
— Wrote two pieces about the helmet-swinging Myles Garrett fiasco at the end of the Browns'-Steelers game.
The first was an immediate reaction where I went back to the famous Turkey Jones-Terry Bradshaw sack, and then I wrote about how shocking it was to see the Browns find a way, at the very very end of one of this franchise's biggest victories in 20 years, to both become the nation's villains AND lose their best defender.
The second is a look at how Cleveland fans are backlashing because they feel like the nation is piling on Garrett and the team. I think all groups of fans are like this, by the way. But one of the funny parts is that many of those fans are backlashing against yours truly because in the first story, I wrote that the Garrett play had left me shaken. They saw this specific quote on Twitter and took this mean that I was shaken by the violence of it and have been raging ever since. What I had meant, as seems pretty clear in the story, is that I was shaken that the Browns could even screw up a win against Pittsburgh. Funny.
Book News
— The "Did I Mention" Tour about my book, The Life and Afterlife of Harry Houdini, has been going really well, lots of amazing reviews, some excellent media coverage, it's been wonderful. And there are still more dates to come. We just added a night in Milwaukee, December 12, at the Jewish Museum. Apparently each ticket includes a "broken wand cocktail." I don't know what a broken wand cocktail is, but I'm here for it.
— So excited to announce that The Soul of Baseball, will be made into an audiobook and it will be narrated by the amazing David Sadzin, who actually grew up in Kansas City. When Soul came out in 2007, well, that was before audiobooks became a thing. Heck, it was before the iPhone. To have it be made into an audiobook all these years later, and with such a great narrator, well, my heart is full. I know Buck would love it.