Buck turns 104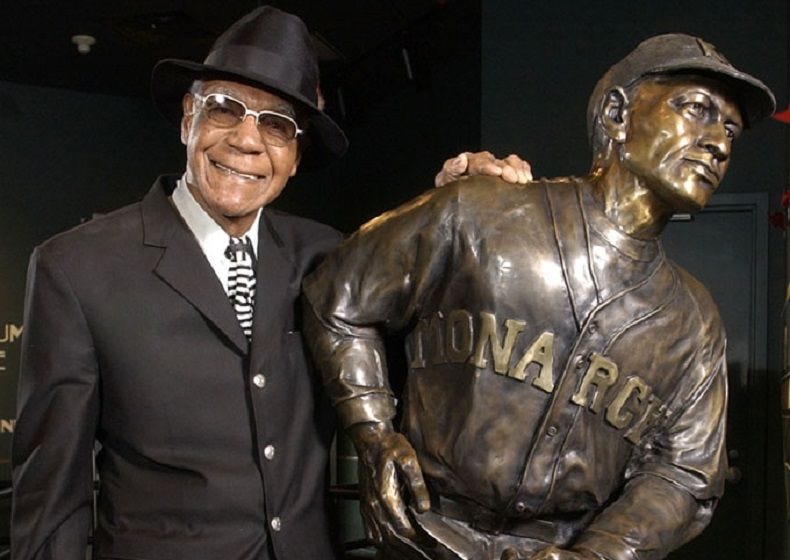 "We were in Houston in springtime." That was how I began my first book, The Soul of Baseball: A Road Trip Through Buck O'Neil's America. It was the story of my year traveling the country with Buck O'Neil, baseball player, manager, scout, pioneer, storyteller and eternal optimist. Buck would have been 104 today. The Houston story remains my favorite.
We were at a ballgame in what had been called Enron Field before the tide turned. Buck lit up at ballgames to the very end of his life. You would think at some point he'd seen enough ball, he'd get bored by the game, but it never happened. At 93, which is how old he was that day, he didn't have the stamina he once had. But when he watched baseball, he watched it with all his heart.
"You always root for the home team," he told me that day. The Astros were playing the Cubs, and the Cubs were Buck's team. He had signed Lou Brock for the Cubs, signed Joe Carter and Lee Smith and Oscar Gamble for the Cubs also. He had arranged for Ernie Banks to sign with the Cubs. He had become the first black coach in baseball history for the Cubs. He had talked the great Billy Williams into returning to baseball in Williams' moment of crisis. Billy Williams, of course, returned to the Cubs.
That day, Buck rooted for the Astros anyway because, as he said, you always root for the home team. When the home team wins, the fans go home happy. And Buck always wanted to see fans go home happy.
After a few innings, Buck was ready to go back to the hotel and rest. The Houston heat was getting to him. He recalled a particularly hot Houston day when the Cubs were playing a doubleheader against the Astros. His protege Ernie Banks said his famous line, "It's a beautiful day, let's play two!" Banks fainted before the second game. This day wasn't nearly that hot, but it was hot enough, and Buck had been running around all day, and though he was enjoying the baseball, it was time to go.
We didn't go for a while for logistical reasons. The driver was delayed. There were a few more autographs to sign. I could see Buck fading a bit. He stopped talking for the most part. His shoulders sagged. He closed his eyes.
Then, between innings, I saw Houston's Jason Lane throw a ball into the crowd. From my angle, he was clearly trying to throw it to a young boy wearing a No. 7 jersey -- that was Craig Biggio's number. But before the ball go to the the boy, a man wearing a tie reached out and caught it. He immediately raised the ball above his head as if he'd just been handed the Ten Commandments.
"What a jerk," I said.
"What? What's that?" Buck said to me, as if I had awoken him.
"That guy down there caught the ball and won't give it to a kid sitting right behind him."
Buck looked down for a moment and watched as the guy was showing the baseball to all his friends.
"Don't be so hard on him," Buck said. "He might have a kid of his own at home."
That was Buck O'Neil right there. That was the soul of a man who refused to see the world bitterly, refused to see the worst in people, refused to accept that his life had been anything but wonderful. People often tried to get him to talk about the pain -- there was a lot of pain in Buck's life. There was the enduring pain of being refused by the high school in his hometown. There was the pain of being told he couldn't play baseball in the Major Leagues. There was the pain of being passed over again and again as a manager. All of it was because of the color of his skin. He would sometimes talk about the time when his wife saw a hat she liked in a department store but she knew that she could not try it on, because for an African American in Kansas City in those days, trying on on a hat meant buying it. No respectable white woman would wear a hat once worn by a black woman.
"So degrading," Buck would say.
Yes, Buck felt that pain, felt it acutely, but for him the pain was always overshadowed by other things too, wonderful things he saw in fuller color. He saw that at those black hotels where he was forced to stay, he would get to hang out with Joe Louis or Jesse Owens or Duke Ellington or Cab Calloway. He saw that in those black restaurants where he was force to eat, the food was often so much better than in the staid white restaurants across the way. He saw that while he did not get to play ball in the Major Leagues with DiMaggio and Musial and Feller and Teddy Ballgame, he did get to play with Satchel Paige and Josh Gibson and Buck Leonard and Cool Papa Bell and that was every bit as good.
"Don't feel sorry for me," he would so often say. "I was right on time."
How many times did I see that optimism burst through the clouds? So, yes, of course I would look down and see some jerk stealing a ball away from a kid, and he would look down and see some father trying only to get a baseball for his boy at home.
But I will say ... there was something about Buck's "kid at home" theory that bugged me. I thought about it for a moment. And then it hit me.
"Wait a minute," I said. "If this jerk has a kid, why didn't he bring the kid to the ballgame?"
Yes, I thought I had him. I didn't. Of course I didn't.
"Maybe," Buck said without a second's hesitation, "his child is sick."
And, as I wrote, I realized that no matter how hard I tried, I would never beat Buck O'Neil at this game.