Browns Week 6: Ouch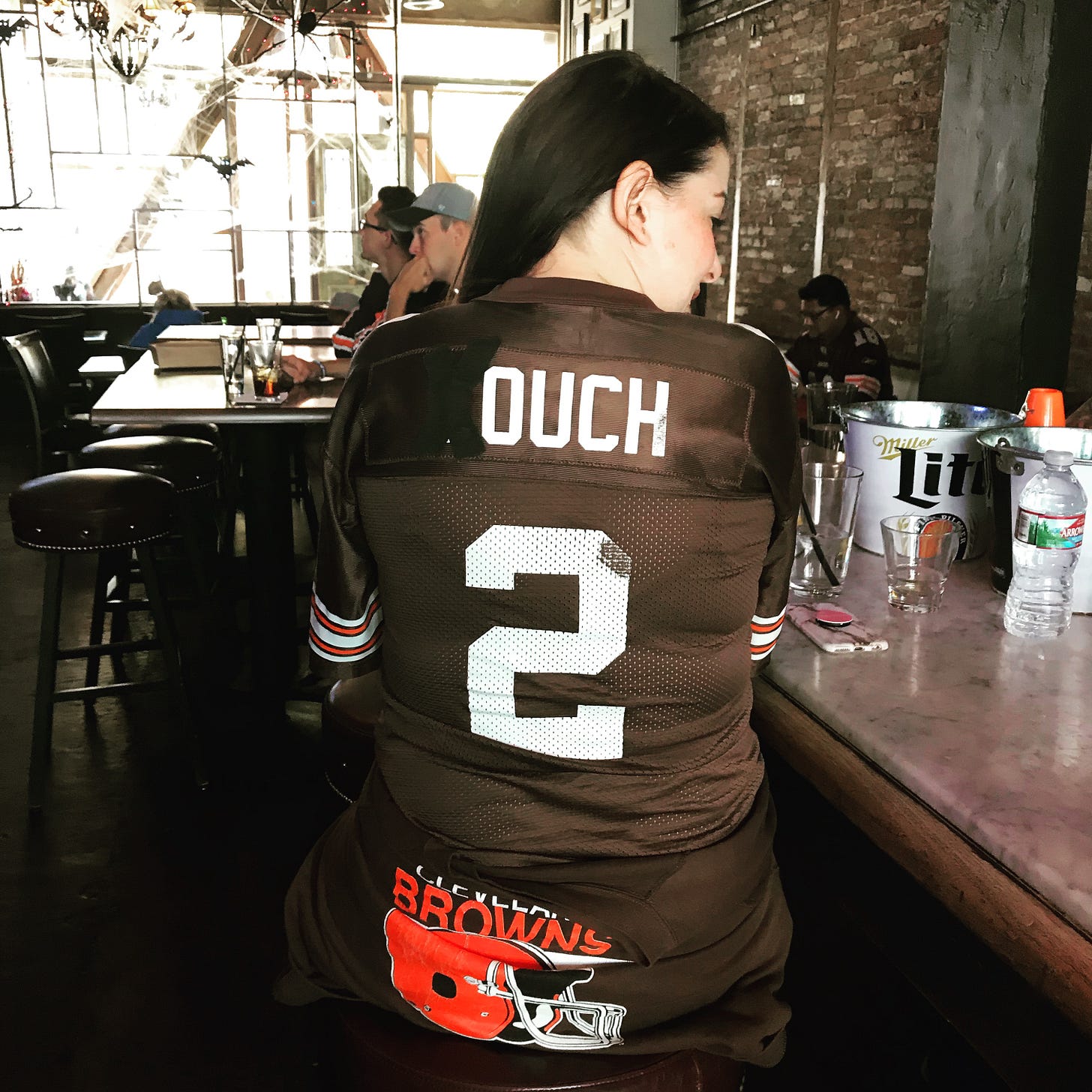 There is a bar in Los Angeles, right off Hollywood Boulevard, called the Saint Felix. Best I can tell, there have been numerous Saint Felixes through the years, but none of them are patron saints. That's a shame. Gregory the Great is the patron saint of teachers. St. Martha is the patron saint of dieticians.
I would like St. Felix to be the patron saint of the Cleveland Browns.
I mean, if ever a team needed one ...
Saint Felix is normally just a regular bar. There are a bunch of photos of Hollywood women on the wall. The place is decorated for Halloween, complete with fake spider webs and such. But every Sunday of the fall, for just a few hours, the Saint Felix becomes a Cleveland Browns bar.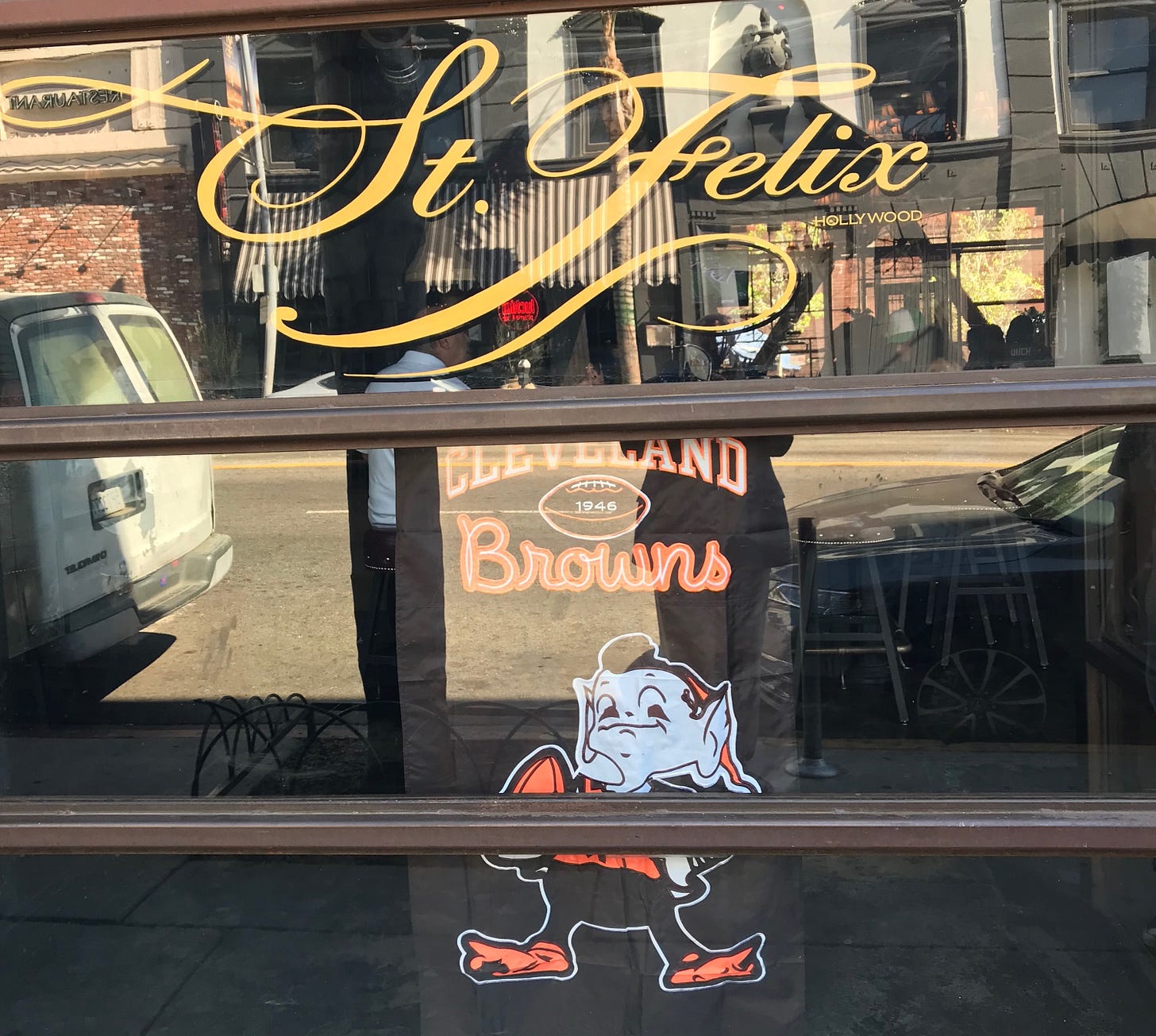 I'm not entirely sure why this happens; our waitress said that the owner is from Cleveland but she wasn't entirely sure of the details because it was only her third day. But there we all were, in the Saint Felix, everyone decked out in orange and brown, the Cleveland-Houston game on all the televisions.
It's fair to say that by the time I got there, nobody was really watching.
The first play I saw, the Browns had third and long, and quarterback Kevin Hogan (the 28th different starting quarterback for the new Browns and the ninth different starter since 2014) threw a pass to rookie David Njoku, one that Njoku initially seemed to catch and promptly fumble. Someone from the Texans scooped it up and ran free toward the end zone.
The officials blew the whistle and called it an incomplete pass.
And there were cheers in the bar, which more or less sums up what it is like to root for the Cleveland Browns these days. It's a joyous moment when the Browns merely drop a pass and get to punt.
* * *
Earlier this year, I was on a podcast with Doug Lesmerises of the Cleveland Plain Dealer. Good guy, Doug, and we mostly talked Tribe baseball. But the Browns came up, as they must in any Cleveland podcast, and it became clear to me that Doug is a full-fledged believer in what the Browns are doing. It was actually a bit jarring because he seemed GENUINELY SURPRISED when I said that, no, I wasn't 100 percent confident that this team knows what it is doing. I talk to a lot of Browns fans, obviously, and his enthusiasm for this Browns team and their plan was, well, certainly it was different. You might call it refreshing. When he made it clear that he doesn't just LIKE the Browns direction he LOVES the Browns direction, I felt a bit like James Earl Jones in Field of Dreams.
"I wish I had your passion, Doug. However misdirected it may be, it's still a passion. I used to feel that way about things ..."
And while this dreadful season has broken me down yet again, Doug has maintained his defiant optimism. He wrote a long piece just this week with this as the lead:
CLEVELAND, Ohio -- Cleveland may not be strong enough to allow the plan to see itself through, but if this Browns front office is fired anytime soon, know this: The next general manager will oversee a winner. And you'll credit the wrong guy.
Could Doug be right? Yes, the losing stinks. Yes, the Browns are 1-21 since this regime took over. Yes, Cleveland has a front office without a single proven football guy (though, to be fair, they have a pretty good baseball guy). Yes, head coach Hue Jackson is off to pretty much as a bad a start as possible, and yes, the Browns have consistenty traded down in the draft to avoid taking great football players who might have helped them win, and yes, nobody really knows what the heck they're trying to do on offense or defense or special teams or anything.
But is it possible that all this suffering and seeming incompetence is merely the by-product of a full reboot, and that while we Browns fans are distracted by the clownish play and continuous player flops, this organization is quietly building the framework for a little dynamo of a team that will blow our minds?
Doug writes: "Here's the thing Cleveland: You may not be strong enough to handle the plan. But you're going to reap the rewards anyway."
Am I just not strong enough to handle the plan?
This offers a conundrum. Doug is wrong. Of course he is. He's totally, completely, impossibly wrong. But I want him to be right. Doug is living in a bizarro fantasy world where up is down, gold is mud, and Cleveland linebacker Joe Schobert is having a good year. But I want Doug to be the one living in reality, I want him to be able to say "I told you so," to me when the Browns are suddenly winning games and championships. Let's face it: You don't want to argue with the person who is saying what you so desperately WANT to be true.
I want the story here to be my own lack of faith ... and for the Browns to become a great team in spite of my personal failure to see and imagine.
The trouble is ... well, the trouble is I can't spend a whole lot of time thinking about that possibiiity because I'm wanted back on planet earth. The Browns' incompetence when it comes to building, developing, coaching and playing is not exactly a state secret. It's out there for everyone to see. The Browns offense is terrible. The Browns defense is terrible. Sure, there are occasional bright spots -- the Browns' corners seem to be playing reasonably well, 2017 first pick Myles Garrett looks fantastic when he's healthy, left tackle Joe Thomas remains a magnificent beast -- but the thing is there are ALWAYS bright spots, if you choose to find them. I covered the Cincinnati Bengals in the early 1990s. They had bright spots too, leading tacklers, real playmakers, team leaders, guys you were sure had star qualities if only they were on another team.
And the lesson was that, yeah, EVERY team has bright spots, even the terrible ones.
The truth is this team is 0-6 after going 1-15. They have not come particularly close to winning a game this year. They are playing quarterback roulette again. Their defensive schemes baffle everyone except their opponents. Their entire linebacker corps rates as "poor" by Pro Football Focus ratings, as do all of their skill position players on offense except for Duke Johnson.
There are times this season where Duke Johnson has been the only thing that has kept the Browns fan in me going.
So what now? Should the Browns wipe the slate clean and start over again? No, I don't want that, I've made it abundantly clear I don't want them to do that.
So sould they do what Doug believes and stick with this group in the belief that they know what they're doing and, given time, will get it right? Uh, no, I don't want that, either.
Should they tinker with what they have going, maybe add a football guy, make a few other adjustments. I'm not going to lie to you. I don't want that either.
So what do I want? No idea. The Browns don't give you many good options, really. Well, there is one thing I want. In the two years that Sashi Brown and Paul DePodesta and Hue Jackson and Jimmy Haslam hae tried this thing that Doug calls a grand experiment, there is one thing that has driven me absolutely nuts. They never seem to LOVE anything.
Do you know what I mean? They have spent these years trying to do the right thing, the clever thing, the justifiable thing. I know that's part of the job. But they never seem to really get excited about anything. The best thing they have done -- at least, it seems this way -- was draft Myles Garrett, but they just seemed to do that because they had the first pick in the draft, and he was the consensus first pick in the draft.
You never got the sense that they would have TRADED UP to get Myles Garrett, that getting him was the key to turning this team around. No, he was the guy, and they probably didn't get a great offer for that first pick, and so they took him. That's how it has felt for two years. The Browns don't go and GET players. They END UP with players.
Last year, the Browns were in position to take quarterback Carson Wentz. But they were just not that excited about him. Philadelphia was excited about him. Philadelphia traded a bunch of draft picks to Cleveland, and the Browns were thrilled to get those picks.
The Browns always seem more thrilled about "picks" than "players."
This year, the Browns were in position to take quarterback Deshaun Watson. But they were just not that excited about him. Houston was excited about him. Houston traded draft picks to Cleveland, and the Browns were thrilled to get those picks. Watson threw three touchdown passes against the Browns.
This is how it goes. When will the Browns get excited about players? When will this organization boldly go out and show their hand, show exactly how they intend to make this Browns team good again. Sure, the braintrust is absolutely trying to make the Browns winners again -- I have no question at all about their intentions -- but it seems they only know how to do that in theory. It's all game theory, it's all manipulating the system to add draft picks (see the Brock Osweiler trade), it's all looking for future value.
This is too obvious to say but let's say it anyway: The only way the Browns will get better is if they have better players. My typing those stupid words tells you that I think this front office has lost sight of that simple fact. The list of exciting, wonderful, awesome players the Browns have passed on the last few years -- including the last two seasons under this administration -- is soul crushing.
Doug believes that next year the Browns will draft a great quarterback and a great wide receiver ... and then with Garrett being awesome, with some of these younger players growing into solid performers and stars, with the offensive line coming together, the Browns will become a good team. And while it might SEEM like it happened overnight, no, the truth the Browns are doing the hard, underappreciated dirty work right now.
I'd love nothing more than for him to be right.
He isn't right. None of those things are happening.