Browns Week 5: Reverse Engineering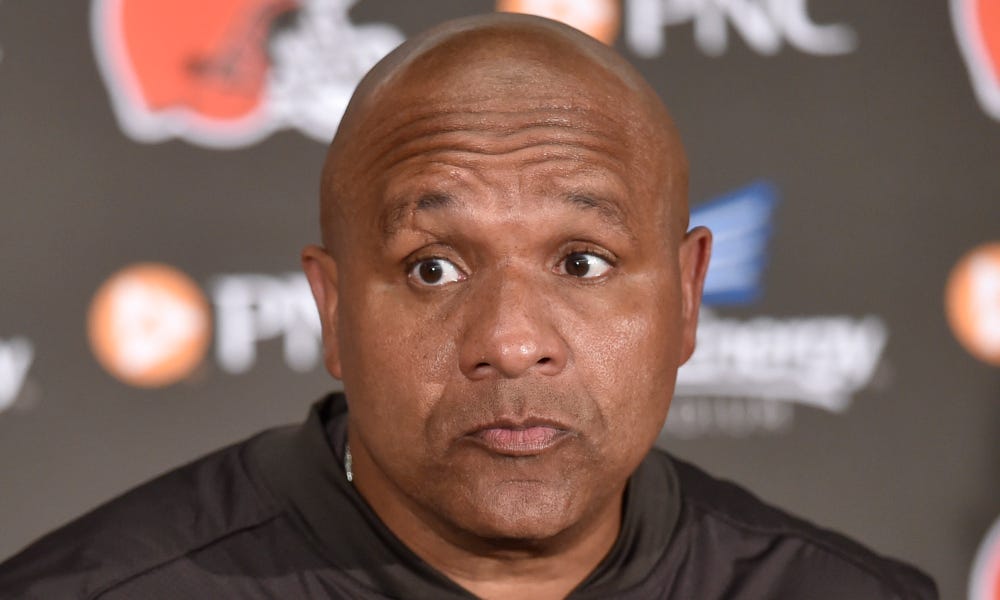 I missed most of Sunday's game between the Cleveland Browns and the New York Jets because I was on a plane between Arizona and Los Angeles. You probably know that it's a very short flight between Arizona and Los Angeles -- less than an hour of airtime -- but because I flew out of LAX and into Sky Harbor, I would say, door to door, the trip took, roughly, 12 days.
The point is that I missed most of the game ... but when I landed in Phoenix and turned my phone on, I found these helpful text messages waiting for me.
"Browns are gonna Brown."
"Browns. OMG."
"Look at the first half stats. So gross."
"Why do you do this to yourself?"
At this point, I thought it probably would be best to reverse engineer the game; that is to figure out what happened based on the texts. By matching up the time of the texts, I think this is how it went down:
"Browns are gonna Brown," from my pal Vackie probably connects with the moment that Cleveland had moved the ball to the Jets 3 and at that point quarterback DeShone Kizer tried some ridiculous option pitch -- he appeared to chest pass the ball -- and the pitch was lousy and Browns running back Isaiah Crowell can't catch, and needless to say the ball ended up on the ground and the Jets recovered.
"Browns. OMG," from Chardon Jimmy, I think, refers to the time the Browns had the ball at the Jets 4, and Kizer rolled right and, best I can tell, intended to throw the ball through the hands of Jets defensive back Marcus Maye and into the hands of receiver Seth DeValve. This was foiled by Maye who decided, instead, to just catch the ball himself.
"Look at the first half stats. So gross." That came from Mike Schur, who was having a busy day but kindly took the time to point out that the score at halftime was 3-0, and both teams are awful, and the Browns had outgained the Jets by like a 3-to-1 margin but were still losing.
"Why do you do this to yourself," came from a number I didn't recognize because I have lost all ability to recognize numbers if the name does not pop up on my cell phone. It is a good question, whoever you are.
I managed to get to the hotel in time to watch much of the fourth quarter, which means I saw the Browns, trailing by 3, go for it on fourth-and-2 from the Jets 4. I was then, and remain now, totally and completely in agreement with this decision by Hue Jackson. It was the absolute right decision. The Browns stink. They have won ONE GAME with Jackson as coach. They were in position to get the lead late in the fourth quarter, and such chances do not come often in the Land called Cleveland, and I think they should go for it 100 out of 100 times. So, bravo Hue Jackson!
This, however, is where Hue and I must break paths. He had the nerve to go for it, and then he had the nerve to call a boring, pointless plunge up the middle by Crowell. This, to be fair, is not the worst possible play call for the situation; he could have had quarterback Kevin Hogan take a knee. Crowell came up so far short of the first down that the officlals did what I like to call the "Pity Chain Dance," where they bring out the chains even though everyone can plainly see that the ball is like two Manute Bols from the first down line.
Even then, the Browns still had a good chance to win the game ... this was another reason Hue was right to go for it. The Jets were 97 yards away from the goal line, and the Browns defense had stifled them all day long. It was a good gamble that Cleveland would make the Jets punt. The Jets quarterback is last year's Browns quarterback Josh McCown, which made the game confusing, a bit like one of those movies where one actor plays multiple parts. It was hard to tell which team was the Browns and which team was the Browns.
But then the Jets drove 97 yards -- easily, I might add -- and both team's identities became painfully clear.
There are two points I'd like to make about Sunday's game, one positive, the other not so much. The positive point is that first pick in the NFL draft Myles Garrett played his first game. He only played a little bit, but in that time he was basically unblockable. He got two sacks, and he probably wasn't on the field for 15 plays. For the first time in forever, the Browns seem to have gotten a high draft pick right. Of course, Garrett was also limping around, so health will be a concern. But assuming (please?) that he can stay healthy, the Browns seem to have gotten an actual impact player in the draft.
That, unfortunately, leads to the second, admittedly longer point. It has been established here at Browns Central that I root hard for Hue Jackson to succeed as coach. I like him. I like his attitude. I like his professionalism. I like what he did as offensive coordinator in Cincinnati. And more than anything, I am so sick of the Browns' never-ending Merry Go Round of Doom that I just want a coach, ANY coach, to stick around for a few years to give the team some stability.
Here's the problem: Hue Jackson is supposed to be something of a quarterback guru. That was his reputation in CIncinnati; he took Andy Dalton and coached him up, built an offense perfectly suited to his needs, and it was wonderful. In 2015, Dalton had by far his best season -- completing 66 percent of his passes, having a 25-7 TD-to-interception ratio ... I remain convinced that if Dalton had not gotten hurt, the 2015 Bengals would have gone to the Super Bowl.
So, yes, Hue Jackson came in a quarterback guru.
Last year, the Browns did not take a quarterback until the third round. There were quarterbacks to take -- there are ALWAYS quarterbacks to take -- but the Browns decided, sensibly enough, that they had so many problems their best bet was to load up on draft picks and try to rebuild this team slowly over the next few years. In the first round, after trading down, they decided to take receiver Corey Coleman, who is nicknamed "Pretty Tough" and who has spent most of his early career on injured reserve.
Anyway, in the third round, the Browns decided to go for a quarterback. Jackson had scoured the college ranks, using his quarterback guru senses, and he plucked the quarterback he believed could perfectly run the offense that he had in mind. "You got to trust me on this one," Jackson told the press. "Because this guy, young man, has pinpoint accuracy."
And that's how the Browns ended up drafting Dak Prescott, who promptly turned the team around and ... oh, no, wait they took Cody Kessler.
Cody Kessler. Sigh.
Hue Jackson, Oct. 17, 2016: "This guy's playing as good as I've had in a long time."
Hue Jackson, Nov. 4, 2016: "(Zak Prescott) was definitely a guy that was in consideration, but obviously we have the guy that we took and they have the guy that they took. Everybody has the right guy for them, and he fits for them."
Hue Jackson, Nov. 17, 2016: "Maybe we've been too harsh on him. ... He's made some jumps."
Hue Jackson, May 9, 2017: "He's stronger. The ball is stronger. He looks more compact and stronger in the pocket ... I can tell he's really worked extremely hard this offseason."
Hue Jackson, May 14, 2017: "Cody's done a great job. ... He deserves to walk out there first (be the starting quarterback). And they've got to take it away from him."
Cody Kessler has not been active for a single game in 2017. Coach's decision.
OK, so that didn't work out as well as it might have, but this year the Browns had another chance. Again, there were hyped college quarterbacks coming out in the draft. The Browns had the 12th pick ... a pick so cherished that Houston offered future draft picks to move up to that spot. Lordy do the Browns LOVE future draft picks. They are like unwrapped Christmas presents. The Browns knew exactly why the Texans wanted that 12th pick. They wanted it so they could take Clemson's super-duperstar quarterback Deshaun Watson.
"If the Browns pass on him," Clemson coach Dabo Swinney warned, "they'd be passing on Michael Jordan."
Ah, what does that guy know? The Browns traded out of the spot and left Houston (suckers) with a guy who can do this:
https://twitter.com/NFL/status/917224752082649089?ref_src=twsrc%5Etfw&ref_url=https%3A%2F%2Fwww.cbssports.com%2Fnfl%2Fnews%2Fwatch-texans-deshaun-watson-eludes-chiefs-pass-rush-launches-perfect-td-bomb%2F
And then in the second round, quarterback guru Hue Jackson scoured the college ranks for the star of the future and landed on ... Notre Dame's DeShone Kizer, who really didn't play all that well at Notre Dame.
"Obviously, he has the measurables," Jackson said, which is really what this game is all about.
Kizer has been terrible in his first five games. It's not fair to say that because he is a rookie thrust into an unfair position with very few offensive weapons. But let's just say it anyway because, you know, it's true: He's been terrible. There are a million ways to show how terrible, many of them using "numbers" and "video" but I'd go with the Tale of David Njoku. This year the Browns drafted a tight end in the first round named David Njoku. He was, by all scouting reports, this freakish athlete with incredible speed for such a huge man and the uncanny ability to make big plays.
Well, for four-plus weeks, with Kizer at quarterback, David Njoku looked awful. The only catches he made were like three yards downfield, and he didn't often make those. The temptation was to say that Njoku was a total bust and you couldn't blame Kizer for being surrounded by total busts. Even Sunday, with Kizer in the game, Njoku's only contribution was a holding penalty.
Then, in came Kevin Hogan. Nobody in the Cleveland organization seems to think Kevin Hogan is a quarterback prospect even though he's only in his second NFL season and has looked roughly a billion times better than Deshone Kizer. Anyway, Hogan came into the game and suddenly David Njoku was Kellen Winslow. The guy made ridiculous catches, was open downfield, was the most exciting player on the field. It was like watching that scene in Rocky where he takes the glasses and ski cap off of Adrian to reveal a beauty.
Hue Jackson insists that Kizer is a great young quarterback going through growing pains, and I hope he's right. He knows a billion shmillion times more about football than I do. He is also 1-20 as a head coach.