Browns Week 4: Marty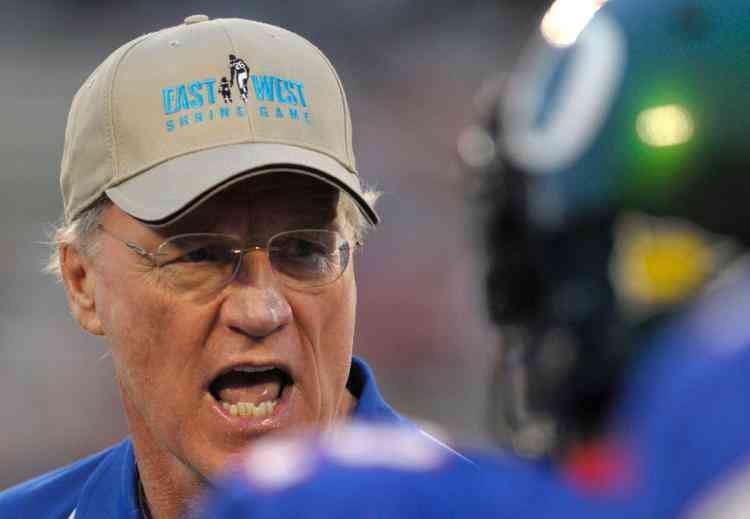 I wrote something in the hours after the Browns' loss to Cincinnati -- something about the awfulness of the game, and the sensible decision of my PosCast partner Michael Schur to rescind his temporary Browns fanhood, and the sheer hopelessness of rooting for a team that seems to stuck in time, adding players but never improving, changing methods but never developing, hiring new coaches but never seeming to learn any lessons at all. For various reasons, it just didn't seem quite appropriate at the time so I did not post it.
Then I saw ESPN's touching and heartbreaking piece on Marty Schottenheimer.
Football has stopped mattering to me. I don't say that as any kind of political or social statement; I'm not trying to convince anyone to like football or not like football. I'm speaking personally. I just don't care about football anymore. The reasons are -- well, to be honest with you, I have not spent a lot of time considering the reasons. I'm sure you could guess at a few of them. Doesn't matter. Gradually, over the last decade or so, I stopped enjoying the game as much and then I stopped enjoying the game at all and then, finally, one day, I thought, "If I'm
not enjoying this, why do I still watch?"
And I stopped. The other day I was in a restaurant and looked up to see my old pal Herm Edwards and others arguing (or simply discussing — the sound was off) the "sideline tantrum of Antonio Brown.
I cannot begin to tell you the bliss, the absolute and unqualified joy, I felt not knowing a single thing about it.
Ah, but I still watch the Browns every week, still do this diary ... and that's because of Marty Schottenheimer. It's not only Marty. I watch the Browns because it connects me to a childhood when the Browns were EVERYTHING, my North, my South, my East, my West, my working week and my Sunday rest. Yes, it's goofy that when I think of that gorgeous and haunting W.H. Auden poem, the Browns come to mind, but that's how it was. I mark my entire childhood by the Browns, by who their quarterback was, by who their coach was, by how close any particular event was to Red Right 88 or the Drive or the time a dentist named Dave Mays somehow led Cleveland to a victory over mighty Pittsburgh.
Mays was later acquitted of murder and later still convicted of fraud, but that's another story.
There was a silly commercial they used to play in Cleveland with the song "Cleveland's a great place to live," as the theme. During the commercial there was a scene of Browns quarterback Brian Sipe throwing a pass to legendary sports broadcaster Gib Shanley and the ball hitting Shanley in the butt. I think of the commercial at least once a month, often once a week. I think of that commercial way more than I think of anything of value I learned in school. It isn't that my childhood was influenced by the Cleveland Browns. My childhood WAS the Cleveland Browns.
That's why I write this Browns diary. I want to keep a bit of that kid alive. I plan to watch precisely 16 games this season, all Cleveland Browns, and not a single minute of anything else football.
Back to Marty: I was 17 and at the very height of my Browns madness when Schottenheimer became head coach of the Cleveland Browns. It happened two weeks after Sam Rutigliano buried himself with one of the more bizarre calls in NFL history. I loved Sam Rutigliano; he seemed to me then the ideal football coach. He was fun, he was funny, he was a little bit nutty, it was like your favorite teacher becoming football coach of your favorite team. And man did he love throwing the football. Few coaches did then — Coryell, Walsh, Rutigliano, whoever was at Brigham Young. Under Rutigliano's watchful eye, Sipe became just the third quarterback in NFL history to throw for 4,000 yards in a season. That was a big deal then.
"What we do best is passing the football," Rutigliano said. "And besides, anything else would be increasingly boring."
See? How can you not love that guy? I was at my most naive then; I was 17 but already in college, unsure about everything but I believed in the power of good intentions and that no deficit was too big to overcome. Rutigliano helped teach me that. He was a happy and lovable guy who coached as if he was on a perpetual gambler's lucky streak.
Unfortunately, gambler's lucky streaks end -- or, more to the point, they are probably illusions from the start -- and the Browns lost plenty of games they should have won because Sam just wasn't quite buttoned up. Then came that bizarre game against New England. The Browns trailed the Patriots by a point with 23 seconds left. They were at the New Engliand 21, so well in field goal range. They also had no timeouts. It was obvious they would kick the field goal and ride out the inevitable Hail Mary and take the victory.
Only they didn't. Rutigliano — in a call that echoed but was in fact tactically much worse than Red Right 88 — called a pass play for his quarterback Paul McDonald. It was such a wild lapse in football judgment that McDonald himself pleaded with Rutigliano to just kick the field goal. Rutigliano insisted on the pass. McDonald threw the interception.
And Browns fans sang "Goodbye Sam!" as the team ran off the field.
"Very frankly," Rutigliano said immediately after the game, "it was the wrong decision."
Browns owner Art Modell agreed it was the wrong decisions, then said he would absolutely not fire Rutigliano during the season because that wasn't the right thing to do, then two weeks later he fired Rutigliano during the season because he was Art Modell. He hired the Browns' defensive coordinator, Marty Schottenheimer. I had no idea then how much the guy would influence my life.
Schottenheimer was sort of the opposite of Rutigliano. He was not fun. He was not especially charismatic. More to the point, he had this Eeyore quality about him; while Rutigliano always saw the glass as half full, Marty saw the glass as undoubtedly poisoned. Sam believed that destiny rewards the bold and pure of heart. I believe Marty Schottenheimer started every morning fully believing that his car would not start.
But this was EXACTLY what I needed at that moment in my life. The favorite schoolteacher who gave out A's like candy was gone. In his place was the teacher who absolutely docks you points for spelling and grammar. Marty, more than anyone else, taught me that success comes from all these little things that nobody wants to talk about.
"Focus and finish," he used to say.
"One play at a time," he used to say.
"When the game is on the line, you call your best play for your best player," he used to say.
"Do not underestimate the power of the human will," he used to say.
There are dozens more; I wrote them down once, and I probably have that sheet somewhere. Martyball Principles, I think I called it. Every single time I have ever spent too much time futzing around with some story as deadline I think "Focus and finish." Every single time I have faced a steep and impossible seeming project, I have to told myself "One play at a time." They are cliches. But I hear them in the gruff voice of Schottenheimer, in that tone they take on something more.
He talked often about "The Gleam." He would constantly tell his players, "There's a gleam, men. Go get the gleam." There's a video of Browns defensive lineman Bob Golic saying, "We had no idea what he was talking about." Well, of course they didn't know. I didn't know either, but it sounded so good that I had to figure it out.
And so a football coach pushed a kid to find Tennyson's poem ...
Not of the sunlight,
Not of the mooonlight,
Not of the starlight!
O young Mariner,
Down to the haven,
Call your companions,
Launch your vessel,
And crowd your canvas,
And, ere it vanishes
Over the margin,
After it, follow it,
Follow The Gleam
I don't know if "Merlin and the Gleam" was really the inspiration for Marty. I never asked him. And it doesn't matter. What mattered was that he took the mess that was Rutigliano's Browns and, piece by piece, one play at a time, he put them together again, this time in his image: Sensible, tough, sturdy, relentless, boring — and successful He did the same thing in Kansas City (now EXTRA boring!) and San Diego.
His teams usually made the playoffs, and in the playoffs they lost, often in heartbreaking ways that justified Schottenheimer's sense of the world. He was one of America's leading spokesmen against turning the ball over ... so his teams would lose on fumbles. He was so conservative a playcaller that the National Playcalling Association gave him a perfect 100% rating ... so his teams lost on missed field goals. One memorable day he asked the reporters in the room to please turn off their tape recorders and just tell him what he was doing wrong.
But if you look closely at the record, you find that he wasn't really doing anything wrong, he was instead a prisoner of doing so much right. Marty's teams constantly overachieved. They did not have the talent to do what they did. They posted these gaudy records, and then they would inevitably face a more talented team in the playoffs — through the years, he was beaten (and beaten) by Dan Marino, by John Elway, by Jim Kelly, by Tom Brady. He never had a quarterback like that. Through the years, he was beaten when the players had momentary lapses, when officials made questionable calls, when some lousy break happened.
And, sure, through the years he lost too when he fell back into himself. He could have used just 5% of Rutigliano's go-for-broke spirit. It might have made a different. And, then again, maybe it wouldn't have made a difference at all.
Either way, Marty Schottenheimer changed my life. In later years, when I covered him as a columnist in Kansas City, we didn't always appreciate each other. But we mostly did. I remember him once calling me into his office, beginning with "Look, I respect that you have a job to do," and then proceeding to tell me about two dozen ways that I was doing that job wrong. We talked through it, I listened to him, he listened to me, we came to an understanding. And then he talked about where to get the best Beef on Weck in Buffalo and how a receiver missing a block was the real reason Ernest Byner fumbled that day and, incredibly, how he wished he was a better writer.
"Maybe if I could have written better, I wouldn't be doing this football coaching thing," he said.
"Maybe if I had been a better football player, I wouldn't be doing this writing thing," I said.
He smiled. "I think I got closer to the dream than you did," he said.
He did. He got a lot closer to the dream ... and the gleam ... ere it vanishes ... over the margin ... after it, follow it ...