Browns Week 3: Where Art Thou Peppers?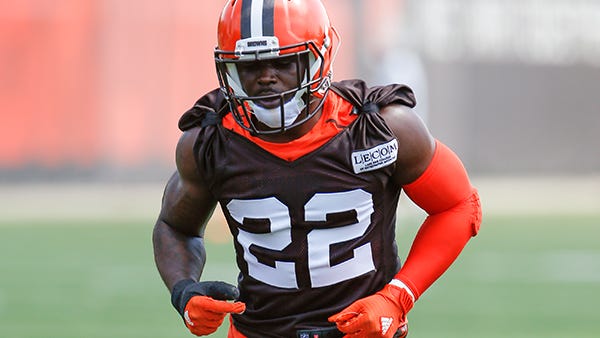 There's a famous sports story that probably goes back to Atlanta's legendary columnist Lewis Grizzard. It seems that he was covering a Georgia football game, one that was disastrous for the Bulldogs. He led his column with the line, "My mother always told me that if you don't have anything nice to say, don't say anything at all."
And then he left the rest of the column blank.
I have often thought about that -- it is genius on a couple of levels. One, it's very funny. But two, it meant he did not have to actually write a column about the Bulldogs playing a stinker of a game. I have often longed to do something like that myself, but, well, it had already been done. Sometimes, you think all the good ideas have already been taken.
I kind of want to write something like that this week about the Browns. They lost (of course) to Indianapolis 31-28, and there's probably something positive to be said about the spirit of a Browns team that was trailing by 17 points in the fourth quarter and came back enough to have the ball in the final seconds with a sort-of, kind-of, not-really chance to tie or win. And there were a few signs of positivity here and there, I suppose. But really: Indianapolis is a pretty mediocre team with Andrew Luck, and this game they were without Andrew Luck. They had someone named Jacoby Brissett as their starting quarterback. I guess he was New England's third-string quarterback or something.
Anyway, the Browns made Jacoby Brissett look like Russell Wilson.
This is what the Browns do.
At one point, the Colts sent out their offense on fourth and two in an obvious attempt to draw the Browns offside. This stunt has not worked since 1923, when Stinky Stompmeyer of the Duluth Kellys yelled "Fire!" and Fatso Flavin jumped offside with the intention of saving a small child. The Colts' tried something similar, Brissett barked, Cleveland safety Derrick Kindred jumped offside ironic and the Colts laughed to another first down.
This too is what the Browns do.
The Browns offense was a bit of a mess and it illustrates one of the true challenges of being a Browns fan -- it is hard to tell who to actually blame for the stinkiosity. For a couple of weeks now, receiver Kenny Britt has been something of a villain in Cleveland because there are times when he doesn't seem to go all out and he has dropped some passes too. He dropped one or two Sunday. But then there is film showing that he is getting open now and again and rookie quarterback DeShone Kizer doesn't see him at all. Who do you blame?
Kizer was blah on Sunday, completing 22 of 47 passes with three interceptions (the last, admittedly, being a Hail Mary interception, though he also had a couple of interceptions dropped). He made three or four big-time throws, the sort that gives you hope. And he made several horrendous throws and decisions, one of them an interception in the red zone that probably, more than anything else, cost Cleveland the game.the sort that
But, at the same time, there's a pretty good chance someone ran the wrong route on that interception. Browns receivers dropped at least six passes that Kizer threw well enough to complete. I mean, he IS a rookie and deserves a little help. The Browns also committed four, count 'em FOUR, offensive pass interference penalties. You shouldn't get four offensive pass interference penalties in a year, much less in one game, and a couple of those nullified big plays. Wide receiver Ricardo Louis was particularly difficult to watch -- Twitter fans were asking for his release at halftime -- but really the only offensive skill player who seemed engaged was Duke Johnson, who made more or less every interesting play of the entire game.
Still, even with all that mediocrity, the Browns somehow made a furious fourth-quarter comeback, and I can only explain it this way: Indianapolis stinks too. Sometimes this is an easy point to miss in the NFL. You get so caught up in your own team's crumminess and you lose sight of the fact that almost every team in the NFL is pretty bad, especially without their starting quarterback. I know people want to use the politics of kneeling as their reason for the NFL's decline in ratings or whatever. I'd prefer to blame the Jets and Giants and Browns and Chargers and Bengals and general awfulness.
Anyway, there is one thing from the game I would like to discuss. During the offseason, the Browns hired Gregg Williams to be their defensive coordinator. Now, most people will remember Gregg Williams for his indefinite suspension after the whole bounty "pay for performance" thing in New Orleans; you might remember that's Sean Payton called him a "rogue coach." For his part, Williams denied that he ever wanted his players to hurt anybody, which might not be entirely true when you consider that ALL NFL DEFENSIVE COORDINATORS want their players to hurt somebody. I think he could have just added, "Well, not more than anyone else."
In any case, I actually remember Williams from, well, I guess it was the 2000 Super Bowl -- Super Bowl XXXIV - the when he was the defensive coordinator for the Titans. I needed to talk with him because he was a hot head coaching candidate then, and I was columnist for The Kansas City Star, and Williams was from just outside Kansas City. He had been the head coach of his own high school in Belton, just a half hour south of downtown KC.
Here's what I remember about talking with Williams then: He was just an assistant coach, but he had a file where he kept a list of the ten best assistant coaches at every position. That's how prepared he was, and that's how sure he was that he would become a head coach. Then he was a head coach for three years with Buffalo and it didn't go all that great, even with his assistant coach files. He has been a defensive coordinator (or senior assistant) with seven different teams since then, assuming you count his two stints with the St. Louis and Los Angeles Rams as separate.*
*You probably should not count them as separate since he never actually coached with the Rams the first time; that was when he got suspended by the NFL.
In any case, it has been a long and winding road for Gregg Williams, but then he came to Cleveland because, he says, "of the challenge." As a Browns fan, you get used to hearing people say stuff like that: "I'm coming to Cleveland because of the challenge. Nobody thinks that team has any chance to ever win a game. Holy cow, they're a disaster ... ha ha! I've seen Electric Football teams that tackle better. I mean, it's an impossible situation. You remember that droid army from the Star Wars prequels, one Jedi could destroy a thousand of those droids with a wave of the hand. Yeah, the Cleveland Browns are kind of like that. Oh boy, they stink. I'm really looking forward to the challenge."
It's too early to make any judgments about Williams's defense ... too early and he has yet to have a healthy Myles Garrett to deploy. But there is one very weird thing: Williams keeps his safeties 25 yards off the ball. Twenty-five yards. It's like they're playing another game. Williams' safeties are so far off the ball, you can't even see them on the television screen. You just have to sort of assume they are there, like a late show audience.
One of those safeties is rookie Jabrill Peppers. He was a somewhat controversial first round pick for the Browns. Peppers was a dynamic player at Michigan, a Heisman Trophy finalist, a versatile and spectacular athlete who can return kicks and punts, play safety and some linebacker, and so on. There was even talk by some of moving him to running back or slot receiver. On the other hand, his coverage skills were lacking even at Michigan and there are those scouts who think his instincts are way off -- that's what LED to the talk of moving him to running back or slot receiver.
And now, Gregg Williams has Peppers playing a million miles away from the ball ... Sunday, it was an absolute disaster.Peppers was out of position constantly. He couldn't get into the plays; he was too far away. It was pitch and catch with Jacoby Brissett and T.Y. Hilton. At one point, Peppers was the last man on a Hilton reception (he should be the last man as far back as he stands) and Peppers took such a comically bad route that you could practically hear Hilton giggling as he raced by.
With the Browns, as mentioned, it's always hard to tell who to blame for things. High draft pick after high draft pick has busted; is this because the Browns have no talent for player evaluation or is it because they have no ability to put those players in position to succeed? It's probably both. I'm a bit worried about Jabrill Peppers. Look, I don't know anything about defense and, so, would not presume to tell Gregg Williams to stop playing Jabrill Peppers 25 yards off the ball. In fact, I shouldn't say anything at all. My mother always told me, if you don't have anything nice to say ...