Browns to 0-13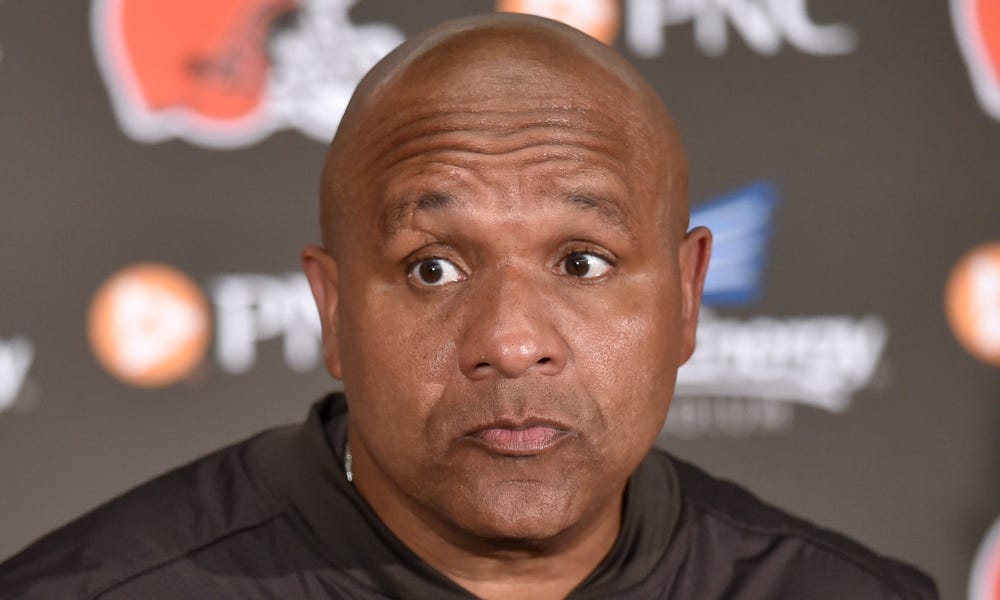 I guess we will begin this epic recap of an epic week in the epic Cleveland Browns history with a common refrain: I knew the Browns were going to lose to Green Bay Sunday. I knew it. People kept texting me that they were going to win. The announcers seemed to think they were going to win. Logic suggested they were going to win.
I knew they were going to lose.
I'm not bragging. Why would anyone brag about such a thing? It is our curse as Browns fans. We are like Salieri; we are the only ones who can hear and understand the true genius of Mozart.The Browns were up 14 in the fourth quarter. The Packers looked eager to lose. The Browns even seemed to complete a first-down pass late that would have all but iced the game.
I knew they were going to lose. I think most Browns fans did.
More than that, I can tell you EXACTLY when I knew they were going to lose. It was late in the third quarter and the Browns were up those 14 points. They had already blown a timeout because they are the Browns and this is what they do. Then, the Packers completed a 5-yard pass on 2nd and 1, Brett Hundley to Randall Cobb. I'll remind you, not for the last time, that it was a 5-yard pass. Five yards.
On the play, Cobb bobbled the ball before reeling it in and going out of bounds.
As soon as the play ended, Browns defensive coordinator Gregg Williams began screaming at the official that Cobb didn't catch the ball. When Williams was yelling, I didn't yet know the Browns were going to lose. It was still a mystery. The Packers without Aaron Rodgers were pretty terrible. On fourth and 1 earlier in the quarter, they set up a play ... and then apparently forgot it before the snap. Their defense couldn't stop the Browns running attack, which makes the Packers the first team all year who had that particular trouble. At that moment, I could still envision the Packers losing the game..
But then the Browns decided to challenge the Cobb play.
And that's when I knew that Cleveland was going to lose.
Yes, in the end, this impossibly stupid challenge -- and the resulting lost timeout -- had nothing at all to do with Cleveland losing. But it was such a magical bit of incompetence, such a comically droll piece of anti-strategy, that it reminded me that the Browns would absolutely find a way to lose this game because of course they would. No team can match the Browns when it comes to losing.
It was a FIVE YARD PLAY. Remember how i said that earlier. Five yards. Even if the Browns were right and Cobb really did bobble the ball or not get two feet in bounds, SO WHAT? The Packers would be facing a third-and-one. I think of Tom Cruise's classic line when the real villain of A Few Good Men, Demi Moore, tells him to put Jack Nicholson on the stand.
"What possible good could come from putting him on the stand?" Cruise asks.
Right: What possible good could come from challenging that play? But when they challenged it, I assumed: "OK, well, that's stupid but if they areactually challenging this I guess they must have a clear-cut, no-doubt, absoultely-can't-miss camera angle that shows that Cobb very clearly did not catch the ball."
Nope! He caught it. He got both feet in bounds. It wasn't even CLOSE.
I just knew the Browns were going to find a way to lose after that.
The Browns were very busy this week, as I'm sure you know. First, they fired Sashi Brown from whatever the heck title they gave him in the Browns front office. You might recall that when the Browns hired Sashi Brown and Paul DePodesta they decided that neither of them was actually the team's "General Manager." The Browns didn't want a General Manager. So Sashi had some horrific non-title like "Executive Vice President and Enterprise Director of Football Operations and Athletic Activities VIs a Vis Field Performers in Grass and Turf Exercises."
And DePodesta's job seemed to "Chief Strategy Officer in Charge of Analytics that Suggest Ignoring Good Players in the Name of Acquiring More Draft Picks."
In any case, the Browns fired Sashi Brown and, just a few hours later, hired John Dorsey to be an actual General Manager. I should say: I know John Dorsey a little bit. I spent some time with him a couple of years ago when he was GM of the Chiefs, and I like him. I think he's a smart guy. I think he's a good football person. He gives me the first sign of hope that Cleveland will actually take advantage of all those high draft picks that they've collected the last few years. I'm not going to say that hiring Dorsey is the move that changes the future of the Cleveland Browns because, really, who the heck knows? But he's a football guy, and the Browns need a football guy, and it made so much sense that it is hard to believe the Browns did it.
But, alas, one good potentially good move can only mean that the Brownd combined it with something so wacky and baffling that it defies belief.
Right, the Browns announced -- with four games remaining in a winless season -- that coach Hue Jaackson (he of the 1-27 and now 1-28 record as Browns coach) definitely will be back next year.
OK. Deep breath. There are three things I think about here.
(1) I like Hue Jackson.
(2) I have been begging for the Browns to stick with a plan, any plan. There is no doubt in my mind that a big reason the New Browns are this historic mess is because they have gotten rid of a general manager, coach or coordinator EVERY SINGLE YEAR OF THEIR EXISTENCE.
(3) Huh?
Let's go with No. 3. Why with four weeks left in the season (a winless season) would you definitively announce that you a coach who has never won a game on a Sunday? I mean, let's say they show some signs of life in the last four weeks? Let's say that he and John Dorsey hit it off well? Let's say that everyone decides when they year ends that there is real hope and that Hue Jackson is the best guy to go forward. OK, I might buy that.
But NOW??? What if the Browns go 0-16 this year? What if Hue Jackson personally blows two or three games (a distinct possibility, by the way)? What if John Dorsey realizes that there's no way that the team can win with Jackson as the coach (a belief that is already making its way around the league)?
Why would you box yourself in NOW with this team at the lowest point in this team's subterranean existence? Why? You worried that without this vote of confidence Hue Jackson would quit? You worried that some other team would swoop in and steal him away? Just say what everybody says: Hue Jackson is our coach, we have faith in him, we think he's is doing the right things, we are all obviously disappointed in what has happened so far, and we will evaluate things when the season is done.
No. The Browns voluntarily tied themselves to a coach with a 1-27 (now 1-28) record. If you made something like this up, nobody would believe you.
Back to Sundays' game, the Browns seemed to complete a pass to David Njoku with less than three minutes left that would have given Cleveland a first down. Replay showed that Njoku dropped it, and the Browns punted. Then, the Packers got a long punt return where the Browns had roughly 58 chances to tackle the guy but did not.
Then the Packers tied the game up with less than 20 seconds left in regulation. And, then finally, mercifully, came the overtime and the classic Browns blunder. On third and two, Cleveland quarterback DeShone Kizer -- who had, undeniably, played his best game -- dropped back to make a quick throw. The receiver wasn't open. A good quarterback throws the ball away. A better quarterback makes a quick turn and looked for a second or third receiver.
Kizer decided to run backward. That was a bad sign. Then he motioned for his receiver to run downfield. That was a worse sign. Then he decided to just heave the ball downfield with no idea what it would do, all while Green Bay's Clay Matthews closed in on him. That was what made it a particularly Browny moment.
It goes without saying that Clay Matthews hit Kizer's arm while he was throwing it, and the ball popped up straight in the air, and the Packers intercepted the ball, and six plays later Green Bay scored the winning touchdown when the Browns decided to call their Electric Football defense. I'm pretty sure two Browns were just going in circles on that last play.
After the game, Hue Jackson said more or less what he has said after all 28 of his Browns losses -- this team fights, they did some good things, they didn't make the plays when it mattered most, they will learn from the experience, they will not put their heads down, they will get better from the experience.
OK.
The Browns play a pretty good Ravens team at home this weekend. I'd say they have a 30% chance of winning that game. Next week, they play at Chicago, and the Bears are kind of dreadful but still better than Cleveland. Let's be kind and say that the Browns have a 50% chance of winning that game, even though they probably don't. The last week, they will play at Pittsburgh, and their best hope there is that the game won't mean anything to the Steelers and Pittsburgh will play all their scrubs. Even then, I don't think you can give the Browns any more than 35% chance of winning ... even that's generous.
If you believe those percentages, the Browns have a 77% chance of winning ONE of those final three games and not going winless. Then again, if you think the Browns has a 10% chance of beating the Ravens, a 20% chance of beating the Bears and a 15% chance of beating the Steelers, the Browns have only a 39% chance of winning one of their last three games.
So it's probably somewhere in between.
I suspect they will go winless. But that's because I'm a Browns fan.