Browns Don't Quit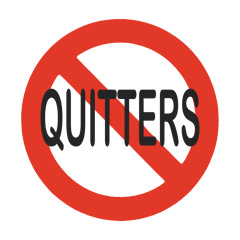 I have absolutely no idea if the Cleveland Browns have quit this year. I'm just not sure I have the technical know-how to differentiate between a football team quitting and a football team being really, really stinky.
But for some reason that is not entirely clear, the TV announcers every week seem absolutely, completely, 100% sure that the Browns have not quit. They say this every week with the same confidence that the guy in the old "Six Million Dollar Man" intro used to say "Gentlemen: We Can Rebuild Him."
This week, while the Browns lost No. 13 in a row* without much of a fight, that announcer singing the praises of the no-quit Browns was Steve Beuerlein ...
*The Browns have actually lost 16 in a row ... and 23 of their last 24. but It's 0-13 this season.
... but this is not about Beuerlein. It's someone new every week. It's the same story every week.
1. Some poor shlep who obviously ticked off people at his network gets assigned as announcer for the Browns game.
2. Poor shlep talks with Browns' coach Hue Jackson the day before the game and comes away impressed with his professionalism or something.
3. Poor shlep sprinkles positivity into his broadcasting even while Browns play stinky football. Hey, this team is on the right track! The Browns have played a whole lot better than their 0-13 record! There is some good young talent on this team! Every man on this roster believes in the vision of Hue Jackson! This is a better football team now than they were in Week 1! One thing you have to say is that this team has not quit and I can guarantee you they will not quit!
Yeah, I guess I can't blame them. I mean, nobody wants to be stuck doing a Browns game in the first place ... and they probably want the experience to end as quickly and painlessly as possible. I imagine they don't want their email and Twitter feeds filled with angry Browns fans complaining that they were too negative. Better to speak a bunch of platitudes about how the team is better than their record and is heading in the right direction and hasn't quit.
I'm betting, however, these announcers are not saying the same things about the Browns during commercial breaks or at dinner the night after the game.*
*If I was a television producer -- something I know even less about than identifying football teams that quit -- I would create a show called "Dinner After The Game." In it, you would have the exact same announcers who called the football game but this time they would be eating dinner and would not know that there was a camera on them. I think it would be about 500,000 times more entertaining and illuminating than game coverage.
Question: Why can't American announcers call the NFL the way British announcers call the Premier League?
Seriously, don't you love how Premier League announcers just lash out? If the game's lousy, they tell you the game's lousy. If one team is stinking up the joint, they tell you one team is stinking up the joint. Of course, they are much more poetic than that.
They see a lousy play and they will tell you, "Well he made a mess of that."
They see some guy take some ridiculous shot from way out of his range and they will tell you with their voices dripping in sarcasm, "Ambitious, that one was."
They see a defender blow it and they will tell you "He went walkabout, there."
It's wonderful. Weak efforts lack conviction. Brutal tackles are cynical fouls. Blown chances are rubbish. Teams that can't seem to get out of their own way seem to have lost the plot.
And every now and again they will tell you, straight out, that yes that team has quit.
"Where's the effort?" they will ask.
It's wonderful, I think, because it assumes that English soccer fans can handle the truth. This Cleveland Browns team is a mess inside a dumpster fire inside a garbage truck collision inside a landfill inside Batman v. Superman inside a 1971 Ford Pinto inside Michael Bolton's version of "Georgia on My Mind" inside a Hardees commercial inside a Mister Mister reunion tour inside a Circus Peanut. Maybe I'm alone as a Browns fan, but I die just a little bit inside every single time an announcer tells me they haven't quit.
What in God's name would they look like if they HAD quit?
Sunday the Browns lost to Cincinnati 23-10. I would categorize it as a professional loss -- clean, no fingerprints, just get in there, lose and get out. There was this bizarre theme in the days leading up about this finally being the week that the Browns would win. Several pieces seemed to be in place. The Browns were coming off a bye week. Hue Jackson coached for the Bengals and knows them inside out. It's a sort-of rivalry game. Robert Griffin III was starting for the first time since Week 1. Plus Cincinnati is in the midst of a dreadfully disappointing season, and in seasons like that teams sometimes fail to show up.
The Bengals decided to show up, at least at first. They drove right down the field for touchdowns on their first two possessions to end any and all illusions. RGIII looked miserable. If it wasn't for the magnificent kicking follies of Cincinnati's Mike Nugent, it would have looked even worse. Nugent has missed SIX extra points this year, and even though Sunday's extra point miss wasn't his fault -- the guy couldn't get the hold down -- Nugent did miss a relative chip shot field goal later.
The Browns now have three weeks left to avoid becoming the second team in NFL history to go 0-16. The first, of course, was the 2008 Detroit Lions, and there are a lot of similarities between the teams.
The Lions averaged 16.8 points per game. The Browns average 15.9 per.
The Lions gave up 32.3 points per game. The Browns give up only 28.1 per game but the Browns, unlike those Lions, have allowed 20-points in every game this season. The Lions had a couple of big-game blowouts -- allowing 40-plus points three times -- that the Browns have not which makes the point differential.
The Lions started three quarterbacks -- a relatively young guy Dan Orlovsky (0-7), a crusty veteran Jon Kitna (0-4) and a former star Daunte Culpepper (0-5).
The Browns have started three quarterbacks -- a relatively young guy Cody Kessler (0-8), a crusty veteran Josh McCown (0-3) and a former star Robert Griffin III (0-1).
And so on -- Lincoln had a secretary named Kennedy and whatever. That Lions team really did not come close to winning in the last three weeks. They did tie the Colts early in the fourth quarter of Game 14 only to give up 10 unanswered points and lose 31-21. They got obliterated by New Orleans 42-7 in Game 15. And they were tied with the Packers going into the fourth quarter of the last game of the season but again lost the game 31-21 anyway. They never led in any of the three games.
I suspect that's how the Browns will go down, quietly, sadly, though you never know. They play at Buffalo, which doesn't seem promising but the Bills are quirkyThey play at home to San Diego, and I guess you never know about the Chargers. They finish at Pittsburgh, and that seems about as sure a loss as you can find. I'd say they are now favored to go 0-16, but winning a game is not an impossibility. After all, from what I've heard, they haven't quit.