Browns Diary Week 2: Blech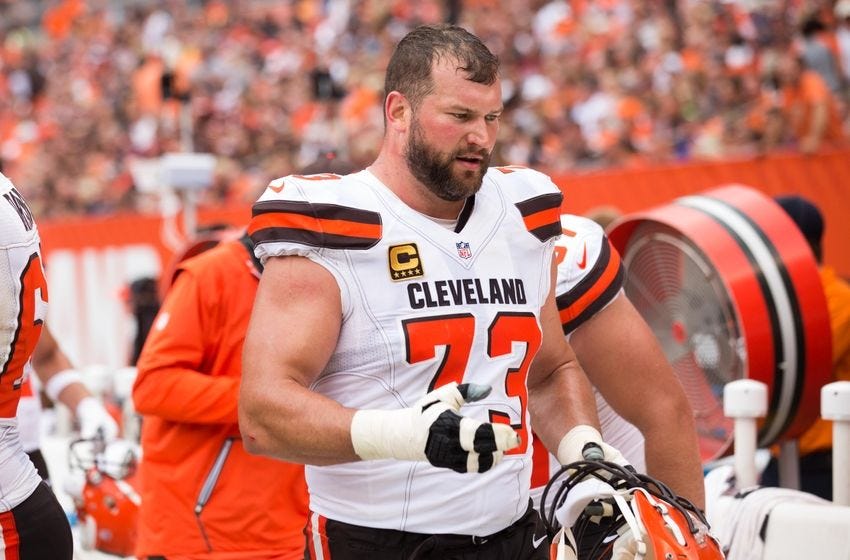 The temptation when following an NFL team is to think of a football season the same way you would think of a television series over a season. That is to say, you want there to be a plot, or at least the semblance of a plot, to follow each week. These two are beginning to fall in love (or are they?), OK, how did that advance? This one's life is in danger, what did we learn about that this week? She is searching for her Mom, he is hoping to save his brother, they are on the trail of the murderer -- what did we find out on this week's show?
Trouble is, the NFL -- especially for lousy teams like my Browns -- isn't like that at all.
No, in the NFL, there is no plot that moves from week to week. Major developments might be illusions. Promise and disgust are dealt out haphazardly, signifying nothing. Hope is turned up and snuffed out like a cheap Bic lighter.
Last week, the Cleveland Browns lost to Pittsburgh, but they always lose to Pittsburgh. To be blunt about it, they never really threatened to actually win the game. Still: The takeaway from the game was relatively positive. The Browns rookie quarterback, DeShone Kizer, looked a bit overmatched at times but showed enough arm and presence to promise better days. The Browns defense looked faster and more focused and that was without No. 1 overall pick Myles Garrett, who is hurt. Everyone knows that this Browns rebuild will take a lot of time and patience and a few good breaks. With that in mind, Week 1 went into the books in the moral victory column.
Here's how the standings looked going ito Sunday AFC North W L W-L% MV PIT 1 0 1.000 0 BAL 1 0 1.000 0 CLE 0 1 0.000 1 CIN 0 2 0.000 0 So you would think this week would be a pickup from there: Would DeShone Kizer continue his development? Would the Browns defense, led by linebacker Jamie Collins, stuff a Baltimore Ravens offense that in Week 1 wouldn't even throw the ball? Would one of these young potential playmakers -- Corey Coleman or Jabrill Peppers or David Njoku -- burst on the scene and give Browns fans a peek at a brighter future?
But these are all the wrong questions because, as mentioned, the NFL is not like a television series. The Browns did not further the storyline in Week 2. They canceled it. They nullifed their moral victory from Week 1. DeShone Kizer looked so out of his depth that you could not help but wonder if all the good signs of Week 1 were simply wishful thinking. The defense was so slow to the ball that you could not help but wonder if the good signs in Week 1 were just because Pittsburgh played lousy. The playmakers were so invisible, you wondered what made any of us think they were playmakers in the first place.
It was an all-around bust of a day.
And my guess is, it doesn't mean anything more than Week 1's optimism.
Because of that, I really want to talk about something else. But this is a Browns diary so first, sure, here's the quick game recap.
Kizer: He has a lot of work to do. Even in his positive Week 1 performance he showed the tendency to hold on to the ball too long and try to make plays, a tactic that might work for Notre Dame against Army (or might not) but is a definite loser in the NFL.
He missed much of the first half with a migraine (his backup Kevin Hogan threw a touchdown and an interception, just enough to get people chanting for him in the weeks to come). In the time Kizer played, though, he threw three interceptions, the first which bounced off a receiver's hand. The second was in the red zone; Kizer missed his target by 20 feet, probably. But the third, if possible, was even worse. He dropped back, saw no one, and began looking to make a play. This could only end in ruin, and it did as he was baited into throwing a horrific interception by Baltimore's Brandon Carr. You want to say: It's a learning process. And it is. But there were no positive signs this week.
The defense: Had it not been for a couple of Ravens turnovers -- a bizarre "I give up" interception by Joe Flacco and a fumble by Alex Collins at the end of a long run -- the Ravens probably would have scored 30 or 35. This was a major step backward. Busted assignments ... poor tackling ... lack of pressure ... the Browns played some of their greatest hits.
The bright spot: Cleveland receiver Rashard Higgins, just off the practice squad, caught seven passes for 95 yards -- and he actually looked pretty good doing it. The other Browns receivers, including last year's first round pick Corey Coleman, are so invisible right now that I'm thinking Higgins becomes this team's go-to receiver by default based entirely on this one game.
OK, now let's talk about the only thing that matters: Joe Thomas. I was on a Cleveland radio station a few days ago, and I told them this -- Joe Thomas is now my all-time favorite Cleveland Brown. Over the years, my all time favorites have included Brian Sipe, Ozzie Newsome, Jerry Sherk, Paul Warfield, Doug Dieken, Calvin Hill, Bernie Kosar, Ernest Byner, Clay Matthews (the old one), Dave Logan, Greg Pruitt and so on. Not surprisingly, none of the new Browns have ever come close to making it on to my 645-head Mount Rushmore.
But now Joe Thomas is No. 1 on the list.
He played his 10,000th consecutive snap on Sunday, which is so ridiculous that the only thing anyone can say about it is that it is PROBABLY a record. Nobody even wants to bother counting.
Think about that for a moment: 10,000 consecutive snaps.
Now think about it for another moment: 10,000 consecutive snaps for the CLEVELAND BROWNS. That means 10,000 consecutive snaps of hopelessness. It is like being in 10,000 consecutive fights as henchman for the Joker on the old Batman television show. It is like playing 10,000 consecutive innings at third base for Charlie Brown's baseball team. It is like losing to that Tic-Tac-Toe playing chicken 10,000 consecutive times.
Thomas has played every single down for 114 losses (while walking off the field victorious just 48 times). He has protected 22 different quarterbacks, not one of them good enough to keep his job very long. He has been outscored by almost 1,000 points (3,786-2,847). His team has scored 250 fewer points than any team in the AFC over his decade plus.
And, he's awesome. He was awesome. Then he was also awesome. And now he's still awesome. It is beyond belief. By approximate value -- Baseball Reference's effort to "attach a single number to every player since 1960" -- he has been the Browns' best player six of the 10 full seasons he has played. In Week 1 of this season, Pro Football Focus rated him the No. 1 left tackle in the NFL.
Try to think of another player, in any sport, who is so commited to his craft, so dedicated to his constantly changing teammates, so steadfast in his pursuit that he could be this great for this long for this bad a team. Who would even notice if Joe Thomas took off a play or two now and again? Who would even blame the guy if he grew so frustrated that he didn't prepare with 100 percent effort during the week?
And, for that matter, who pays attention to how good he is? He's a left tackle for a team that can't move the football. When quarterbacks throw terrible intercpetions, when wide receivers drop balls off their chest, when running backs miss holes or go down on first, nobody says: Yeah, but wow what a great block by the left tackle.
But Joe Thomas goes on, without credit, surrounded by chaos, frustrating the great pass rushers, mashing the defenders in his path, leading the charge even if no one iollows behind. This is not the work of a great left tackle. This it the work of a superhero.