Browns Diary Week 1: Hope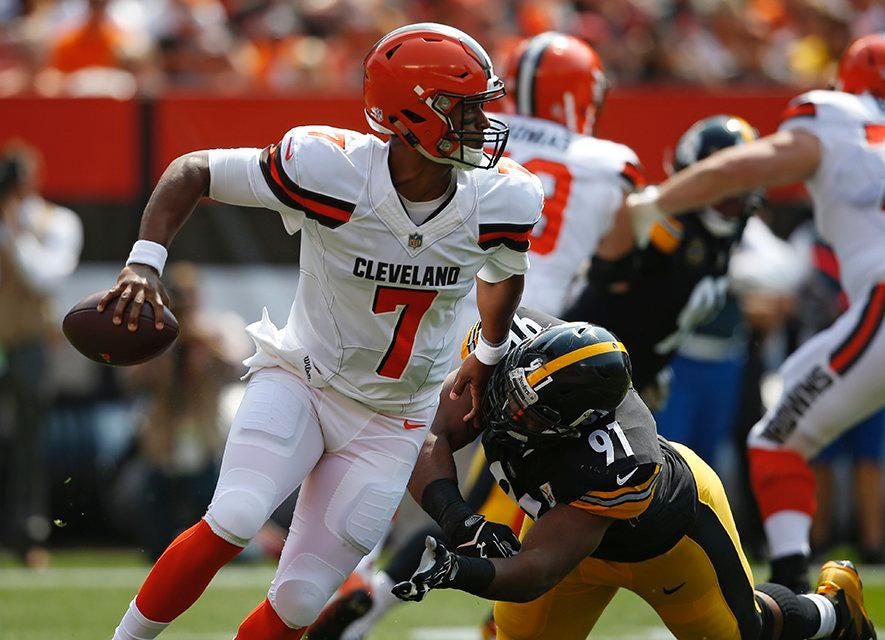 This nutty Browns diary began with an idea. When I was a kid, the Cleveland Browns were the most important thing in my life. The Browns were also the second most important thing and the third most important thing. I thought about them constantly. I spent my time in classes writing Browns previews. I spent after school hours daydreaming about them. I skipped school to see who they would draft. I refused to eat when they lost, a diet that probably would have been pretty useful as an adult.
But as an adult ... the Browns thing went away. This happened for a bunch of reasons, some of them obvious (the ACTUAL Browns went away and I was a columnist in Kansas City focused on the Chiefs) and some of them less so (I began losing my love of football). A couple of years ago, I decided to start writing this weekly Browns diary to reconnect not to football (still don't love it) but to childhood.
And this Browns Diary journey has been ... well, not exactly what I expected. Every fall week for two years I have written basically the same thing:
The Browns stink ... there is no hope ... Johnny Football blah blah blah ... oh no, Cameron Erving ... here's the funny and yet harrowing way they lost this week.
I have written endlessly about the team's longstanding refusal to just pick a plan and stick with it. I have written about their 26 different starting quarterbacks since 1999, from Colt to Cody, from Luke McCown to Josh McCown, from Quinn to Wynn -- but never to win. I have written about their almost impossible-to-believe streak of changing a GM, head coach or coordinator every single year since 1999.
For a while, the writing was fun -- the Browns never failed to offer some easy punchlines.
I mean this was a team that admitted they drafted Johnny Manziel on the advice of a unidentified homeless man who happened to run into the owner on draft day.
But the Browns were so bad, so adrift, so completely lost that I could not really connect with them. It wasn't the sort of experience I had wanted. I wasn't able to recapture any of the feelings I had as a kid because I'm not a kid. I'm too old, and I've seen too much to blindly love a team that doesn't seem to even love itself.
Sure, I wanted the Browns to win, I've always wanted that, but they had to give me SOMETHING to hope about. I didn't ask for much. Just give me a few young players to get excited about. Just give me a coaching staff that seems able to match up. Just give me a couple more players like left tackle Joe Thomas, who is so awesome that I believe every male child born in America should be named after him.
The Browns could not give me these things, did not seem especially interested in giving me these things, and so the diary never quite took hold the way I hoped it would.
Then came Sunday's game against Pittsburgh.
* * *
The Browns begain Sunday's game against Pittsburgh exactly as they have started the 288 previous games they played since returning to Cleveland -- with a busted play, a run for a loss, a false start penalty, a surrender-draw play and a blocked punt that the Pittsburgh Steelers fell on for a touchdown. A new year is upon us!
The overwhelming theme coming into this Week 1 game between the Browns and the Steelers was that Steelers' quarterback Ben Roethlisberger's had a pretty good record against Cleveland. I don't have time to look it up, but I'm pretty sure he came in 1,495,372,194,360,483,185,372,882,366-2 against the Browns.
The thing is, I don't even recall Roethlisberger being all that good in games against the Browns. And ... I did look this up, my memory is right. Big Ben came in with a 95.8 passer rating against the Browns, which is good but not significantly better than his career rating. Coming into Sunday, he had thrown 35 touchdown passes and 17 interceptions in 23 games, which isn't all that great. He had completed 62.5% of this passes, which isn't all that great. You get the sense from the won-loss record that this guy has been Peyton Brady Montana against Cleveland, but it just isn't so.
Still he always beats the Browns for three simple reasons:
1. He's annoyingly effective when the team needs a play.
2. The Steelers are always WAY better than the Browns.
3. Cleveland has, since the day I was born, had a knack for doing something preposterously dumb against the Steelers, like get a punt blocked for a touchdown just as the game is starting.
So, yeah, the blocked punt happened, and I settled in for another season of blech when something unexpected happened. The Cleveland Browns actually showed life.
I don't mean that they showed life in this game; every now and again the Browns are surprisingly competitive against better teams. That happens. No, I mean they showed REAL life, the sort of life that can get fans dreaming about better days. Sure, it could be false hope. But that is so much better than no hope. For years it has been no hope.
Begin with their rookie quarterback DeShone Kizer. He is the 27th different starter for the New Browns, and there is plenty of reason to doubt him. I mean, the guy was benched at Notre Dame last year. Scouts were not super thrilled with him -- "inconsistent decision maker," "not sold on his attitude," "doesn't really fit into a pro-style offense," and so on. Kizer was once considered a can't-miss Top 5 pick, but instead he tumbled deep into the second round in a league so desperate for quarterbacks they have essentially signed every single living one whose name does not rhyme with Shmappermick.
So, expectations were measured. But I thought Kizer was pretty darned good in his first game. No, he didn't play like a phenom -- you know, four touchdown passes, 400 yards passing, oh my gosh, mark the path to Canton -- but he showed real promise.
For one thing: He has a fantastic arm, the best arm for a Browns quarterback since, I don't know, Mike Phipps maybe. The Browns have had some pretty good weak-armed quarterbacks -- Brian Sipe, Bernie Kosar, etc. -- but it was fun to see a guy who could really throw.
More, though, Kizer seemed pretty composed. He made some nice throws on third down and, generally made good decisions. Yes, he made some kid mistakes: he threw one bad pick, and he held on to the ball too long and took sacks, and on one play he turned back upfield and took an unnecessarily big hit.
But all in all -- he held up. This could have really frustrated him. The Browns have weaknesses everywhere on offense. They came into this game hoping to run the ball; they were entirely incapable of doing that. Kizer's best throw of the day was a rifle pass in the fourth quarter that was flat dropped by Browns veteran receiver Kenny Britt. Every Cleveland Browns fan has for years watched quarterbacks go through what Kizer went through on Sunday -- seven sacks, dropped passes, no place to turn -- and basically collapse in frustration. Kizer kept getting better as the day went along.
And I liked what I saw from the Cleveland defense, even though they were playing without their No. 1 pick Myles Garrett. They have looked so slow the last few years; Sunday they had guys running all over the field. They missed fewer tackles than before. The corners and safeties actually got their hands on some balls.
And, really, the defense dominated the Steelers ... except for Antonio Brown. Well, of course not Antonio Brown. I am convinced that Antonio Brown is actually an advanced human prototype sent here from the future. The guy is 5-foot-10. He weighs maybe his listed 180 pounds. He does not have speed that shows up well in 40 times. Brown recently shared a draft preview of himself coming out of Central Michigan.
Negatives: Very thin and small in stature with a wiry build. Lacks functional strength to beat the jam and will struggle to create separation against man coverage. Raw route runner -- does not sell routes or show a feel for navigating zones. Concentration lapses show up too frequently. Has a prima donna attitude and does not like to work. Did not play quality competition on a weekly bases. Underpowered blocker. Attitude and work ethich are concerns.
Yikes. I know scouts have missed badly in all sports but that might be the single worst scouting report I have ever seen. Basically Brown is now the opposite of that scouting report. I remain convinced that he is open on every single play, no matter how many defenders are on him. If Ben Roethlisberger threw the ball to him 60 times in a game, Brown would probably have 55 catches even if the Browns covered him with all 11 players and Hanford Dixon. Sunday he ended up with 11 catches for 183 yards, which is more or less what he always does. They Browns also had some trouble with the comically named tight-end Jesse James, who caught two touchdown passes.
But even with that, the Browns held the Steelers offense to two touchdowns, and held the non-James-Brown players to 75 total yards. Was it not for the blocked punt fiasco, the Browns might have actually won this game. Probably not. But maybe.
As it was, the Steelers won 21-18 and were never really in any danger of losing. Ben Roethlisberger, according to the Twitter account of Bob Pompeani, is now the winningest quarterback at Cleveland Stadium, having won more games than any Cleveland quarterback. So, um, ouch.
NFL teams pride themselves on never claiming moral victories, and Browns coach Hue Jackson was quick to say that this was not a moral victory.
But, you know, it kind of was. This team had a better look. Things have been so dismal for so many years. And they still are laughably short on offensive weapons. They still have a defense that lacks dynamic playmakers (we will see what happens when Garrett is healthy). They are still the Cleveland Browns and so they still might get a punt blocked for a touchdown before fans are settled into their seats.
These things take time. But Sunday, for the first time since I started this thing, I could feel that little voice inside, the voice of my childhood, whispering: "Hey, DeShone Kizer looks pretty good. And that defense is fast. ... And Jamie Collins and the other backers are making plays. ... And Myles Garrett is coming back. And ... maybe."
Maybe. For the Cleveland Browns, Week 1 on the long road back, "maybe" is a promising word.