Browns 0-15
I had this scary moment late in the third quarter of the Browns' typically humiliating 20-3 loss to the Chicago Bears Sunday. The Browns were down by 17 and were driving. On third and 3 from the Bears' 20, quarterback DeShone Kizer dropped back to throw, faced down the pressure, and threw a little pass to Browns receiver Rashard Higgins who caught the ball for the first down as he fell to his knees.
Thing is, Higgins was not touched while he was on the ground -- probably because nobody on the Bears figured he was worth covering. Higgins has already been waived and placed on the practice squad and brought back to the team this year; in his first game back he caught seven passes for 95 yards and flashed some real talent. It goes without saying this proved to be an illusion and he has been invisible ever since. Anyway, Higgins had the presence of mind to get back to his feet and start running toward the end zone.
"Fumble!" I heard myself shout.
I don't know why I shouted it; Higgins had not fumbled. He had the ball in his hand and he was running toward the end zone ...
"Fumble!" I shouted again.
And again, I was not sure why I was shouting this, he still had not fumbled, still showed no sign of fumbling ...
"Fumble!" I shouted a third time.
And at that very instant, a couple of Bears hit him and sure enough, Rashard Higgins fumbled the ball into the Bears end zone where someone on the Bears recovered it to end the threat.
People, I really think I'm losing my mind. It's like I have some sort of Last Jedi connection with the football dark side. My mind is unwillingly becoming one with the Cleveland Browns.
* * *
After the game, someone asked Browns coach Hue Jackson -- now 1-30 as head coach of the Cleveland Browns: "Were you surprised there were so many self-inflicted wounds?"
Two thoughts: One is that you probably should not begin any question for Hue Jackson that begins with "Were you surprised," unless the second part of the question is, "that your team actually won?" or "that your team didn't turn over the ball today?"
Really? Were you surprised by the self-inflicted wounds? This is like asking that red-haired bad guy from the new Star Wars, 'Were you surprised that Kylo Ren did that air-chokey thing on you again?" This is like asking the Coyote, "Were you surprised that the Acme product you just ordered blew up?" This is like asking Charlie Brown, "Were you surprised that Lucy pulled the football away from you?" This is like asking Papa John's customers "Were you surprised that your pizza tasted liked a manilla folder with cheese?" This is like asking Hollywood, "Were you surprised that another Spiderman came out?" This is like asking Game of Thrones, "Were you surprised by the death?" This is like asking peanut butter, "Were you surprised that you were paired up with jelly?" This is like asking Twitter, 'Were you surprised that Curt Schilling wrote something dumb and offensive?"*
*The other day, in order to make a different point, I wrote about how I was sickened by Chipper Jones Tweet (since deleted) that said Newtown never happened. Someone emailed me and said that this complaint seemed entirely contradictory to my plan to promote the Hall of Fame case of Curt Schilling. But it really isn't. Chipper Jones is a lock for the Hall of Fame. If Chipper Jones was stuck on the ballot for years, and his support seemed to be dwindling, I would absolutely make HIM my pet Hall of Fame project because I strongly believe he was one of the greatest players ever. My point with Schilling is PRECISELY that while he offends me as a person, that has nothing whatsoever to do in my mind with his greatness as a baseball player. He belongs in the Hall of Fame. So does Chipper Jones. I just wouldn't ask either to be best man at my wedding.
The second thought is that the Browns are now minus-28 for the season in turnovers, which is the highest (or lowest, whichever is worse) turnover rate since the NFL became the league we now recognize it to be. The record of 30 was set in 1965, when the Pittsburgh Steelers were laughable, when their three quarterbacks threw 35 interceptions in 354 passes, a gorgeous 10% interception rate (their TEAM quarterback rating was 39.3).
You will love this one: In the last four games, the Browns have turned over the ball 11 times, which isn't great. But what makes it so very Brown is that over those four games they have forced, yep, ZERO turnovers. Zero. The Browns are minus-11 in their last four games.
The Browns actually DID force a turnover on Sunday, a big one. They trailed just 6-3 when they forced Bears rookie quarterback Mitch Trubinsky to make a terrible throw which got batted around a bit and ended up in the hands of Browns defensive end Myles Garrett. And then because Garrett is an athletic freak of nature, he ran away, broke a tackle or two, looked better than any Browns running back in years and scored the touchdown to give Cleveland the lead.
It goes without saying that Browns defensive end Carl Nassib lined up offside on the play. And it wasn't close; he was like two feet offside.
Earlier in the game, Cleveland's Jabrill Peppers lined up offside when the Bears faced a fourth down.
Then there was the time the Browns were actually driving, so much so that my dark side brain actually thought, "Hey, this is a good drive," and then Kizer threw the single worst interception imaginable, one where he made a terrible read and a terrible throw, the Kizer two-step.
How could anyone ask Hue Jackson if he was SURPRISED by any of this? At this point, all of this such a part of the Browns makeup you simply have to assume they practice it.
---
* * *
I didn't love the new Star Wars. I expected to love it. I went in with every intention of loving it. I had prepared myself to love it by reading the almost unanimously gushing reviews. I didn't love it. The reviews I've seen are so over the top sensational that I assume my not loving The Last Jedi is a personal failing.
This has nothing to do with the Browns ... except for this: Whenever I see a Hue Jackson press conference these days, I get the same feeling that I had watching the new Star Wars -- a feeling of "Am I the one going crazy?" I don't think there are any spoilers here: I saw The Last Jedi and thought it was boring. I saw entire scenes and thought, "Why was that in there?" I sat through the entire first half and thought, "When does this movie begin?" I watched what they did with the Fin character I had loved in The Force Awakens and thought, "Why did they do that?" I saw the reemergence of Luke Skywalker and thought, "Why did they make him like that?" I saw Rey, awesome Rey, my super favorite Rey who I couldn't wait to see again after she stole The Force Awakens and thought, "Did they run out of ideas for her character after only one episode?"
And I saw all the critical raves, the "This is the best Star Wars ever or at least since Empire," plaudits, the "We finally got Star Wars back," cheers and, yep, I must be the crazy one.
The Browns are apparently bringing back Hue Jackson as coach next year. This could be a smokescreen, I suppose, but the Browns sure are ACTING like they're bringing back Hue Jackson next year. The owner Jimmy Haslam has said they're bringing him back. The new GM John Dorsey has, at least publicly, said stuff that suggests they're bringing him back. Rumors fly in Cleveland that Jackson will hire an offensive coordinator next year -- he has been his own offensive coordinator this year because apparently just coaching the Browns isn't a big enough job -- and that suggests that he will BE ALLOWED to hire an offensive coordinator next year.
And then there's Hue Jackson's confidence. He does press conferences after losses that do not just avoid the topic of his future in coaching but actively, somewhat aggressively, embrace the idea that CERTAINLY he is coming back, WHY WOULDN'T he be coming back, IT GOES WITHOUT SAYING he's coming back.
"I have their total trust," he said of the players after Sunday's latest debacle, "and they have mine."
"Today wasn't our day," he said in general after Sunday's latest debacle.
"I looked in their eyes," he said of his confidence in a better future after Sunday's latest debacle.
And yes, I can't help but think I'm the crazy one. Like The Last Jedi, I desperately wanted to like Hue Jackson. When the Browns hired him from Cincinnati, I raved -- I had watched him closely in Cincinnati and loved what he did with Andy Dalton and the Bengals offense. When he came to Cleveland, the Browns were an absolute mess (it goes without saying), and he talked confidently about making them winners. He made no excuses for their fiascos. He always took the blame -- in fact the three words, "I take responsibility" have been in perhaps every single Hue Jackson press conference since the start. I keep waiting for someone to make a Hue Jackson "I take responsibility" mashup.
These are good qualities, and Hue Jackson has a lot of good qualities. Trouble is, you can't just keep saying "I take responsibility," when your team loses 30 of 31 games, something no other team in NFL history has ever done, and you don't ACTUALLY take responsibility. What does it mean to take responsibility? If I take responsibility for a fender bender, it means my insurance pays for the bump on your car. More directly here: If I take responsibility for getting all of us lost, that means that I plan on leading us out of this place.
And how will I do that? I don't know -- I have a terrible sense of direction -- but I can assure you one thing: I would CHANGE something. I would ask for help or craft a new plan or hire a sherpa or admit my failings and put someone else in charge.
What I wouldn't do is the exact same things week after week after week after week that got us lost in the first place.
"Again our guys continue to fight,"Hue Jackson led off his press conference on Sunday. He always leads off his press conferences this way. No, really, always, I looked.
This week: "Again our guys continue to fight, continue to work at it, but it's just not good enough."
Last week: "Well, not a good day at the office ... As a football team we're just not where we want to be but as I told our guys, we're going to keep working, keep fighting hard."
The week before that: "Again, it's unfortunate, our guys, as always every week, I know it's a broken record, they fight hard, do a lot of good things."
And the week before: "Again, I saw a team that continues to fight but, just like them I am too, you're tired of hearing about fighting, you want to win."
And the week before, we will let a photograph and headline tell the story: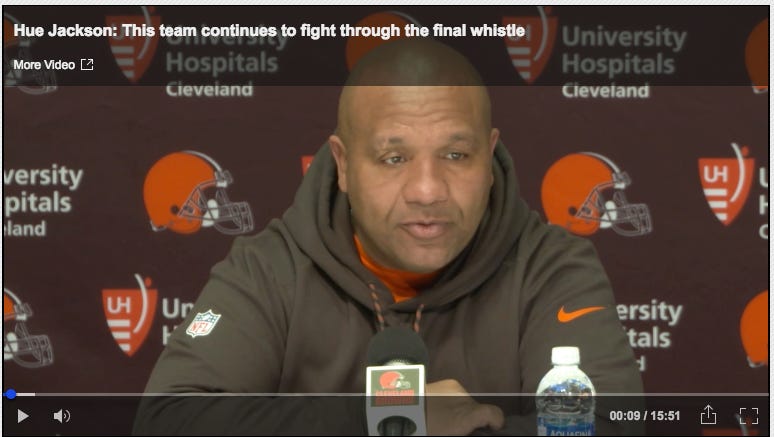 And the week before: "One thing I'll say again about these guys, they ain't gonna quit, they keep playing."
And the week before: "I thought our guys had a little more pep in their step, fought hard, gave if everything they had."
And the game before (bye week skip a week): "Obviously, first half, I thought our guys fought extremely hard, made some plays defensively, did some good things."
And the week before: "So obviously we're an 0-7 team, fought hard, had chances to win ... I asked our guys to be the best version of themselves they can be, and I thought they did that, they gave everything they had, the defense fought hard ..."
I did not intend to go all the way back to October with this, but I kept watching the first 30 seconds of each press conference to see if he Hue would talk about his guys fighting hard ... and he kept on saying it every week. The streak finally broke on October 15 but that's in part because Hue Jackson didn't even give an opening statement that week, he went right to questions because that was the week he decided to start now emergency quarterback Kevin Hogan and he had to spend his press conference explaining that fiasco.
Hue Jackson just keeps saying the same things, keeps coaching the same way, keeps losing. I don't believe for one minute the Browns are fighting hard, no matter how many times they say it. The Browns do not have significantly less talent than the Bears. They got outplayed, outworked, outcoached and outclassed. And outfought. There was a moment with about eight minutes left when the Browns trailed by 17 and faced a fourth and ten from near midfield. They punted. Why would they have punted? What possible good could punting do? They were winless on the year, they were down three scores, the fourth quarter was halfway over. Do you punt there if you care AT ALL?
I so wanted to like Hue Jackson. And I should say: I do believe Browns management failed him by not drafting and acquiring good players. I do believe that he has the raw skills and tools -- calmness, football imagination, a blunt unwillingness to make excuses -- that could make him a good head coach. I even believe it's possible that, given the chance, he could be part of a Browns turnaround if John Dorsey changes the culture enough that the Cleveland stops trading down and missing trade deadlines and instead drafts good players and signs good players this offseason.
But it really comes down to this: I also believe that the Browns could not have been significantly worse than 1-30 if I was coaching them. I don't ask for much as a Browns fan, I really don't, but I'd like the head coach of the Cleveland Browns to be a lot better at the job than I would be.