Baseball 80: Gary Carter
Gary Carter is one of more than a dozen baseball players who was nicknamed "Kid." This does not include more specialized versions of the nickname, such as The K Kid (Clayton Kershaw), the Say Hey Kid (Willie Mays), Kid Natural (Ryne Sandberg), the Big Kid (Bryce Harper), the Good Kid (Lou Boudreau), Billy the Kid (Billy Wagner) or Da Kid (Sean Manaea).
There have been plenty of pure Kids -- Griffey, Yount, Kid Nichols, Billy Demars, etc. Most of the "Kids," to be blunt about it, annoyed the bejesus out of their more veteran teammates. There are exceptions -- Ken Griffey, it seems, was called "The Kid," more in admiration than anything -- but the template seems to be Ted Williams, the most famous Kid of all, whose teammates couldn't stand his youthful arrogance or the general disdain he barely concealed in his early days.
Carter undoubtedly annoyed his teammates in the early days too, though it was certainly not his arrogance or disdain. He got his nickname by maniacally running out of every drill at Expos spring training when he was 19. Some of the veterans began calling him "Kid," in the spirit of "Hey Kid, slow down, pace yourself, it's a long season." And the more Carter performed -- and he did love to perform both on and off the field -- the nickname began to take on darker shades of annoyance.
I've not seen it often referenced, but it's striking how similar the young Gary Carter was to the young Steve Garvey. They were born a little more than five years apart, which meant that Garvey was already playing for the Los Angeles Dodgers when Carter was going to Sunny Hills High in Orange County. I imagine Carter viewed Garvey as something of a role model. Garvey loved being in the middle of it all, loved the spotlight, loved doing the press interviews, loved all of it. And so did Carter. He did so many interviews that after a while, teammates began calling him "Camera Carter" and "Lights."
And the joy! It was always there, nonstop. You would be hard-pressed to find a photograph of the young Gary Carter where he's not smiling.
I think his 1977 baseball card is the quintessential Gary Carter card.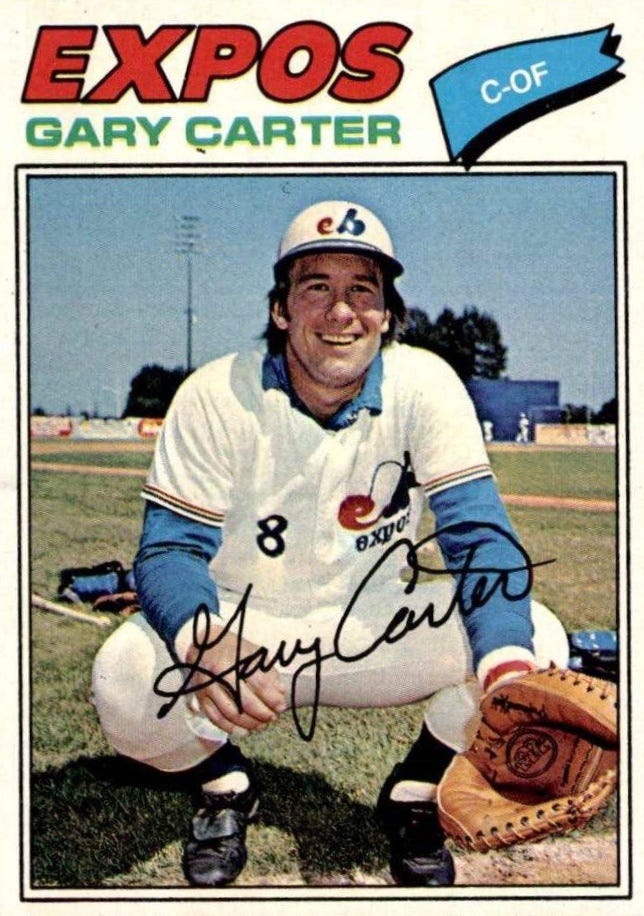 But honestly, he's even smiling in his 1975 rookie stars card. You will notice, no one else on the card is smiling. And it's a good reminder that you rarely see baseball players smile on their baseball cards.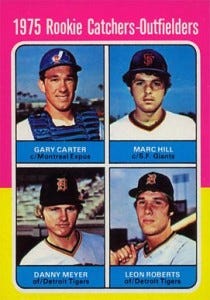 There's a particular order to Gary Carter's career, one that I think has made him spectacularly underrated. By WAR, Carter (70.1/.69.4) is the second greatest catcher in baseball history, behind only Johnny Bench. By Jay Jaffe's JAWS figuring, he's again second in baseball history behind Bench, but his seven-year peak is actually HIGHER than Bench's -- higher, in fact, than that of any catcher in baseball history.
Is he, in fact, the second greatest catcher in baseball history? That might be a little bit of a stretch, but I really don't see how you can have him out of the Top 5.
And yet, it took six years for Carter to get elected to the Hall of Fame -- in his second year on the ballot, his vote dropped to about 33 percent. Why? Well, that was the year the famous triumvirate of Nolan Ryan, George Brett and Robin Yount came on the ballot, and they took up a lot of the oxygen.
But the big thing that pushed down Carter's vote was that Carlton Fisk came on the ballot, and voters had Fisk ahead of Carter in the Hall of Fame parade. I think it's close. But, as you can see, my system had Carter ranked a few spots ahead of Fisk.
What you find so often in Hall of Fame voting is that it comes down to storytelling. Fisk's career had a clear and compelling story -- New England kid, though as nails, goes to Boston, plays his heart out, hits the Game 6 homer, goes to Chicago, finds a second life on the South Side, keeps on going and going until they tear the uniform off his back at age 45.
But Carter? How do you summarize his career? He always seemed slightly off. He was a terrific rookie, but he lost the Rookie of the Year award to John Montefusco, a name from the past (the Count was as good and famous as anybody for a couple of years there in the mid-1970s).
Carter was a true superstar in Montreal, when that city seemed a million miles away from everything and when that team was widely seen as a classic underachiever. He put up MVP quality seasons for the Expos in 1978, '79, '80, '82, '83 and '84, but he did not get a single first-place MVP vote in any of those seasons (even in 1980, the year Carter finished second in the MVP, Mike Schmidt won unanimously -- and should have).
Carter was probably the best player in the National League in 1982, when he hit .293/.381/.510 with 32 doubles, 29 homers, and spectacular defensive numbers. He finished 12th in the MVP voting that year. People knew Carter was good. They just didn't appreciate that he was basically on a level with Bench and Berra and Fisk and the best to ever play behind the plate.
Carter was not a natural catcher -- he had played only a handful of games at catcher before the Expos drafted him -- and his first two years he played more in the outfield than behind the plate. But by 1976, it was already clear that he was special defensively. He had a great arm, and he was a terrific athlete (he was recruited to play quarterback at UCLA), and he was obsessive about improving himself. In '76, in part-time play, he threw out 27 of the 54 runners who tried to steal.
He was probably the best defensive catcher in the National League in 1977, his first full season at catcher and the last year Johnny Bench won the award. Carter was the natural successor, but he didn't win his first Gold Glove until 1980. His defensive numbers now look utterly overwhelming. He finished his career with 26.1 dWAR, one of the highest totals for any player at any position. He won three Gold Gloves, but he never was considered an all-time defender when he played. He should have been.
Then, mid-career, he went to the New York Mets, and that's really when he gained some national fame. He finally got his World Series. But he wasn't quite the same player by then. He was still pretty great in 1986. In '86 -- the only year he got a first-place MVP vote -- he was 32 years old, and his body had broken down a bit, and he was still good but no longer that force of nature he had been in Montreal.
And, he declined from there, as catchers so often do. In 1987, he hit .235/.290/.392. The next year, he was about the same. The next year he played only 50 games. And then he signed with the Giants, then with the Dodgers, he finished off with the Expos, and I think too many people have THAT version of Gary Carter imprinted on their imaginations. They had not seen Carter when he was basically Johnny Bench. They had only seen the creaky-bodied catcher with the stiff swing, flaring balls to right field.
Carter never displayed any signs of being jaded by the game. To the end, he played baseball with a smile on his face and (though he was notoriously slow) a spring in his step. Every so often I would hear someone say of Carter, "Oh, that guy's a phony," which he undoubtedly was not. It reminds me of a line my friend Chuck Culpepper would use whenever someone would say to him that former Florida State football coach Bobby Bowden was putting on an act as a kind and generous man. Chuck would say, "Well, he's been doing it for 50 years, it's one heck of an act." Carter, too, had one heck of an act.
So it was with Carter. He died too young, at age 57, after a short but fierce battle with brain cancer, and at his memorial, countless people talked about his zest for life. He should have been a first-ballot Hall of Famer, unanimous even, but he did get his due in time, and the wait didn't seem to bother him much. "Though my body feels like an old man now," he told the crowd that day he was inducted in Cooperstown, "I will always be a kid at heart."