Baseball 79: Phil Niekro
Phil Niekro went to bed on Oct. 5, 1985 conflicted and unsure about what he would do the next day. His Yankees had just lost to Toronto 5-1, and that essentially ended New York's season. They had entered this final three-game series trailing the Blue Jays by three games in the American League East. A sweep could have forced a one-game playoff, and New York did win the first game. But with Saturday's loss, the chase had ended, the last hope was lost, and the Sunday game, at least in the larger context of pennant races, was meaningless.
Niekro was scheduled to pitch that Sunday game.
If he won, it would be victory No. 300.
This was not the first time that Niekro had tried for Win No. 300. It was not the second or third time either. This was actually his FIFTH shot at 300, and the four previous attempts had been crushing. He should have won it on Sept. 13, in Yankee Stadium, in front of more than 53,000 New Yorkers. That day, he pitched a complete game and did not allow an earned run. But in the third, Don Mattingly booted a ground ball, and in the fifth, catcher Ron Hassey threw the ball into the outfield, and three unearned runs scored. The Yankees lost 3-2.
Next time out, against Detroit, Niekro was staked a two-run lead in the first inning, but his knuckleball wasn't knuckling that day. He immediately gave up first-inning homers to Kirk Gibson and Darrell Evans, and the Yankees offense went dead, and Niekro still had 299 wins.
Time after that, again against Detroit, Niekro didn't have it at all, and he was pulled in the fifth inning.
And the last time out, the Orioles pecked him to death, scoring single runs in the third, fifth, seventh and eighth innings, and the Yankees lost by a run.
Now, he was scheduled to try again, but he really didn't want to try. It didn't feel right. For one thing, there was the emptiness of the game. This was the last day of the season, and everybody was saying their goodbyes, and suitcases littered the clubhouse. Niekro knew that this would be his last days with the Yankees. He had won 16 games, but he was 46 years old and he had been around long enough to know when he wasn't wanted. He expected to return to Atlanta -- maybe as a player/manager -- and the idea of winning his 300th game while wearing a Braves uniform thrilled him a little bit.
So, as he went to bed, he planned to skip this start -- a meaningless game, he kept reminding himself -- work hard in the offseason and get his 300th win in Atlanta, the closest thing he had to a baseball home.
But, Phil Niekro couldn't sleep. He tossed and turned all night, and when he finally gave up on sleep, he realized that, yes, he would pitch. He had to pitch. He had to get Win No. 300 now, before it was too late.
Phil Niekro Jr., his father, was in an intensive care unit in Wheeling, West Virginia. And he was dying.
* * *
"My father was a coal miner in Eastern Ohio," Phil Niekro explained. "Three shifts. That thing I remember most was him come back from the coal mine, and I wouldn't even recognize him. I mean, he was just ... black. All black. All I could see was his teeth.
"He would come home and the first thing he would do was come up to us on the front porch. Me and Joe would be waiting for him. He'd have his lunch bucket with him, and he opened it up, and there was always something for us. There was a Twinkie in there or a banana. He give me half. He'd give Joe half.
"And then, before anything else, we'd go into the backyard. We'd play catch, just me and my Dad. Joe would set up on the porch and watch us. We'd play catch until it got dark. Then, when it was dark, when it was over, we'd go and have dinner. Then he would go to the stove and heat some water, pour it into the tub, and he took a bath. I remember how black that water was after he was finished.
"Then my Dad would go lay down on the couch, and he'd fall asleep listening to the Cleveland Indians."
* * *
Phil Niekro felt an odd buzz as he warmed up that Sunday afternoon in Toronto. The crowd was ... different. Niekro could not remember ever pitching in a game quite like this one, and he had pitched in more than 800 big league games, in more than a thousand professional games, if you wanted to go back to the minors. His pro career went all the way back to 1959, when he signed for 500 bucks. The Braves had offered $250, but his father had done the negotiating.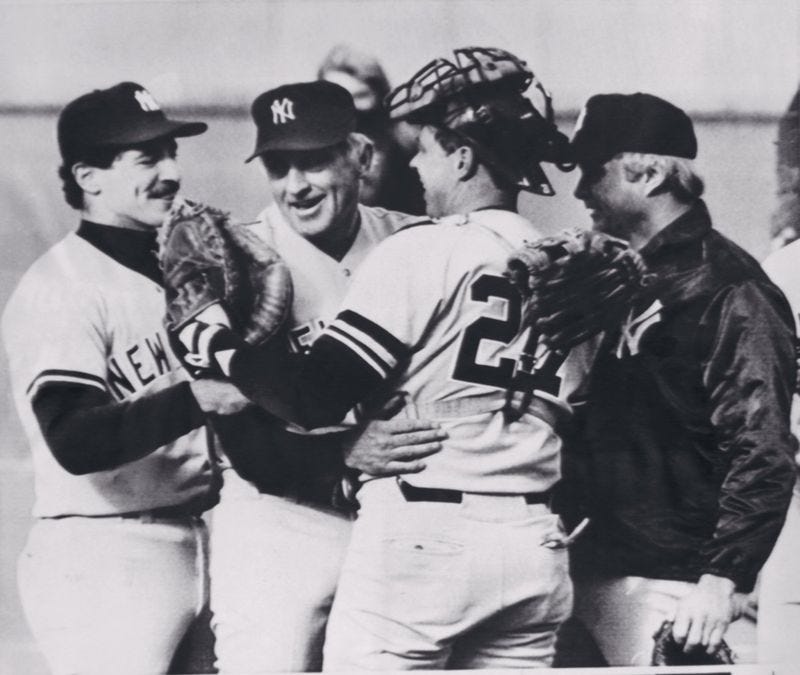 At 46, Niekro picked up his 300th win in unlikely fashion.
The Braves then sent him to a Class D team in Wellsville, in Southeastern New York, near the Pennsylvania border. Niekro was a 20-year-old knuckleball pitcher. And he was terrible. He couldn't control the pitch at all. He gave up 38 runs in 35 innings. walked more than he struck out, and the manager, Harry Minor, called him in and said the team was going to release him.
"In that moment," Niekro would say, "I saw myself like my Dad, working in the coal mines." He begged for another chance. He said he would do anything to stay, anything at all, he would mow the infield, he would be the bat boy, he would sell concessions. His earnestness impressed Minor. The Braves shipped him down a half level, to McCook in the old Nebraska State League. He pitched well enough in relief. He was (sort of) on his way.
More than a quarter century after that, the fans poured into Exhibition Stadium as Niekro got loose in the bullpen. They were not coming for a baseball game, it seemed to Niekro. They were coming for a party. They had bought their tickets back when they thought this game might decide the season. But the Blue Jays had won the division, and the fans had come to enjoy the afterglow.
Blue Jays manager Bobby Cox was resting all his best players -- the usual potent lineup heart of Lloyd Moseby, Willie Upshaw and George Bell was replaced by Lou Thornton, a rookie named Cecil Fielder and a former MVP at the end of his career, Jeff Burroughs. Cox sent out another rookie, pitcher John Cerutti, to make his first big league start. It was an exhibition game at Exhibition Stadium.
Niekro still felt weird about this one potentially being his 300th win. But then, as he warmed up, an idea emerged in his mind, a crazy idea, one that had been brewing in his imagination for decades even if he rarely said it out loud.
How crazy would it be if Phil Niekro -- Knucksie, as everyone called him -- won his 300th game without throwing a single knuckleball?
* * *
Phil Niekro Jr., the father (Phil the pitcher was actually Phil Niekro III), was a hard-throwing pitcher in his younger days. Everybody in and around Lansing, Ohio -- about an hour run from the West Virginia border -- knew how hard Phil Niekro Jr. threw in the old Mine Workers League; his sons would hear legends about it throughout their childhoods.
When Phil Jr. hurt his arm, he asked a teammate -- a former minor league pitcher named Nick McKay -- to show him this crazy pitch he threw. That was the knuckleball.
"One day in the backyard," Phil Niekro the son said, "he threw me one. It probably hit me in the knee or something. And I had to know: What was THAT? He told me. He showed me how to hold it. I didn't know anything about knuckleballs, didn't know much about the big leagues or knuckleball pitchers in the big leagues.
"All I knew was that we threw it every day. That's all we'd do. He'd come back from the coal mine, and we'd go in the backyard, and we'd throw knuckleballs to each other. Sometimes my sister Phyllis caught me. Sometimes my friend John Havlicek caught me, though that was one thing John couldn't really do -- catch that knuckleball. Phyllis was better at catching it.
"I got pretty good throwing it. I pitched four years of high school with it. I lost one game in high school in my four years, when Bill Mazeroski hit a home run off me. That was the only game I lost.
"I didn't think much about it. All I did was throw knuckleballs."
* * *
John Cerutti, making his first big league start in front of a huge crowd while facing a living legend, was a bit of a mess to start the game. He gave up a single to Don Mattingly, threw a wild pitch, and walked Don Baylor. He should have gotten out of the inning, but Damaso Garcia booted a ground ball. Then Cerutti plunked Willie Randolph and gave up a single to Henry Cotto and threw another wild pitch and gave up another walk before finally, mercifully, getting Bob Meacham for the third out.
The Yankees had scored three runs before Niekro even took the mound.
He saw that as a sign that he should follow through with his idea. He threw nothing but fastballs to Garcia, who flew out to center. Then, while spotting his fastball and mixing in a few screwballs, Niekro struck out Rick Leach and Lou Thornton.
He made it through the first without throwing a single knuckleball.
That was probably the first inning Niekro had pitched without a knuckleball since ... well, maybe ever, but certainly since 1967. That was the big year, '67, his first full season with Atlanta. He was already 28 years old, and nobody quite knew what to do with him. He threw this dancing knuckleball that nobody could hit. But nobody could catch it either. The pitch was making Joe Torre crazy, and the Braves couldn't afford to use a pitcher who was tormenting their star catcher.
In mid-June, the Braves made a bold move -- they traded for a sacrificial lamb, a knuckleball catcher who would be willing to look foolish, lead the league in passed balls and deal with the existential nightmare of being called a "catcher" while not being able to actually catch the ball.
They traded for Bob Uecker.
The Braves called Uecker a knuckleball specialist. He was not. Uecker, you will recall, once made the famous pronouncement that the proper way to catch a knuckleball is to wait for it to stop rolling and then pick it up. But, bizarrely, the trade worked out beautifully. What Uecker lacked in knuckleball catching skill, he made up for with chutzpah and generosity. "Your job is to throw the knuckleball," he told Niekro. "You throw it every pitch. It's my job to catch it."
Uecker did not catch it all that well. He set a big league record with 27 passed balls -- 23 of them with Niekro pitching. But Uecker's sacrifice made Niekro's career. For the first time, Knucksie threw his knuckleball without hesitation or ambivalence, and he led the league in ERA. His career was finally started.
Over the next 11 years, despite playing for mostly mediocre and bad teams, Niekro twice led the league in wins, twice led the league in WAR, four times led the league in innings and complete games, etc. He wasn't always appreciated; he made only three All-Star teams in those 11 years and he only got two first-place Cy Young votes. Too many people thought of Niekro less as a pitcher and more as a magician. Too many people thought of the knuckleball as a parlor trick.
Niekro resented that. That's why he started dreaming of pitching a whole game without throwing the knuckler.
"I wanted to show," he said, "not only myself but also everybody else -- all those guys who said that the only thing that kept me in the game all those years was my knuckler -- that I was MORE than a knuckleball pitcher. I wanted to show them that I deserved to be where I was."
In the second inning, he walked Fielder but got Burroughs to hit into a double play, then forced Kelly Gruber to pop out to second. Two innings down. Again, he did not throw a knuckleball.
Niekro had a no-hitter going until two outs in the fourth, when Fielder finally knocked a single on a fastball. But Niekro got out of the inning when he froze Jeff Burroughs with a fastball on the outside corner. Burroughs and Niekro went way back; they were teammates on the Braves in the late 1970s. Burroughs had seen that knuckleball up close so many times; he simply couldn't get it through his mind that Niekro was determined not to throw it.
The Yankees made it 5-0 in the fifth, and Niekro got another 1-2-3 inning without throwing a knuckleball.
"What the hell is going on out here?" Yankees second baseman Willie Randolph said to Niekro as he approached the mound.
"Not gonna throw one," Niekro said.
Randolph looked hard at Niekro and then smiled. "Go for it," he said.
In the sixth, Niekro faced the minimum again when Damaso Garcia hit into a double play. The Toronto crowd, still drunk and buzzing after the Blue Jays had reached their first postseason, began to root for Niekro. It's unclear how many of them realized that he was not throwing the knuckleball, but they could tell that something amazing was happening.
In the seventh, Burroughs rapped a double off a fastball, but Niekro got out of the inning. He breezed through the eighth as well, and then he came out to pitch the ninth with an 8-0 lead. He had still not thrown a knuckleball.
Yankees manager Billy Martin, for fun, sent five pitchers to the bullpen to warm up (there was only room for three of them to actually warm up). Niekro wasn't particularly amused. Then he saw who the team sent out to catch him as he threw his warm-up pitches: His brother Joe.
"If I lose the shutout," Phil told his brother, "I want you to come in and finish this for me."
"Shove that thinking up your ..." Joe replied.
With that, Phil threw his first knuckleball of the day and Joe couldn't catch it. The ball bounced high off Joe's leg.
"Just missed," Phil said, and now he was amused.
Niekro got Rick Leach to bounce the ball right back to him. Out number one. He threw a fastball on the outside part of the plate and got Lou Thornton to foul out to the catcher. Out No. 2.
And then Bobby Cox decided to shake things up a little bit -- he sent in Tony Fernandez to pinch-hit. Fernandez ripped a double off a fastball, and that brought up Niekro's old pal Jeff Burroughs.
Niekro threw a fastball, and Burroughs absolutely crushed it -- but pulled it just foul. Burroughs had figured it out; he was no longer waiting on that knuckleball. And this was perhaps the greatest pitcher setup in baseball history.
Yankees catcher Butch Wynegar called for another fastball.
Niekro shook him off. It was time.
Niekro threw the knuckleball, his pitch, and Burroughs swung wildly and missed. Wynegar called for another fastball. Niekro shook him off again and threw the knuckleball one last time. Burroughs swung and missed, the final out.
"In the end, I wanted the knuckler," Niekro would say, "not because I didn't think I could win without it, but because I just couldn't see myself pitching the most important game of my career without throwing one."
Niekro became the oldest man to pitch a shutout, passing Satchel Paige. In the years since, Jamie Moyer has passed Niekro. It makes for a cool list:
Jamie Moyer, 2010 vs. Braves, 47 years, 170 days.

Phil Niekro, 1985 vs. Blue Jays, 46 years, 188 days

Charlie Hough, 1994 vs. Cardinals, 46 years, 160 days

Satchel Paige, 1952 vs. White Sox, 46 years, 75 days

Satchel Paige, 1952 vs. Tigers, 46 years, 30 days
Of course, Paige might have been 56 when he threw those shutouts, we'll never know for sure.
"Either way," Niekro says, "it's pretty good company."
* * *
After Phil Niekro struck out Jeff Burroughs, everyone rushed to the mound. Joe was there first. Joe leaned close to his brother's ear and offered the perfect ending to the perfect day. He said: "Dad is out of intensive care. He's going to make it."
What happened was: Yankees owner George Steinbrenner had set up a radio in the intensive care unit so that Phil Niekro Jr. could hear the play-by-play of his son's game. In the seventh inning, Phil Jr. rather sat up a little bit and said, "He's pitching a good game, isn't he?"
Phil Niekro Jr. lived for three more years. He was too sick to be there when Phil and Joe became the winningest brother duo in baseball history, surpassing Gaylord and Jim Perry. But he sent word that he was happy and proud to have taught his sons how to throw a knuckleball. A father, he said, just wants to give his children the tools to make it in the world.