Ballot 5: Mike Mussina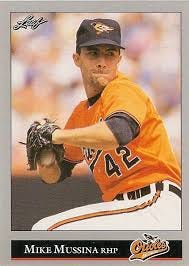 Mike Mussina
Played 18 years with two teams
Five-time All-Star, six-time Gold Glove winner, won 270 games with career 123 ERA+. 82.7 WAR, 48.6 WAA
Pro argument: Fabulous pitcher for a long time, retired on top of his game.
Con argument: Gut factor, didn't win 300 or strikeout 3,000; Uninspiring base stats like 3.68 ERA. Deserves to be in Hall?: Yes. Will get elected this year?: No. Will ever get elected?: 75%
* * *
Every generation, it seems, has a handful of players who, because of the times, because of their circumstances, because of the way baseball is analyzed and judged in their particular moment, are destined to be underrated. Take Darrell Evans who, by Bill James' figuring, is the most underrated player in baseball history. Nobody thought of Darrell Evans as a star when he played. He made two All-Star teams in his career and never finished Top 10 in MVP balloting. His one year on the Hall of Fame ballot, he got eight votes -- 251 fewer votes than Tony Perez and 188 fewer than Steve Garvey.
Well, there's a pretty good argument to make that Darrell Evans was every bit as good a player as Perez and a better player than Garvey. It's not an argument many want to make because Perez was awesome -- the underappreciated leader of the Big Red Machine -- and Garvey was, along with Pete Rose and Reggie Jackson, the most famous baseball player in America. Doggie has fans everywhere. Garvey has fans everywhere, fans who STILL push for his Hall of Fame election.
And Darrell Evans? Meh. He just did not connect with fans the way Doggie and Garvey did. Evans hit .246 for his career, drove in 100 RBIs once and so thoroughly split his career between three teams that he never quite became an all-time fan favorite for any of them. He also changed positions halfway through his career so nobody really knows if he was a third baseman or a first baseman. There was no uproar when he fell off the Hall ballot.
Bill James summed it up perfectly: "Perez is in the Hall of Fame, and I'm happy that he is, and Evans is isn't going to go there, and I'm OK with that, but the fact is that Darrell Evans was a better player than Tony Perez."
What made Evans better (or at least as good) as Doggie? He walked 90-100 times every year; Perez walked about half of that. That's why, even though Perez had 30 points of batting average on Evans, his on-base percentage was 20 points lower.
Evans also hit more home runs than Perez (414 to 380) and so created just about the same number of runs (Perez had 1,524 to Evans' 1,499). Evans was also a much better third baseman than Perez; he was a very good defender, especially in his younger days.
And Garvey? It's not close with Garvey. Both Evans and Perez had about 300 more runs created thn Garvey. WAR has it this way:
Evans: 58.5 Perez: 53.9 Garvey: 37.7
There is no grand push to get Evans into the Hall of Fame, and I'm not making one here. I'm just saying that circumstances aligned against Darrell Evans.
The same is true for Bobby Grich. He drew a bit more attention as a player than Evans did -- Grich made six All-Star teams and won four Gold Gloves and was a part of some very good Orioles teams in his younger days. Don Baylor told a story about this time that Earl Weaver pinch hit for Grich in 1972 (Grich's first full year) and Grich rushed into the dugout, grabbed Weaver by the throat and shouted, "How do you expect me to hit in this league when you keep pinch-hitting for me all the time?" Grich was a force.
But again nobody really saw him as a GREAT player or a Hall of Famer. Why? Batting average: He hit just .266 for his career. Postseason: He was never part of a World Series team. Length of career: He did not manage any of the statistical benchmarks that might get people to look at him twice. He had only 1,833 career hits, for instance.
The one year Bobby Grich was on the Hall of Fame ballot, he got 11 votes -- 171 fewer than Bill Mazeroski, 109 fewer than Maury Wills, 30 fewer than Pete Rose who was not even eligible to be elected.
And again people were just blind to what made Grich special because we did not have the language then to explain it. Among second basemen, Grich's 70.9 WAR ranks seventh all-time. He was a brilliant defender (in an era of brilliant defensive second basemen), he hit with some power, he walked a lot, he stole a few bases, and he did all of it at a time when offense was seriously deflated. He also did it, for the most part, in extreme pitcher ballparks.
Also, his Magnus Opus season was the 1981 strike year (he led the league in homers and slugging percentage) so he only played in 100 games. Also, as seen above, Bobby Grich was just a bleepin' ballplayer -- no hype, no self-promotion, just baseball. His career WAR is within three wins of Reggie Jackson. But Reggie knew how to sell Reggie.
There is a bit more of a push to get Grich recognized as a Hall of Famer than Evans, but I doubt it will go very far. Again: I'm not saying Grich should absolutely be in the Hall. I'm just saying he was a terrific player and, because of time and place, most of us just missed it.
Which brings us, finally, to Mike Mussina. When Mussina entered the Major Leagues in 1991 -- after being a first-round pick from Stanford and pitching just two seasons in the minor leagues -- there were two stats anyone cared about for pitchers. One, of course, was wins. The other was ERA. You might get a few people quoting strikeouts; the nerdier might even talk strikeout-to-walk ratio. But, mostly, it came down to wins and ERA.
Mike Mussina did not win 20 games in a season until his last year in the Majors, long after wins had lost most of its power.
And Mussina's lifetime 3.68 ERA doesn't seem great. He only once had a sub-3.00 ERA in a full season, and that happened in his first full year, 1992.
And so -- people generally did not think of Mussina as a great pitcher. He would go on putting up these 15-8 and 13-10 and 17-11 seasons. He would go on with 3.49 and 3.50 ERAs ... and occasionally 4.81 and 4.59 ERAs too. When you grew up in the 1970s and 1980s and you see those numbers, well, the mind automatically and involuntarily thinks "third or fourth starter." The mind instantly thinks: "good but not great."
Here is a list of good pitchers who have not gone to the Hall of Fame.
Lew Burdette, 203 wins, 3.63 ERA Joe Niekro, 221 wins, 3.59 ERA Rick Wise 188 wins, 3.69 ERA Jerry Reuss 220 wins, 3.64 ERA Jim Kaat, 283 wins, 3.45 ERA Frank Tanana 240 wins, 3.66 ERA Tommy John, 288 wins, 3.34 ERA Mike Mussina 270 wins, 3.68 ERA
Mussina seems to fit in that group, right? He has a few more wins than most, a slightly higher ERA than most, yeah, he fits right in. Good pitchers. Not Hall of Famers.
Only ... no. He doesn't fit that group at all. It isn't easy to see, just looking at those core numbers, that Mike Mussina was WAY better than any of those pitchers.
Lew Burdette, 25.8 WAR Joe Niekro, 28.7 WAR Rick Wise, 32.1 WAR Jerry Reuss, 33.1 WAR Jim Kaat, 45.3 WAR Frank Tanana, 57.5 WAR Tommy John, 62.3 WAR Mike Mussina, 82.7 WAR
Obviously, Mussina pitched in a much different time from any of those other pitchers, a time when runs were being scored like mad. He also pitched in the American League East when that was a gauntlet for pitchers. If you neutralize all of those ERAs to an average run environment, you begin to see that Mussina's greatness was obscured.
Neutralized ERA Lew Burdette, 3.88 Joe Niekro, 3.93 Rick Wise, 3.86 Jerry Reuss, 3.87 Jim Kaat, 3.71 Frank Tanana, 3.65 Tommy John, 3.67 Mike Mussina, 3.07
Well, those neutralized ERAs tell a very different story, don't they? That 3.07 is a better-neutralized ERA than Steve Carlton, than Juan Marichal, than Gaylord Perry, than Warren Spahn. This is not to say he was as good as they were -- but maybe he was. The times concealed his talents. He was a workhorse for his time -- throwing 200-plus innings in 11 seasons and finishing top five in innings pitched twice -- but he certainly didn't throw as many innings in a season as Carlton, Marichal, Perry or Spahn.
He has the third most shutouts of any pitcher the last 25 years (behind only Randy Johnson and Greg Maddux) but his 23 shutouts don't even place him in the Top 200 historically.
He was overshadowed by historic anomalies like Unit and Maddux, Clemens and Pedro. Those are also the only four pitchers who have recorded more WAR over the last 50 years. Tom Glavine went into the Hall first. John Smoltz went into the Hall first. Trevor Hoffman will probably go into the Hall first.
He was probably a better pitcher than any of them. He was certainly every bit as good.
But, as mentioned, there are players -- Lou Whitaker ... Dwight Evans ... Kevin Brown ... Alan Trammell -- who were just never considered huge stars when they played and, as such, were never quite viewed as Hall of Famers. It does seem like Tim Raines will finally break that spell. And the momentum is good for Mussina too. He won't get elected this year but it does look like he will take a giant leap forward, probably in part because of the backlash against Curt Schilling. It's good to see Mussina get the wind behind him. Yes, he only won 20 once. Yes, his ERA will be the second-highest in the Hall, ahead only of Red Ruffing. But, the closer you look, the clearer it becomes: Mike Mussina was a great pitcher.