Ballot 6: Edgar Martinez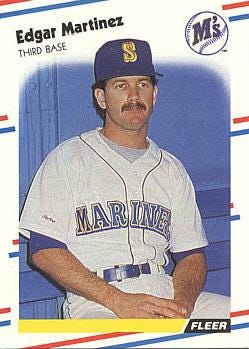 Edgar Martinez
Played 18 years with one team
Seven-time All-Star hit .312 with power for his career, won two batting titles. 68.3 WAR, 38.4 WAA
Pro argument: One of the best hitters in the history of baseball
Con argument: Shortish career because of late start and got 70% of his plate appearances as a DH. Deserves to be in Hall?: Yes. Will get elected this year?: No, but he's made a big move in early voting. Will ever get elected?: 80%
* * *
Jonathan Winters -- and I feel 100% certain that is the first and last Edgar Martinez story that will feature Jonathan Winters -- had a wonderful comedy career that lasted almost 60 years. He appeared in many movies and television shows. He won an Emmy, a couple of Grammys and he has a star on the Hollywood Walk of Fame. If you are of a certain age, maybe 35 or older, you probably have a memory of Jonathan Winters doing something or other, maybe as the baby in "Mork & Mindy," maybe doing one of his characters on The Tonight Show, maybe as the pool shark in the classic Twilight Zone episode "A Game of Pool."
He had some fame. He wasn't one of the biggest stars in the world, but he had a good career. But away from the lights and cameras that create fame, Jonathan Winters was a titan. He was a god. Everyone -- EVERYONE -- in the business idolized him. For decades, it seemed like every funny person -- from Robin Williams to Johnny Carson, Billy Crystal to Conan O'Brien, Jim Carrey to Tracey Ullman to Steve Martin to Jimmy Kimmel to on and on and on --worshiped Winters, patterned their own careers and lives after him.
"I couldn't wait for success so I went ahead without it," Winters famously said, and though that isn't exactly true -- he had a superb career -- it is true that his fame was dwarfed by his legend. He was the comic's comic. He was the master. You know the joke about how only 30,000 people bought the first Velvet Underground album but every one of them started a band. Every appearance Jonathan Winters ever made, it seems, changed the life of a future comedian.
Edgar Martinez is the Jonathan Winters of hitters.
Martinez had a wonderful career. He won two batting titles. He led the league in on-base percentage three times, in doubles twice, in runs once, in RBIs once. His .418 on-base percentage is third-best of the last 50 years -- behind Barry Bonds, of course, and just barely behind Frank Thomas' .419 -- and he is one of only 13 members of the .310/.410/.510 club.Those members, by the way, include: The Georgia Peach; Rajah; Shoeless Joe;' Teddy Ballgame; the Babe; Slug Heilmann; The Man; The Iron Horse; Double-X; Hammerin' Hank; MannyBManny and Todd Helton, who Baseball Reference encourages us to call "The Toddfather," but I'm not gonna do it. That's pretty good company.
Those members, by the way, include: The Georgia Peach; Rajah; Shoeless Joe; Teddy Ballgame; the Babe; Slug Heilmann; The Man; The Iron Horse; Double-X; Hammerin' Hank; MannyBManny and Todd Helton, who Baseball Reference encourages us to call "The Toddfather," but I'm not gonna do it. That's pretty good company.
Yes, it was a great career, Hall of Fame worthy. But as good as his career was, it was behind the scenes, among the players, that Edgar Martinez was truly admired. Fans across the country often ignored him. Seattle fans and fans of great hitters loved him. But baseball players, well, they were in awe of him. There's a story an editor recently told me: One spring training, he assigned his baseball reporters to ask every pitcher they could find: "Who is the toughest hitter you've ever faced?" The editor eventually scrapped the whole project. So many of them said Edgar Martinez that there was no point.
We've seen some of that in recent years, while the rest of us debate Martinez's worth as a Hall of Famer. Mariano Rivera called Edgar was the toughest hitter he ever faced. Randy Johnson said Edgar was the best hitter he ever saw. Heck, Pedro Martinez said Edgar was his toughest hitter even though Edgar only hit .120 against Pedro. "He would make me throw at least 13 fastballs above 95," Pedro said. "I would be breathing hard after that."
There are a million quotes about Edgar Martinez.
"With a team full of Edgar Martinezes," Lee Elia once said, "we wouldn't need a hitting coach."
"He's the perfect hitting guy," Sandy Alomar said.
"I used to just watch him take batting practice," Derek Jeter said. "We all did."
Edgar Martinez was an 8-year-old kid in Puerto Rico when he saw Roberto Clemente play in the 1971 World Series. At that point, he knew exactly what he wanted to be. He spent his childhood hitting things, whatever things he and his cousin Carmelo Martinez could find, rocks, bottle caps, cans, tennis balls, big pieces of gravel from a nearby construction site and anything else that was lying around.
Sometimes, Edgar hit stuff that WASN'T lying around. Carmelo Martinez recalled that he used to watch Edgar standing by his grandmother's house looking up at the roof. Edgar would be holding a broomstick on his shoulder like it was a bat. It made no sense. And then, suddenly, a drop of water would fall from the corner of the roof, Edgar would wait for it and then unleash -- hitting the droplet and splashing water everywhere.
The man used to hit raindrops, for crying out loud.
Yes, Martinez was obsessed with hitting -- he even named his dog "Swing." But it was a long climb. No one saw the young Edgar as much of a prospect. He couldn't run. He did not hit for power. He did not seem suited for any defensive position. He only signed with the Seattle Mariners after showing off his hitting prowess at a tryout camp (he had spent the day working at a pharmaceutical factory). The Mariners gave him $4,000 and sent him 4,000 miles away, to Bellingham, Washington. He couldn't speak English. He was freezing. He hit .173.
"I couldn't believe," he would say, "people could live in such cold weather."
But it was just a temporary freeze. The hitting came back quickly after that. Edgar hit .303 his second year in the minors. In 1987, when he was 24, he hit .329 and walked a bunch in Class AAA Calgary. The Mariners called him up, and he hit .372 in 13 big league games. He seemed ready for the big leagues.
No.
The next year, at age 25, the Mariners sent him back down to Calgary. So he hit .363 and rocketed line drives all over the place. Again, he seemed to have proven himself to be a Major Leaguer.
No.
Well, to be fair, the next year, the Mariners did try him out in the big leagues. But he only hit .240 with no power. So they sent him BACK to Calgary for a little more seasoning. He hit .345.
Finally, in 1990, at age 27, Edgar was ready. The Mariners gave him an everyday job at third base. The Mariners had never had a winning record before but there was a talent storm brewing in Seattle. A 20-year-old Ken Griffey arrived. A young shortstop, Omar Vizquel, was getting his feet under him. A big left-handed pitcher, Randy Johnson, pitched 200 innings for the first time in his career. This was the beginning of what would be a terrific but star-crossed team.
And, from the start, there was Edgar Martinez at third base. He got his first 500-plate-appearance season ... and he hit .302. The next year, he hit .307. The power came slowly, but he could hit from the start. Before Edgar Martinez turned 40, he would have 10 seasons with 500-plus plate appearances. He hit .300 in all ten of them.
Then, it wasn't just his ability to hit baseballs hard. As Pedro Martinez suggested, the guy would just BREAK pitchers. He treated each at-bat like it was the last chance for peace in the Middle East. He would foul off 100 pitches if necessary. In those 10 full seasons, the LOWEST on-base percentage he had was .397. That would be a career HIGH for many Hall of Fame players. Yes, it's true that working walks is an underappreciated and generally unpopular skill. Nobody likes walks. Pitchers don't like them. Fans don't like them. Even old-school managers and hitters don't like them.
But the walk is a weapon. Martinez drew so many walks to go along with the rockets he hit all over the park that he created 1,631 runs in just 8,674 plate appearances. He's 25th all-time in runs created per game. It's not an apples-to-apples comparison, but he created more runs per game than Willie Mays, Henry Aaron or Mike Schmidt. It's more apples-to-apples to say he created more runs per game than Chipper Jones, Mike Piazza or David Ortiz.
"Edgar never swings at a bad pitch," Juan Gonzalez told Sports Illustrated's Kelli Anderson. Alas, this was the difference between Juan Gone and Edgar. Gonzalez had more natural power and hit baseballs plenty hard -- he played in a great hitters park, yes, but he did lead the league in homers twice and in doubles once, and he won a couple of MVP awards. Still: Juan Gone walked just 457 times in his entire career. Edgar did that just between 1995 and 1998.
Juan Gone hit .295 and slugged .561.
Martinez hit .312 and slugged .515.
But Martinez created 22 more wins, largely because he would not swing at bad pitches.
Edgar was a craftsman. Every time he got a new shipment of bats, first thing, he would weigh each one on his own personal scale, and if it was a half an ounce off, he threw the bat away. He had this daily eye exercise routine One of my favorite Edgar stories: Every spring training he would show up, get into the batter's box and watch dozens and dozens of pitches go by. He would never swing. He just wanted to watch the baseball go by.
Just about everyone acknowledges Edgar's hitting genius ... so what has kept him out of the Hall of Fame so far? Right. The defense thing. He was a DH most of his career. What's interesting is that by Baseball Reference numbers, Edgar Martinez was a good third baseman even if he did commit quite a few errors. He had above average defensive WAR each of his first two full seasons at third.
In 1992 -- while winning his first batting title -- he felt a terrible pain in his right shoulder. The shoulder never felt quite the same, even though other injuries (to his hamstring and when he got hit by a pitch) actually kept him out of games. In 1994, he played 64 games at third (again, he had an above average defensive WAR) but the pain was intense, and the injuries had piled up, and the Mariners wanted him in the lineup every day. They could FIND third basemen (Mike Blowers, Russ Davis, David Bell, Jeff Cirillo).
But they could never find someone who could hit like Edgar.
So, Edgar Martinez became a designated hitter. As a hitter, he matches up awfully well with other good-hitter, mediocre-fielder types -- Killebrew, Reggie, McCovey, Stargell, etc. -- and if he had just stayed at third and first, no matter how poorly he played in the field, he probably would be in the Hall of Fame already.
Then, maybe his career would have been different if he played in the field -- maybe his body would not have held up, and he wouldn't have played until he was 41. We can't know the answer to that.
What we do know is that it has always been Edgar Martinez's destiny to be overlooked. Four or five times every year of his career, it seems, there would be some story admonishing America for not appreciating Edgar Martinez. Well, he was a quiet guy on the West Coast who played in the middle of the night for much of the country. This is his eighth year on the ballot, and because he seems to be making a big move this year, there seems a decent chance he will get elected by the BBWAA in the next two years.
If not, though, I suspect the Veteran's Committee will race to elect him. After all, it was his teammates and opponents who fully understood the wonder of Edgar.
Oh, there is one more Edgar Martinez story I think of now. His wife, Holli, was once asked what Edgar thinks about when he wakes up in the morning.
"Home plate," she said.