Ballot 33: Matt Stairs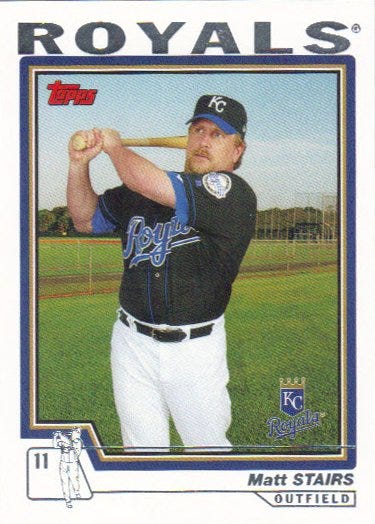 Matt Stairs
Played 19 years for a record 13 different teams (counting Washington and Montreal seperately), hit 265 homers and drove in 899 runs, 14.3 WAR, minus-6.2 WAA.
Pro argument: Mashed a lot of home runs
Con argument: Just about everything else
Deserves to be in Hall?: No
Will get elected this year?: No
Will ever get elected?: No
OK, admission time ... and for those of you who are quick on the trigger, you probably already know something about this. I got my Baseball Hall of Fame ballot a couple of days ago, but didn't really look at it before starting this absurd project. Instead, I went to the Baseball Reference site and looked at what I thought was the 2017 ballot and worked off of that.
I did not notice that it very clearly says POTENTIAL Hall of Fame Ballot. *
*Don't worry Sean Forman, I am taking all the blame for this one.
This is why, if you were quick, you might have noticed that I actually wrote something about Danys Baez yesterday. Baez is listed on the Baseball Reference ballot, so I wrote a whole thing about how ridiculous it was to have a marginal player like Baez on the Hall Ballot (along with writing some nice things about Baez -- I did find that his 41 saves for Tampa Bay in 2005 in a record for a Cuban pitcher).
Anyway, after I published it, I had this thought that I should have had much earlier: "Hey, maybe I should look at the ACTUAL ballot to be sure Baez is on there."
He is not. Yeah. So that was a waste of time and sort of embarrassing. I raced back to my computer, deleted the Baez entry, took a cursory glance at the ballot and determined that I would write about Arthur Rhodes.
It was only after that Rhodes piece was up on the site that I decided (finally) to take a hard look at the ballot and see who exactly is and who is not on there.
Surprise No. 1: Matt Stairs is on it.
Surprise No. 2: Javier Vazquez is not.
The rest of this article will deal with Stairs, so let me take a few seconds to write about Vazquez: I am thoroughly stunned that he is not on this ballot. I feel quite confident in saying that he's the best player in memory -- with the inapplicable exception of Pete Rose -- to simply be left off the Hall of Fame ballot. On the simplest level, Vazquez has pitched 2,840 innings. There are only two active pitchers -- CC Sabathia and Bartolo Colon -- who have thrown that many innings. As Tom Tango points out, it's unlikely that anybody within A THOUSAND INNINGS of Vazquez has simply been left off the ballot.
It is confounding.
Now, here's the thing: It doesn't matter. I mean, you know and I know that Javier Vazquez is not a Hall of Famer. He is not close to being a Hall of Famer. His place on the ballot would have been purely for show; he probably would not have gotten a single vote. And if he actually DID get any votes, that would have been even worse, it would have been used as fodder to point out the cluelessness of Hall of Fame voters. Yes, there's an argument some make that just being included on the ballot is a lower-case honor, but I tend to side with Bill James' view that it's just a ballot, not meant as a way to honor players.
Still, leaving Vazquez off is WEIRD. That's the part that's hard to get around. It's weird. You look at some of the starters who have been on the ballot the last few years -- Mike Hampton, Jason Schmidt, Woody Williams, Aaron Sele, Terry Mulholland, Kirk Rueter, Shane Reynolds, etc. -- and Vazquez had a better career than any of those guys. I mean, he struck out 2,500 batters in his career. His 43 WAR is better than a half-dozen Hall of Fame starters including the patron saint of such arguments, Catfish Hunter. How did they overlook him?
I don't think this is something to get angry about -- there's enough of that already. It's just very curious.
Matt Stairs was, in the words of my friend Jeff Garlin, a big bowl of wonderful. I'm a little bit surprised to see him on the ballot (he was not on the Baseball Reference potential ballot), but I'm glad to see him there. He had a beautiful career.
When Stairs retired, I relayed the astounding (if irrelevant) similarities between Matt Stairs' rate numbers and those of a Hall of Famer -- let's see if you remember:
Matt Stairs: .262/.356/.477
Hall of Famer: .262/.356/.490
You got it? The Hall of Famer is Reggie Jackson, and before you take this too seriously and start crafting an angry email in your head, let's just get this down: I AM NOT SAYING THAT MATT STAIRS WAS AS GOOD AS REGGIE JACKSON. Even the seemingly similar rate statistics are not at all similar because they played in very different run-scoring environments. It's just a quirky and fun thing.
But, I AM saying that so much of what we come to see as inevitable baseball history is, in fact, a combination of talent and timing and circumstances. Reggie Jackson as a young man was an athletic marvel with an overpowering ambition to be a superstar. That ambition -- perhaps unmatched in American sports history -- is what defined Reggie. He was going to be a star, whether it was baseball, football, television, whatever. He was like Harry Houdini that way.*
*And before you ask: Yes, I DO plan to include Harry Houdini in every single thing I write until my book about Houdini is published in early 2018. Sorry.
Jackson was the second pick in the Major League Draft. He negotiated himself a (relatively) big-money deal before he took his first big swing. He knew home runs would get him where he wanted to go and so he swung for the fences and took all the strikeouts that came along with it. He endured various minor league trials -- including a rough season as a black man in Birmingham in 1967.
After Jackson failed in the big leagues as a 21-year old (hitting .178 with just one homer in 135 plate appearances), he went back to work on his swing. The next year, 1968, the year of the pitcher, he mashed 29 homers and struck out 171 times (just four shy of the record) . The next year, at age 23, he crushed 47 homers and became a full-fledged star. His team, the A's, became the bad boys of baseball as they swept through three consecutive World Series victories. Then, not long after that, Reggie signed with George Steinbrenner's Yankees, fought with Billy Martin, had a candy bar named for him, mashed three homers in a World Series game and heard them chant "Reggie! Reggie!" wherever he went.
OK, now look at Matt Stairs. He grew up in Fredericton, New Brunswick, Canada, which is near, um, Noonan, New Brunswick, Canada and so on. His game was hockey, of course. "I had a wicked slap shot," he used to say. When he made it to the big leagues in 1992 for a cup of coffee with the nearby Montreal Expos (nearby as in an eight-plus hour train ride), some of his friends showed up after the game and remarked: "Hey, Matty, I didn't even know you played baseball."
The Expos had signed him as a free agent after he played on the Canadian baseball team that finished seventh of eight at the 1988 Olympics (they did finish ahead of Chinese Taipei, for what it's worth). At the time, the Expos were just sort of interested in signing ANY Canadian players they could find. And they thought that Stairs, with enough seasoning and effort, might turn into a scrappy little second baseman (Stairs is only 5-foot-9). He even had a bit of speed back then (he had 10 triples in his best minor league in Harrisburg one year).
The Expos gave him a brief shot in 1992 (he hit .167 in 13 games) and then, seeing that he just wasn't scrappy enough, sold him to the Chinichi Dragons in Japan. That wasn't a very nice thing to do. Stairs did not like Japan one bit, so he played out his season and then raced back to Canada where in desperation he signed right back with the Montreal Expos. Maybe this time they would give him a real chance.
Two months later, they sold him to Boston.
He was 26 years old by this point, and he played Class AA ball in New Britain. At this point, the odds against you or I ever hearing of Matt Stairs were pretty staggering.
Stairs played 39 unmemorable games for the Red Sox at which point they just said: "Thanks for coming. Please tip your waiter or waitress on the your way out." He was 28 when he joined the Oakland Athletics.
And that THIS point, the odds against you or I ever hearing of Matt Stairs were so high that Vegas took them off the board.
Now, pause right here. By the time he turned 28, Reggie Jackson had hit 189 career homers, made four All-Star Teams, won an MVP award and was one of the biggest stars in sports. He was not yet called Mr. October, but the groundwork was laid.
Matt Stairs career, meanwhile, had not yet begun. But more significantly, he still did not know who he was as a baseball player. That changed one foggy moment in Edmonton in 1996. To clarify, the morning itself was not foggy; it was Stairs. He'd had a rough but enjoyable night. He could barely keep his eyes open in the sunshine. And so that day, in retaliation to the hangover hammers banging on his head, he dropped his hands and swung really hard. And something amazing happened. The ball started rocketing off his bat.
Up to that season, he'd hit one -- count 'em ONE -- big league homer. It was off Tom Gordon in Kansas City. But when the A's called him up on Independence Day, 1996, Matt Stairs knew who he was. Matt Stairs was a MASHER. In his second game back in the big leagues, he cranked a homer off Ryan Hancock. In his third, he clubbed one off Shawn Boskie. In all, Stairs slugged .566 after getting the call, and he hit nine homers in 51 games. Look out world.
The next year, at age 29, Stairs hit .298 and 27 homers in just 352 at-bats.
At age 30, he hit 26 more homers.
At 31, he hit 38 home runs.
That's when Matt Stairs got his first big money contract. He liked that. Stairs bought cars. He bought a television for every room in his house. Yes, this was living. Stairs had finally learned the lesson that Reggie Jackson had understood implicitly: Life is good for the home run hitters.
And once Matt Stairs realized that ... there was no going back. He spent the rest of his nomadic baseball striking out and hitting home runs. He didn't do much of anything else. Well, he walked some and he was a versatile, if ineffective, fielder who could play four or five different positions in various emergencies. Oh, and he was a funny locker room presence, someone everyone liked. Once, when the Kansas City Royals were in the midst of one of their famous swoons, Royals manager Tony Pena jumped into the shower with his clothes on in a bizarre effort to loosen up the team. After that, Stairs suggested to teammates that they might want to just get drunk.
The thing that always struck me about Matt Stairs was that he brought an oddly admirable professionalism to the game. I call it "oddly professional" because Stairs was not exactly sculpted. He did not give rah-rah speeches. He did not make grand pronouncements.
No, Stairs knew exactly why he was there and what they were paying him to do. If the managers benched him, he sat on the bench. If the manager put him in, he swung for the fences. If reporters came up to ask him a question, he answered it. If a teammate wanted a hitting tip, he offered it.. When he got traded (as he was three times) or let go (granted free agency, they generously call it), he quietly packed up his stuff and went to the next town where again he sat on the bench until he was called and then swung for the fences when he got his chance.
In all, he hit 265 home runs which is more than 93 Hall of Famers including some surprises like Robin Yount (251), Roberto Clemente (240) or Paul Molitor (234). This comparison, like the one to Reggie Jackson, is only meant to point out that it was a helluva career for a guy who should have dropped out of baseball a dozen times before he hit that first hangover home run. What if his circumstances had been different? What if he'd grown up in the United States and gone to play college baseball somewhere like Arizona State and figured things out when he was much younger?
Eh, who knows? Maybe if that had happened he would have flamed out in someplace like Des Moines and never hit any big league homers. Life is what happens. I think Stairs understood that better than most. When he was playing for Philadelphia, he got one at-bat in the 2008 National League Championship Series against the Dodgers. It was Game 4, tie score in the eighth, Dodger Stadium. Stairs was sent in to face the behemoth Jonathan Broxton who, at that time, threw 289 mph.
Stairs crushed a 3-1 fastball into the night to give the Phillies the lead they would not relinquish.
"I just happened to barrel it," Stairs said after the game.
Thirteen days later, he got his one and only at-bat in the 2008 World Series. This time he faced Tampa Bay's Dan Wheeler. He struck out swinging. And this, he would tell you, is the natural order of things. You swing and miss. You swing and homer. You swing and miss again. It wasn't a Hall of Fame career, no. It wasn't Reggie Jackson's career, no. But sometimes Matt Stairs did barrel it.