Ballot 32: Freddy Sanchez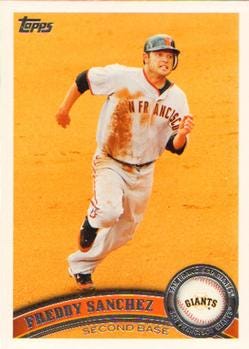 Freddy Sanchez
Played 10 years for three different teams
Three-time All-Star with .297 lifetime average and 1,012 hits. 15.8 WAR, 4.8 WAA
Pro argument: Won a batting title!
Con argument: No, that's not much of an argument.
Deserves to be in Hall?: No
Will get elected this year?: No
Will ever get elected?: No
Freddy Sanchez is still just 38 years old. He has to be one of the youngest players to ever appear on the Hall of Fame ballot. His career was cut short by back and shoulder injuries that never quite recovered, though he refused to give up. Sanchez's last game was June 10, 2011 -- he started and lined a single off Travis Wood in the third and dislocated his shoulder in the fifth diving for a Brandon Phillips ground ball. He was 33 years old.
He refused to retire until December 2015. He just kept hoping.
Sanchez was a nice player. He did have that batting title in 2006, and he really did hit ropes all season. He hit .344 with a league-leading 53 doubles that year. He did that for a 95-loss Pirates team that scored the fewest runs in the National League.
Let's pause on that for a minute because special attention should be paid to those players who manage to have excellent years for terrible baseball teams. I've written this before, but I think the argument that there's more pressure on players in a pennant race is bunk. Having been around teams in pennant races, it's clear to me that without exception the players are much looser than on a bad team. They're having fun. They're confident.
I'm not saying it's easy to play your best on a good team. Baseball isn't easy.
I'm saying it's A LOT EASIER to play your best on a good team.
The harder thing is playing your best on a terrible team, with half-empty stands, with teammates wanting out, with the manager on edge and the hot seat, with today's game meaning absolutely nothing and tomorrow's game meaning even less, with it always seemingly two outs and nobody on base when you get to the plate.
See, the thing that we mortals so often confuse with pressure -- tie score, late innings, men on base, game on the line -- is the dream of almost every young player, the very REASON they got into the game, the moment they have prepared for since they first picked up a bat or a ball.
Nobody, though, dreams about playing out the string in Pittsburgh. Again.
Freddy Sanchez was drafted by Boston in the 11th round when he was closing in on 23 -- he'd had an odyssey of an amateur career, playing at Glendale Community College, Dallas Baptist University and Oklahoma City University. Sanchez was born with a clubbed foot; much of his childhood was spent in painful therapy. Doctors had not been sure he would ever walk again ... for him to become an elite athlete is a marvelous story.
And Sanchez flat hit when he got his minor league chance, so much so that he moved his way into the top of the Red Sox minor league prospect list along with guys like Hanley Ramirez, Kevin Youkilis and so on. The Red Sox dealt him to Pittsburgh at the deadline in 2003 to get Jeff Suppan, who was pitching well (until he got to Boston).
After that, Sanchez played through five meaningless Pittsburgh seasons, losing 94 or 95 games every years. And though he was only a batting champion once, he was a useful player throughout, hitting right around .300, playing a good second and third base, making three All-Star teams, staying relatively healthy.
After he was traded to San Francisco, he was again a useful player but this time for a winner -- he played more or less every day for the 2010 Giants team that won the World Series. He didn't do anything exceptionally well that year but he hit .292 with light power, played a league-average second base, and as the saying goes, average players help the ballclub.
No, it's not entirely clear why Freddy Sanchez was included on the Hall of Fame ballot while similarly useful players like Aaron Rowand and Julio Lugo were left off. I guess it was that batting title, and the sad fact that his career ended too soon.