Ballot 30: Pat Burrell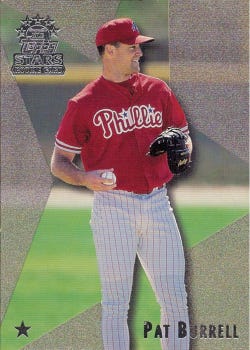 Pat Burrell
Played 12 years for three different teams
Lifetime .253 average with 292 home runs. 18.8 WAR, -1.2 WAA
Pro argument: Slugger who hit 30-plus homers four times.
Con argument: The rest of it.
Deserves to be in Hall?: No
Will get elected this year?: No
Will ever get elected?: No
Pat Burrell, unlike Matt Stairs, Freddy Sanchez and Casey Blake, was born to be a star. He was a star in high school (football and baseball), and even bigger star in college (three-time All-American, winner of the Golden Spikes Award and Most Outstanding Player of a College World Series his team did not win) and he was the first overall pick in the 1998 amateur draft.
He promptly hit .300 with flashes of power in the minors, and Baseball America named him the 19th best prospect in baseball as a 21-year-old.
The next year, he hit .320 with a lot of power in the minors, and Baseball American named him the No. 2 prospect in baseball behind only Rick Ankiel.
The story of so many players on the Hall of Fame ballot is the story of exceeding expectations, of proving people wrong, of enduring various bad breaks or crises of confidence and pushing through. Matt Stairs was sent to Japan. Casey Blake was waived four times. And so on.
With Pat Burrell, it was very different. He could never EXCEED expectations because those expectations were limitless. He hit .260 with 18 home runs as a 23-year-old and finished fourth in the rookie of the year voting ... and that was fundamentally DISAPPOINTING. Where was the guy's much-celebrated power? When was this guy going to turn into Harmon Killebrew?
The next year, he hit 27 home runs. Yawns.
The next year, he hit 39 doubles, 37 homers, drove in 116 RBIs and ... OK, fine. Finally.
This was the thing that hounded Burrell. Is it easier to succeed with or without expectations? The thing about Burrell is that he always had real liabilities as a player. He couldn't run at all. This made him a liability as an outfielder. He had a huge hole in his swing and so was Top 10 in strikeouts more or less every year ... but he was never Top 10 in slugging percentage.
And so, after a while, people began to think about all the things he could not do over the things he could. He had good plate discipline. He hit his share of home runs. But he was never quite as good as he was supposed to be, and that more than anything defined him. It's not fair or unfair, these are just the realities. Pat Burrell was given opportunities at a young age that guys like Matt Stairs and Casey Blake could only dream about. But he was also held to a standard that left his career feeling like a disappointment while their similar careers felt like triumphs.
* * *
Ted Williams hit .200 in the World Series ... and he never heard the end of it. It was only 25 at-bats, which is nothing, but World Series at-bats help determine a player's legacy, and there were always those who saw Ted Williams as an overrated and selfish ballplayer who cared about himself more than his team and choked in the clutch. His .200 batting average in the World Series probably feeds that nonsense better than his .333/.518/.628 career line with runners in scoring position.
In any case, Williams hit .200 in the World Series ... and David Ortiz hit .455. Dave Winfield hit .136 with one double while Lou Brock hit .391 with four homers. In big ways and small, the tiny sample sizes of the World Series tell stories.
Pat Burrell hit .037 in two World Series. That's one hit in 27 at-bats. He got one hit in the Phillies 2008 victory over Tampa Bay, and he got zero hits in the Giants 2010 victory over Texas.
This is the realm of many pitchers like George Earnshaw (0 for 22) and Sandy Koufax (1 for 19). We're talking about the world of Marv Owen, who went 2 for 29 in the 1934 World Series and topped that by going 1 for 20 in 1935 ... the world of Swede Risberg, who went 3 for 25 in the 1919 World Series that he helped throw.
There are others -- Bill White, Bill Freehan, Bill North (lots of Bills) -- who had World Series woes, but Pat the Bat Burrell is the king of them.