Ballot 3: Curt Schilling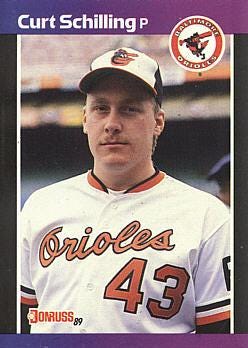 Curt Schilling
Played 20 years for five teams
Six-time All-Star struck out 3,000 and finished second in Cy Young voting three times. 80.7 WAR, 54.1 WAA
Pro argument: Had greatest strikeout-to-walk ratio in modern baseball history and was amazing in the postseason.
Con argument: Relatively low win total; he has offended many people.
Deserves to be in Hall?: Yes.
Will get elected this year?: 0% chance
Will ever get elected?: 65-70%
* * *
Someone in the game I respect very much (to be clear -- he's not a writer) made the anti-Schilling argument to me the other day over breakfast. I was a bit surprised, to be honest. He asked me if I would vote for Schilling after all that he has done in the last year. I said, "Of course I will, I never even considered not voting for him."
And he was really taken aback. If I could sum up his anti-Schilling argument, I guess it would go something like this: He believes the Hall of Fame is an honor more than it is a recognition of excellence. We have gone over this. He believes it is, first and foremost, baseball's highest honor, the Nobel Prize for baseball.
And this honor is bestowed by the Baseball Writers Association of America (or, in later years, by a veteran's committee). The writers are given a great deal of latitude in making this choice. We are directed to base our voting not only on the player's record, playing ability and contribution to the team(s) on which he played, but also on the player's integrity, sportsmanship and character -- whatever you see those words meaning.
And so, my friend says: If Curt Schilling chooses to purposely and repeatedly offend members of the Baseball Writers Association of America (and many others) with various bits of stupidity like retweeting a "joke T-shirt" about how journalists should be lynched or getting fired for replying to a "joke" about the North Carolina bathroom law, well, the writers have every right, even an obligation, to withhold baseball's highest honor from him.
I respect that point of view. But I strongly disagree.
I suppose my disagreement comes from that thing I've already written about -- that difference between an "honor" and a "recognition of greatness." I see the Hall of Fame more as a recognition. I think it's the place for the best baseball players ever, regardless of their various moral and competitive failings. I do think that "best baseball players ever" does incorporate character and integrity and sportsmanship, but I don't weigh them as heavily as many others do. I would mark a player down for steroid use, but I wouldn't disqualify him. I would certainly examine how a player was viewed as a teammate, but it would not necessarily provide a big swing. They MAIN point for me is: Were they all-time great baseball players.
Anyway brilliant reader John throws out a challenge: I've made this challenge to Joe before, and I make it again: if the Hall of Fame is NOT an honor, if it's "just a museum," and all that should matter are the numbers… then why is he forever whining that Buck O'Neill was never inducted? After all, the numbers say Buck isn't worthy. End of story. So why complain about Buck's exclusion, unless… ADMIT it, Joe, induction IS an honor!!! It's a huge honor, one you think a,wonderful man like Buck O'Neil deserves. But John conflated two different things. Well, actually John does a lot of misdirection -- I certainly have never said nor do I believe that all that matters are numbers. And I only cared about Buck making the Hall of Fame when he was alive, when a committee was given carte blanche to induct as many Negro Leaguers as they wanted (and they did induct 17) and they chose to snub Buck O'Neil for muddled and secretive reasons. I have made it very clear for a decade: I do not care if Buck O'Neil is ever inducted now that he is gone. It doesn't matter to me in the least. I'm proud of the Hall of Fame for honoring him with the Buck O'Neil Award and for putting a Buck statue in the building.
But the larger misdirection is that I never thought Buck O'Neil deserved to make it as a player. And I also never thought Buck O'Neil deserved to make it for being a nice guy. I thought he deserved election because of his contributions to the game, for his long life as a player, manager, scout and storyteller, for keeping the memory of the Negro Leagues alive, for breaking barriers and making people in the game see a black man in a new light. He deserved to make it as a CONTRIBUTOR to baseball, not as a PLAYER, two totally different things.
I actually don't think the Hall of Fame should have ANY non-players in it. I think the contributors should have their own thing. But that ship sailed long ago. Bill Veeck made it to the Hall of Fame as a showman. Larry MacPhail made it largely for "pioneering night baseball" (Negro Leagues owner J.L. Wilkinson, who actually DID pioneer night baseball long before MacPhail made it later). Tom Yawkey made it for incompetently owning a baseball team for more than 40 years. Alexander Cartwright made it based on a myth. And so on. It is this part of the Hall of Fame that should have included Buck O'Neil. It is this part of the Hall of Fame, by the way, that should include Bill James.
All of this has nothing at all to do with how players get in. I do not think Barry Bonds or Roger Clemens or Curt Schilling should be inducted to the Hall as contributors.
Curt Schilling was a no-doubt Hall of Fame baseball player. He has somehow been passed down as a borderline case even though I feel pretty sure that Schilling was a better pitcher than Tom Glavine or John Smoltz, contemporaries who sailed into the Hall of Fame first ballot. The comparison with Smoltz is probably best since they were both right-handed power pitchers who struck out 3,000 hitters, had great postseason records and finished with strikingly similar base stats.
Smoltz: 213-155, 3.33 ERA, 3,084 Ks, 1,010 walks, 125 ER+, 154 saves.
Schilling: 216-146, 3.46 ERA, 3,116 Ks, 711 walks, 127 ERA+, 22 saves.
The saves thing pushed Smoltz over the top, I think, well, the saves thing and the Cy Young Award he won and, yes, Smoltz is just a bit more likable than Schilling.
But those final numbers -- compilations of a career -- miss a big point. Who was actually the better pitcher at their height? I don't think there's any question it was Schilling. John Smoltz's best year was 1996 when he went 24-8 with a 2.94 ERA and led the league in innings, strikeouts and FIP. It was a dazzling year, and while I would have given the Cy Young to the criminally underrated Kevin Brown (whose ERA was a full run better and allowed just eight homers all year), Smoltz's year was certainly a great one. It was also, by far, his best season.
Schilling probably had THREE years that were at least that good, maybe better.
Schilling struck out 300 three times -- only Ryan, Unit and Koufax have done that. He led the league in strikeout-to-walk ratio five times, in innings twice, in complete games four times, in WHIP twice. He wasted four of his best years on terrible Philadelphia teams, going just 56-41 despite a 137 ERA+, a 4.5-to-1 strikeout to walk ratio and 38 complete games, most in baseball over that time. Then he pitched breathtaking baseball in Arizona for three-plus seasons but it was somewhat overlooked because Arizona is a hitter-paradise (thus inflating his ERA) and because he lost two Cy Young Awards to the all-time wonder that was the Big Unit.
Then, of course, her went to Boston, he had one dazzling season and was probably the key to the Red Sox finally winning their World Series -- with the bloody sock to prove it -- and he then stuck around for three injury-plagued years where he occasionally flashed his brilliance but mostly just compiled stats. He even managed one more memorable World Series start.
This is a Hall of Fame career. I think Smoltz had a Hall of Fame career too, but if I had to choose only one it would be Schilling. It never made much sense to me that people saw Hall of Fame greatness so clearly with Smoltz, and the same thing is so foggy with Schilling.
All of which will finally get me to my point: Curt Schilling should already be in the Hall of Fame. He should have been elected first ballot back in 2013, two years before Smoltz even made the ballot and three years beffore he decided to go all-in on social media trolling. And so while I might see my friend's point that writers who are offended by Schilling's opinions* have every right to withhold the Hall of Fame honor, well, it should never have come to this. Schilling should not still be on the clock. He should have been elected four years ago.
*I should add that I'm not offended and don't particularly care about Schilling's opinions.
This Schilling Mess -- it is pretty clear his vote total will go down this year -- is one of the many reasons I don't like the 10-year Hall of Fame ballot process. It treats players as if they are still moving targets. But they aren't. Curt Schilling's career is over. Lee Smith's career is over. Sammy Sosa's career is over. They are no less worthy -- and no more worthy -- than they were the first day they were on the ballot. Nothing Curt Schilling says or does now changes his fantastic baseball career. And as far as I'm concerned, it is his fantastic baseball career that is the entire point when discussing the Baseball Hall of Fame.
You know: Every now and again, someone throws out the possibility of throwing O.J. Simpson out of the Pro Football Hall of Fame. The idea offends me. O.J. Simpson is a murderer. AND he was also a one-of-a-kind running back. Both things. Rewriting one piece of history to make up for another is the worst kind of whitewashing. I stopped voting for the Heisman Trophy the moment they shamed Reggie Bush to forfeit his. I loathe every single time the NCAA strips a team of victories or championships. I don't even like that the Tour de France stripped Lance Armstrong's Tour de France titles, and I have no tolerance at all for Lance Armstrong.
Why? Because these things happened. Maybe they should not have happened. Lots of things should not happen. Slavery shouldn't have happened. The Spanish Inquisition shouldn't have happened. Grown Ups 2 shouldn't haven't happened. But they did, and it seems to me that our responsibility is to tell the story, honestly, soberly, unmercifully.
Lance Armstrong DID win those seven Tour de Frances. Now, maybe that means less -- or even nothing at all -- once we know he cheated to do it. But he STILL DID IT. You can't make those Tour de Frances go away by saying he didn't win them. It happened. To say it did not happen, to say Reggie Bush did not amaze America, to say that Curt Schilling's greatness is somehow erased by whatever thing he says or does now, well, I think that's a dangerous road. That's the Animal Farm road.