Ballot 29: Orlando Cabrera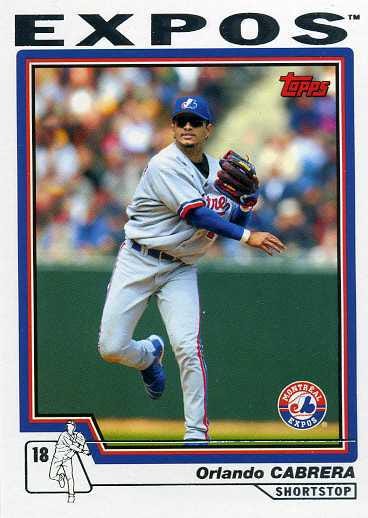 Orlando Cabrera
Played 15 years for nine different teams
Lifetime .272 average with 2055 hits and 459 doubles. 21.4 WAR, -5.2 WAA
Pro argument: Got 2,000 hits and won two Gold Gloves.
Con argument: He wasn't a Hall of Fame caliber player.
Deserves to be in Hall?: No
Will get elected this year?: No
Will ever get elected?: No
* * *
He had a lot of nicknames. They called him O-Cab and O-Dog and O.C. Through the years, the O-Dog got himself into a lot of stuff. Cabrera was the last out of David Cone's perfect game. He was a key figure in Boston's' first championship in a billion years. He hit a key home run in the one-game playoff against Detroit in 2009. He somehow hit .340 with two home runs in 50 plate appearances against Greg Maddux. He got his 2,000th hit at Yankee Stadium. And so on.
He also made more than $50 million in the Major Leagues.
It takes great skill and physical will to play shortstop in the Major Leagues. A couple of weeks ago, you might have seen that Chicago Cubs first baseman Anthony Rizzo won the Platinum Glove, which is supposed to go to the best overall fielder in the National League. This, in a word, is ludicrous. Rizzo is a superb defensive first baseman, but it is not possible for a first baseman to be the best defensive player in the league. As the old joke goes:
Q: What do you call a great athlete and defender playing first base?
A: An outfielder.
To put Rizzo ahead of the best shortstops is, in my opinion, to fundamentally misunderstand the game. It is to misunderstand how much harder it is to play shortstop (and second ... and third ... and center ... and catcher) ... and how much more good you will do at those other positions.
Cabrera was a good defensive shortstop for many, many years. He really was something of a freak that way. In 2008, as a 33-year-old, he played 161 games at shortstop for the White Sox and was GOOD. That's absurd. There are only five shortstops in baseball history who, after the age of 33, played 160 games at shortstop. Cabrera is the only one of the five to do it twice. He was an athletic marvel.
Players with the most seasons of 160-plus games at shortstop:
1. Cal Ripken, 11
2. Orlando Cabrera, 5
(tie) Miguel Tejada, 5
4. Leo Cardenas, 4.
(tie) Zoilo Versalles, 4
For the most part, Cabrera was limited offensively but, as mentioned, he pecked out 2,000 hits and hit as many as 17 homers in a season. He hit more doubles in his career than more than 100 Hall of Famers, including Rod Carew, Roberto Clemente, Joe Morgan and Eddie Collins. He stole 216 bases in his career too.
Of course, his grandest moment came in 2004 when he came over to Boston in a four-team trade. He hit .294 and slugged .465 the rest of the way, solidified the Red Sox infield ... and the Yankees could not get him out in the American League Championship Series.
Michael Schur remembers Cabrera:
"Most important pickup of 2004. Played out of his mind for two months. Made up awesome handshakes for everyone on the team and changed clubhouse. Diving catch of ARod's low line drive in 10th inning of game 5 with runner on 2nd saved the game. Hit like a maniac in postseason.
"Roberts, Foulke, Ortiz, Schuling get all the press but Cabrera was a massive part of that run."
The Red Sox did dump him after the season, replacing Cabrera with another Colombian shortstop, Edgar Renteria who, coincidentally, is also on this year's Hall of Fame ballot.