Ballot 28: Melvin Mora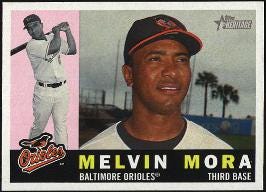 Melvin Mora
Played 13 years for four different teams
Two-time All-Star finished with 277 average with 1,503 hits. 27.3 WAR, 7.2 WAA
Pro argument: Had a Hall of Fame caliber season in 2004 and three other seasons that were almost as good.
Con argument: He was not good enough for long enough.
Deserves to be in Hall?: No
Will get elected this year?: No
Will ever get elected?: No
* * *
Melvin Mora is another one of those good players who took a long time to get to the Major Leagues. The thing about the Hall of Fame is: you better start young. This should be no surprise, but there are only a couple of every day players in the Hall of Fame who did not get fully started until they were 28 years old. One, Jackie Robinson, was obviously a special case. The other was Sam Rice, who enlisted in the Navy, began his career at a pitcher and served in World War I.
Mora grew up in Venezuela and signed with Houston when he was 19 years old. And for the next nine of so years he plodded around the minor leagues, he played in Taiwan, he was let go by the Astros, he signed with the Mets, he was let go by the Mets, he signed again with the Mets. In 1999, finally, after all the struggling, after all the sacrifices, after all those years when people told him to give up already, he had an all-world spring training and was so sure he had made the Mets that he packed his bags to go with the team to their final exhibition game.
It was only then that Mora was told, uh, no, he had not made the team. Mets' manager Bobby Valentine had just forgotten to cut him.
"I feel like I want to go to a bridge and jump off," Mora would tell a friend.
Well. Mora did make it up to the Mets later in the year, but he and Bobby Valentine would never quite figure out how to communicate. Once, Mora would remember, Valentine told him to go to second base. But Mora's English was not fully developed, and he went to left field instead. He would later call that his most embarrassing moment.
Later -- in the National League Championship Series, no less -- Valentine forgot to take Rickey Henderson out of the game between innings. So, just as the inning was about to begin, he sent Mora out to left to alert Rickey who, you might say, was not happy.
He probably was not too troubled when the Mets traded him to Baltimore along with three others for Mike Bordick.
He became an everyday player (more or less) with the Orioles in 2001 -- that was the same year that his wife, Gisel, had quintuplets. Yeah, quintuplets. Some years later, a reporter wanted to do a story on Mora for Father's Day. "Every day is Father's Day for me," Mora said.
Anyway, he became an everyday player, and he put up two mostly forgettable seasons offensively but proved to be a defensive maestro who could play every position. In 2002, he played 41 games at shortstop, 12 games at second, 31 games in center, 74 games in left and five games in right. The most incredible part of that -- and I suspect it would be hard to find a player who played so many games at so many different key defensive positions -- was that he didn't even play a single game at third base, which would turn out to be his natural position.
So, Mora was a valuable player even before he started really hitting. Then in 2003, he started really hitting. Mora only played 96 games that year because of a couple of injuries, but if he had played a full season he probably would have had a viable case for MVP (over A-Rod!). He hit .317/.418/.503. He played six positions and displayed above average range at all six of them. He was fantastic.
And then he had his greatest year, 2004. The Orioles finally found him a position, the one he had not played either of the two previous years, third base. And, all settled in there, Mora hit .340, led the league with a .419 on-base percentage. He slugged .562. He hit 41 doubles and 27 homers, scored 111 runs, drove in 104. That's a Chipper Jones kind of season. That's a George Brett kind of season.
He fell off considerably the next year, and basically was never the same player again after that ... because that's what happens when you start late. That's why it's so hard to make the Hall of Fame if you are a late bloomer ... it's difficult to maintain Hall of Fame level excellence as you progress through your mid-to-late 30s. He did have a good year in 2008, hitting .285 with 23 homers and 104 RBIs, but he wasn't the Melvin Mora of 2004. He played a year in Colorado and another in Arizona and called it a career at 39.
Melvin Mora's career is an inspiration. When he was 6, he watched someone pull a gun and kill his father -- a tragic case of mistaken identity. He spent his childhood moving from home to home. He was something of a soccer prodigy but, surprisingly, there weren't many financial opportunities for a young soccer star in Venezuela then. He played baseball as a way to get his family out of poverty. And it was a long journey.
And so you almost wish there was a different kind of Hall of Fame too, one you might put in Hoboken, N.J. or on the West side of Cincinnati, and it doesn't celebrate the greatest players exactly. It doesn't even celebrate the Hall of Very Good. It celebrates those players who overcame the most to make it to the big leagues, the ones who kept going through sheer ambition or hunger or love.
Every vote Melvin Mora gets, if he gets any, will be misplaced because there are at least 25 players on the ballot who had better big league careers. But if I was starting that other Hall of Fame, the Striver's Hall of Fame, Mora would be a first ballot inductee.