Ballot 27: Carlos Guillen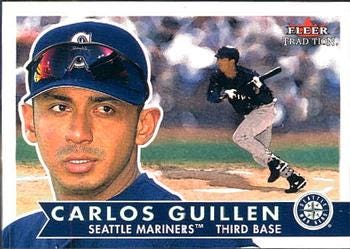 Carlos Guillen
Played 14 years for two different teams
Three-time All-Star fhit .285 with a 1,331 hits. 27.7 WAR, 9.0 WAA
Pro argument: Played at more or less Hall of Fame level from 2004-2007 -- four seasons.
Con argument: He was not good enough for long enough.
Deserves to be in Hall?: No
Will get elected this year?: No
Will ever get elected?: No
* * *
Carlos Guillen could flat hit. In his prime, from age 28 to 31, he hit .313/.377/.506 and posted a 131 OPS+ -- that's basically Derek Jeter stuff. Jeter, over the same four years,. hit .317/.387/.464 with a 123 OPS+.
One of the most frightening and amazing things about Carlos Guillen's career was that in 2001 he played shortstop more or less every day for the greatest regular season team in baseball history (a Seattle team that won 116 games), even though he had PULMONARY TUBERCULOSIS. I mean, this is not a pulled hamstring. This is the second-most deadly infectious disease on earth behind AIDS. In the end, the man was coughing up blood.
The Mariners were obviously raked over the coals for missing TB -- for a fuller account read Jeff Sullivan's excellent recollection -- but you have to say (1) tuiberculosis is tough to diagnose (and he had been tested during spring training) and (2) Carlos Guillen would do ANYTHING to play ball. He refused to say anything. This is something about ballplayers, especially young and hungry ones like Guillen. They all act like the Black Knight. Coughing up blood? Searing pain in the shoulder? Arm cut off by King Arthur? It's just a flesh wound.
Guillen has spent his post-baseball life helping young players in Venezuela -- he opened up an Academy a few years ago with the idea of teaching those kids about life. "Basseball players here become adults when they turn 16," he told Baseball America. "And most of them are left unprepared for the responsibility that entails. We instill a strong education and good habits in them by the time they are 14 or 15."