Ballot 26: Jason Varitek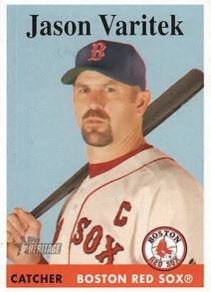 Jason Varitek
Played 15 years for one team
Three-time All-Star won a Gold Glove and two World Series rings, 24.3 WAR, 3.6 WAA
Pro argument: A Boston legend.
Con argument: He was not good enough for long enough.
Deserves to be in Hall?: No
Will get elected this year?: No
Will ever get elected?: No
* * *
We really do have different feelings about players who stayed with one club for their entire careers. This is a matter of circumstance and timing and a player's will more than anything else, but it's real. We play the Player A and Player B game again -- here are two fine defensive big league catchers.
Player A: .263/.327/.417, 1,345 hits, 262 doubles, 169 homers, WAR 21.6, dWAR 8.1
Player B: .256/.341/.435, 1307 hits, 306 doubles, 193 homers, WAR 24.3, dWAR 8.5
It's pretty clear that Player B is a bit better than Player A right. It isn't a HUGE difference (2-3 wins sounds about right); it's hard to find two catchers who are that similar. But Player B is a little bit better. Well, Player B is Jason Varitek, who you would have to say is one of the most prominent players of his era, right? Everyone knew Jason Varitek. He was the leader. He was the core. He was the soul.
Player A is Ramon Hernandez.
Now you tell me: When was the last time you thought about Ramon Hernandez?
Hernandez played for six different teams. He had his best year for Baltimore, his second base year for Oakland and his third best year for San Diego. He played in six different playoff series for three different teams ... and his teams lost them all.
The point is not to say that Ramon Hernandez was as good as Jason Varitek -- I've already said he was not quite as good. The point is that we tell the story of baseball through the prism of circumstances. In baseball terms, Varitek was a slightly better Ramon Hernandez. In fame terms, Varitek was infinitely more famous than Hernandez -- it's the difference between George Clooney and, uh, me.
Terry Steinbach is another catcher with a very similar career to Ramon Hernandez and Jason Varitek, probably a little bit better, and he was better appreciated than Hernandez (he played in three World Series for Oakland) but probably not as appreciated as Varitek (he played for two teams).
Sherm Lollar is another catcher with similar careers to Hernandez, Steinbach and Varitek -- again, probably a little bit better. He played for four different teams and was not as appreciated as Steinbach or Varitek, but more appreciated than Hernandez. And so goes the wheel of fortune.
Varitek was a charmed baseball player his whole life. You probably know he's the only player to play in the Little League World Series, College World Series, World Series and Olympics. He's one of only two players to catch four no-hitters. He was catching in the game when the Red Sox finally won the World Series, he was the team captain when they won it again, he hit a grand slam in the World Baseball Classic, etc. Charmed.
Varitek was the 14th pick in the amateur draft in 1994 -- this after he won the Dick Howser Award and the Golden Spikes Award and Baseball America College Player of the Year Award and all the other awards they give out to college players. He had been taken by the Mariners in the first round one year earlier, but decided to go back to college, and he helped lead Georgia Tech to the College World Series title game.
Fun coincidence: Varitek was taken by Seattle two picks after the Red Sox had taken Varitek's college teammate, Nomar Garciaparra.
It's still not entirely clear why the Mariners traded him to Boston in 1997. Well, actually it is clear: The Mariners were contending, really contending for just the second-time in team history. And, frankly, Seattle's Woody Woodward just kind of lost his mind. It's such an alluring position to be in: First time contention. It 's hard to see straight. The Mariners offense had come together impossibly well -- A-Rod, Griffey, Edgar, Buhner, Seattle suddenly found itself with the best lineup in baseball. With Unit, Fassero and Moyer, they had excellent starting pitching.
"GET ME BULLPEN HELP!" Mariners manager Lou Piniella undoubtedly screamed at his GM. Sweet Lou was trying to make do with a shot Norm Charlton and Bobby Ayala.
So Woodward went bonkers. He dealt Jose Cruz Jr., one of the best prospects in baseball, for Paul Spoljaric and Mike Timlin, drawing groans all over baseball. And while that bizarro deal distracted everyone, he quietly traded Varitek AND Derek Lowe to Boston for a 31-year-old Heathcliff Slocumb.
Heathcliff Slocumb.
Heathcliff Slocumb.
Heathcliff Slocumb.
I'm sorry I find that I can't stop typing "Heathcliff Slocumb." Panic does indeed make the mind go numb, doesn't it? What else but panic could convince a general manager that the difference between winning and losing, between a division title and a depressing fall vacation is Heathcliff Slocumb.
The trade would have made no sense if Slocumb was in the middle of a good year, but understand something: Slocumb was having a TERRIBLE season. He was 0-5 with a 5.79 ERA and he had blown saves left and right. Heck on the DAY OF THE TRADE he came into the 10th inning with a 2-1 lead in Kansas City, and he hit Bip Roberts, gave up a single to David Howard, walked Jose Offerman, threw a wild pitch to Jay Bell, intentionally walked Jay Bell and gave up the walk-off single to Chili Davis.
ON THE DAY OF THE TRADE.
ON THE DAY OF ...
OK, enough of that. You talk about circumstances; Jason Varitek does not play his whole Major League career in Boston except for the sheer hysteria of a Seattle general manager trying to win for the first time. He doesn't become a Boston legend, doesn't spend his entire career with one team, probably never gets to be captain of any team.
Then again: He might have had a better career in other ways. He certainly might have made more money. This is not to say that the $67 million that Varitek made in his career is somehow lacking, but remember, Varitek's agent was Scott Boras. If Varitek had come up with Seattle or Toronto or someone like that, Boras probably would have played one team against another in various efforts to make him cash -- and there is no one better at such shenanigans than Boras.
But because he ended up in Boston, and because Boston was PERFECT for Varitek, he stayed.He got one at-bat with the Red Sox in 1997, and he singled off Kevin Jarvis. He was basically the Red Sox starting catcher for the next dozen seasons. He batted as high as .296, hit as many as 25 home runs, won the 2005 Gold Glove. He had a chance to be a free agent a few times, and there were rumors that he would leave ... but he never did leave. He still has not left; Varitek works in the Red Sox front office.
It wasn't ALL a charmed baseball life. He endured catching Tim Wakefield, and he has the scars ro prove it (twice leading the league in passed balls). He endured watching baserunners steal at will against him (in his career they successfully stole 992 out of 1293 bases, which is 77%, almost the exact same percentage as Mike Piazza, who was famous for his lack of success against base stealers). He constantly endured unflattering comparisons to Yankee rival Jorge Posada, who is also on this year's Hall of Fame ballot.
Yes, he endured those things but it was mostly champagne and confetti for Jason Varitek. I don't know how the career would have turned out in an alternate universe, and it doesn't really matter. I'm sure Varitek wouldn't trade his career for anybody else's.