Ballot 25: Edgar Renteria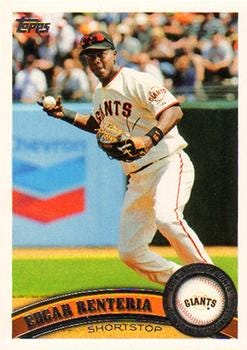 Edgar Renteria
Played 16 years for seven different teams
Five-time All-Star won two Gold Glove and two World Series rings, 32.1 WAR, 4.4 WAA
Pro argument: Compares favorably to several Hall of Fame shortstops.
Con argument: Those comparisons are a bit of an illusion.
Deserves to be in Hall?: No
Will get elected this year?: No
Will ever get elected?: Probably not.
* * *
There are two main topics to discuss with Edgar Renteria, and the first is -- as with just about every player on this ballot -- context. We start again with our Player A, Player B comparison. These are two shortstops of the last 50 years who won multiple Gold Gloves.
Player A: .286 average, 2,327 hits, 436 doubles, 294 stolen bases, 1,200 runs, 923 RBIs, five All-Star Games.
Player B: .285 average, 2,365 hits, 415 doubles, 236 stolen bases, 1,231 runs, 1003 RBIs, six All-Star Games.
Well, those two players look pretty darned similar. right? Now, to add a little fun, I will tell you that Player A is also one of only four players -- the other three are no less than Babe Ruth, Lou Gehrig and Yogi Berra -- to have two World Series clinching hits. Seems pretty clear that the two have similar, if not identical, Hall of Fame cases.
Yes, Player A is, as expected, Edgar Renteria.
And Player B is beloved stathead Hall of Fame candidate Alan Trammell.
Now, of course, you probably saw that I have used various sleights of hand that I have picked up while working on my book on Today's Houdini (oh, wait, did I mention that I'm doing a book on Houdini in today's world?). You will notice, for instance, that I called them
"shortstops who won multiple Gold Gloves" which is absolutely true. Well, rephrase -- it's true but not ABSOLUTELY true. Trammell won four while Renteria won two, which is not the same thing.
In the list, I include doubles because Renteria had more but I do not include triples (Trammell leads 55-29) or homers (Trammell leads 185-140) or any detail that takes into account that Trammell and Renteria played in very different offensive periods.
Renteria's career OPS+ is 94. Trammell's is 110.
Renteria's career WAR is 32.1. Trammell's is 70.4.
They were not the same player, not close to the same player, not when you consider how few runs were scored in the 1980s, not when you take into account Trammell's real defensive value, and so on. But many of their raw numbers -- like hits and runs scored and RBIs -- are close enough that Trammell is Renteria's No. 1 comp in Baseball Reference's Similarity Scores and vice versa. This allows us to see what we want to see.
At the Winter Meetings this year, a writer came up to me (not sure he would want me using his name ... I'll add it if he wants that) and he somewhat bizarrely offered to give me his wedding ring AND his class ring if I could find one 1970s baseball writer, just one, who thought Bert Blyleven was a better pitcher in the 1970s than Catfish Hunter.
You probably know: I've written a few times that Blyleven was a better pitcher than Hunter. Well, Bert Blyleven WAS a better pitcher than Catfish Hunter in the 1970s, and it wasn't especially close. Blyleven's ERA in the 1970s was better (2.88 to 3.17). His ERA in context was also better (130 ERA+ to 110). His Fielding Independent Pitching number which takes into account only strikeouts, walks and homers allowed was better (2.81 to 3.67) because while he walked 100 more batters he struck out 750 more and allowed 70 fewer homers. In the decade, Blyleven threw nine more shutouts, completed five more games, threw 200 more innings and had a significantly better strikeout to walk ratio. He also played for significantly worse teams for the most part. It's not close, really.
All that said, I have no idea if I could find a 1970s baseball writer who would say definitively that Blyleven was better than Hunter because Catfish won more games (169 to 148), won a Cy Young Award and was an ace on the team of the decade while Blyleven mostly threw curveballs in the shadows. The illusion of Catfish Hunter was so overpowering that the baseball writers rushed him into the Hall of Fame in just three years even though he lacked the benchmark totals in wins (he won 224), strikeouts (2,012) or ERA (3.26 lifetime) that usually marks a Hall of Famer.
Blyleven with 67 more wins, 1,700 more strikeouts and about the same ERA (3.31 -- but better than Hunter in context) had to wait for 13 grueling years and even now many are bitter that he was elected at all. Heck I have baseball writers offering me jewelry if I could just find a writer in that time who thought Blyleven was any damned good at all.
We are getting away from Edgar Renteria, of course, but the point is context. Renteria is the first player on the ballot so far that I did not have a flat "No" on in the "Will ever get elected" question. I don't THINK Renteria ever will get elected. I feel confident that in the short run he will not get close to the 5% necessary to keep him on the BBWAA ballot after this year. I suspect he gets fewer than 10 votes, and maybe none at all.*
*After posting this, the incomparable Ryan Thibodaux -- who keeps track of Hall of Fame ballots -- alerted me via Twitter that Renteria has already received one vote with just a few ballots in.
But as time goes on, I would not be entirely surprised if Renteria, with all those hits and with his postseason heroics finds himself on some Veteran's Committee ballot. I would not be surprised if some player of his time champions his Hall of Fame case. Hey, it's all how you look at it.
The second topic with Edgar Renteria is postseason heroics -- he had his share. He grew up in Colombia and signed with Florida when he was 15 years old. The kid was playing in the Midwest League when he was just 16, and even though he hit only .203 and made 34 errors, well, he was SIXTEEN YEARS OLD.
At 17, he held his own in high A-Ball. At 18, he hit .289 in Class AA, stole 30 bases, made some dazzling defensive plays and left no doubt about his future. The very next year, he was called to the big leagues and he hit .309 as an everyday shortstop. He should have won the Rookie of the Year award. Instead it went to Todd Hollandsworth for reasons that still remain blurry -- he was the fifth straight Dodgers player to win the award, so maybe voters just did not know that they could vote for a non-Dodger.*
*Rookie of the Year Awards
1992: Eric Karros, Dodgers
1993: Mike Piazza, Dodgers
1994: Raul Mondesi, Dodgers
1995: Hideo Nomo, Dodgers
1996: Todd Hollandsworth, Dodgers.
Five Rookie of the Year Awards in a row and the Dodgers did not win a single playoff game in the entire 1990s. That's hard to pull off.
A year later, Renteria was the everyday shortstop for a Marlins' team that won the World Series -- and it was Renteria's walk-off single that ended the series. That was his first series clinching hit. The next would come 13 years later.
Over those 13 years, Renteria had good years and shaky ones. He was fantastic in 2003 when he hit .330/.394/480 for the Cardinals. He smashed 47 doubles and 13 homers -- he scored 96 runs and drove in 100. He also won the Gold Glove award that year. That was a Hall of Fame caliber season.
That was also clearly his best year but he had excellent seasons in 2002 for St. Louis, in 2006 and 2007 for Atlanta. He bounced around a lot -- he was traded three times, and he signed as a free agent three times. The movement allowed him to make $85 million in his career. It also broke up his career into many different segments and so, camouflage style, it's hard to get a full picture of the Renteria career. It's OK. I'm sure he'll take the money.
Then in 2008, he signed with San Francisco and that led to his magical World Series in 2010. He hit .412 in that series, and both of his home runs were game-winners. Well, the first home run just started the scoring in a 9-0 Giants victory. But the second homer came in the seventh inning of a scoreless Game 5; he cracked a three-run homer off Cliff Lee to put the game and the series on ice. He won the Series MVP award.
And, it's funny, the perception -- certainly my perception -- was that Renteria was like 1,000 years old at the time. He'd been around for so long that this seemed like the sweet tale of an old man having one last bit of glory. But Renteria had started so young, he was only 34 when he hit those two home runs. Heck, he's only 40 years old NOW.
If he could have reinvented himself as an outfielder or first baseman or someone worth giving another 2,500 at-bats -- another five years, basically -- he could have gotten to 3,000 hits, which would have put his career in a whole different light. You look at some of the players with similar hit totals through age 34.
Edgar Renteria, 2,327 hits (finished with 2,327 hits)
Tony Gwynn, 2,204 hits (finished with 3,141 hits)
Eddie Murray, 2,342 hits (finished with 3,255 hits)
Lou Brock, 2,194 hits (finished with 3,023 hits)
Craig Biggio, 1,969 hits (finished with 3,060 hits)
Of course, Renteria was not as good as any of those guys. As far as pure hit total, he fell 673 hits short of 3,000 because he retired at 34. He just wasn't good enough or healthy enough to have that hang-on period that allows players to reach landmark career totals.
I think he will drop quietly off the Hall of Fame ballot ... and while there's a chance he will be considered again down the road, I suspect he won't. Still, Renteria will always be a hero to Marlins' fans and Giants' fans. That's not a bad baseball life.