Ballot 24: Derrek Lee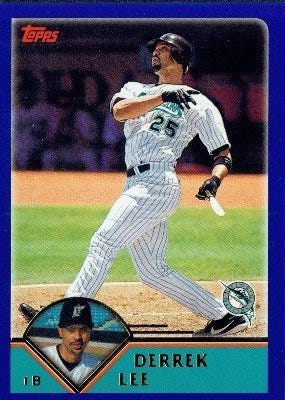 Derrek Lee
Played 15 years for six different teams
Two-time All Star won three Gold Gloves and tjot 331 homers, 34.3 WAR, 10.1 WAA
Pro argument: At his peak, Lee was a truly great offensive player.
Con argument: That peak did not last long enough.
Deserves to be in Hall?: No
Will get elected this year?: No
Will ever get elected?: No.
* * *
How good was Derrek Lee's 2005 season? He hit .335, slugged .662, led the league with 199 hits and 50 doubles, he hit 46 homers, he scored 120 runs, he drove in 107 ... that's just about as good as it gets. Put it this way -- Lee created 167 that year. Only 16 Hall of Famers have had even ONE SEASON when they created that many runs. Henry Aaron never did it. Willie Mays never did it. Mike Schmidt never did it. Heck TY COBB only did it once.
Yes, it's true, you have to consider context -- Lee did have his incredible season in 2005 and not, say, 1968 or 1917. BUT, hey 2005 was not 2000 or 1996; the free-for-all run scoring of the Bonds era was over. Lee's achievement was unique. Albert Pujols never created 167 runs in a season. Mike Trout hasn't done it. Miguel Cabrera hasn't done it.*
*The ONLY other player in the last dozen years to do it was Ryan Howard, who had that absurd 2006 season when he hit .313, mashed 58 homers and walked 108 times.
Lee was 29 when he had his absurd season -- he had been a slightly-below-Fred-McGriff type slugger until that point. He'd hit .276/.365/.497 and averaged 28 homers the previous five seasons. Good. But not legendary. Then: KABOOM!
But the KABOOM season was not entirely unexpected either. Lee was born into baseball. His father, Leon Lee, played for years in the Cardinals minor league system; Leon then went to play play in Japan, following his brother (and Derrek's uncle) Leron Lee. You probably know that Leron Lee played for a time in the Major Leagues before becoming the first prominent American player to play regularly in Japan -- Leron was the inspiration for the movie "Mr. Baseball."
The coolest Lee season in Japan had to be 1980. Leon and Leron both played for Lotte Orions in the Japanese Pacific League that year. Leon hit .340 with 41 homers and 116 RBIs. But Leron won the batting title by hitting .358 (with 33 homers and 90 RBIs). The Lees were the first American family of Japanese baseball.
Derrek grew up in Japan -- he went to elementary school there and often returned for summers even after moving to Sacramento. He was a big-time player in high school and was taken by San Diego with the 14th pick in the draft, a couple of picks after Billy Wagner and one pick before Chris Carpenter. Derrek was ranked as a Baseball America Top 100 prospect for four straight seasons because of his natural power. He was destined.
What he did not know is that he was destined to become a pawn in the bizarre baseball story of the Florida (Miami) Marlins.
Lee seemed ready to become the San Diego Padres first baseman in 1997 when suddenly, unexpectedly, Kevin Brown became available to them. The Marlins, having just won the World Series, had decided to hold a Going Out Of Business sale, even though they were not actually going out of business. Brown was the first sale item, and the Padres jumped at the chance, dealing Lee and two other minor leagues to Florida.
Derrek Lee had just learned the first lesson of Marlins baseball.
He would would soon the lesson again.
Lee slowly but steadily improved on some terrible Marlins team. And then in 2003, he hit 30 homers for the first time and he won his first Gold Glove. He arrived as a hitter just as the Marlins had finally put the Humpty Dumpty back together again. They sneaked into the playoffs, they somehow went to the World Series (that was the Cubs meltdown year), and then they somehow beat the Yankees. Derrek Lee was a World Series champ!
And a couple of months later, he was the first item on another Marlins Going out of Business Sale -- and he got traded to the Cubs. He was ready for it. "I was hearing all the rumors and my name seemed to be in every one," Lee told reporters. "So I wasn't shocked to be traded."
It was with the Cubs that Lee had THE season . He did not win the MVP Award that year (did not even finish second -- that went to Andruw Jones). He only got one first place vote. The award went to Albert Pujols, even though by the advanced numbers (and by the less advanced batting average and slugging percentage) Lee had a slightly better offensive season than Pujols. It could be that Pujols' defense made the difference (though Lee actually won the first base Gold Glove). It's more likely that Pujols won it because his team won 100 games (while Lee's Cubs were below .500) and because the previous three seasons Pujols had finished second twice and third once to Barry Bonds.
Lee had a couple of good seasons after 2005. He hit .317/.400/.513 with the Cubs in 2007, and then in 2009 he hit .306 with 35 homers and 111 RBIs. Those were as close as he came to recapturing the 2005 magic. He kicked around a bit at the end-- he played with Atlanta, Baltimore and Pittsburgh in his last two seasons. He was just 35 when he retired; he could have continued to play but he did not get an offer that appealed to him. When he was 36, the Yankees tried to talk him out of retirement to replace an injured Mark Teixeira. He declined.
Lee was widely regarded as one of the nicest guys in baseball ... and so it was quirky when he got into a brawl with pitcher Chris Young, another player widely regarded as one of the nicest guys in baseball.
"Needless to say, very out of character for BOTH of those guys," announcer Bob Brenly said. That was one of the quirkier fights (or near fights) in recent years.
There were those who wondered if Lee would go to Japan to play after his Major League days were over, but the did not happen. Interestingly, though, Lee has traveled the world to promote baseball. He has spent time in Israel and Uganda, among other places. In Israel, one of the newspapers called him "Baseball legend Derrek Lee." That's not wrong either. Lee absolutely did to the place of legends. He just didn't stay there very long.